Since the invention of stone-mills, and mortar and pestle, every culture has created all kinds of flour. And with flour, came one of the most ubiquitous pastries around the world – the pancake. In fact, archaeological evidence suggests all kinds of pancakes have been eaten since prehistoric times. Although simply defined as a pan-fried batter, human ingenuity in the pursuit of yummy foods gave birth to a massive variety of pancakes, especially across Asia.
Sweet, savoury or umami, whichever taste you crave, there's an Asian pancake that's sure to satisfy and delight. So prep the ingredients and heat your pan. Here are the most flavourful Asian pancakes for you to make and enjoy!
Chinese Red Bean Paste Pancake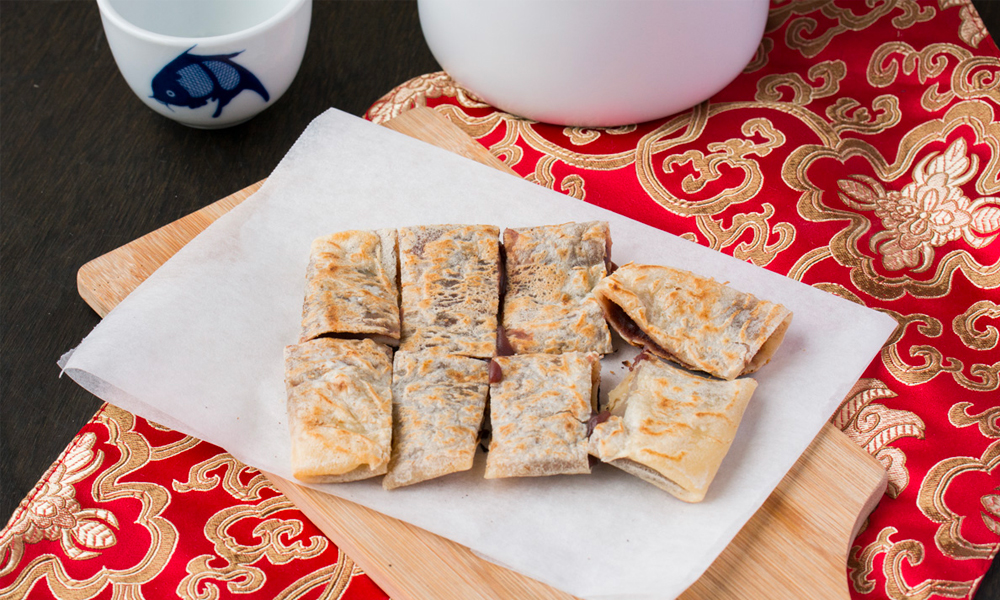 Milk, egg, sugar and flour batter, pan-fried to a thin wrap with sweet and nutty red bean paste filling. Tender textures with a charming flavour. A yummy goodie for the whole family!
Chinese Jian Bing
Jian Bing is pan-fried egg and flour salted dough topped with leafy greens and flavoured with sweet bean sauce, chilli bean sauce, chilli oil and toasted sesame. Savoury and zesty tempered with the veggies' natural cool. Roll up the pancake and enjoy it while it's hot.
Chinese Cong You Bing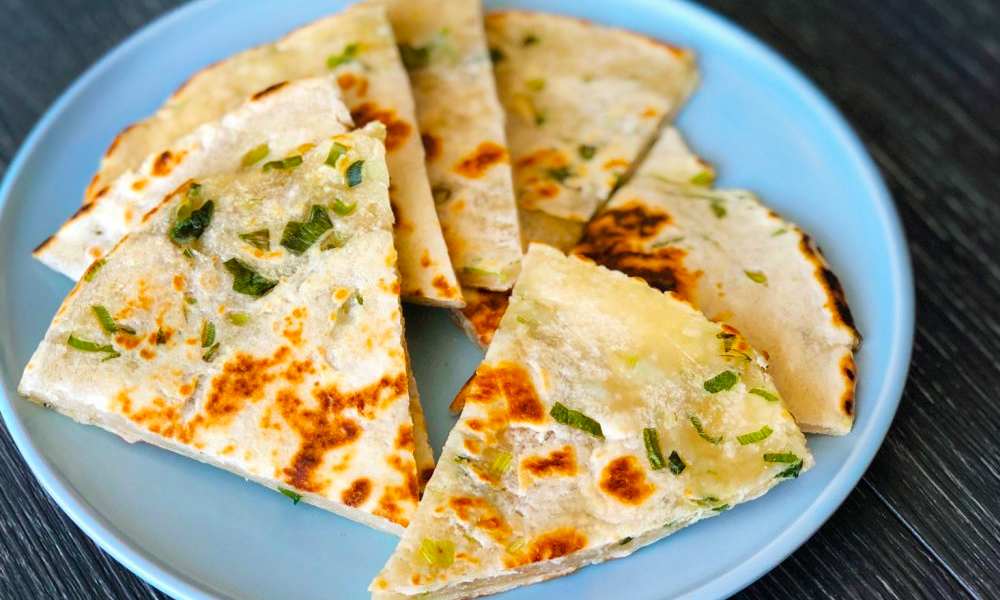 Crispy salted flour dough with fragrant chopped spring onions, this pancake is the most popular breakfast in China. A quick, savoury bite to start the day with warmth and flavour. Yummy with tea or coffee too!
Chinese Easy Peking Duck Pancake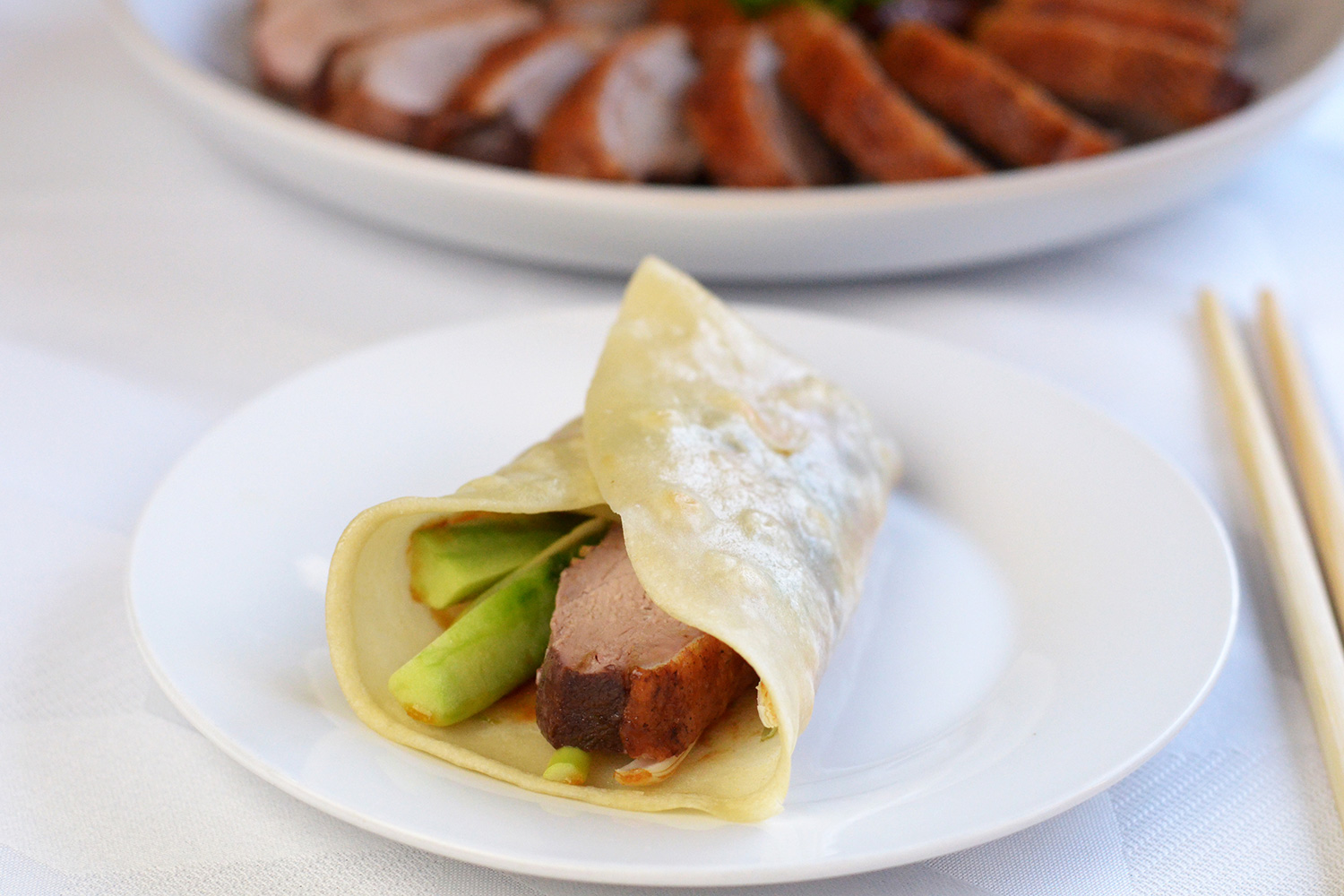 You've probably heard of the famed Peking Duck – roast duck with a rich, umami marinade, a staple of Chinese fine dining. Well, now you can make your own with this simplified recipe! Wrap the duck meat with cucumber and spring onion in simple mandarin pancakes, and savour the divine flavour!
Japanese Dorayaki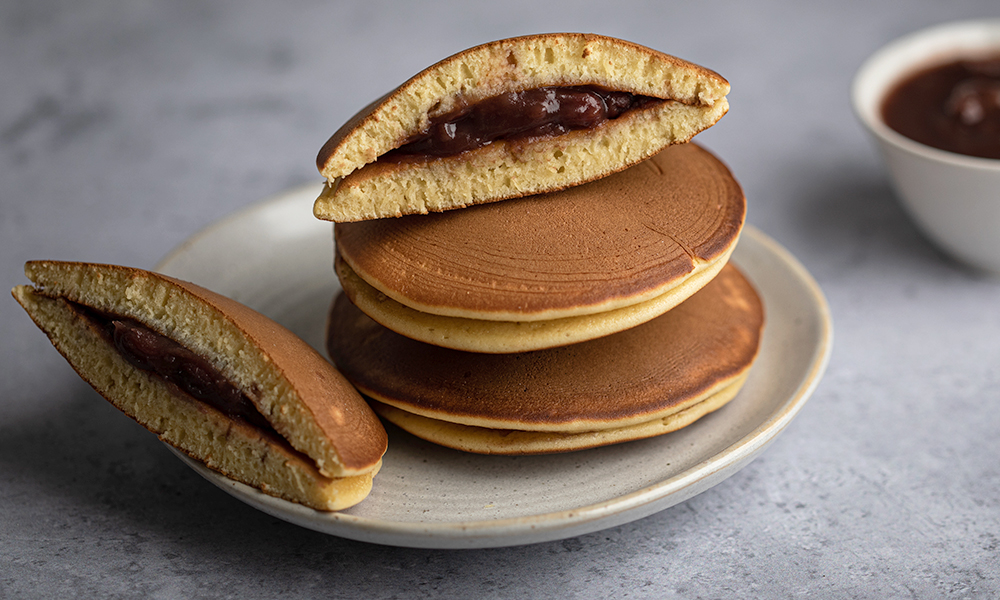 Thick, tender pancakes sandwiched with sweet red bean paste, Dorayaki is a beloved Japanese household snack, enjoyed by children of all ages. Grab the recipe here!
Japanese Okonomiyaki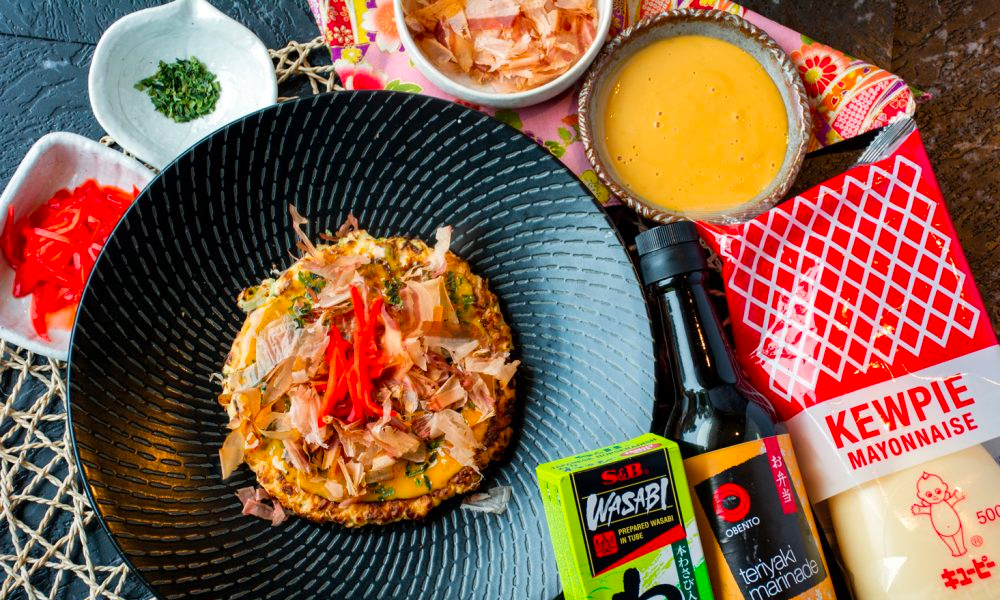 Okonomiyaki is the signature Japanese pancake. Pan-fried batter with a light wasabi touch, filled with finely chopped veggies and squid, shrimp or pork, seasoned with a sauce mix of wasabi, Kewpie mayonnaise, and Teriyaki marinade. Umami and easy to cook. Great for breakfast and light meals. Prefer vegetarian? Enjoy this recipe instead.
Japanese Monjayaki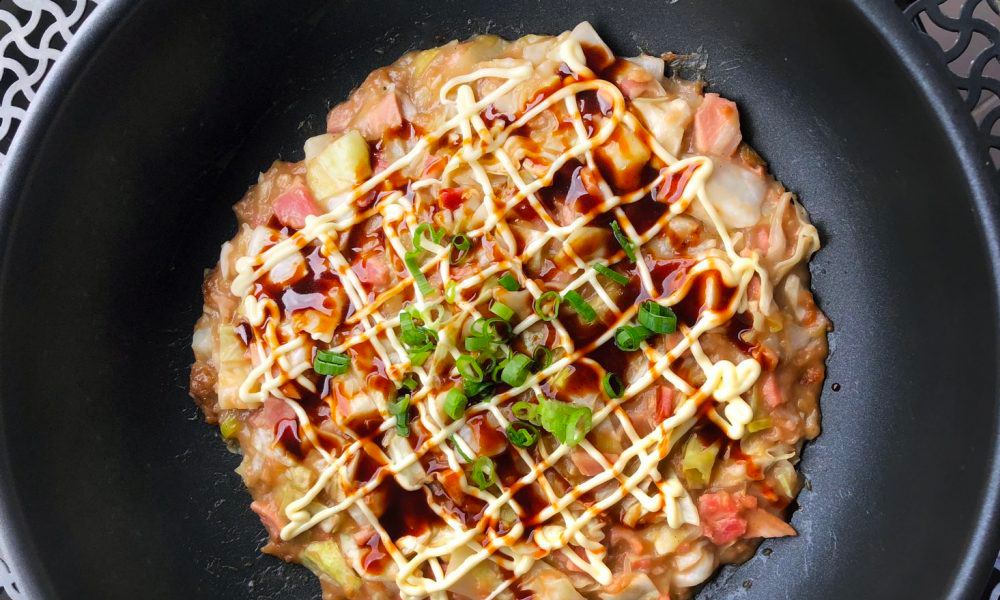 Monjayaki is like an 'upgraded' version of Okonomiyaki. A specialty from the Kanto region of Japan so popular, there's a Monja street in Tsukushima, Tokyo with dedicated diners. The difference? Monjayaki is packed with bacon, tiny shrimps and crunchy tempura pearls, flavoured with Worcestershire sauce, and topped with mayonnaise and Tonkatsu sauce. Sumptuous and umami!
Japanese Soufflé Pancake
The secret to this extra fluffy Japanese pancake is the eggs – separate the yolks, and only whip the whites to make the meringue, then fold into the batter. The air bubbles escape when you pan-fry, and leave a yummy pillow-soft texture. Top with ice cream, chocolate chips, nuts, or fruits of your choice!
Korean Gamjajeon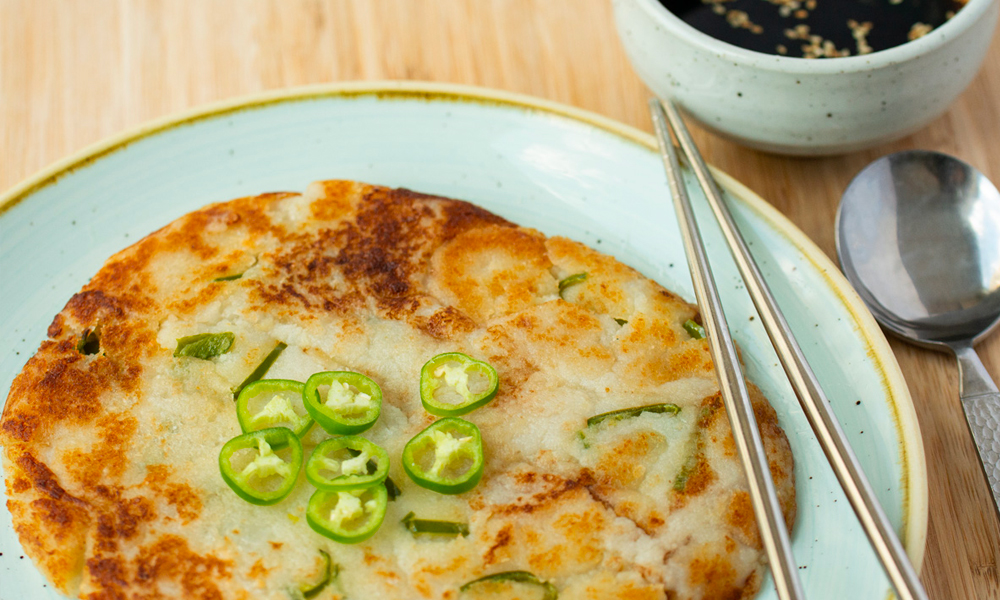 Can you make pancakes without flour? Why yes! Gamjajeon is a savoury pancake made from a batter of blended potato and onion, seasoned with chilli pepper. Yummy and filling!
Korean Haemul Pajeon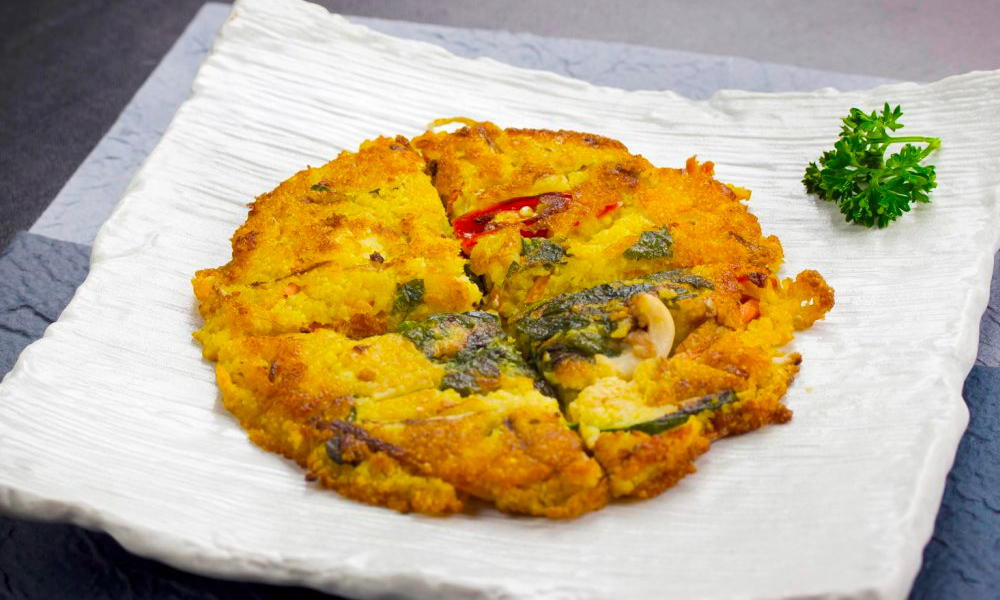 Pajeon and Makgeolli is a popular food pairing for Koreans on rainy days, said to warm and uplift your mood. To make it, grab a Pajeon/Buchim mix from your Asian grocer. It's the perfect blend of flour and other ingredients that makes the authentic taste. Add eggs to the batter. Pan-fry with calamari or prawns, and assorted veggies in canola oil, then serve with a sauce mix of Kochugaru chilli powder, soy sauce and brown rice vinegar.
Korean Hotteok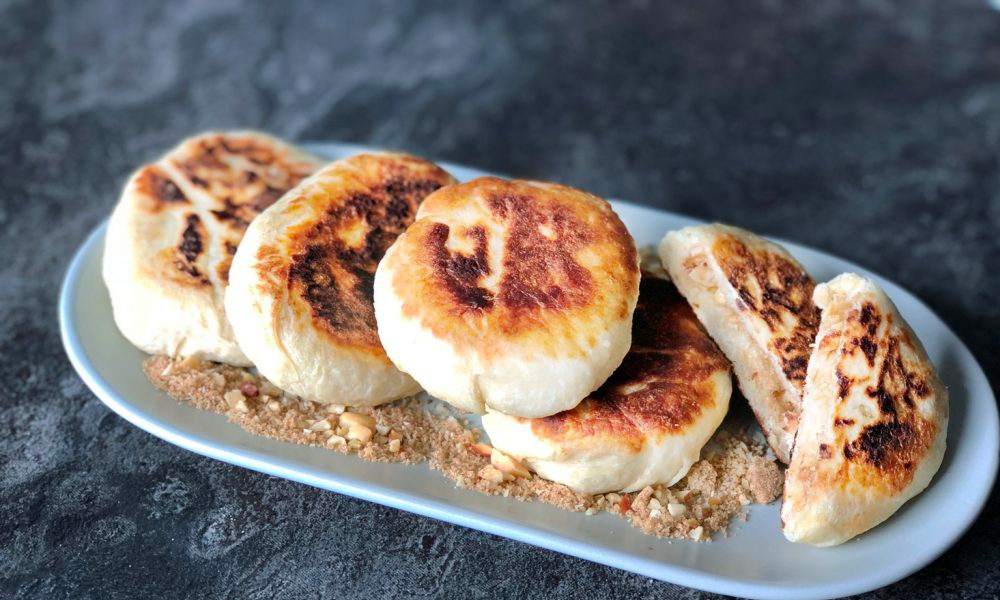 Crispy, tender skin with sweet crumbly nuts filling, flavoured with dark brown sugar and cinnamon powder. Hotteok pancakes are richly fragrant and sweet with a yummy texture. Always a fun treat!
Korean Kimchijeon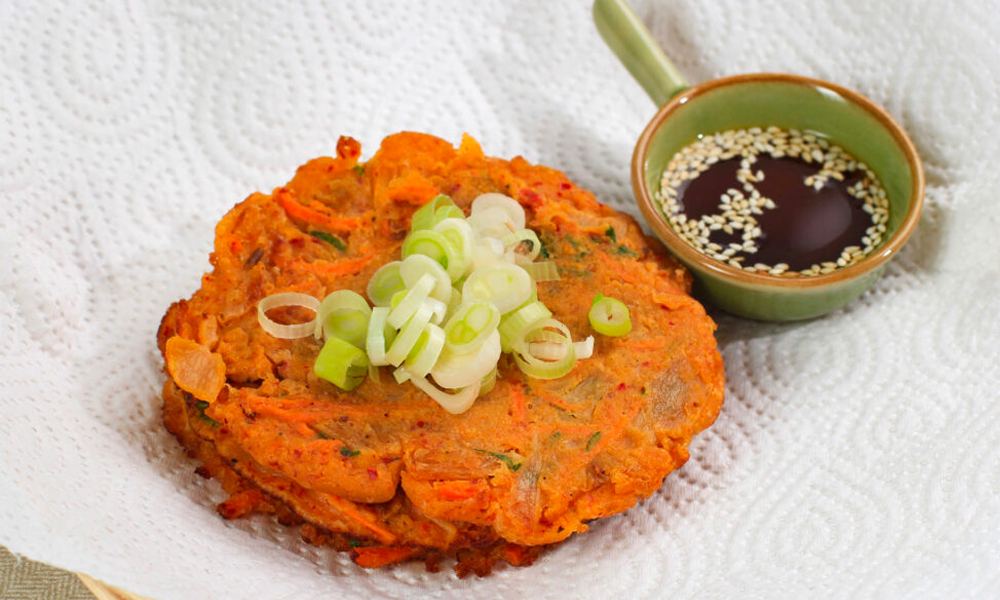 The Kimchijeon is as the name says: savoury, spicy kimchi in crispy tender pancakes. If you love the signature zesty, umami-ness of kimchi, you're sure to enjoy this goodie!
Vietnamese Banh Xeo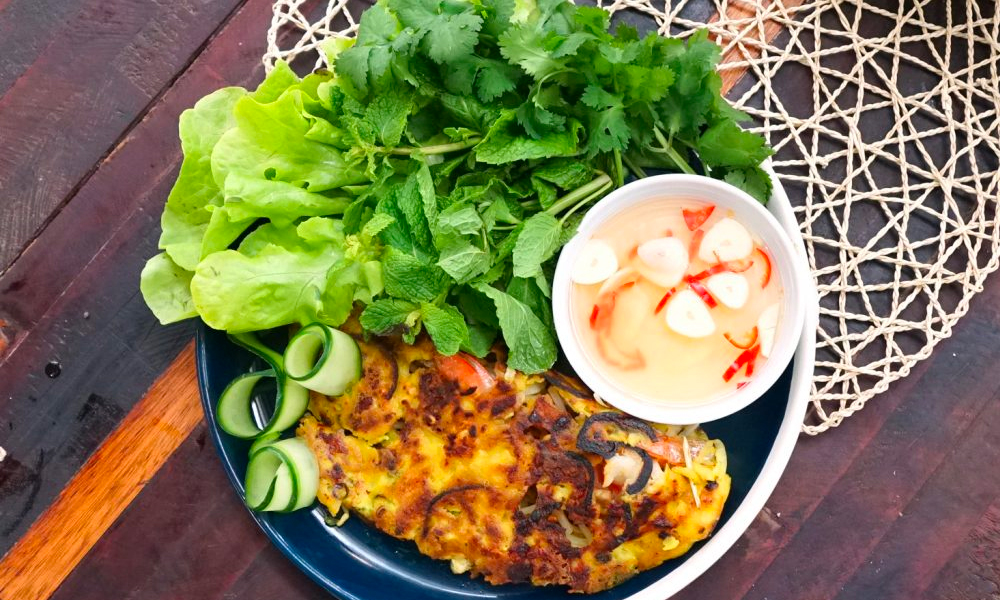 Banh Xeo is the definitive Vietnamese pancake. For the batter: rice flour and salt whisked in coconut milk, added with fragrant turmeric and spring onions for the batter. Pan-fried with a delicious filling of pork belly strips, prawns, mung beans and onions, seasoned with fish sauce. Enjoy with a side of mixed veggies, and the classic Nuoc Cham sauce for authentic umami flavour.
Thai Khanom Tokyo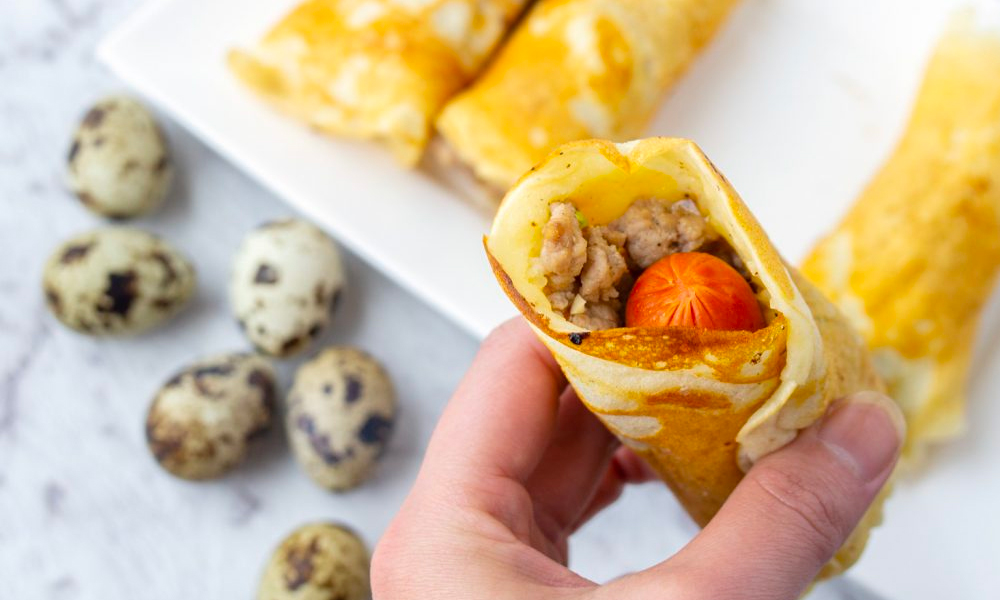 Khanom Tokyo isn't actually from Japan, but a Thai street food invention, adapted from Japanese Dorayaki. First sold in a Japanese department store in Bangkok, named Thai-Daimaru. Hence the name. Soft pancake wrap with a meaty savoury filling. Every bite is an umami delight!
Thai Pang-Jee Gluay
Tender chewy pancake with fruity sweet banana filling, this yummy goodie is made from glutinous rice flour and coconut milk. Blended with shredded coconut, and flavoured with palm sugar for rich, smoky sweetness. A delicious tea time snack!
Thai Roti Gulay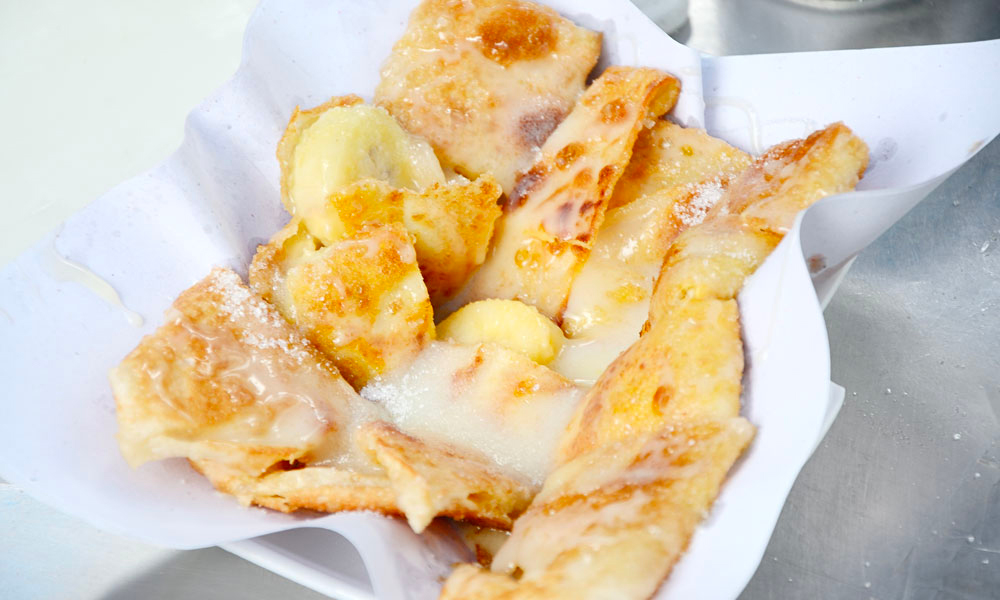 Thin, crispy tender roti pancake with sliced banana and condensed milk. Simple Thai street food that packs layers of sweetness in every bite!
Malaysian Apam Balik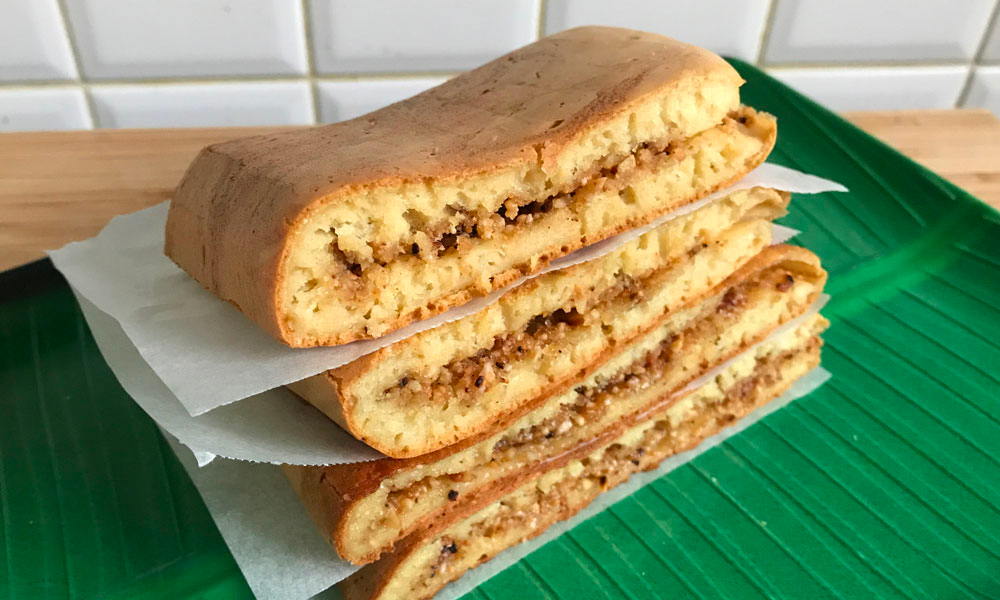 Thick, soft pancakes with a sweet peanut filling, the Malaysian Apam Balik is a tasty afternoon snack enjoyed by all. The goldilocks texture between bread and cake is a pleasure to chew, packed with an appetizing nutty crunch! There's also a thin, crispy version with an added creamy corn filling!
Indonesian Martabak Manis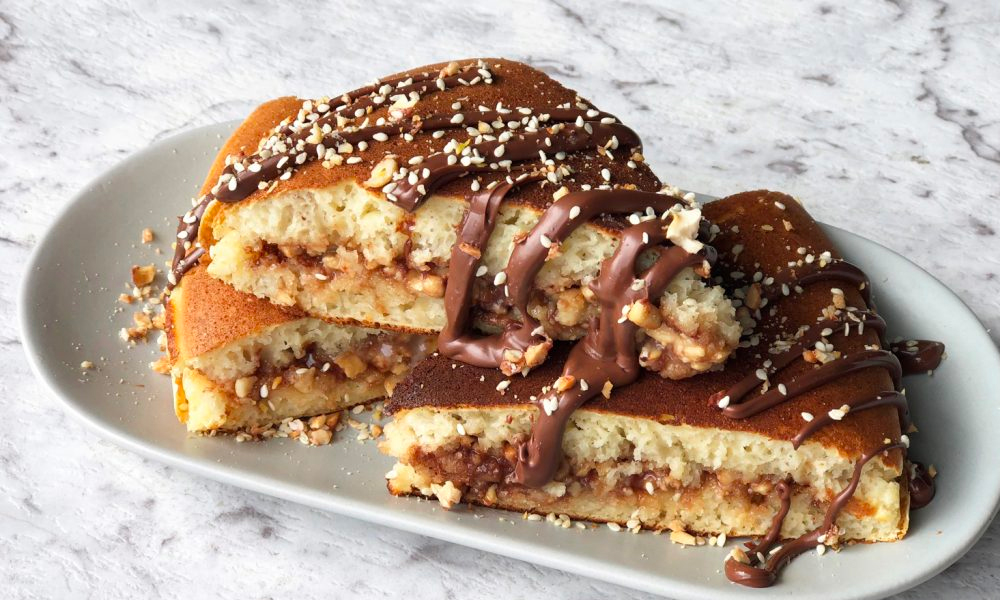 Martabak Manis is an 'enhanced' version of the Apam Balik, with shredded cheese and hazelnut added to the filling, and a brush of melted butter on the pancake's browned skin. Top with chocolate and sesame seeds for mouth-watering aroma and flavour!
Yum Cha Mango Pancakes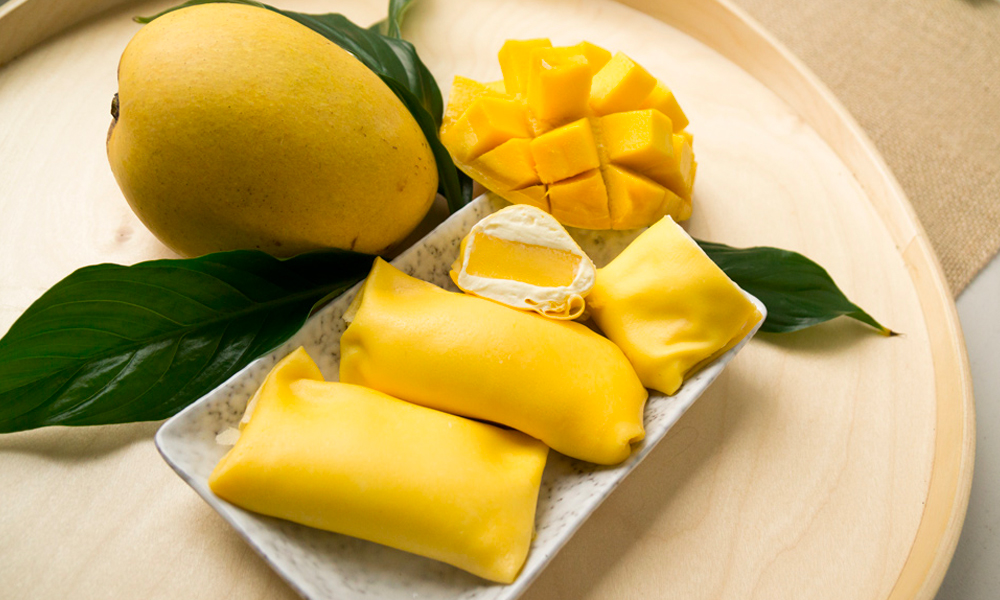 Yum Cha or Dimsum in Cantonese is a Hongkong foodie experience that features a wide array of savoury dishes, pastries and desserts. But there's a Yum Cha treat that's actually an Australian invention: the mango pancake. Silky soft skin with creamy mango filling that oozes with fruity sweetness. Add this wonder treat recipe for your home enjoyment!