Glutinous rice has been cultivated and savoured across Asia for millennia. The natural stickiness and sweetish flavour make it a versatile dessert and pastry ingredient in various cultures. Famed dishes include Chinese yum cha favourite Lo Ma Kai, Zongzi rice dumplings, sweet Tang Yuan dessert soup, delicious Malaysian Nyonya Kuih Seri Muka, Lemang bamboo rice, Ketupat square rice cakes, Balinese black rice pudding, fruity Thai mango sticky rice, savoury Larb salad and lettuce cups; as well as the rice-flour base for Japanese Daifuku and Mochi. However, no one in the world enjoys glutinous rice more than Southeast Asia Laos – a staple food cultivated in the hills and the field, savoured by hand in every meal.
And, there's a lot more to the story of glutinous rice.
It's Ancient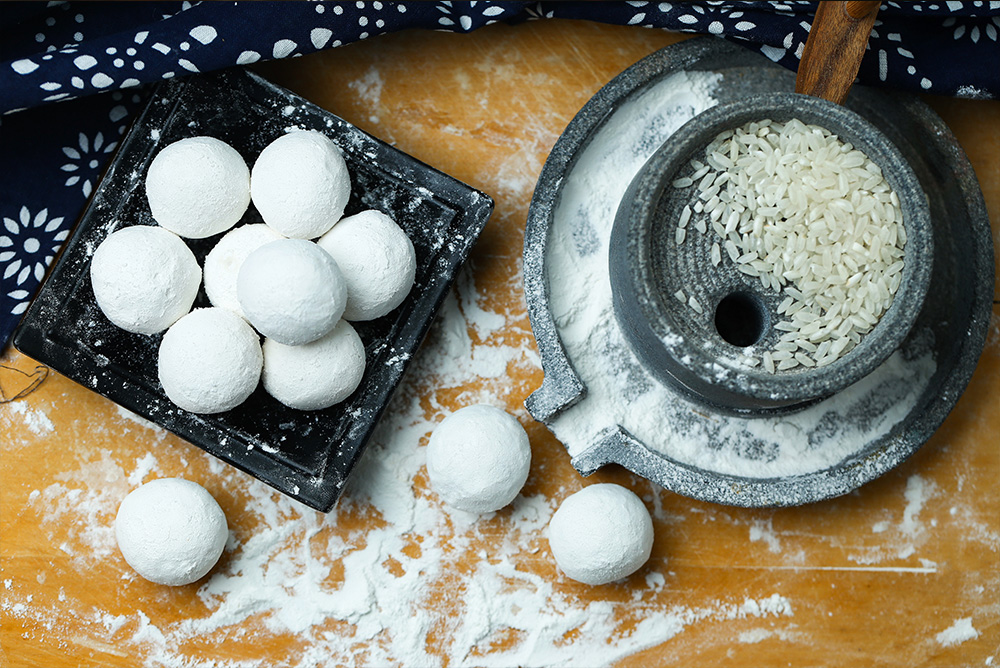 While other short-grain rice strains exist in the wild, glutinous rice is a wholly unique cultivar, believed to have been created during the earliest rice domestication and farming, and since spread to the rest of Asia. First mentioned in ancient Chinese texts over 4,000 years old including the Book of Odes compiled by Confucius himself, glutinous rice was used specifically then to make Huangjiu wine. Over time, peasants and court chefs alike found it perfect for desserts. They also discovered it was more filling than white rice, and ancient Chinese armies used to have glutinous rice wafers for wartime rations. It was also a construction ingredient, mixed with other materials to build the old city walls of Xi'an, and even ancient palaces in northeast India.
Easy to Grow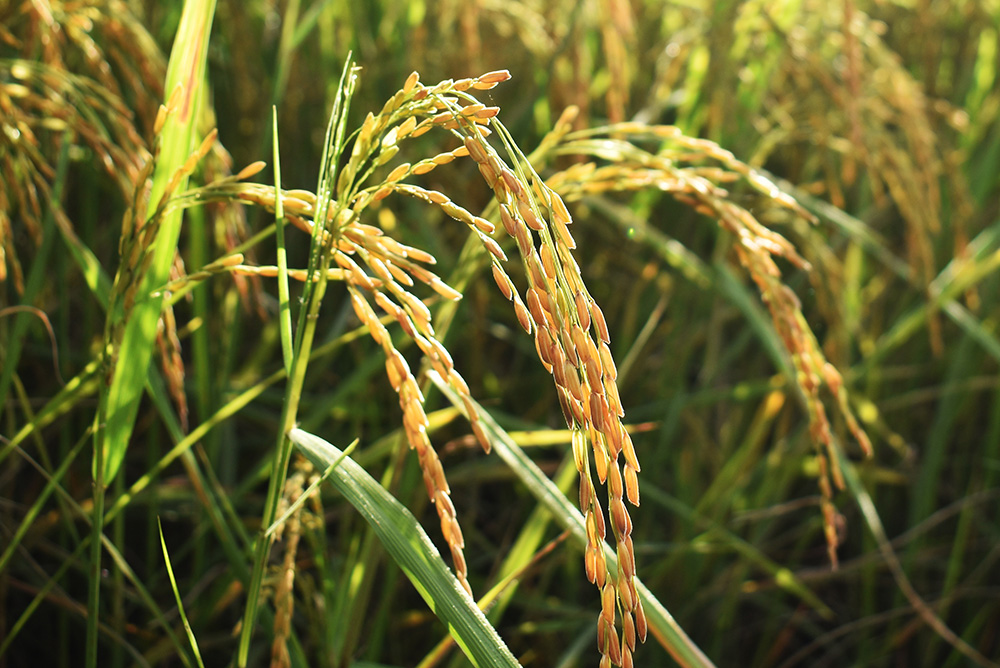 Unlike other rice-types which require irrigated paddy fields, glutinous rice needs less water to grow, thus is well-suited to both hilly uplands and lowland fields. The biggest producers of glutinous rice today are Northern Thailand and Laos.
Comes in Many Colours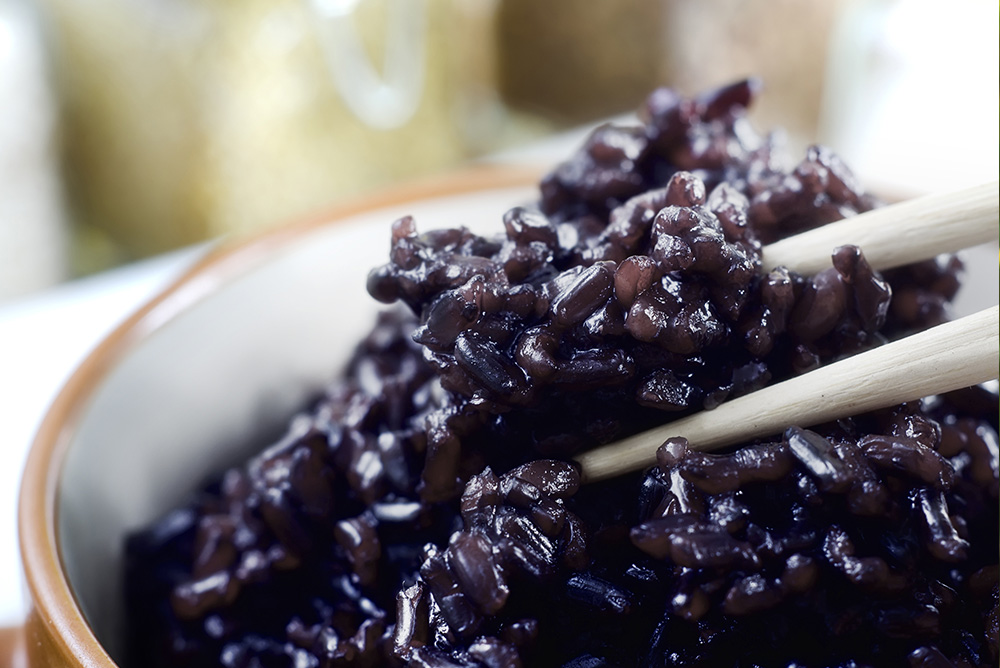 Glutinous rice is an umbrella term for various strains, which are processed and sold in hulled or whole-grain forms. You can find them in white, maroon, purple and black colours; with slightly different degrees of sweet nutty flavour and sticky tender texture when cooked.
Absolutely Gluten-Free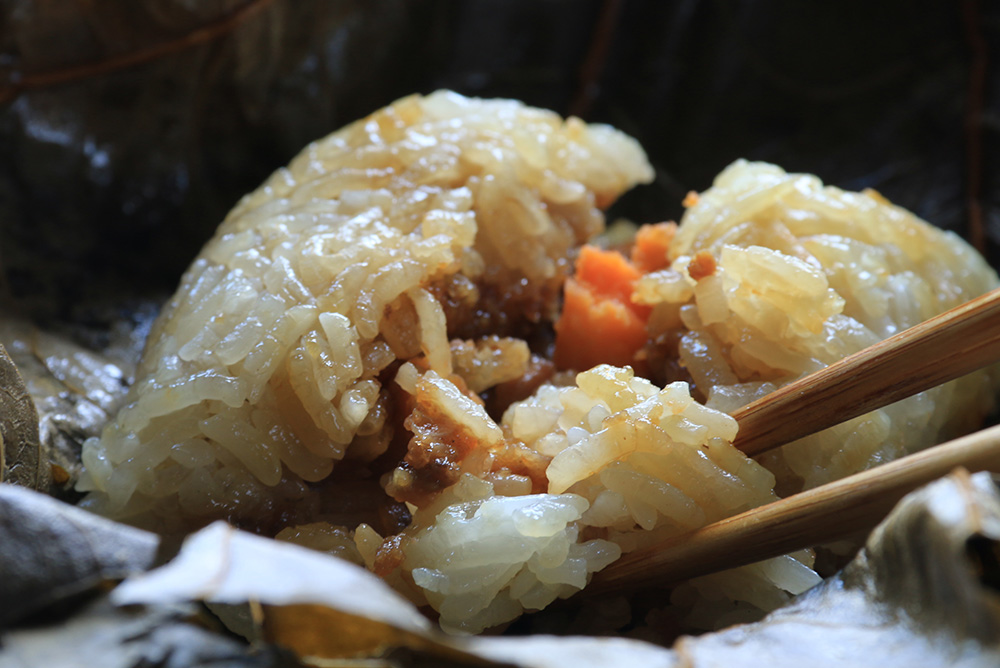 The name refers to its gluiness, and it actually contains no gluten. While long-grain rice starch is made up of amylose and amylopectin, glutinous rice only contains the latter. When steamed, the amylopectin molecules are released, giving the rice its tender stickiness.
Steamed Not Boiled (And More)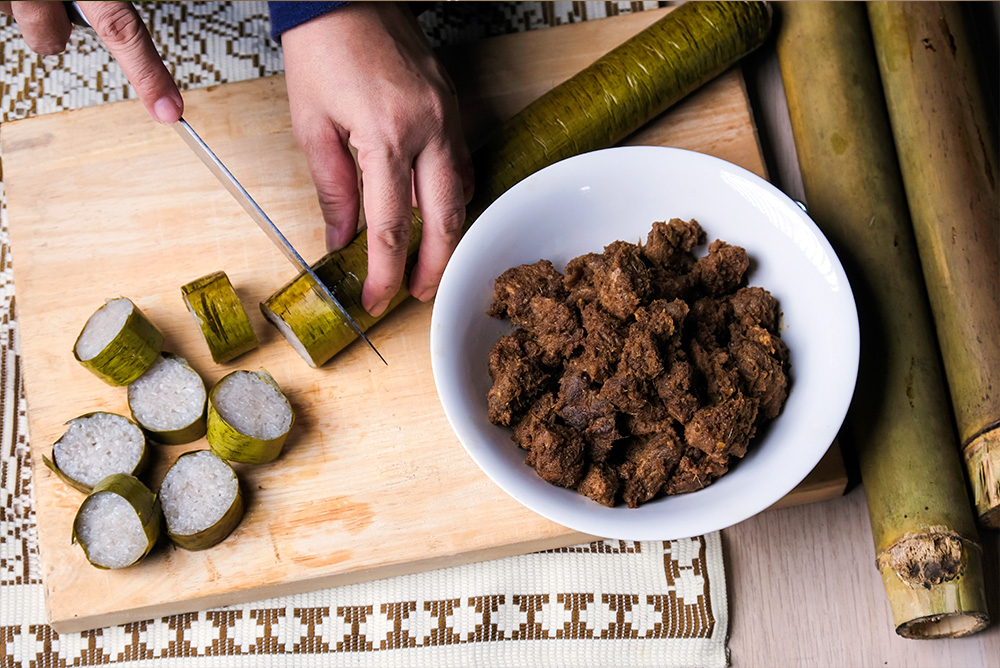 Unlike regular white rice which is cooked by boiling in water, glutinous rice is traditionally steamed. The Chinese have a special bamboo-woven steamer for it, while in Malaysia and Indonesia, glutinous rice is traditionally roasted in hollowed bamboo sticks to make Lemang (image above). Other unique cooking methods are also practised across Asia. In the Philippines, uncooked glutinous rice is soaked in coconut milk and fermented into a dough to make cakes. In Myanmar, it is cooked and pounded into wafers with sesame seeds; grilled or fried as a snack. In Japan, it is made into Mochiko and Shiratamako flour for a variety of Mochi goodies.
Staple of Laos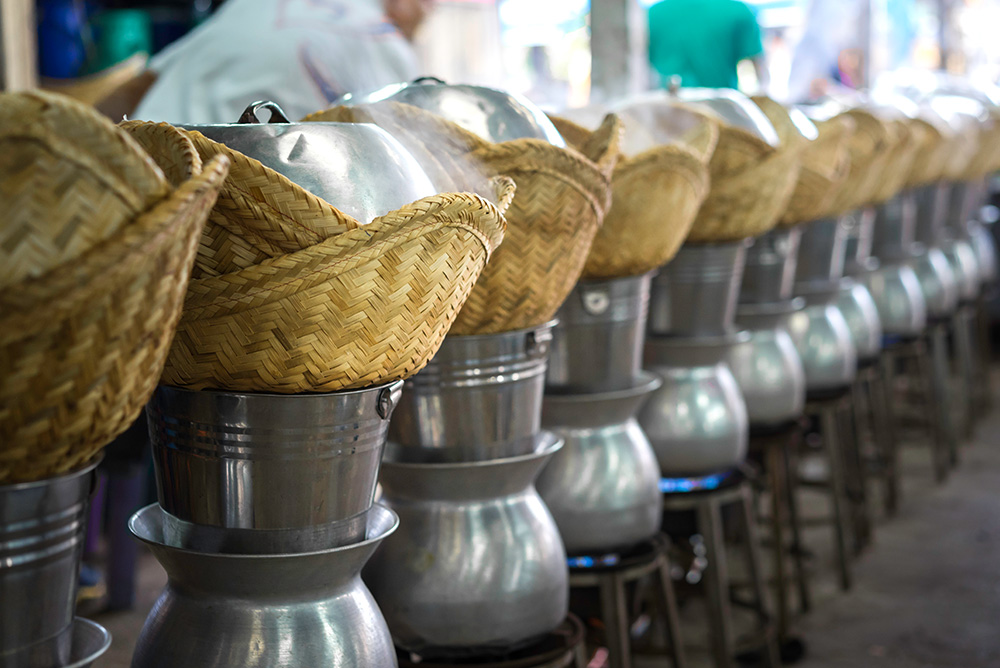 More than desserts, glutinous rice is the primary carb source for the people of Laos and considered a major part of their cultural essence. The 'glue' that holds families and communities together, wherever they are in the world. It is also the main food for Buddhist monks in Laos, thanks to its slow digestive quality which makes it much more filling than white rice. Traditionally, the rice is first soaked for several hours, then steamed in a large bamboo basket called 'Houat'. The cooked rice is kneaded with a wooden paddle to cool, served in a smaller basket called 'Thip Khao'. Eaten by hand, Laotians would form the sticky rice into a little cup as a utensil for scooping food, combining the tender chewiness with the various flavours in their dishes. Laotian cuisine is a great influence on Northern Thai food and has brought a plethora of delicious glutinous rice specials to the surrounding region.
Many Yummy Ways to Enjoy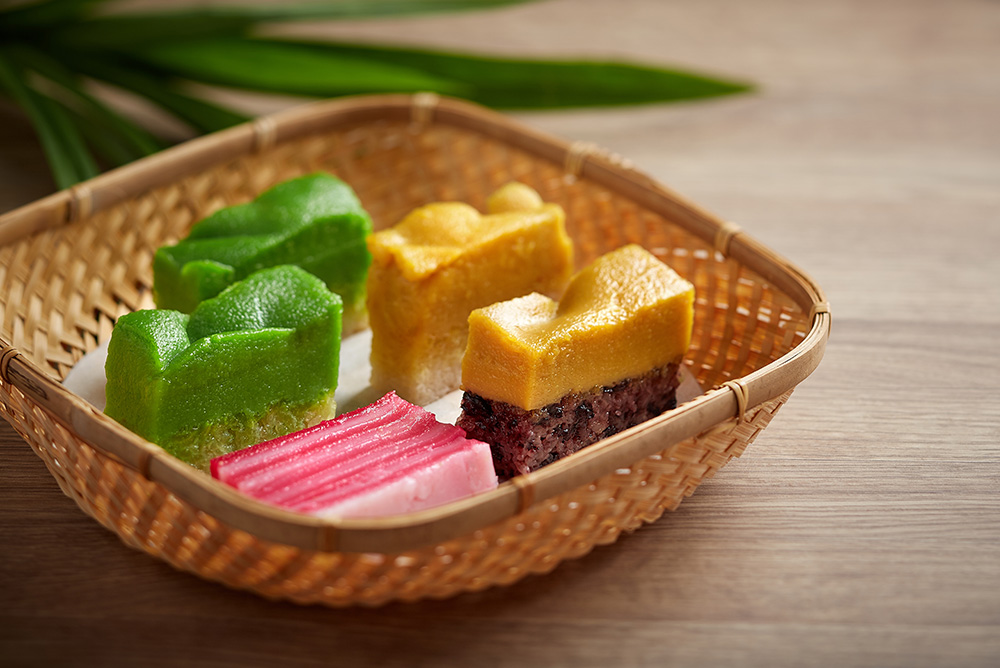 So, want to add glutinous rice to your meals? Discover the perfect way to cook it, and check out our flavoursome collection of home-made recipes!