Flavour and goodness are equally important in Asian cooking, and that includes the massive array of sweet desserts from every cuisine. Many of which are made wholly with plant-based ingredients, such as coconut milk and cream, fruits, red beans, sweet potato, sticky rice, and more. No milk, butter or eggs needed for a yummy treat. So, if you're looking to cleanse your palate and still savour the sweetness, get your fix with these 12 amazing Asian plant-based desserts!
Osmanthus Jelly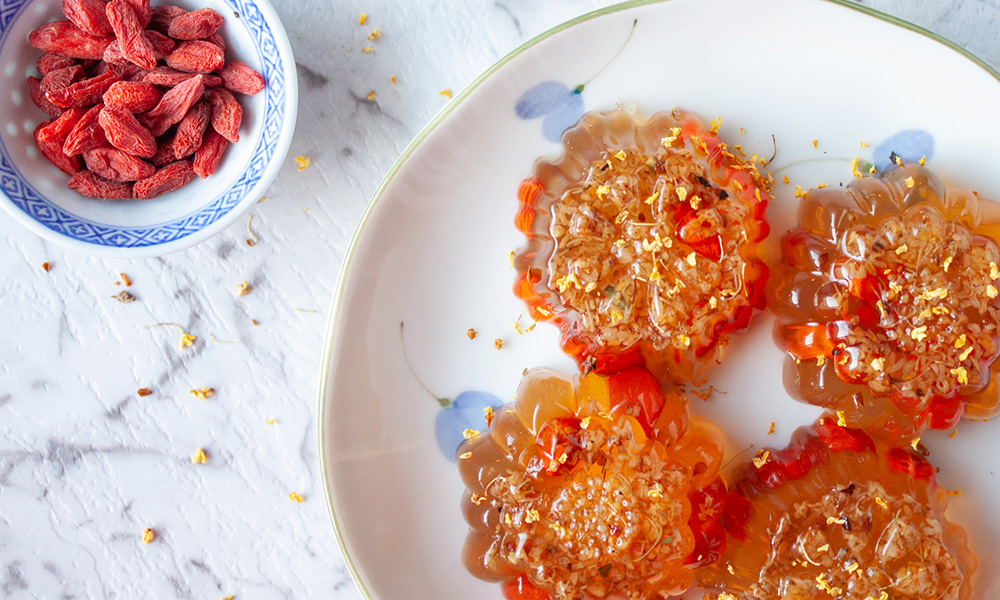 Osmanthus is an edible flower native to China; often dried and made into a jam, or enjoyed as a tea. In traditional Chinese medicine, Osmanthus is believed to have various health properties, including detox, aid in lung health, reduce phlegm build-up, and may even help with skincare. The Osmanthus Jelly treat is an all-time fave from Hong Kong, savoured at the end of yum cha sessions. Make yours fresh with our recipe!
Sweet Potato in Ginger Syrup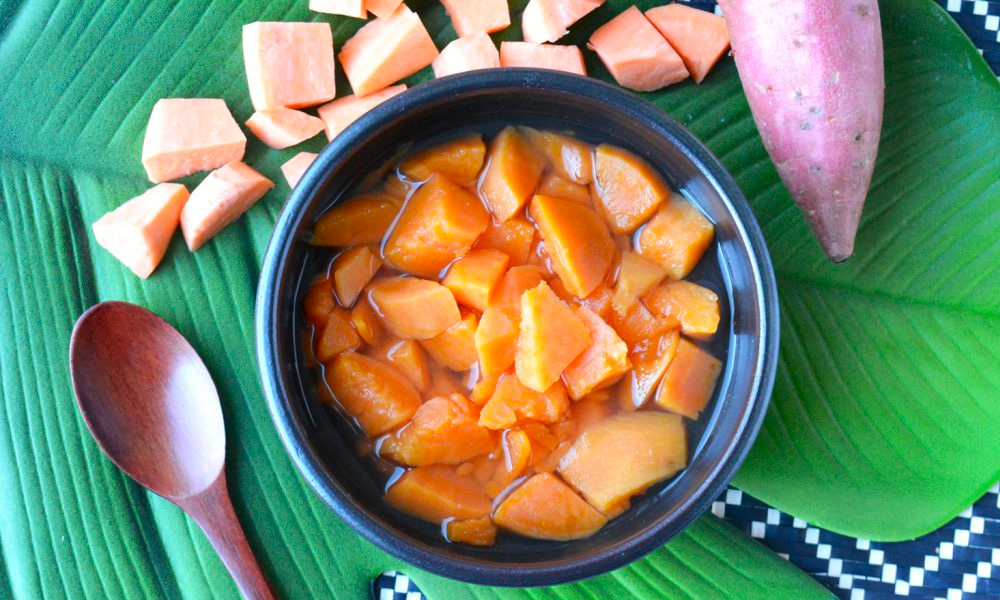 Sweet potatoes are among the tastiest and goodness-packed Asian tubers to enjoy. With their natural earthy-sweet flavour and soft crumbly texture, it's no wonder that various Asian cuisines feature sweet potatoes; especially in desserts. Here's a sweet, warm and piquant Chinese dessert soup with bite-sized sweet potatoes and ginger.
Mango Sago Dessert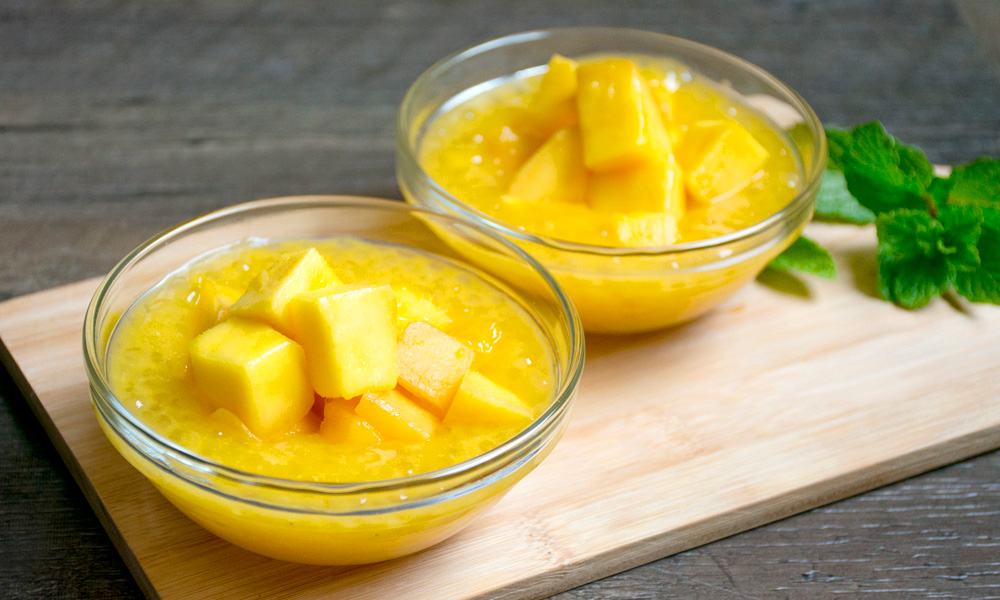 The sweet-sour thrill of mango chilled with soft beady tapioca pearls in this fruity iced indulgence. Want a creamier sip? Just add soy or coconut milk and savour away. Have it easy with our recipe!
Sesame Balls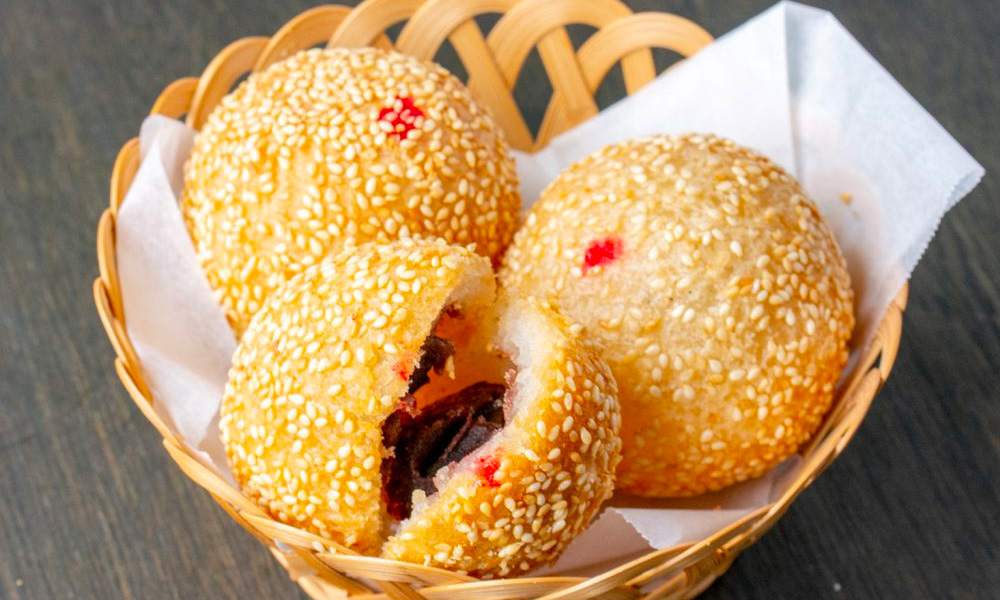 Glutinous rice balls with a thin crispy coat of fragrant sesame seeds, and a sweet red bean paste filling that delights in every bite. This Chinese teatime snack is a popular street food dessert, made for chewy pleasure. Try it with our authentic recipe.
Yuzu Sorbet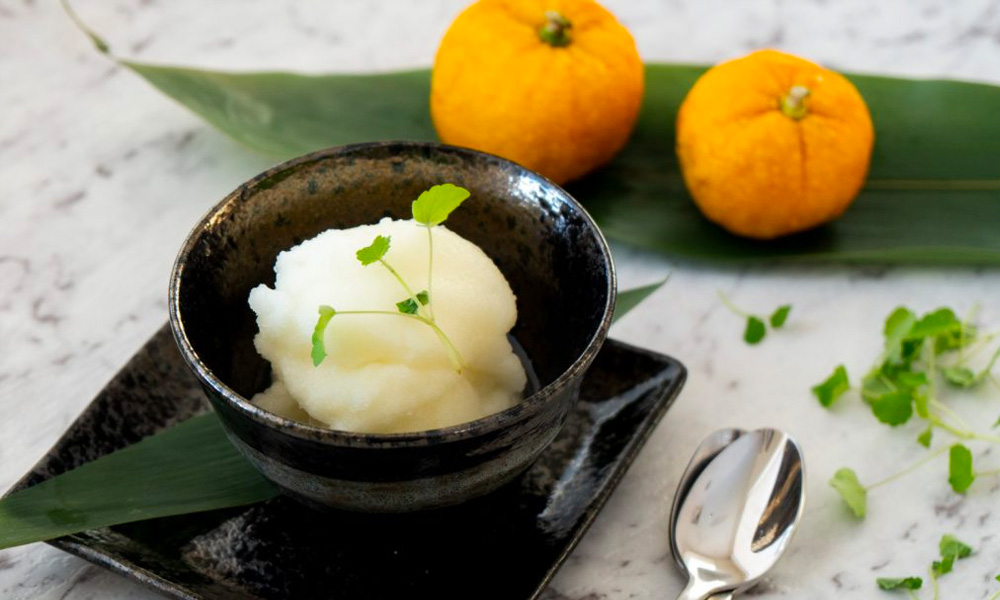 Some days an ice-cream might do, but sometimes you deserve a classier dessert. Indulge in the sweet-tangy flavour of this melt-in-your-mouth Japanese Yuzu Sorbet – made with just three ingredients, and under ten minutes!
Vegan Matcha Pound Cake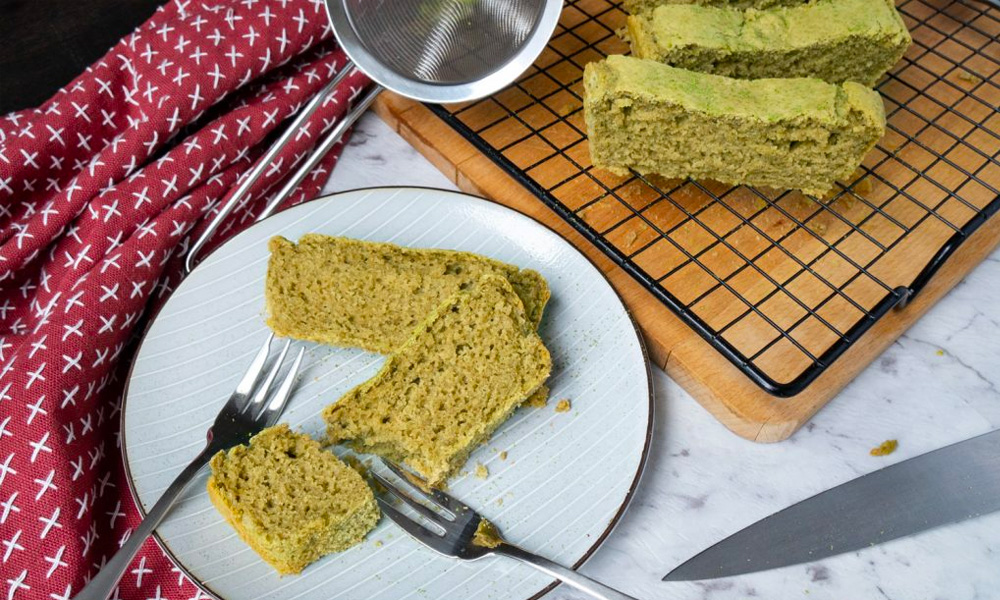 Can you bake a cake without eggs and butter? Why yes! Here's a Japanese Matcha pound cake made with flour, maple syrup and soy milk; flavoured with the refreshing aroma of Matcha green tea and red bean paste. Soft, chewy, sweet and delish!
Creamy Coconut and Jelly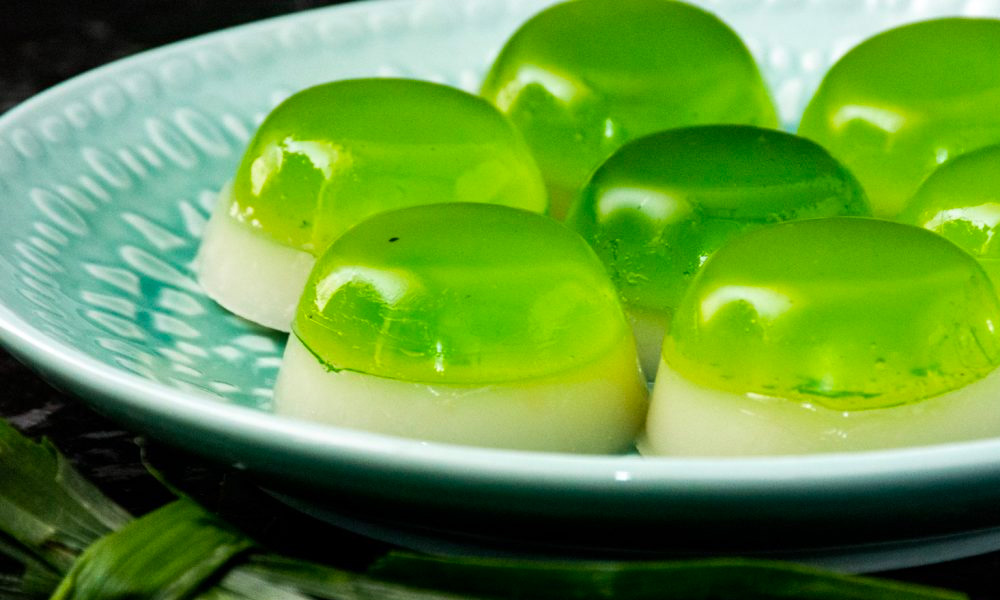 Pandan is the vanilla of Southeast Asia – a long-leaf plant with a tropical sweet aroma. Boil the pandan leaves to draw out the flavour, and make this alluring Thai sweet jelly treat; imbued with the natural nutty sweet taste of fruity coconut water. A joyful yummy dessert for the whole family.
Indonesian Fried Banana Balls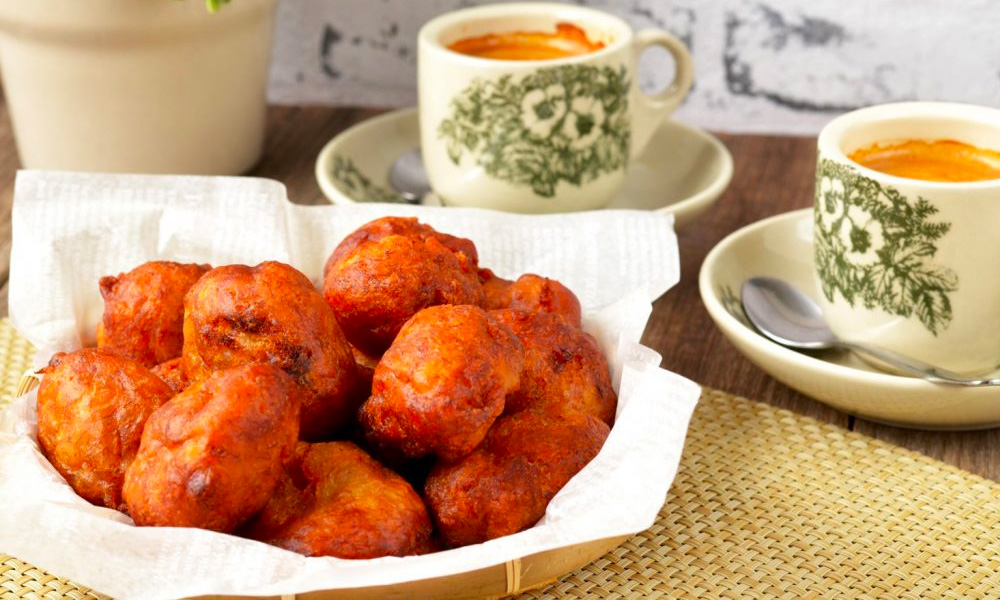 Got some bananas that are a bit over-ripe? Fret not. This Indonesian deep-fried special will turn them into melty yums, wrapped in scrumptious balls made from a batter of plain flour, rice flour, and soda powder. Best enjoyed with coffee or tea. A dessert that's perfect for a fruity breakfast treat, lunchbox filler or afternoon snack.
Sweet Potato Balls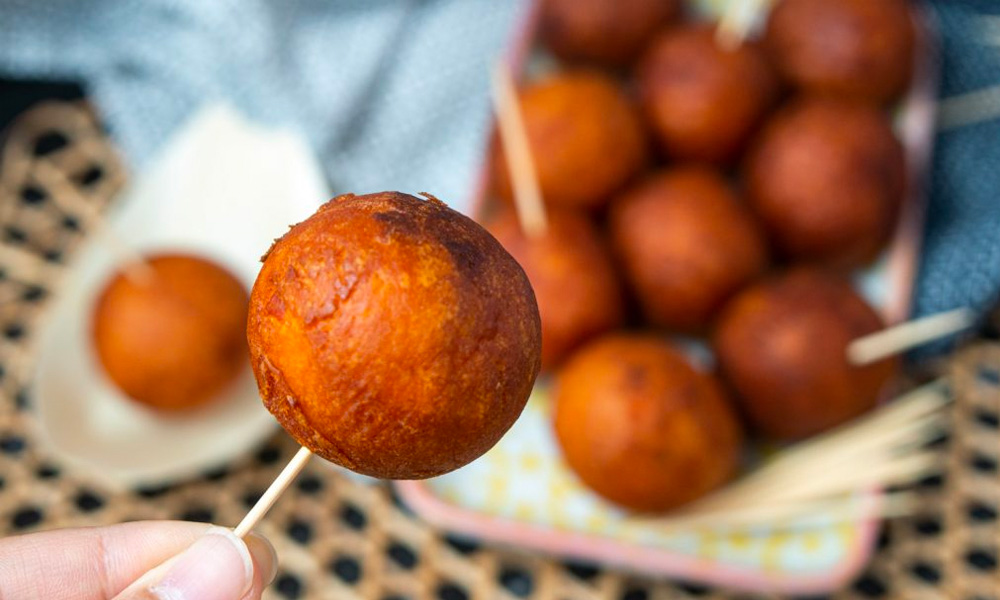 Besides soupy desserts, sweet potatoes are also yummy in Asian fried snacks. Malaysians love the sweet potatoes' crumbly flavour in this fried afternoon dessert. Made with a dough of glutinous rice flour, white rice flour and baking powder. Soft, chewy and earthy-sweet. One is never enough!
Kuih Pelita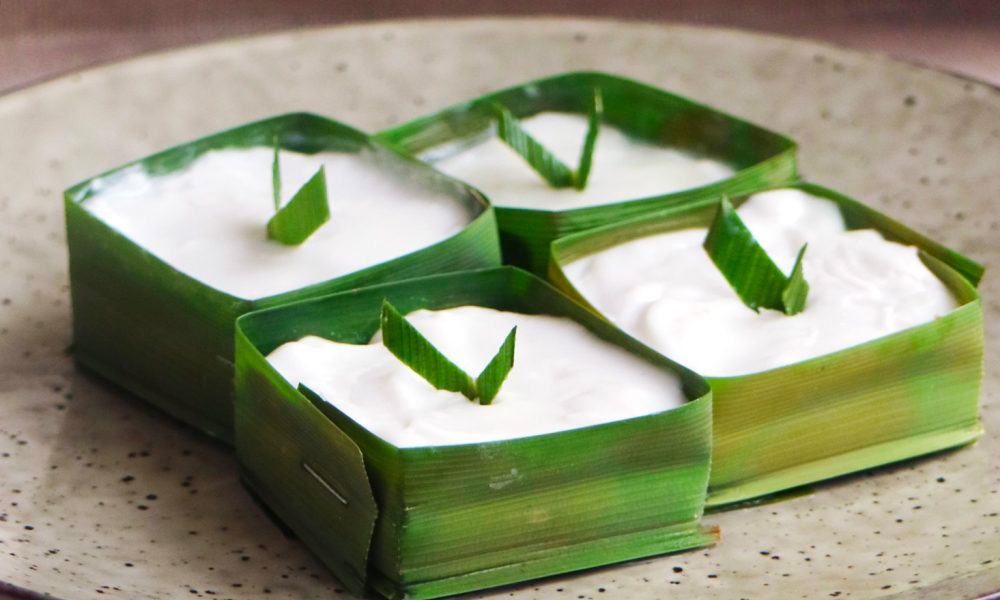 Lighten your mood and taste-buds with the soothing fruity sweet flavour and creamy-soft texture of this delightful Malaysian dessert. Made with coconut cream and casted in pandan leaves for an extra refreshing aroma. The name Kuih Pelita translates to 'lamp pudding', a nod to its unique shape – like a traditional Malay oil lamp. Come have a bite!
Dodol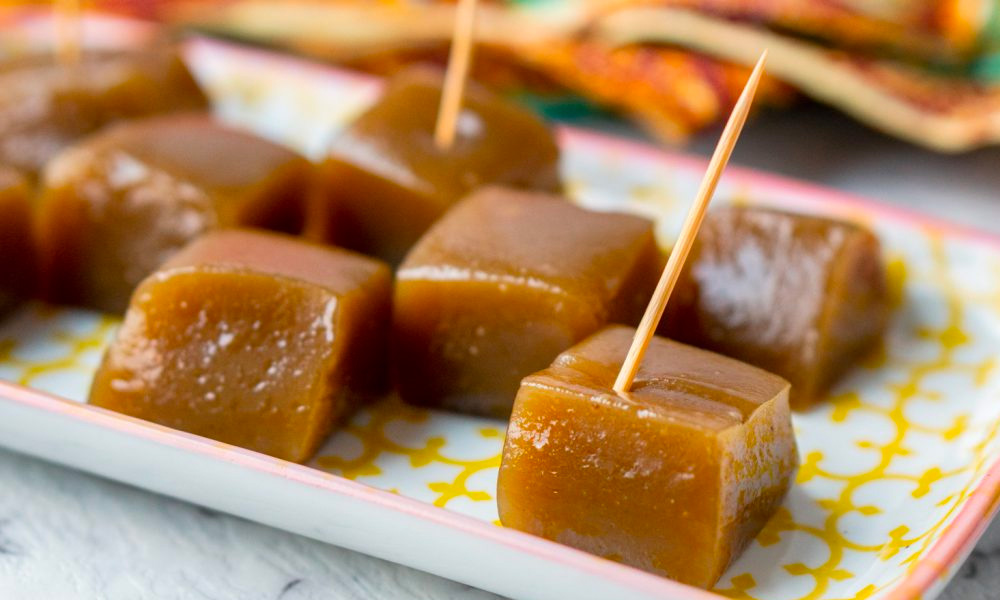 A cross between a pudding, jelly and gummy candy, the tropical Dodol is made bouncy with glutinous rice flour, nutty sweet and velvety with coconut cream and coconut milk; as well as the natural caramel-like sweetness of palm sugar. A signature traditional dessert fave in Indonesia, Malaysia and Singapore. Make yours at home with our authentic recipe.
Blue Butterfly Pea Seri Muka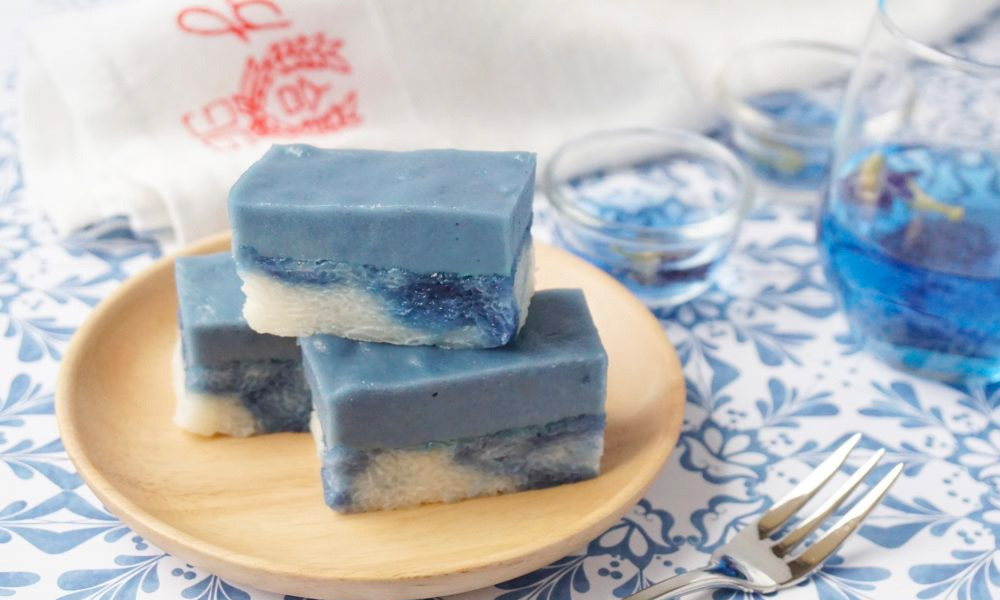 Vibrant periwinkle blue and with a mild camomile-like sweet scent, the Blue Butterfly Pea is an edible flower with many tasteful uses – from a comforting tea and food colouring, to a myriad of Southeast Asian pastries and desserts. In this Malaysian kuih special by Chef Karen Chan, the Blue Butterfly Pea's natural soothing aroma is imbued in both the yummy custard top and the chewy sticky rice base layers. Pure pleasure in every bite.
More Delish Asian Desserts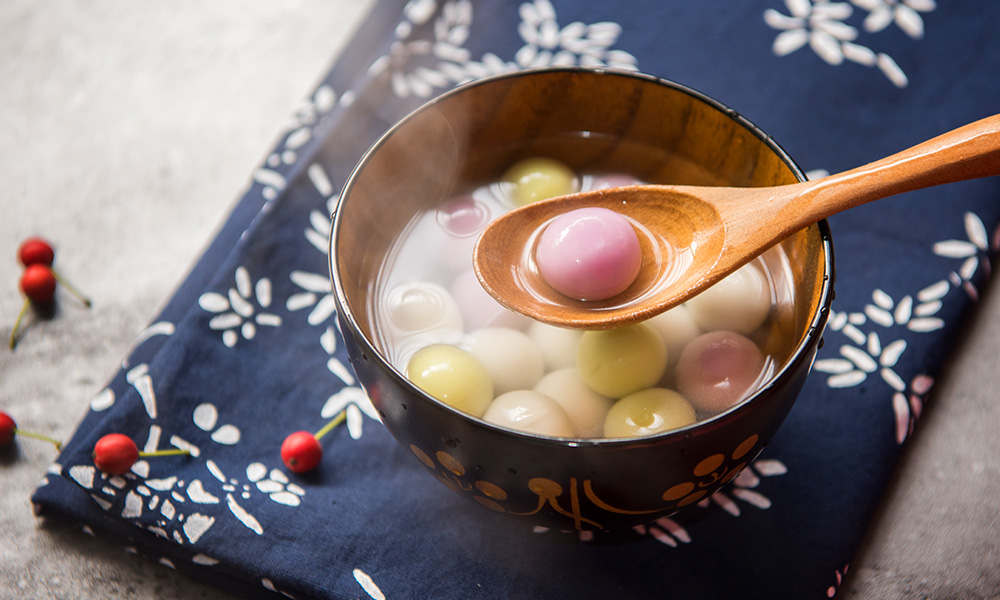 Cakes, cookies, pastries, icy treats, fruity snacks, sweet soups and many, many more, there's a boundless world of yummy Asian desserts to explore. Come discover our list of 14 signature must-tries. Sweeten your day with 12 delightful Asian dessert soups. Have a taste of our top 10 lovely Asian sweet pastries. And be sure to treat yourself to our expansive collection of Asian dessert recipes!