One of the best things about cooking Asian cuisines is simplicity. No need for mad level skills, and there's a myriad of easy, satisfying recipes with just a handful of ingredients. So let's make the most of your kitchen time and budget. We've handpicked 8 flavour-packed yummies you can cook and savour with just 5 ingredients!
Pan Fried Omelette with Chives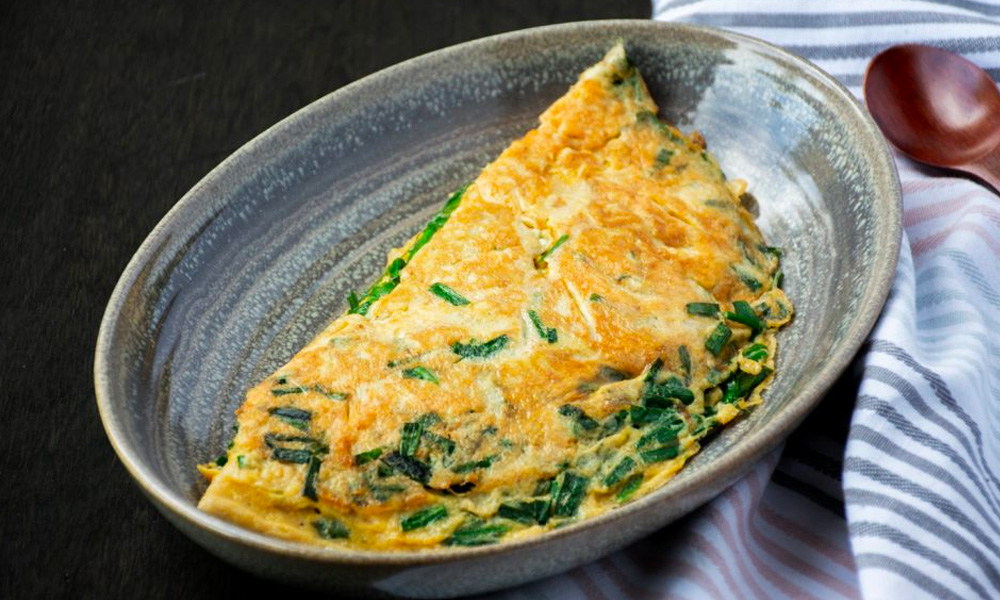 Breakfast, side dish or a quick snack, Asian omelettes got you covered. This Chinese pan-fried delight combines the easy yumminess of eggs with the fragrance of chives, firmed up with a dash of cornflour, and made savoury with soy sauce and a pinch of salt. A simple, tasty home-cooked treat.
Stir-fried Chinese Broccoli with Oyster Sauce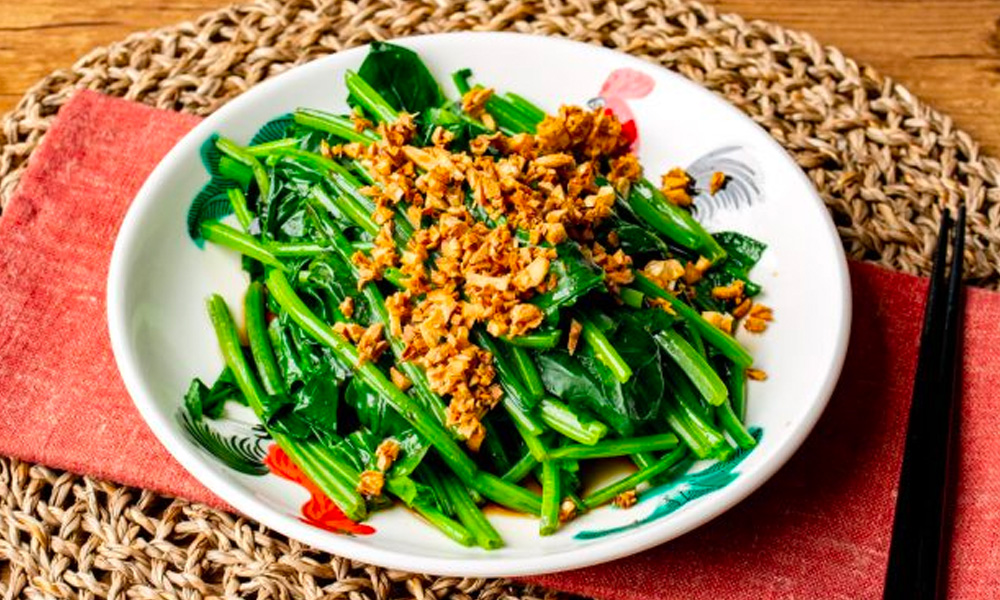 Chinese broccoli has long thin stems and lush-green leafy tops, tender and crunchy to munch. An all-time Chinese favourite veggie side in home-cooked meals. Here's a simple stir-fried Chinese broccoli dish, made appetizing and savoury with just garlic and oyster sauce!
Roast Chicken with Sichuan Peppercorn Salt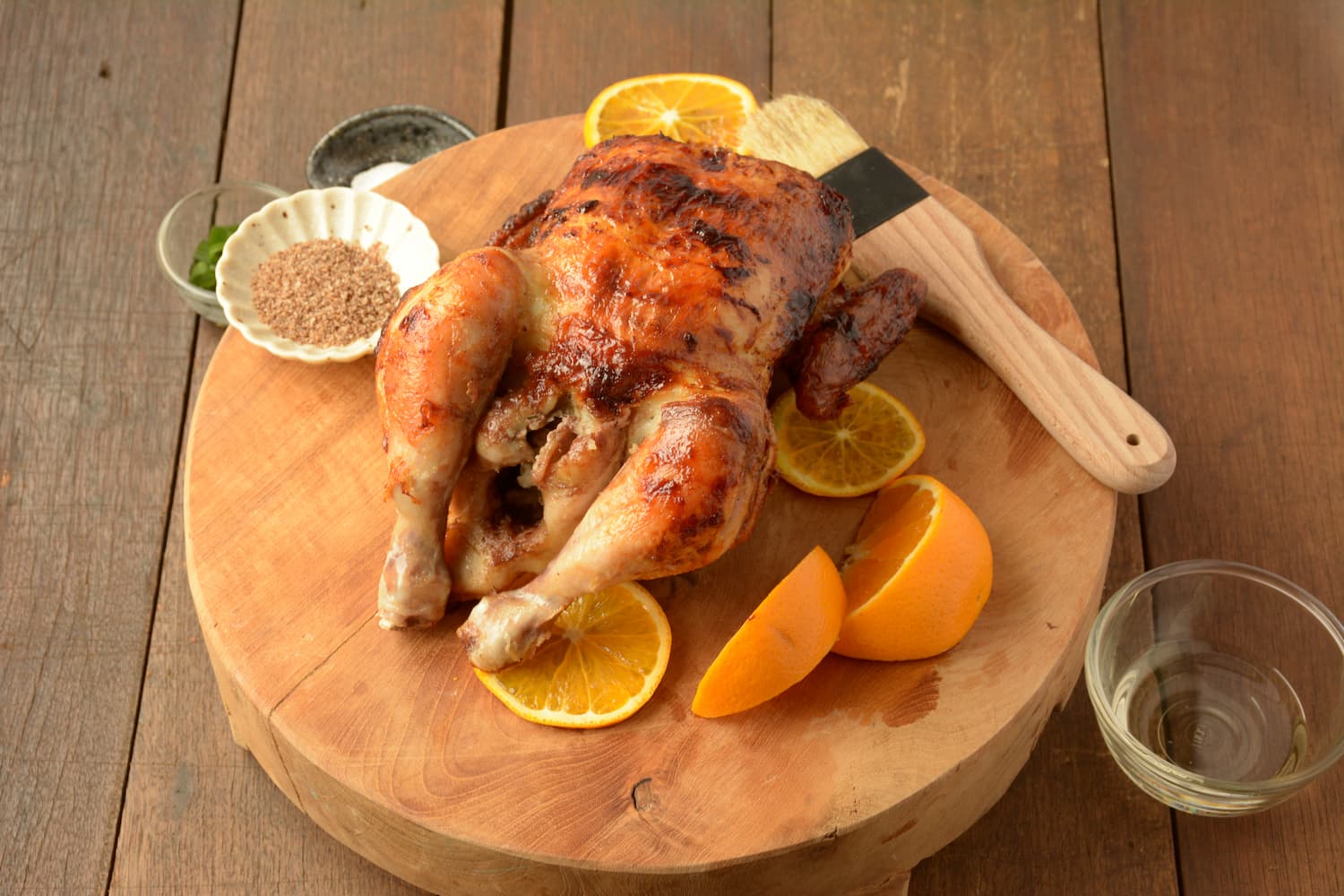 Sichuan peppercorn salt is made by toasting the peppercorn with salt, then grounding the blend into a fine powder. It's a popular Chinese staple seasoning that combines the bracing flavour of Sichuan peppercorn with an alluring savoury taste – especially delish for meaty dishes. You can find this bottled seasoning at Asian grocers. Try it in this easy yet sumptuous roast chicken special!
Rice Paper Rolls with Prawns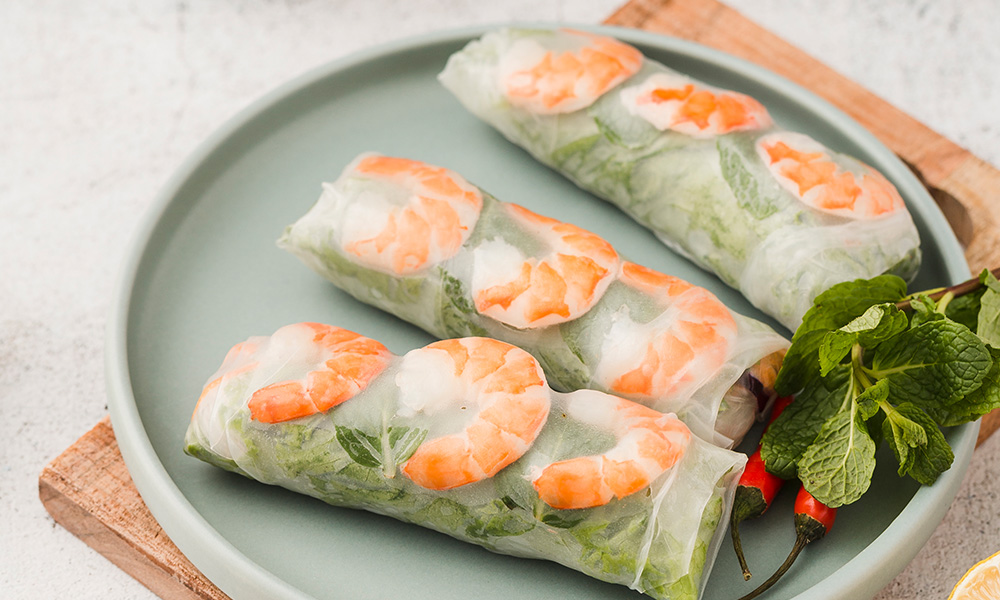 Vietnamese rice paper comes in sheets that soften in water, used to wrap this classic spring roll fave with scrumptious prawns and rice vermicelli noodles, made fragrant with mint leaves and crunchy with garlic chive leaves. Enjoy with chilli sauce and hoisin sauce for extra flavour. Perfect for a wholesome breakfast, appetizer or lunchbox filler. Refreshingly yummy!
Shortcut Pepper Salt Prawn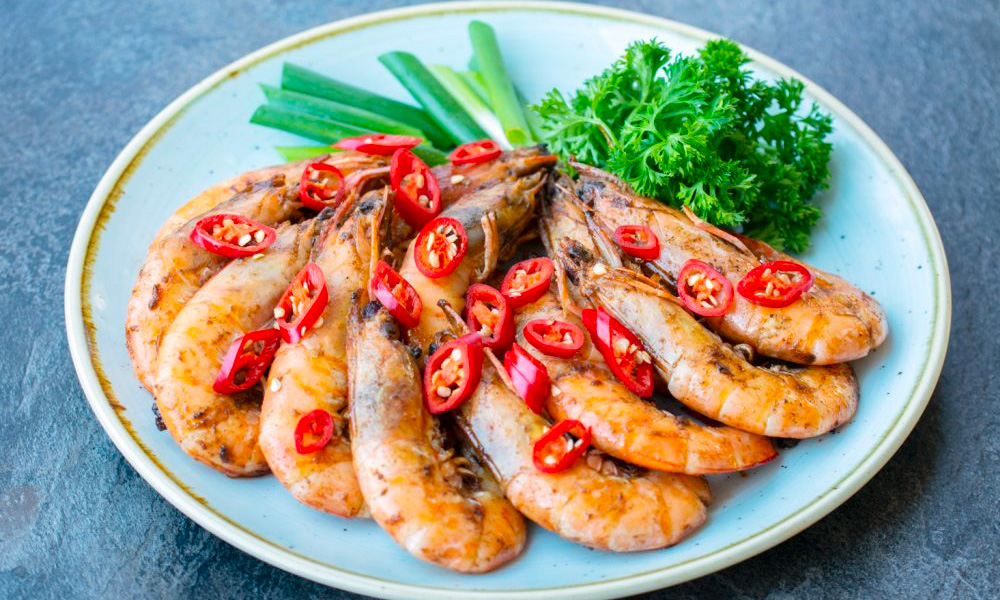 Craving for the scrumptious, umami flavour of prawns? Bring out the best of them with a packet of pre-blended Pepper Salt Prawn Spices, and stir-fry to mouth-watering fragrance. Come grab this easy, irresistible recipe!
5-Ingredient Poke Bowl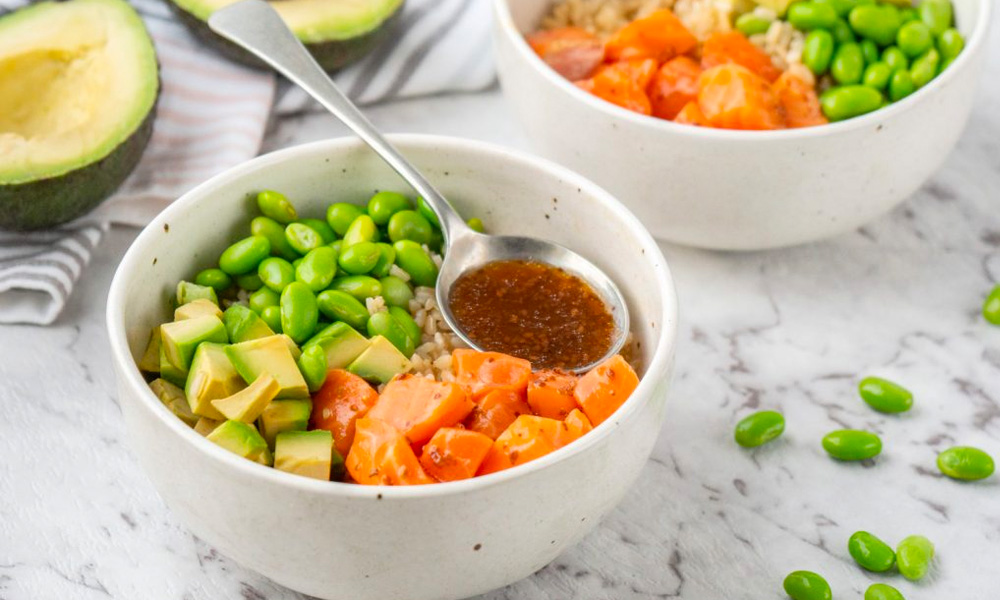 The modern poke bowl is heavily influenced by the Japanese love for salmon sashimi and one-bowl dishes; with an infinite combo of nutritious ingredients. Here's our special poke bowl recipe with soft edamame beans, avocado, delish cubed salmon and rice, yummified with the rich umami flavour of Kewpie sesame soy dressing. Come taste it!
5-Ingredient Salmon Soba Noodle Salad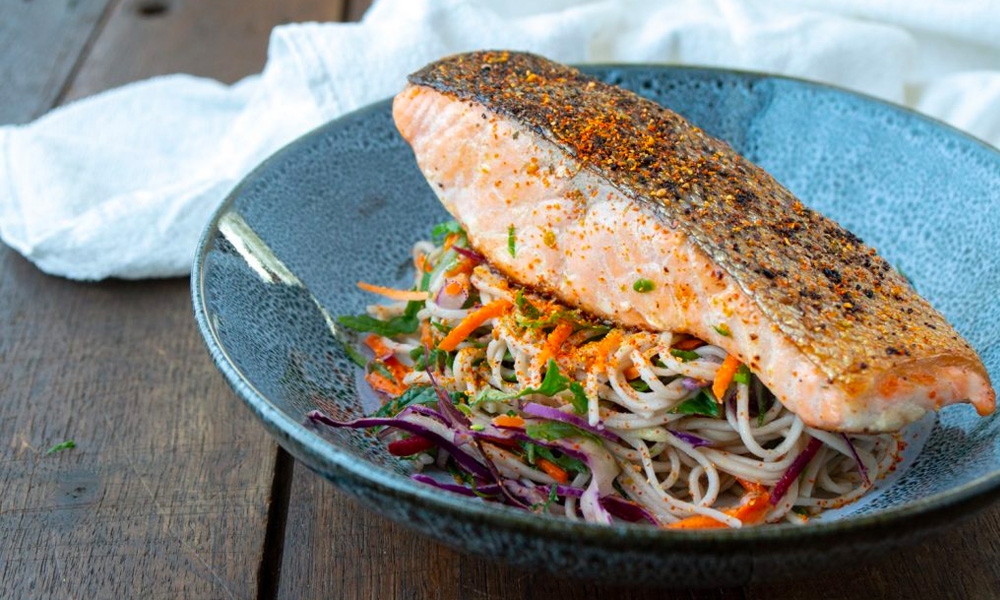 Spice blends are a quick and easy way to imbue your cooking with robust Asian flavours. The Japanese Shicimi Togarashi is one such. Made from ground Sansho pepper, red chilli, roasted orange peel, black sesame seeds, hemp seeds and toasted nori seaweed. A bold savoury powdered seasoning that elevates meat and seafood dishes; like this soba noodle and salmon delight that's pure umami satisfaction in every bite. Make yours fresh with our recipe! New to soba noodles? Come learn more about it here.
Salt & Pepper Tofu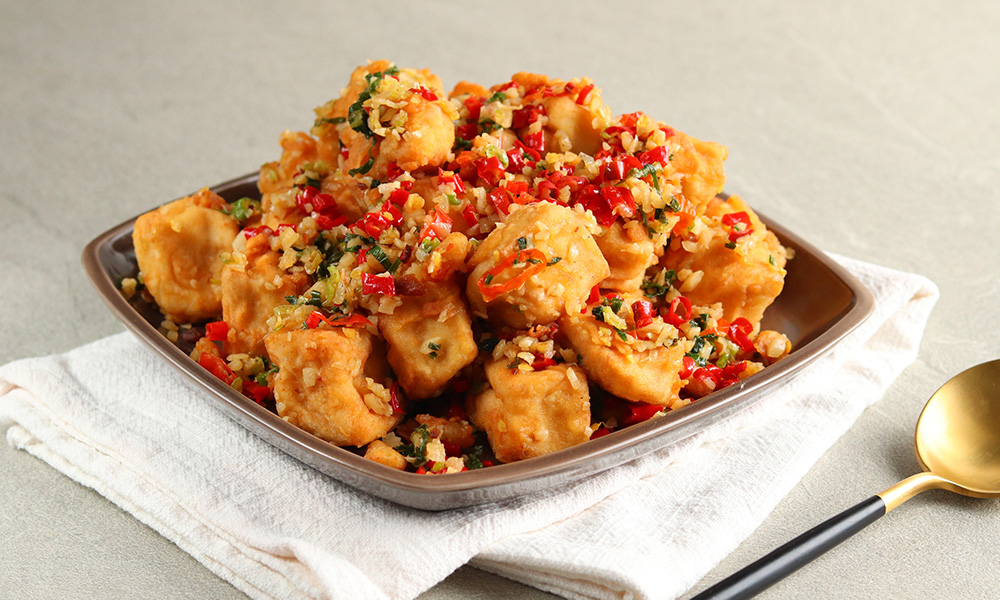 A simple cornstarch coating gives your fried tofu a thin crispy crust, while keeping the softness within. Add salt and white paper to the blend for flavour in this easy yummy recipe, and garnish as you like. A savoury appetizing side dish that pairs great with any meat, seafood and veggie. Also delicious as a snack!
More Fast & Tasty Asian Flavours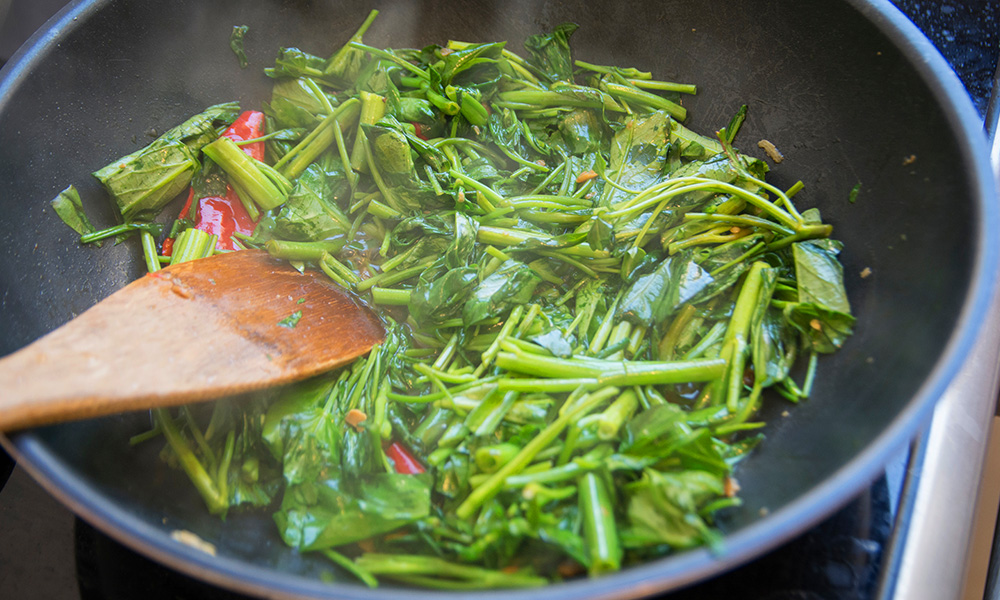 Asian cuisines are filled with quick-to-cook and flavour-packed dishes that satiates your taste-buds and fills your belly. Come have a taste of some beloved Asian 'fast foods'. Savour our 12 handpicked slurp-licious noodle faves. Explore the gastronomic world of Asian one bowl wonders. Also, check out our handy tips to make home-cooking a breeze.