Malaysia is a multicultural melting pot of many peoples. Although the 14th Century Sultanate of Malacca is often credited for the nation's 'cultural foundation', both the Malay Peninsula, as well as Sabah and Sarawak across the South China Sea, actually have a history of human habitation that stretches back thousands of years. The land's rich natural resources, warm tropical climate and geographic advantage had attracted many early settlers from much of ancient Asia, birthed seafaring empires that spanned the Malay Archipelago, and later, brought Portuguese, Dutch and British colonials; eventually gaining independence in 1957, and the formation of Malaysia in 1963.
Today, Malaysians are officially categorized into four major groups, namely Malay, Chinese, Indian and Indigenous Orang Asli, with a plethora of subcultural ethnicities among each. And everyone brings their own unique flavours that make up Malaysian cuisine; inherited, adapted and evolved from many traditions. Like most Asians, rice is a staple food here; enjoyed with great varieties of meat, seafood and veggie dishes. Common cooking methods include stir-fry, boil, braised, steam, and curry; but every culture has its own iterations, ingredients and melange of tastes. Here, you can enjoy a traditional Nasi Lemak for breakfast, Chinese stir-fry lunch, Indian Roti Canai tea-break, and a buffet of mixed dishes for dinner; all in one day!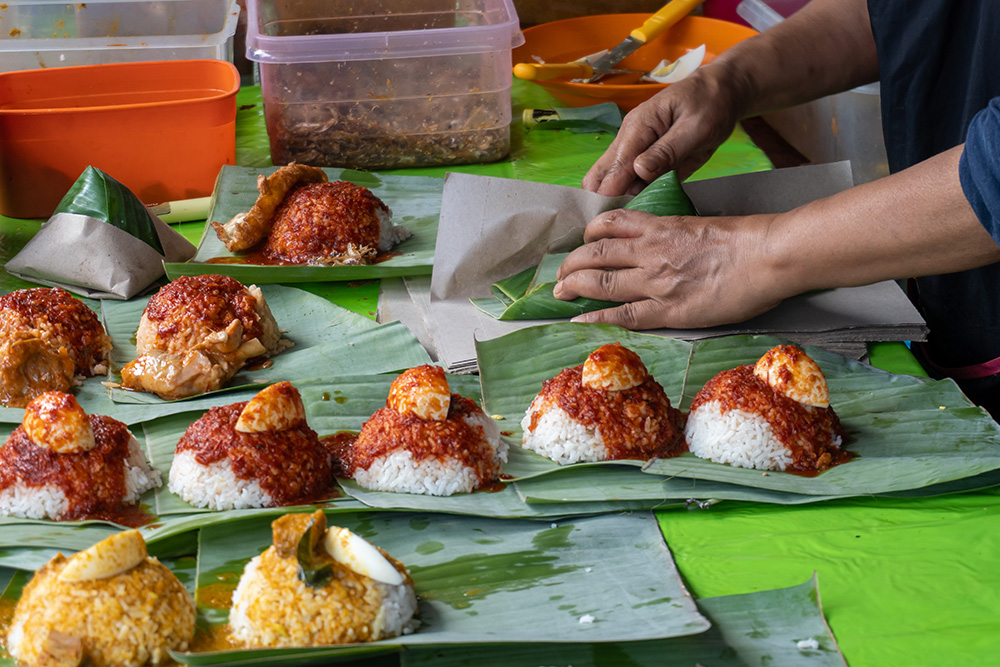 Malay Food
Malay Muslims make up the Malaysian majority; and their food is best defined by the strong, spicy and aromatic flavours. Originally a seafaring people, Malay dishes often feature local seafood like squid, shrimp, prawn, crab, and fish; while favoured meats are chicken, beef and mutton. These are marinated with special mixes of local herbs and spices before cooking. Veggies are mostly stir-fried to the piquant yumminess, but some like the pungent Petai and crunchy winged bean are also enjoyed raw, dipped in spicy Sambal – a must-have table condiment, and an essential ingredient for many dishes.
Major herbs include lemongrass, shallots, ginger, bird's-eye chilli, galangal, turmeric, pandan and lime leaves; while spices such as fennel, cumin, coriander, cardamom, cloves, star anise and nutmeg are regularly used.
Cooking styles differ along with the states. Northern Malay food has a strong Thai influence, with more sweet-sour flavours. In central and southern states, the food incorporates more taste features of Indonesian cuisine; and are richer in coconut milk.
However, the Malays are an easy-going people, and thus, traditional cooking is often slow and laidback, to savour the pleasure of making the dishes, as much as eating them. Methods include 'Tumis' (pan fry with small amount of oil), 'Salai' (to smoke, grill or roast), 'Sangai' (slow fry with dried spices), 'Layur' (dry cooking with low heat), 'Tanak' (pot-cooking, especially for rice), 'Jerang' (to boil, mostly for soups), 'Celur' (to blanch in hot water) and 'Reneh' (to simmer). Influences from Chinese, Thai, and Indian cooking are also integrated, such as stir-fry, deep-fry, curries and braised dishes.
Desserts are often sweet, chewy and fragrant pastries that feature tapioca, glutinous rice, palm sugar, blue butterfly pea, rice flour, grated coconut meat, and coconut milk; as well as the shaved ice favourite, Ais Kacang; and the savoury banana fritters, Goreng Pisang.
For meal dishes, have a taste of classic Rendang, fiery Sambal squid, savoury Cincalok omelette, and Sayur Lodeh mixed veggie curry – all best served with white rice. Prefer a dish that has it all? Then don't miss the filling and flavoursome Nasi Kerabu from Kelantan, and ease the spiciness with a cool and refreshing Ais Tingkap sherbet.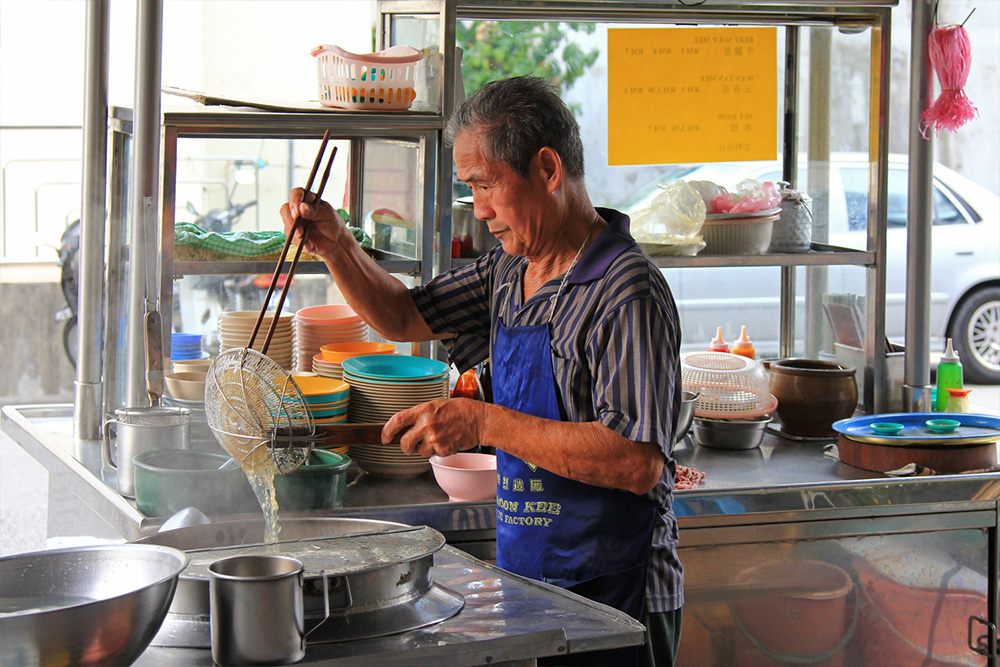 Chinese Food
Although the Chinese have settled in old Malaya as early as the Ming Dynasty (1300-1600AD), the majority of Malaysian Chinese today are migrant descendants from British colonial times, and make up the second-largest ethnic group, at about 30%. Most of whom came from the Southern Chinese provinces, and consist mainly of Hokkien, Cantonese, Hakka and Teochew communities; each with their own traditional dialects and cuisines. But while the food culture still bears similarities with their origins, the taste profiles have been greatly influenced by local ingredients and cultures; fused and developed into their own unique flavours.
Pork is the preferred meat, though chicken, beef and mutton are also enjoyed; as well as local seafood and veggies. Traditional Chinese cooking methods like stir-fry, steam, boil, roast and braise are common here, but there are also exclusive recipes created by Malaysians that you probably can't find in China, Taiwan or Hong Kong. This is largely thanks to the use of local herbs and spices, similar to those in Malay cuisine; and, because Chinese cooking centres on accentuating the food's essence with sauces and condiments, Malaysian Chinese dishes often taste richer for it.
Signatures include the umami Bak Kut Teh pork belly herbal soup, savoury fried rice cake Char Koay Kak, luscious Char Kway Teow, soothing Kuey Teow Soup, succulent Hakka braised pork belly, filling Hainanese Chicken Rice, and yummy Hakka Yong Tau Foo.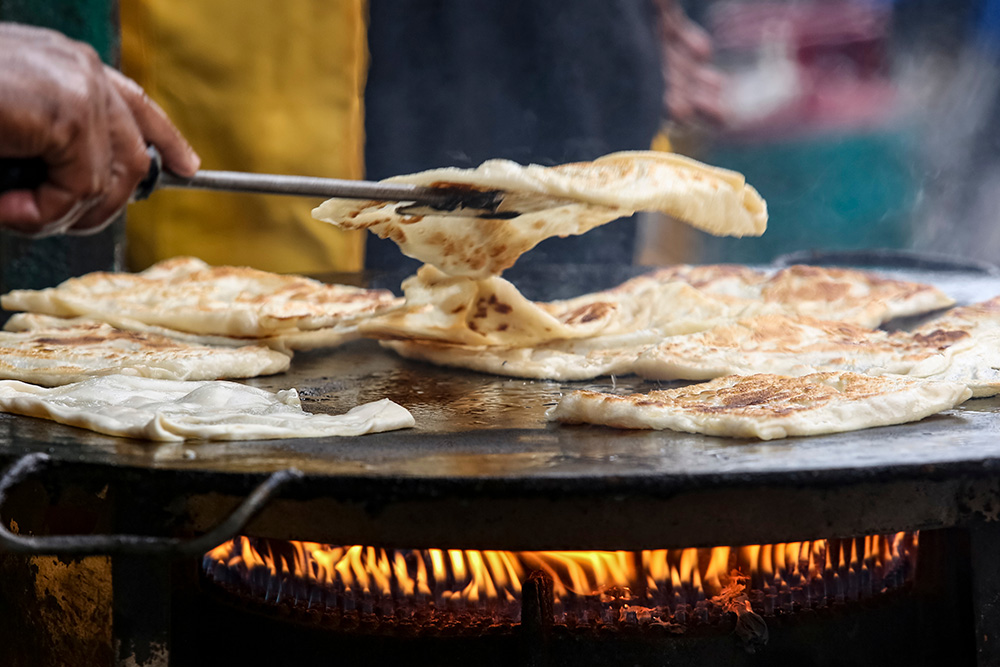 Indian Food
Similar to the Chinese, Malaysian Indians are mostly migrant descendants who came during the British colonial era, from the southern regions of India; and of the ethnic Tamil community. Although northern Indian is available here as well, the vast majority of Malaysian Indian food retains the character and taste of southern Indian cuisine. Spicy curries served with rice is a common meal. Chicken, mutton and seafood the favoured, accompanied by assorted veggies – usually diced and cooked in non-spicy gravy dishes. Key herbs and spices include turmeric, cardamom, star anise, chilli, coriander, cinnamon, fennel seeds, fenugreek seeds, garlic, peppercorn, curry leaves, bay leaves and cumin. The prominence of these rich aromatic flavours, combined and fused with the meat, seafood or veggie ingredients, made creamy and umami with coconut milk and ghee – these are the taste features of Malaysian Indian food. But the most popular among all Malaysians is the Indian-Muslim Mamak food.
Some Indian dishes are entirely Malaysian creations, such as the stir-fry Indian noodles, cooked with springy yellow Chinese mee, capsicum, dried spices, chilli and tofu. Fragrant Biryani rice served with curry, and the sumptuous Banana Leaf rice are popular meals. The latter is a feast: assorted meat curries and veggie dishes served with steamy white rice, crunchy papadom flour-dough crackers, and a small cup of sour piquant Resam soup. Chicken curry is a household favourite of all Malaysians. The meaty pancake Murtabak packs flavour with rich fillings. And, of course, the breakfast and teatime darling, Roti Canai with dhal curry, is always a welcomed treat.