So, you've probably read quite a few of our Thai food features on tradition and diversity, as well as ingredients and pro-chef recipes. You may have also often heard that Thai cooking is about balancing flavours and aromas for harmoniously tasty dishes. But have you tried cooking Thai food at home, and couldn't quite hit the authentic flavours you've tasted before on your Thai trips? Well, you've come to the right article!
Let's start with the basics.
There are 5 main flavours in Thai cuisine: salty, sour, sweet, spicy and creamy. Typically, an authentic Thai dish has one slightly prominent taste with layers of the other three or four flavours to enrich and balance the overall taste.
So, it's a matter of knowing your ingredients, and the right amount of each to find the balance that your dish needs.
Salty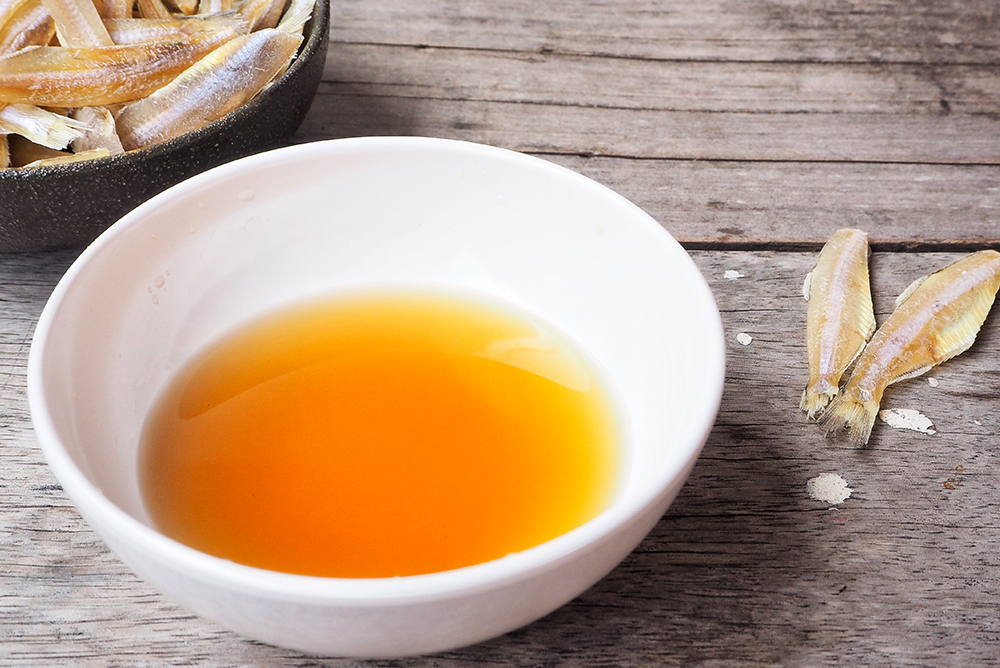 The salty savouriness of Thai cuisine comes more from fish sauce and soy sauce than salt. The fish sauce packs a rich umami taste that goes well with almost every Thai dish. The soy sauce brings a light earthy taste that blends with both veggie and protein ingredients.
In the classic crab omelette, the salty umami flavour of soy and oyster sauce combines with the creaminess of the egg. Layered with spiciness from red chilli and white pepper and spring onions. A dash of lime juice for a fragrant sour touch. Sriracha sauce for a spicy oomph.
For the slow-cooked Thai beef noodles soup, tender savoury beef and smooth flat-rice noodles accentuated with salty soy sauce. Combined with sweet palm sugar, spicy aromatics peppercorn, star anise, cinnamon, and galangal; plus sweet-sour lemongrass and lime leaves.
The Thai salt-grilled fish is coated with salt, blended with the sweet-sour fragrance of lemongrass and lime leaves. Served savoury and spicy with the sauce mix of fish sauce, sugar, bird's eye chilli, and sour-fragrant lime juice.
Sour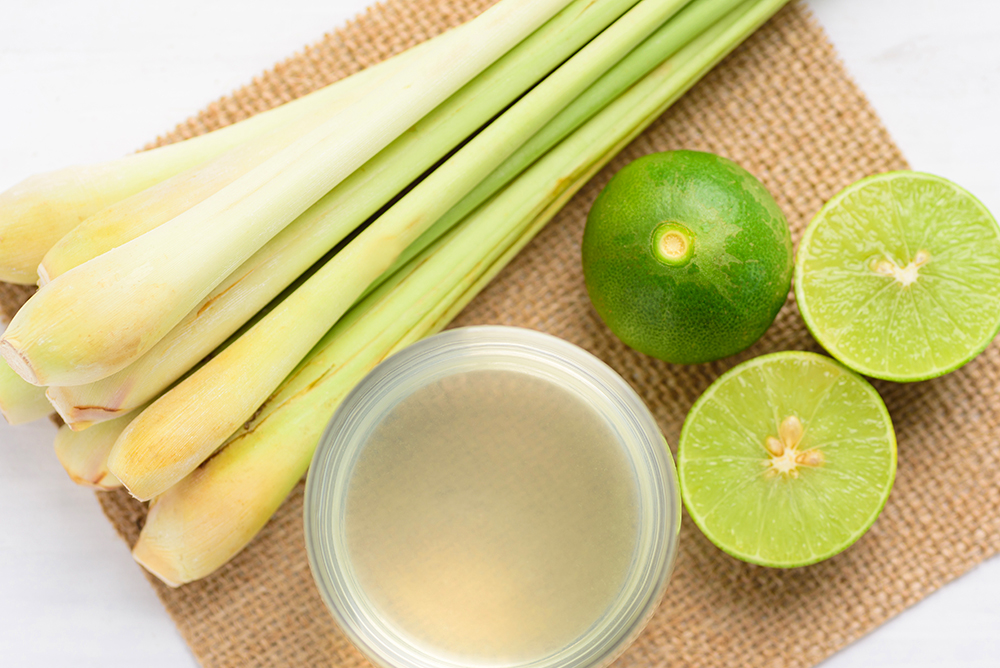 Lime juice and lemongrass give the citrusy sweet-sour flavour. Tamarind for sharper sour excitement. Lime leaves add a rich sweet-sour aroma. The sour flavour is prominent in Thai salads, soups and dipping sauces.
Tom yum is probably one of the most complex flavoured Thai soups, but it's actually quite simple to make at home. The two core flavours are sour (from lime leaves, lime juice and lemongrass), and spicy (from chilli and galangal). Blend with umami fish sauce and chicken stock, to accentuate the natural sweetness of seafood.
For deep-fried fish in sour curry, tamarind paste gives the main flavour, balanced with palm sugar and made umami with fish sauce; and blended with the complex spiciness of the sour curry paste. Cauliflower, white radish and green beans to even out the strong flavours with their natural veggie sweetness.
Som Tum salad is a signature Thai delight. Cherry tomatoes, lime juice and green papaya give the sour fragrance; layered with the sweetness of palm sugar, and made savoury with fish sauce.
Sweet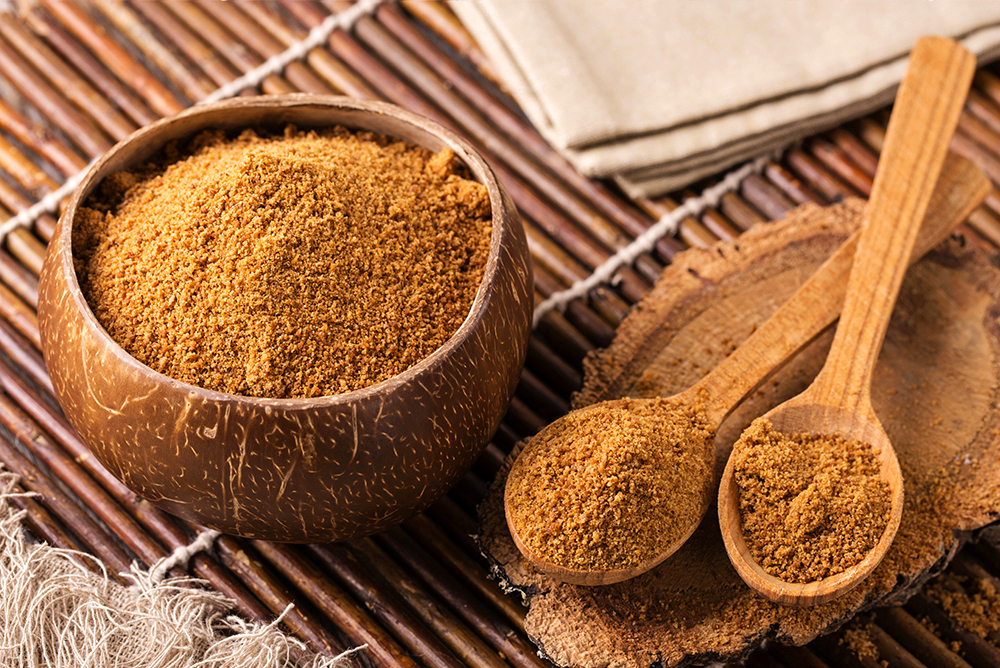 Palm sugar, brown sugar, coconut sugar and dark soy sauce give the main sweet flavours of Thai cuisine. Dishes with sweetness as the core flavour aren't limited to desserts either.
The home-cooked veggie stir-fried fave, Pad See Euw, is made sweet and savoury with dark soy sauce, honey, rice vinegar and regular soy sauce – to accentuate the natural sweetness of the vegetables.
Unlike other curries, Thai Massaman curry isn't spicy, Thai Massaman is actually sweet – flavoured with palm sugar, fish sauce for a savoury touch, as well as tamarind puree for a slightly sour tinge. Made creamy with coconut milk.
Even in dessert and pastries, Thai sweetness has layers too. In the wondrous Thai egg custard pumpkin, the fruit's natural taste is elevated with palm sugar and the vanilla-like aroma of Pandan leaves; smoothened with coconut milk.
Spicy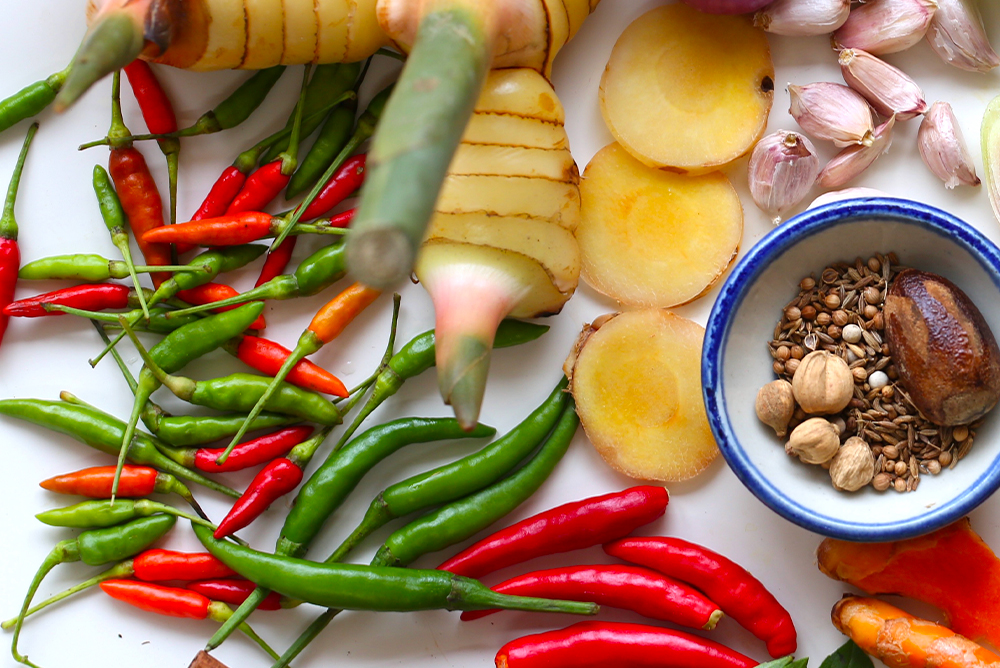 Thai spiciness comes from chilli, peppercorns, ginger and galangal. Typically for meat and seafood stir-fries, as well as curries and soups.
In the traditional Pad Kee Mao drunken noodles, chilli gives the main fiery taste; eased with dark soy sauce, sugar and basil; plus the sweetness of baby corn and asparagus. Fish sauce, oyster sauce and soy sauce add the savoury balance.
For the stir-fried chilli crab, chilli paste and garlic brings the zest and blends with the crab's sweetness; made savoury with fish sauce.
Thai spiciness brings out the natural fragrance of cooked meats, too. The classic Pad Cha uses a pickled rhizome to clear the beef's meaty odour, with peppercorns and bird's-eye chilli to deliver its zesty punch. Coconut water balances the fiery flavours with sweetness. Fish sauce and garlic for the Thai umami touch, and lime leaves for extra aroma.
Creamy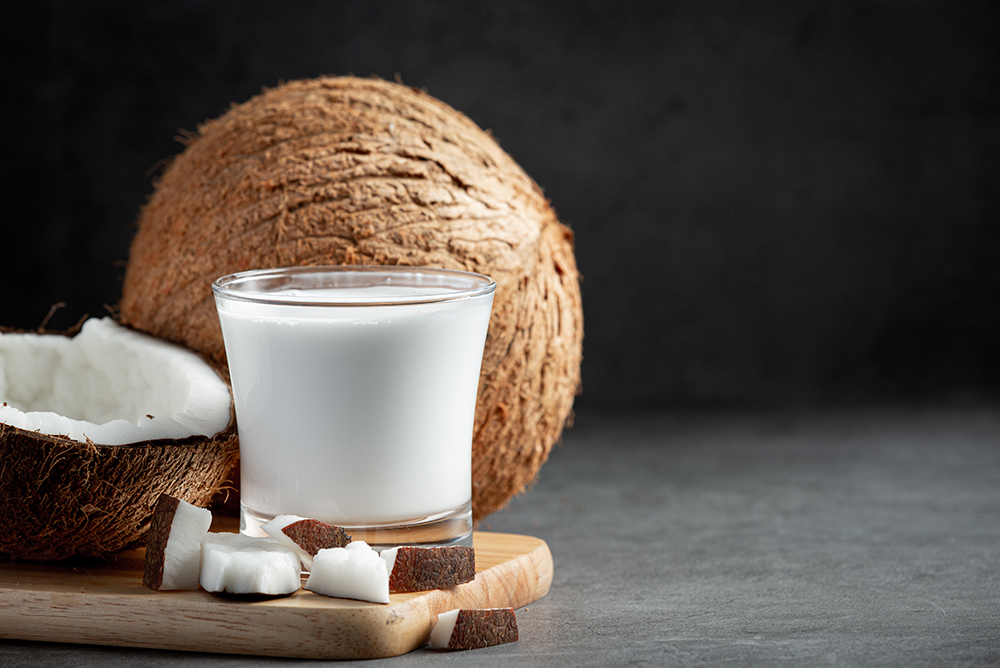 The creaminess in sauce, curries and soups tempers and evens out the spiciness in Thai cuisine. Coconut milk does the trick, usually 'hand-in-hand' with palm sugar, brown sugar, or other sweet-flavoured and cooling ingredients, such as fruits and veggies.
The spicy Northern Thai Khao Soi noodles have a rich curry soup with various powdered spices, velvety with coconut cream and balanced with brown sugar.
Coconut milk is a must-have in red curry Choo Chee salmon, to smoothen the fiery panang curry paste and red chilli. Lightly sweetened with palm sugar. Fish sauce adds to the savouriness of the salmon. Complete with the fragrance of lime leaves for garnish.
Of course, creaminess is a signature of Thai cuisines as well. Like the classic Bua-Loy rice balls in coconut milk.
General flavour-matches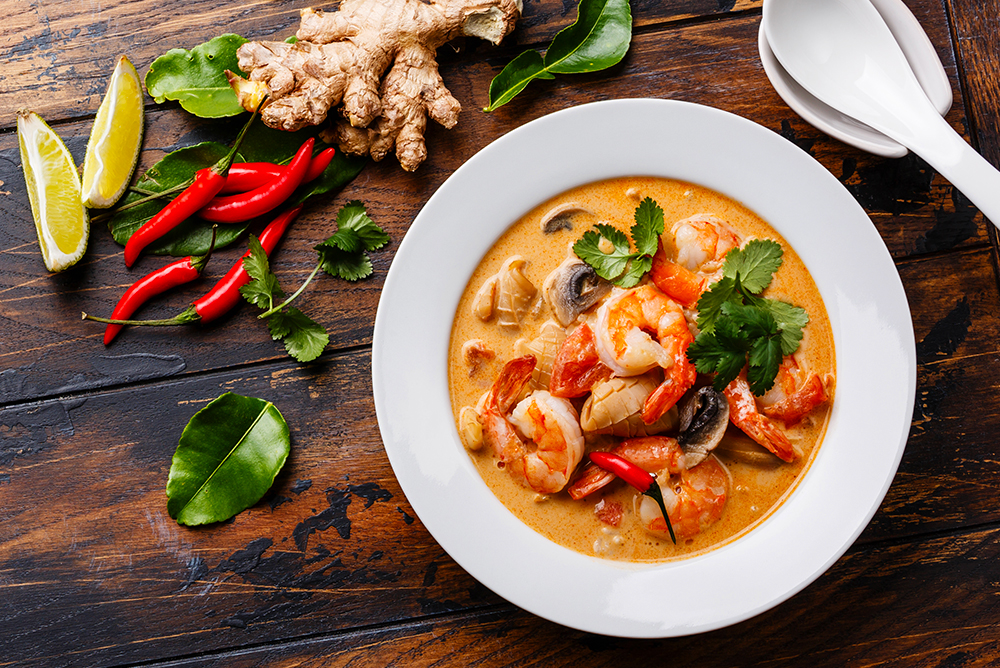 'Advanced level' Thai food like the royal dish Naam Phrik Lohng Reuua combines all Thai signature ingredients for a sweet, spicy-sour and umami bonanza. However, in most Thai dishes, salty, spicy and sour are usually the core flavours for meats and seafood; while sweet and creamy adds to achieve the harmony of tastes. Veggies too bring a balance to meat and seafood. So mix it up, blend it well, and cook up your favourite authentic Thai flavours!
Authentically Thai
Want more authentic Thai flavours? Look out for the "Thai SELECT" logo on your next foodie hunt.
"Thai SELECT" is an award of approval granted to Thai restaurants overseas by the Department of International Trade Promotion (DITP), Ministry of Commerce, Thailand to increase the recognition of quality Thai restaurants around the world. It also encourages Thai restaurateurs to raise their quality while maintaining the authenticity of the Thai food they offer.
So anywhere you travel, look for the "Thai SELECT" logo. It assures you that delicious Thai cuisine is being served in a pleasant atmosphere, and with the famous Thai smile. It's not just a meal; it's a journey into Thai culture. "Look for AUTHENTIC THAI CUISINE, look for Thai SELECT".