Love Thai cuisine, but feeling a little lazy to cook? Or miss the exquisite, complex and wondrous flavours from your last trip to Thailand? Well, luckily Australia is one of the best countries in the world to enjoy authentic Thai cuisine, thanks to the abundance of fresh produce and easily available Asian herbs and spices. Besides that, Australia also has the most Thai restaurants per capita outside of Thailand. Although Thai dishes are generally easy-to-cook, to truly master the rich and well-balanced flavours is an artful feat. Here are 6 restaurants in Australia that serve exceptionally tasteful and authentic Thai cuisine to satiate even the most discerning foodie.
Caysorn (Haymarket, Sydney)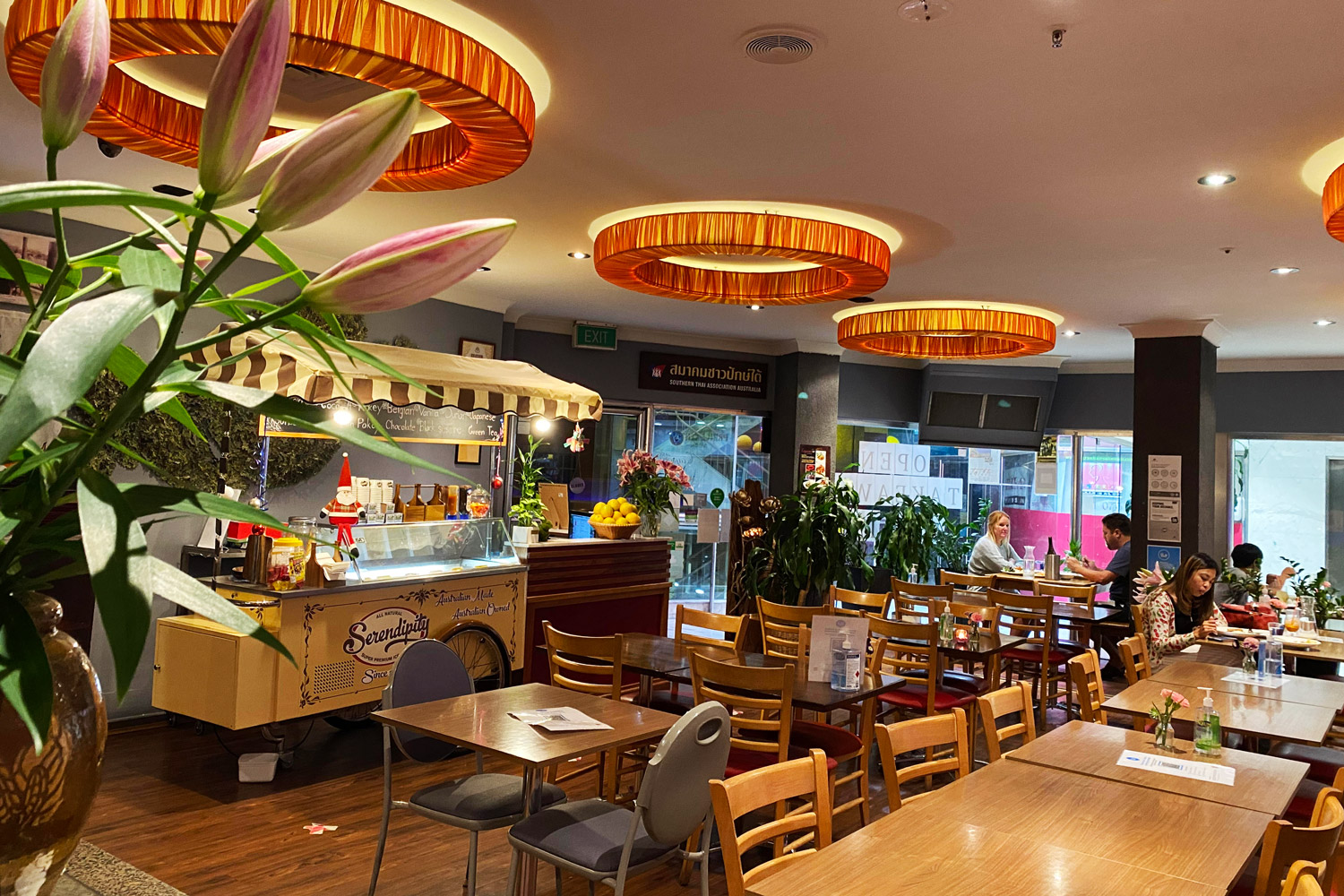 Tucked in the Prince Centre Building, Caysorn Thai Restaurant has a casual, laid-back setup with a stylish ambience. Cosy wooden tables make the foods' sumptuous colours pop under the light. The specialty? Traditional and modern Southern Thai cuisine. Spicier than dishes from other regions.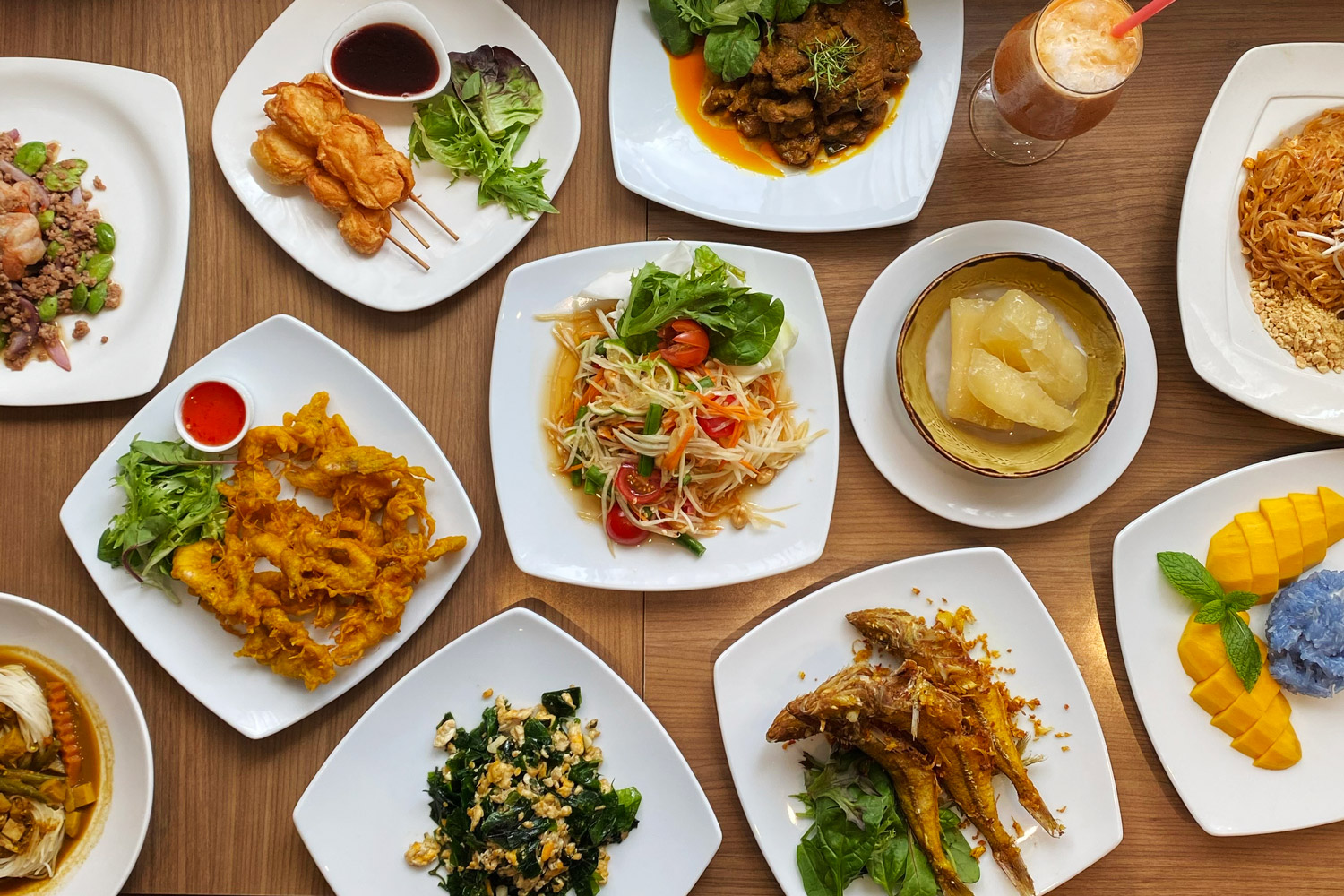 Thai spiciness isn't just chilli-hot but also imbued with other aromatic and flavourful herbs and condiments for layers of exciting, umami tastes. Start with the Gai Yang Kaow Lae entrée – skewered grilled chicken with hot sauce to accustom your taste buds. Next, savour the soft, springy rice noodles Kanom Jeen served in a spiral patty, with curry gravy. Cool off with veggies at the salad bar, such as bean sprouts, sliced cabbage, crunchy cucumber and Thai basil. Or go full fiery with the Sour Fish Curry with Riceberry Rice. Or enjoy a mixed herb salad with rice. Then ease the heat with a Sweet Cassava for dessert.
Show Neua (Haymarket, Sydney)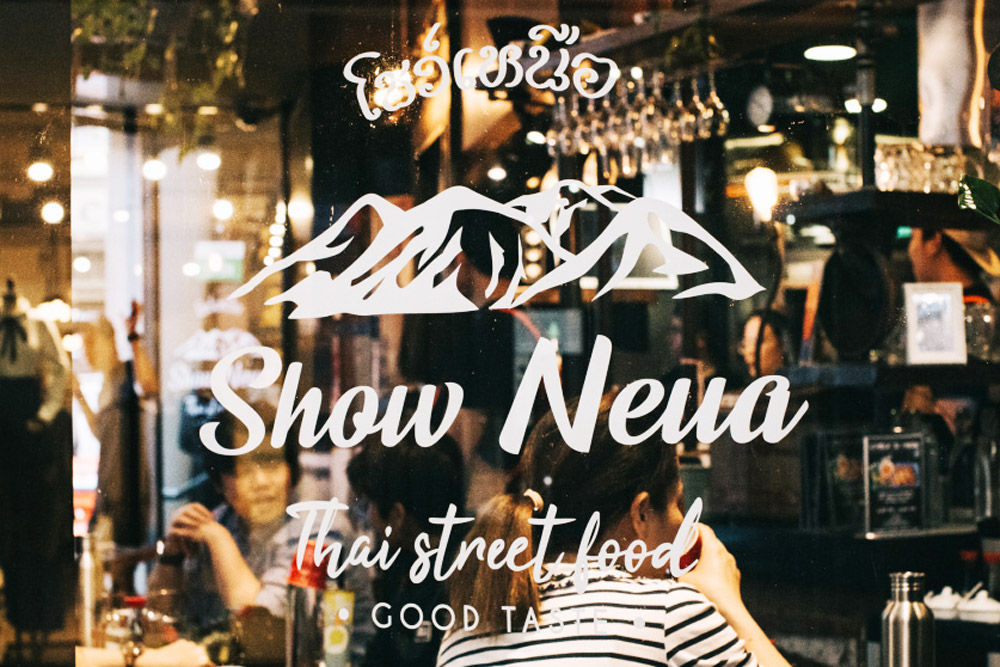 Northern Thai cuisine is much mellower than other regions, made with a host of different herbs and spices, and with sticky rice as the main carb rather than regular white rice. Show Neua brings this unique flavour that foodie travellers say taste just like the yummies you'll find in Chiang Mai night markets.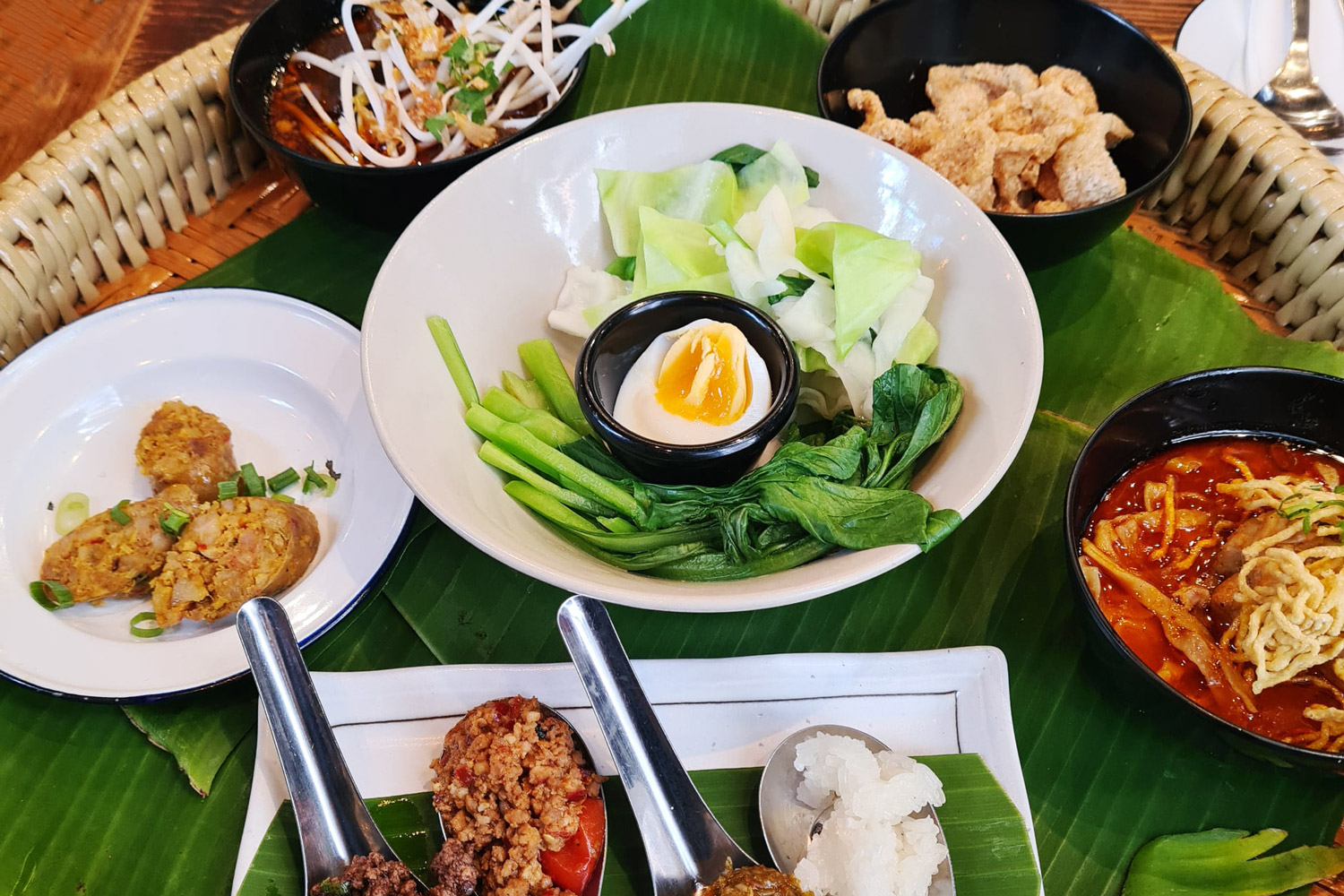 Located in George Street, with funky wall décor and dark wood tables, Show Neua is a casual restaurant with some truly rare and flavourful dishes you won't get anywhere else. Savour a bit of everything with the Khantoke platter – minced pork with hot chilli paste, Khao Soi with chicken, Isaan Sausage, and the Kanom Jeen Nam Ngeaw rice vermicelli with veggies and pickled mustard in warm spicy soup.
At Bangkok (Sydney)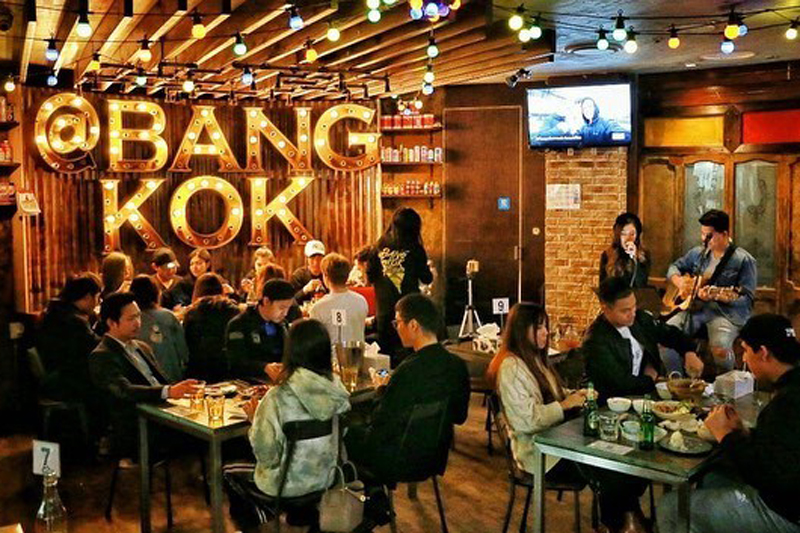 Bright-lit with fun, colourful murals, At Bangkok in the Capitol Square Building serves traditional Thai stir-fries and curries of Central Thai cuisine. The usual faves like Pad Thai, Tom Yum Goong, Green and Red Curry are all on the menu, but why settle there? Get truly authentic with their chef recommendations and signature dishes!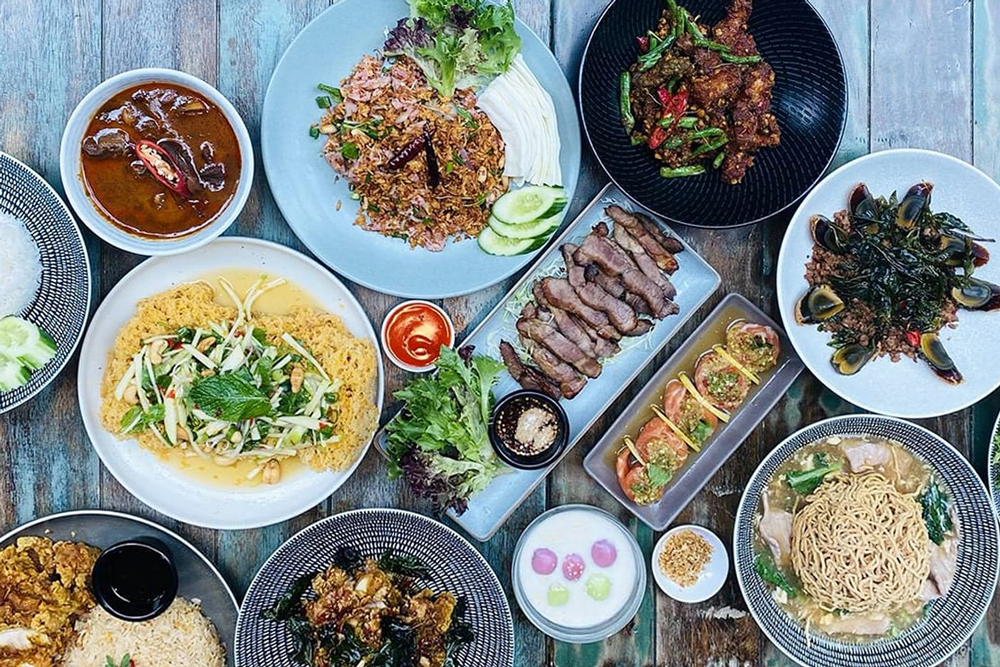 Enjoy Moo Ping grilled marinated pork skewers with sticky rice, and Sai Krok E-Sarn traditional sour pork sausage served with veggies and ginger. Go wholesome with Tum Khao Pood Kai Kem sweet corn salad with chilli, green beans, tomato, cashew nut and salted egg. Warm-up with a bowl of warm, soupy boat noodles. Indulge in the sumptuous taste of grilled pork neck or Crying Tiger rump steak, both marinated with different flavoursome special sauces. Get hearty with La-on Tom Sap slow-cooked pork ribs in spicy sour soup. Prefer fish? Try the Yum Pla Foo crispy minced Ling fish doused in umami spicy gravy with a dash of lemon juice, and topped with cashew nut, mint and herbs.
Spice I Am (Haymarket, Sydney)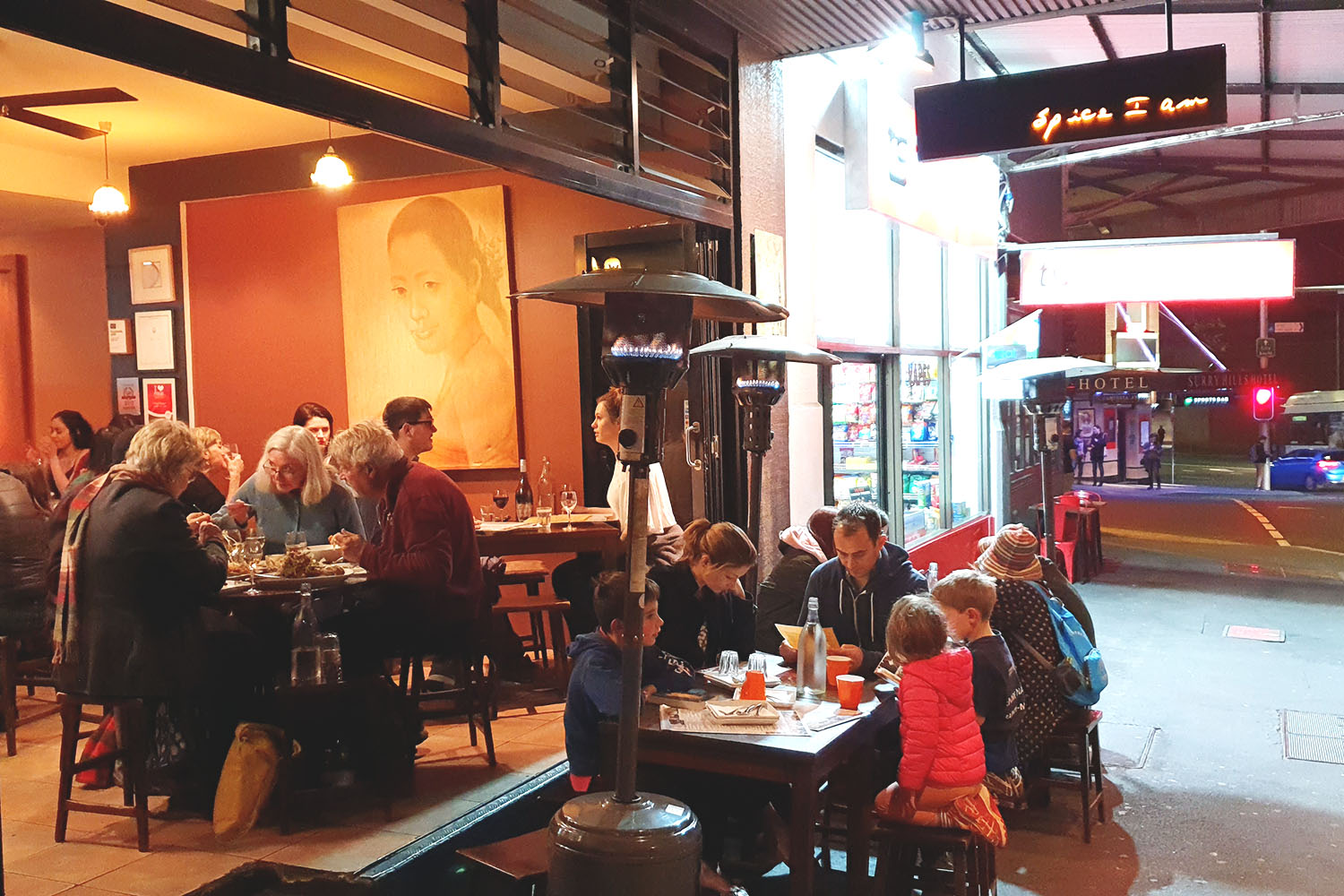 Helmed by executive chef and co-owner Sujet Saenkham, Spice I Am has won many accolades since 2004 and remains one of our favourite Thai restaurants. Amber lamps and family-friendly seating sets the friendly, comfy ambience; while the menu has a veritable selection of specials, light meals, soups, stir-fries, salads and rice dishes – with a range of spiciness to suit your palate.
Recommended must-tries include the Mieng Kuay Teaw (pork slice and veggies in rice paper), Kang Som Pla (fish curry), Basil crispy chicken or pork belly. Chef Sujet makes his own special curry pastes too, and the Massaman curry duck is a customer fave. Need a veggie fix? Stir-fried eggplant with garlic is an umami choice. Cool off with young coconut juice, Longan, Rosella, Bael Fruit or iced Thai tea.
Jing Jai (Flinders Lane, Melbourne)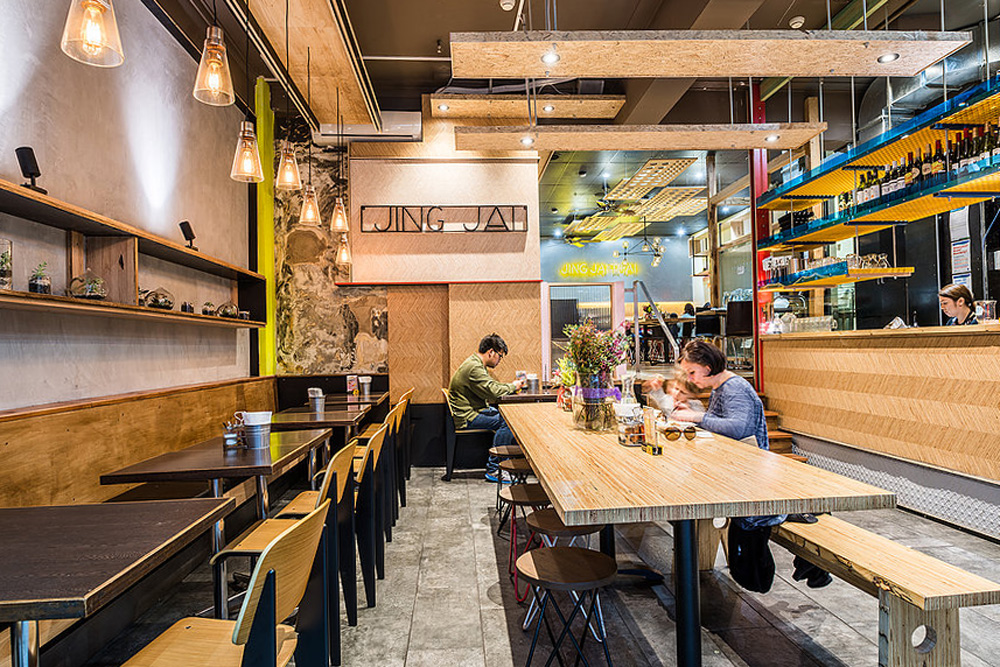 Designed with a homely décor, Jing Jai Thai offers amazing traditional seafood and meat dishes, Som Tum salads, curries, soups, grills and stir-fries, as well as single-serve rice and noodle dishes.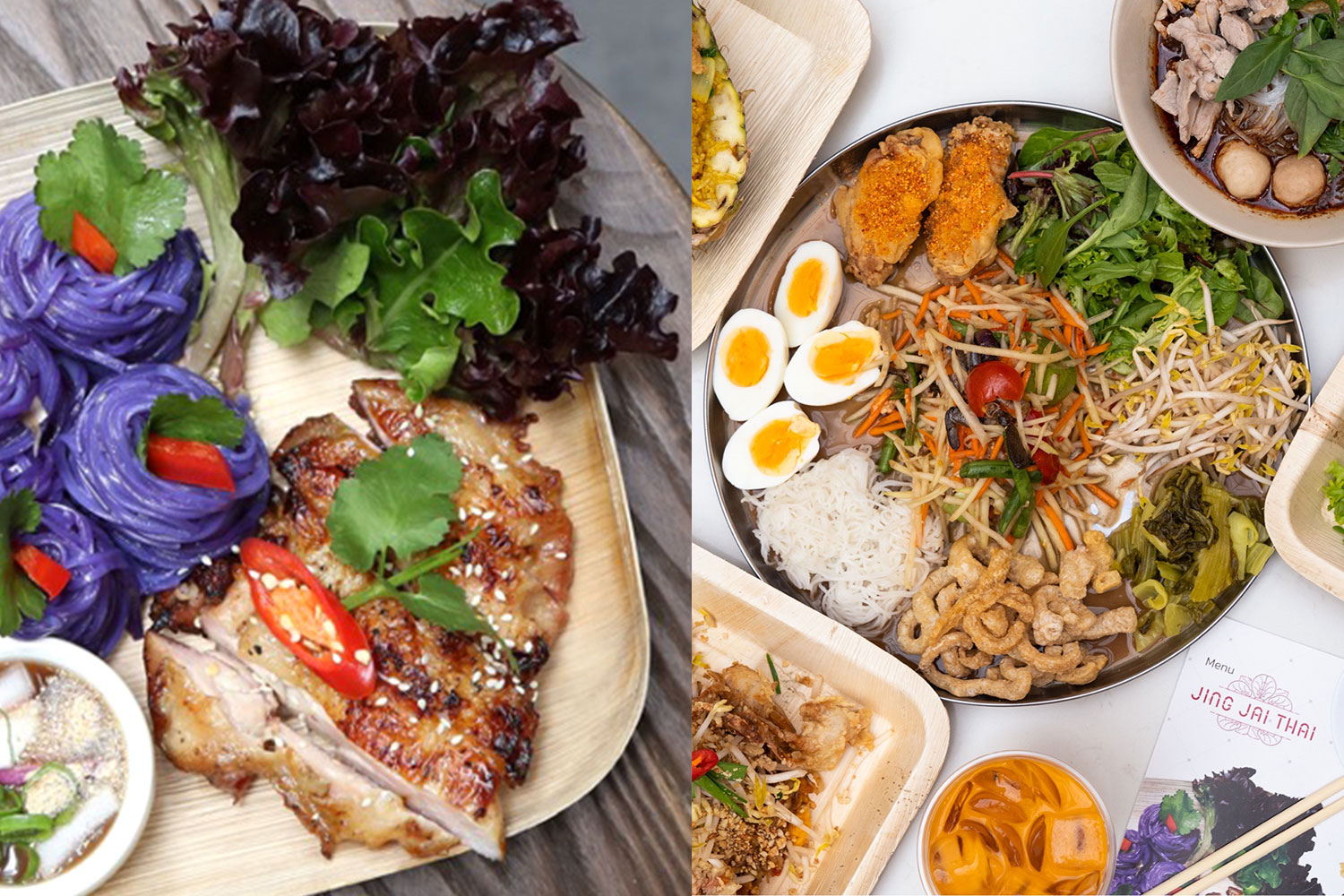 The absolute specials, however, are their signature dishes: Indigo An Chan rice noodles made with butterfly pea flowers enjoyed with grilled chicken. The Khan Tok set of Northern Thai faves includes crackling pork, crispy chicken wings, veggies, boiled egg and sticky rice. Pineapple fried rice served in a cut pineapple. Sumptuous Tom Yum prawns Linguine. Stir-fried spaghetti with tender beef, chilli and sweet basil sauce. Sen Chan Pad Pu sticky rice noodles with soft shell crabs flavoured with sweet tamarind sauce. Monster Bowl Tom Yum noodle soup packed with succulent seafood. Also enjoy oysters in a tasty sauce, with refreshing Butterfly Pea flowers & Pandan drink.
Bang Pop (South Wharf, Melbourne)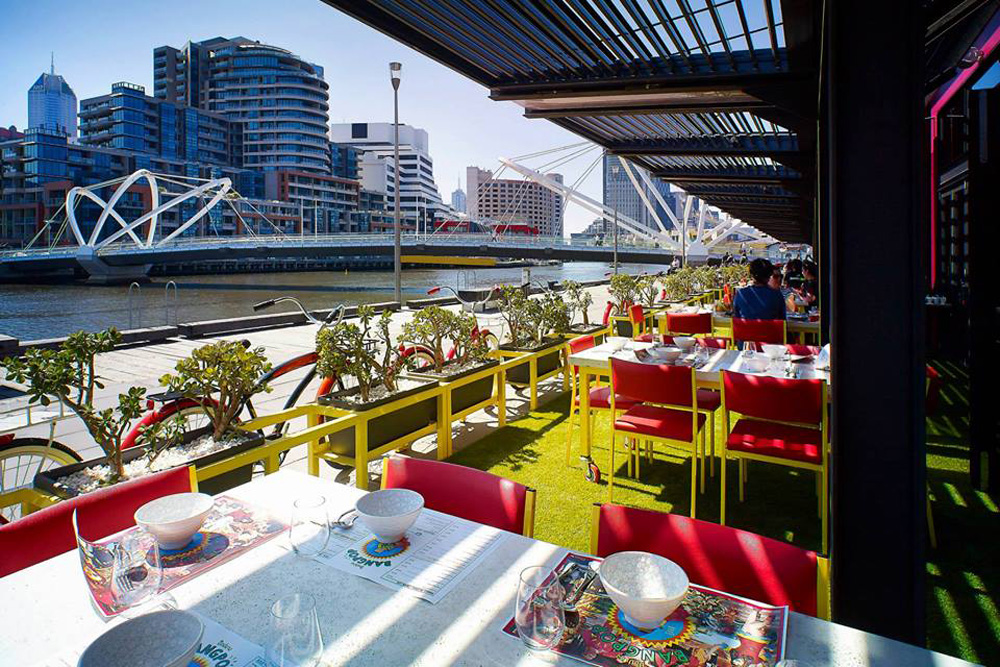 Spacious and colourful with a view of the Yarra River, Bang Pop's warehouse-like setting is great for a communal dining experience. 'Bang' actually means 'riverside village' in Thai, and the concept comes alive in both the atmosphere and the menu selection – filled with delicious choices to share among friends and family. Cocktail nibbles and snacks, rice and roti, yummy entrees, stir-fries, salads, soups and curries, desserts, as well as seasonal specials that blend traditional Thai cooking methods with modern styling.
Enjoy a unique Tom Yum Siam cocktail with a betel leaf wrap of sticky prawn, roast coconut and peanuts flavoured with chilli, ginger and lime zest. Spice up with red curry fish cakes, and deep-fried rice crackers served with tangy, zesty Nam Phrik Ta-Krai Sauce. Also experience a different kind of peppery taste with the saltgrass lamb rub jungle curry with eggplant, snake beans and bamboo shoots, flavoured with green peppercorns, krachai and kaffir lime.
Authentically Thai
Want more authentic Thai flavours? Look out for the "Thai SELECT" stamp on your next foodie hunt.
"Thai SELECT" is a seal of approval granted to Thai restaurants overseas by the Department of International Trade Promotion (DITP), Ministry of Commerce, Thailand to increase the recognition of quality Thai restaurants around the world. It also encourages Thai restaurateurs to raise their quality while maintaining the authenticity of the Thai food they offer.
So anywhere you travel, look for the stamp of approval "Thai SELECT". It assures you that delicious Thai cuisine is being served in a pleasant atmosphere, and with the famous Thai smile. It's not just a meal; it's a journey into Thai culture. "Look for AUTHENTIC THAI CUISINE, look for Thai SELECT".