With a wealth of history, culture and culinary artistry, Thai cuisine have much more to offer besides the popular staple dishes. Pad Thai, Tom Yum and Green Curry, while definitely signatures are just some of the more commonly known. In fact, each Thai region has its own distinctive recipes and dishes that embody the culinary heritage and traditions of its culture, made from locally grown produce and ingredients.
Restaurateur Chef Mod, who originated from Central Thailand, had travelled the four regions and studied the rich myriad flavours. But much of his knowledge also comes from helping out in the family kitchen as a child.
"I used to be chubby because I love to eat. My favourite dish from grandma is Khai Palow (Five-Spice Egg and Pork Belly)."
As he grew older, so did his passion for food and cooking.
"I study herbs and cooking styles from different places. I used to stand next to the street stalls and watch how they cook."
According to Chef Mod, Thai cuisine carries a lot of influence from neighbouring countries. For example, dishes of the Northern Thai Yai ethnic group have their roots in Burmese flavours; and most Thai noodle dishes are Chinese influenced. Generally, Southern Thai food is spicier and stronger than Northern. Thai Royal traditional cuisine also forms a great part of Thai culinary culture, which in recent years has become more popular in restaurants.
As more Thai chefs learn and incorporate cooking techniques from other parts of the world, the heritage and tradition of Thai cuisine have also evolved into modern adaptations and reinventions of authentic dishes.
"Lots of young and new chefs are quite talented and they improve very fast. Some of their dishes even have textures that taste better than traditional ones."
A new generation of diners who prefer modern Thai food has also encouraged the trend. However, some ingredients remain consistent to create that uniquely Thai taste profile.
"In Thailand, we call the three main ingredients; coriander roots, garlic and white pepper 'The Three Musketeers'. As for chilli, fish sauce and shrimp paste, they are the other 3 essential ingredients for most Thai dishes."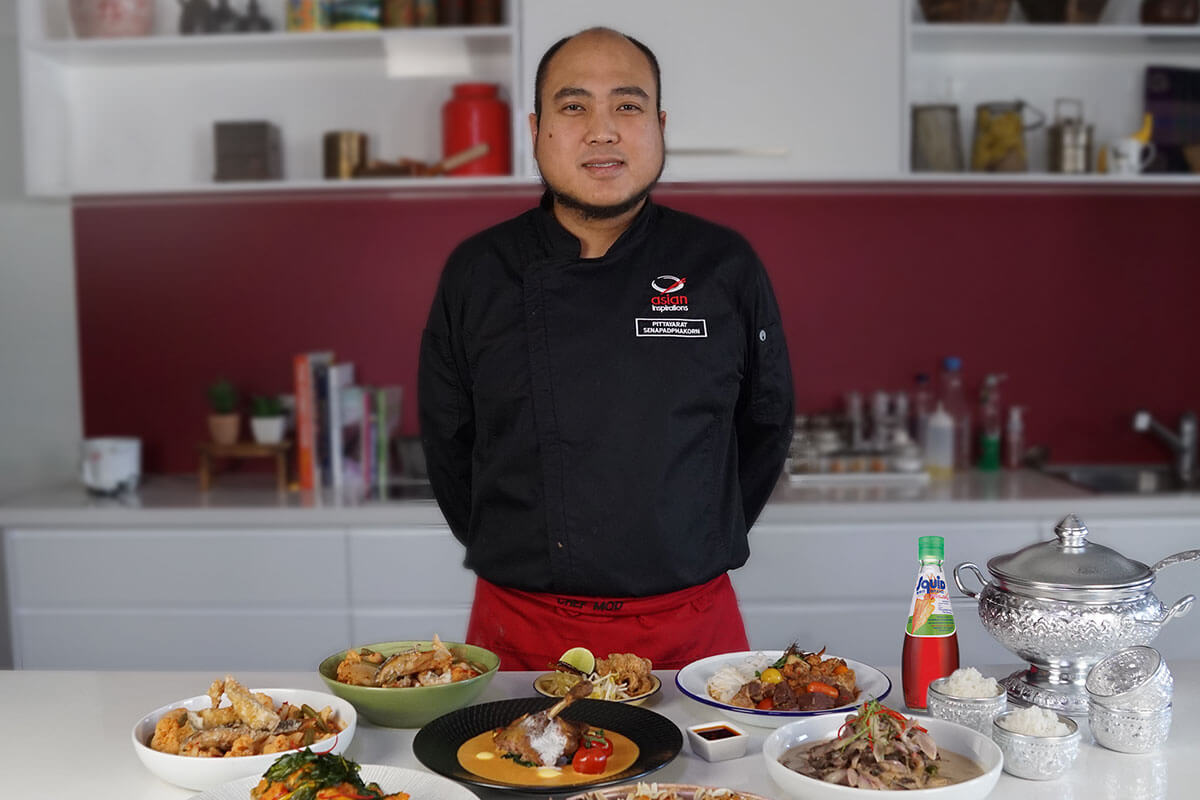 Shrimp paste is spicy, salty and funky, which makes an umami base ingredient for sauce mixes, stir-fries and many more. Thai roasted fermented soybeans is a comparable vegan substitute for shrimp paste, though with less aroma. Fish sauce is ubiquitous in Thai cooking; and even as a table condiment along with other sauces and spices. Squid Brand Fish Sauce is the popular choice, available widely in supermarkets and Asian grocers. Chef Mod's tip to use it: after adding the fish sauce to your dish, let it boil first before stirring – this tones down the pungent aroma and enhances your dish's core flavours. Chef Mod also prefers coconut sugar to palm sugar for the fragrance and smoother flavour.
Here are some of his exquisite recipes:
Northern Thai Rice Noodles with Spicy Pork Sauce (Khanom Jeen Nam Ngiaw)
Sumptuous and layered with richly spicy and tangy flavours, the Northern Thai rice noodles with spicy pork sauce is a Thai Yai special with Burmese taste influence; packing more taste than other Northern Thai dishes. It is also an auspicious food in Lanna tradition, served at banquets and special occasions.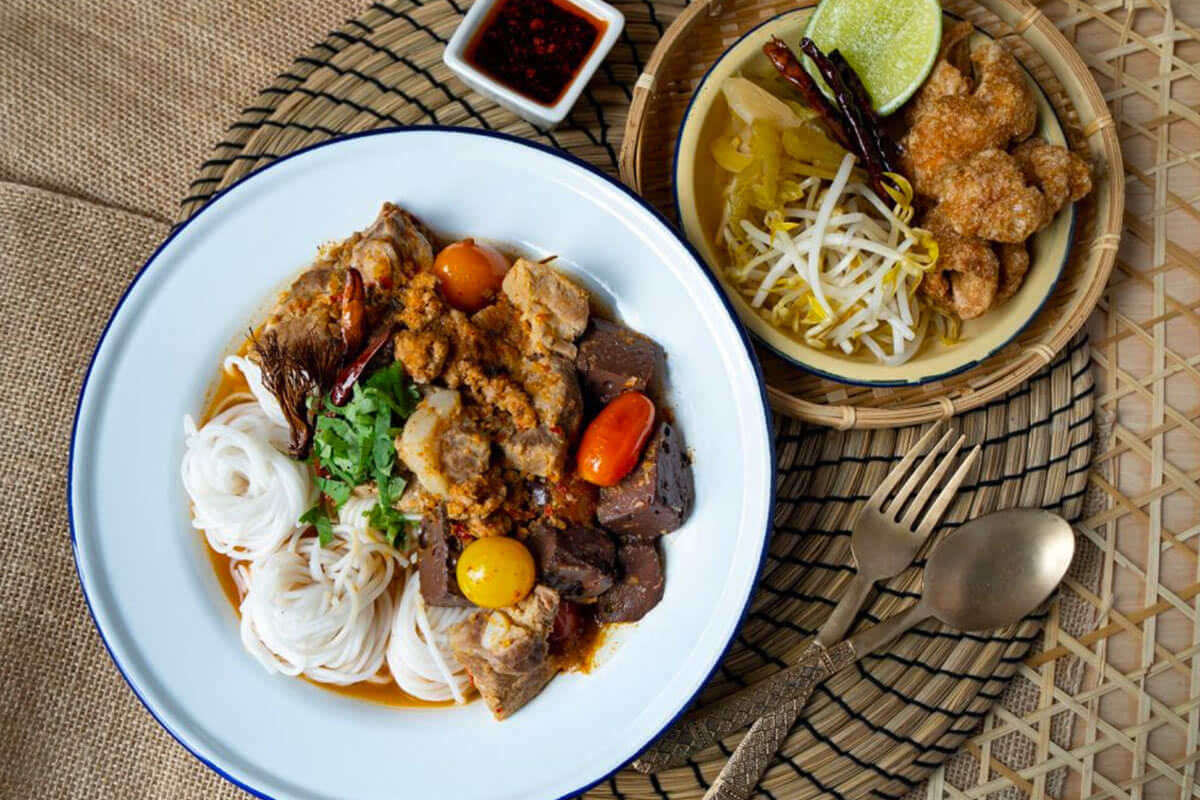 Thai Sour Curry with Deep Fried Barramundi (Gang Som Pla Tord)
Piquant and mouth-watering, this Thai sour curry with deep-fried barramundi is a heritage Thai delight. An appetizing balance of sweet, sour, spicy and salty flavours with wholesome veggies and crunchy fish.
"We always have it in restaurants, my father likes to order this one. Can also cook with prawns instead of fish. Use ground fish or prawns to make the soup thicker."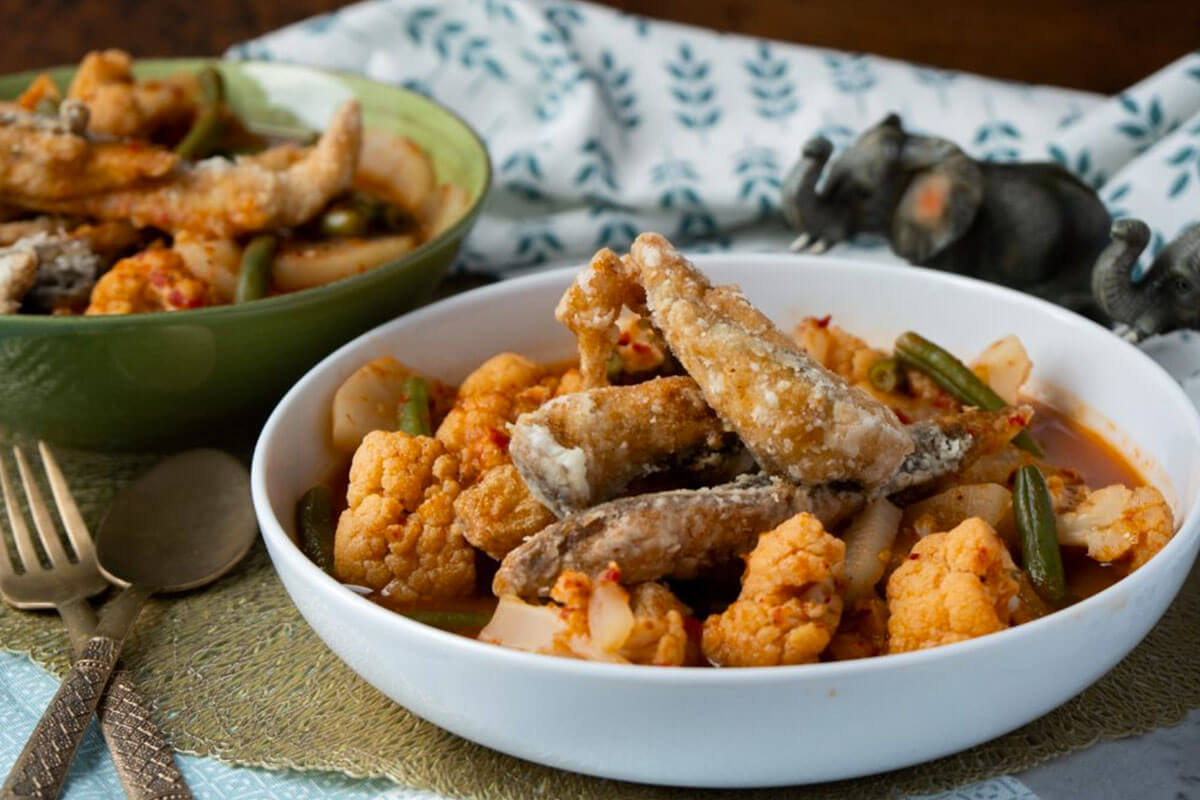 Three Flavoured Deep Fried Salmon (Pla Salmon Sarm Ros)
Sarm Ros means 'three flavours': spicy, sweet and salty; with a tinge of fried basil and chilli fragrance. This three flavoured deep fried salmon is a heritage dish with a special sauce made of cut pineapples, pickled garlic, long chilli and capsicum, seasoned with tamarind paste, palm sugar and salt; drizzled on deep-fried salmon.
"This is a dish from my grandma. Nowadays, some cook this dish with sweet chilli sauce. But this recipe uses traditional ingredients for smoother and more balanced flavours."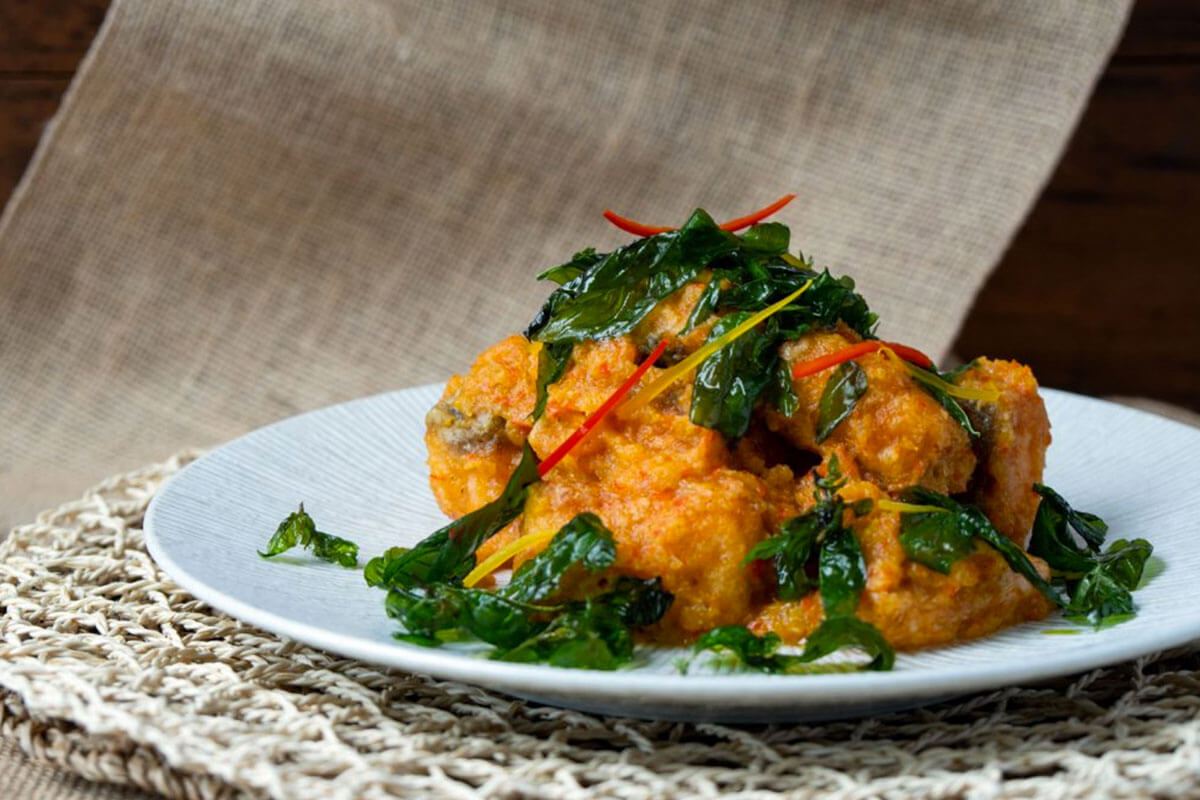 Seven Vegetables Warm Chicken Salad (Yum Thawaai)
A Thai Royal traditional salad of seven vegetables and warm chicken slices; with an exciting sweet-sour sauce made of coconut cream, Thai curry paste, Squid Brand Fish Sauce, palm sugar and tamarind paste. Wholesome with a delicate balance of flavours. Coconut milk is used to blanch the veggies so that the healthy fats coat the vegetables. It is also a celebration dish for special occasions.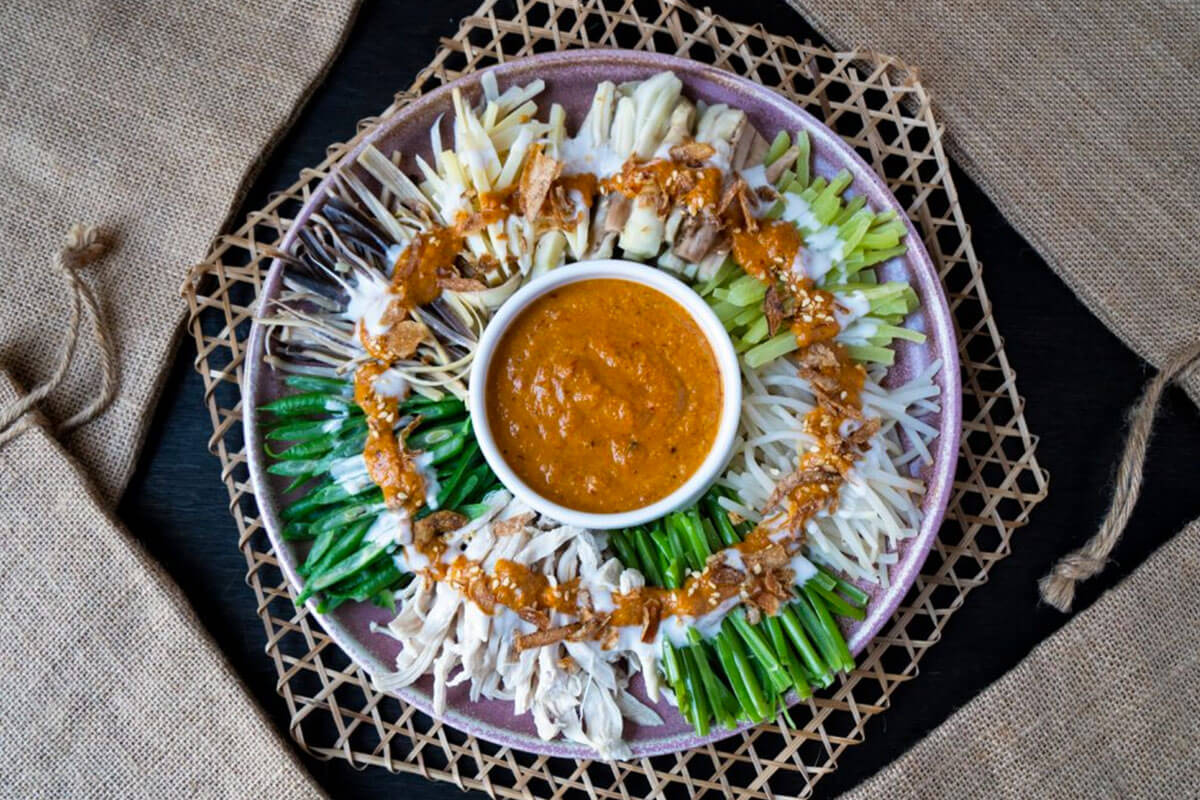 Nhur Khem Tom Kati (Thai Beef Jerky in Coconut Gravy)
Historically and traditionally, Thai people preserved meat by coating it with fish sauce, salt and spices; then sun-dried and stored. Every region and every family have their own recipe – from the preserving mixture to cooking the meat. This Thai beef jerky in special coconut gravy is Chef Mod's favourite. No need for sun-dried beef though, you can dry yours in the oven.
"Nhur means beef, Khem means salty, and Kati means coconut milk. I love it too much. The first time I had it when I was young, I had to add another bowl of rice to enjoy it, even though I was already full."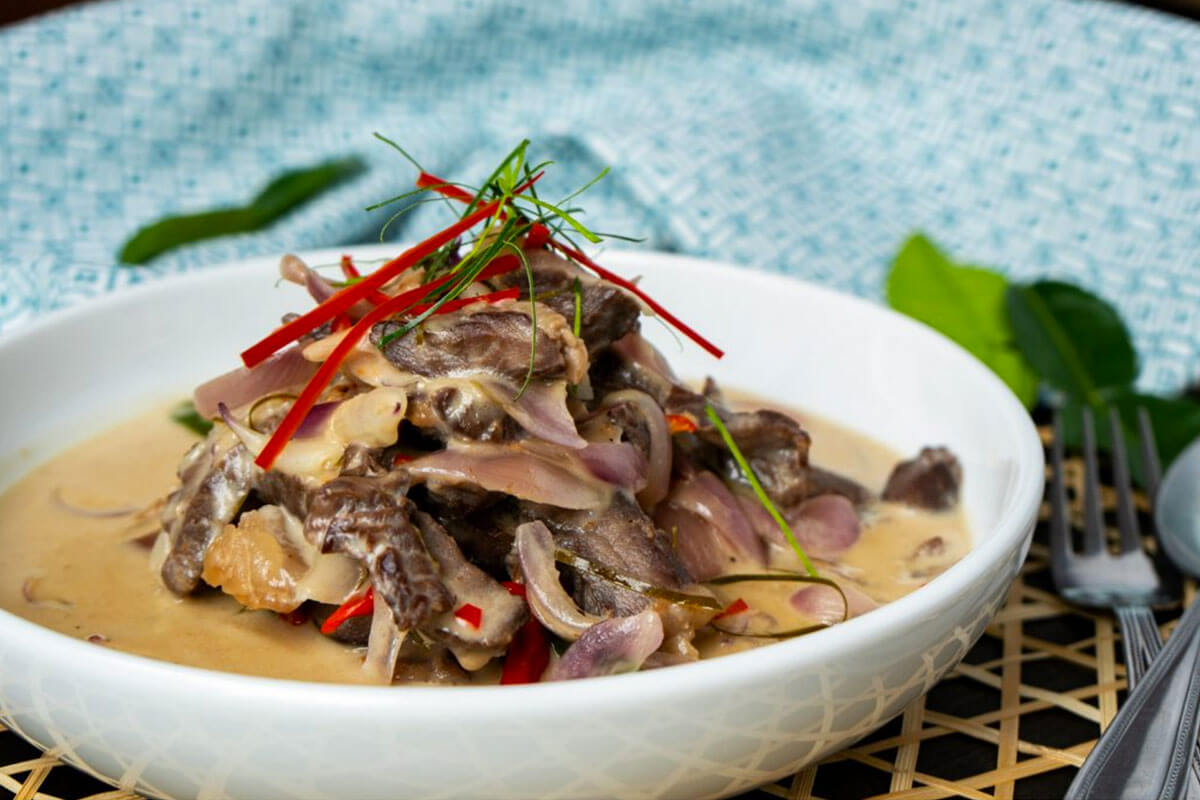 Gang Dang Ped Tord (Double Cooked Duck Leg with Red Curry Sauce)
Classy, alluring and superbly delicious, the double-cooked duck leg with red curry sauce combines the signature thick and spicy red curry and succulent duck, with the flavourful aesthetics of modern Thai elegance. The duck legs are flavoured with five spices and oyster sauce, then deep-fried in oil; drizzled with piquant red curry sauce; and dressed with roasted tomatoes, pineapple yoghurt, coconut cream espuma, sautéed spinach and caramelized fig for a touch of natural sweetness.