Say Thai food, and you'll probably think Pad Thai, Green Curry, and Tom Yum Goong, right? But did you know these are just the staples of Southern Thai cuisine? In fact, from the sea-bound south to the mountainous north, Thailand's flavours change with the landscapes and its people; while keeping the essence of harmonic balance between sweet, sour, spicy and salty. So, let's take a quick taste-tour up the regions, and discover the distinct uniqueness of Southern and Northern Thai food.
Want a chance to savour them all? Join COOK SNAP WIN 2020 to win your ultimate Thailand foodie trip for two!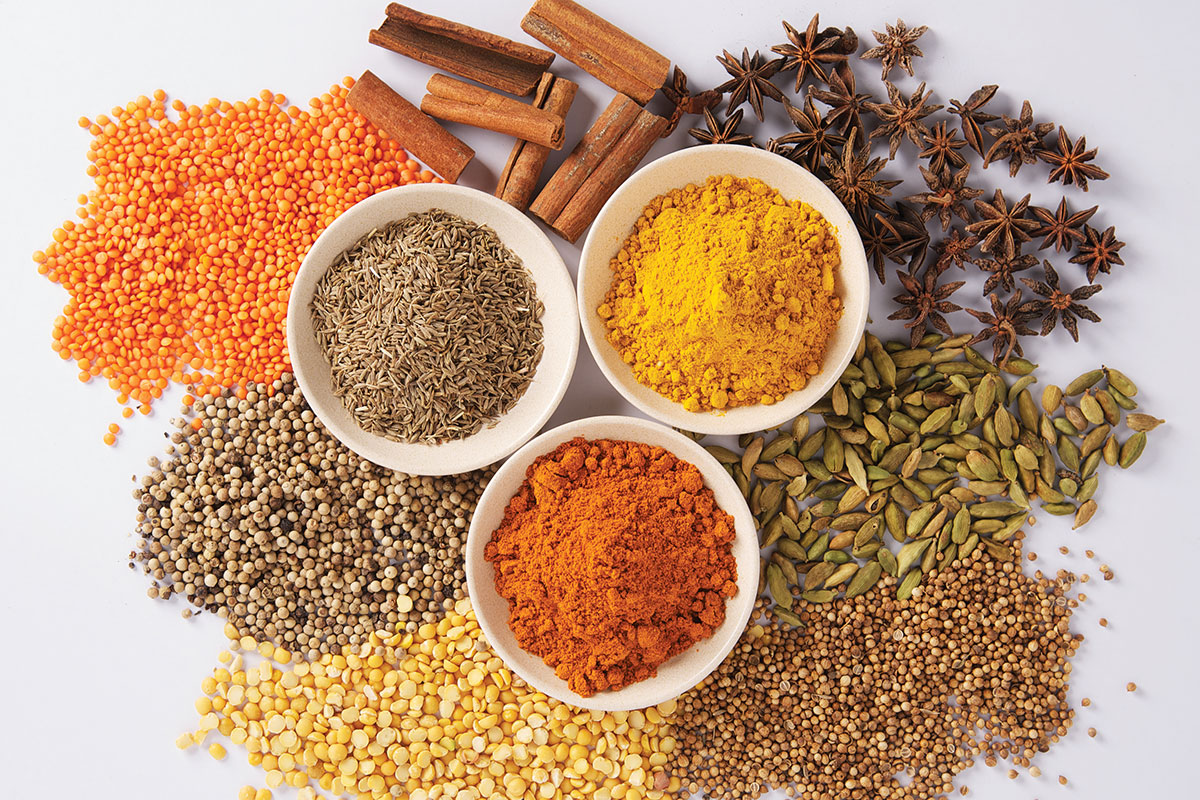 Spice VS Herbs
While varieties of herbs are spices are the key elements to Thailand's exceptional tastes, dishes from islands like Phuket, the peninsular South and Central Thailand are much hotter and spicier. Inspired by Malaysian and Indonesian food customs, chilli pepper and basil leaf became the main tastemaker for many dishes here. Stir-fry, soup, salad and curry dishes all feature a piquant palate. Most street food in Bangkok, too, are Southern and Central flavoured; and so tend towards the spicy side.
Northern Thailand, from Isaan to Chiang Mai and the areas bordered by Laos and Burma, is mostly mountainous rice fields and jungles with a cool climate – perfect for herbs to grow. Laotian and Burmese customs also influenced the local tastes, and thus prefer milder dishes, with lemongrass, ginger and garlic cloves for flavour.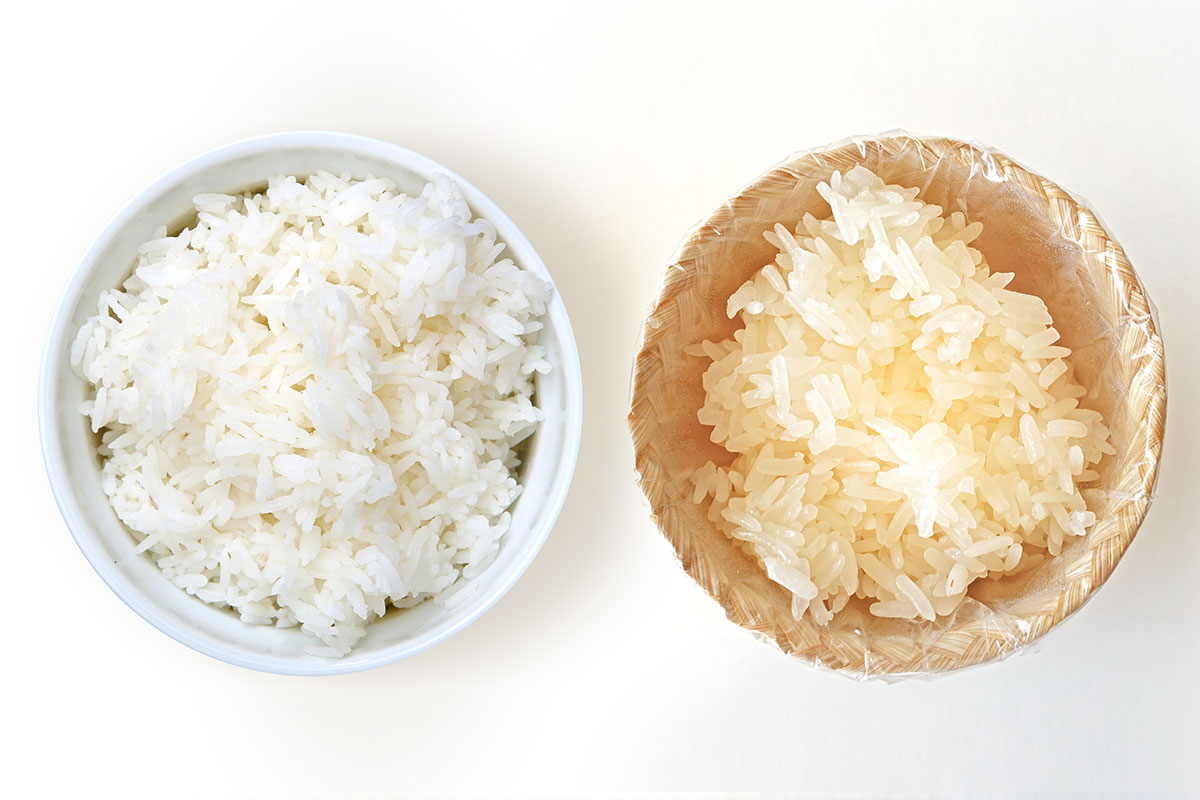 Fragrant Rice VS Sticky Rice
Rice is a customary must and the main carb food in Thai cuisine. Most family meals consist of main dishes like stir-fries and curries, shared with individual rice servings. Because Southern Thai flavours are usually richer and spicier, plain white rice makes the ideal taste companion. Fragrant long-grain Jasmine rice is the local favourite; freshly boiled with a rice-cooker, perfect to serve with any Southern Thai dish.
In the north, however, steamed glutinous Khao Niaow rice is the staple. Locals roll the rice into a ball, then dip it in a spicy chilli sauce called Nhamprik Nhom; also delicious with broths and boiled dishes. Glutinous rice makes sweet tantalizing delights as well, such as the divine Mango Sticky Rice.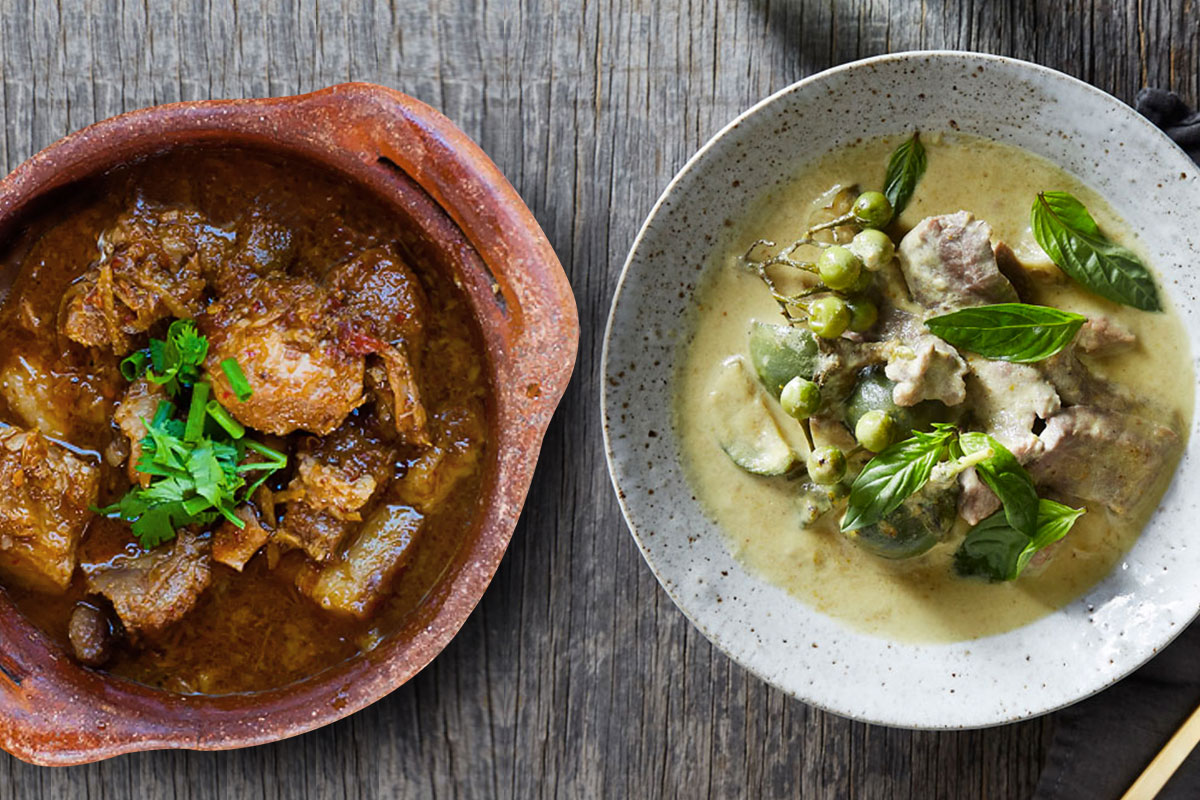 Thick Curry VS Soupy Broth
Thanks to the perpetual tropical weather, Southern Thailand is blessed with an abundance of coconut groves. With them, comes the use of coconut milk, which gives the thick, flavoursome textures of Thai Red, Yellow and Green Curry varieties; as well as many noodle-soup recipes like the Khanom Jeen Nam, and Thai Laksa.
Meanwhile, Northern Thailand's chilly climate makes steamy, watery broths all the more satisfying to savour; usually made with a meat-based stock. The Burmese-inspired Gaeng Hang Lay is a traditional Northern festive curry that combines sumptuous pork belly with a mix of spices, peanuts, ginger and garlic.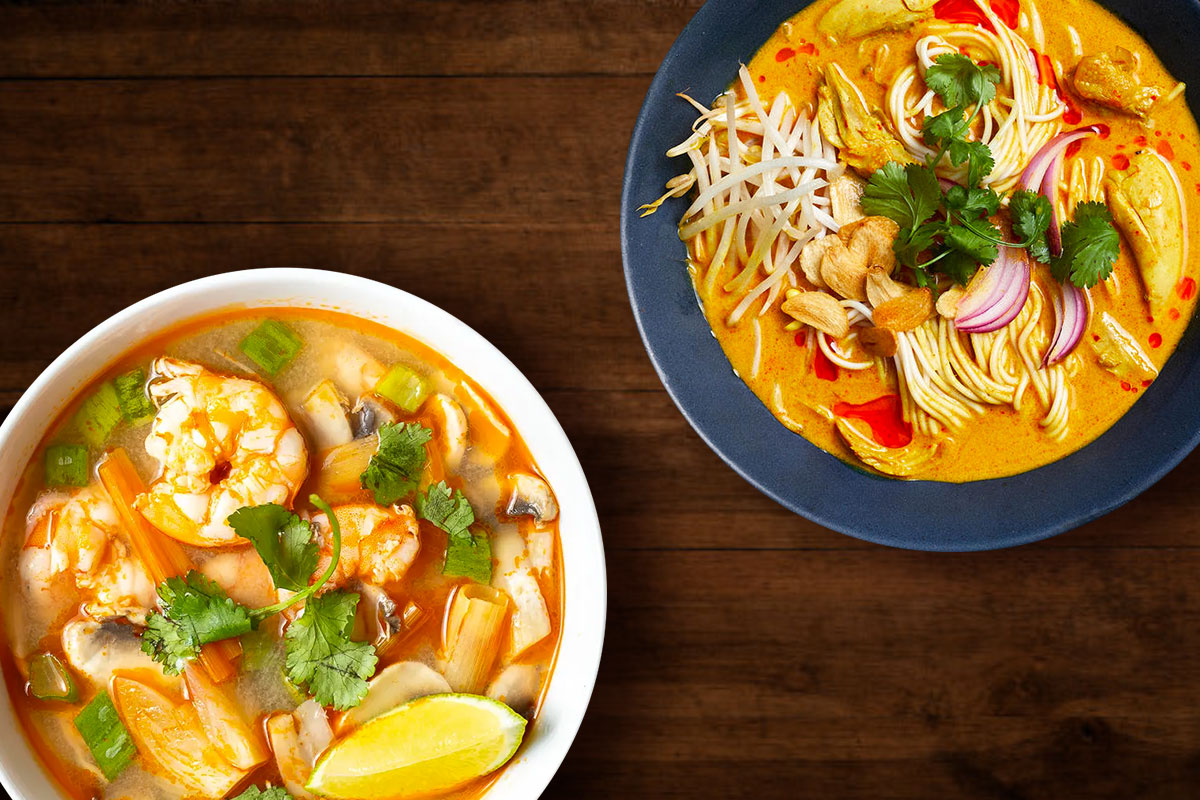 Seafood VS Meat & Poultry
Closer to sea, and with less farmland for livestock breeding, Southern Thai cuisine features a glorious choice of seafood. Fresh saltwater fish, prawns, squid and crabs are baked, fried, grilled, steamed, and boiled in delicious soups; as well as dried, pickled, and fermented to make condiments and sauces. Tom Yum Goong is probably the king of awesome seafood soups; while skewered barbecued squid is a popular street food in Phuket and Bangkok night markets.
With more mountains than shorelines, the chief protein foods in Northern Thailand are pork, beef, water buffalo and chicken. Chiang Mai's signature Khao Soi noodle soup is a beloved local favourite with a fragrant curry chicken broth. Khao Kan Chin is minced pork and glutinous rice, wrapped in banana leaf and steamed, served with pork blood and garlic oil. Another awesome must-try dish is the Sai Oua, or Chiang Mai Sausage, superbly infused with lemongrass, kaffir lime leaves and galangal – irresistible!