Ever since earthen cookware was invented in China around 5,000 years ago, and spread to the rest of Asia, slow cooking had become one of the go-to methods for making stews, curries, broths, braised delights, and even medicinal soups. When it comes to cooking meats, the contained and consistent heat tenderises them into soft, crumbly textures, releases their natural juices, and infuses them with every flavour from the marinade and seasoning ingredients – retaining all the nutrients, too.
Nowadays, you don't need a clay-pot to slow cook. The modern pressure cooker, slow cooker or a stock pot over your stove will do just fine. And you also don't have to watch the cooking the whole time. Just prep your meat and ingredients, pop them in, close the lid and let it cook.
So, without further ado, here are 12 of our favourite meaty slow cook recipes for you to enjoy at home!
Beef Massaman Curry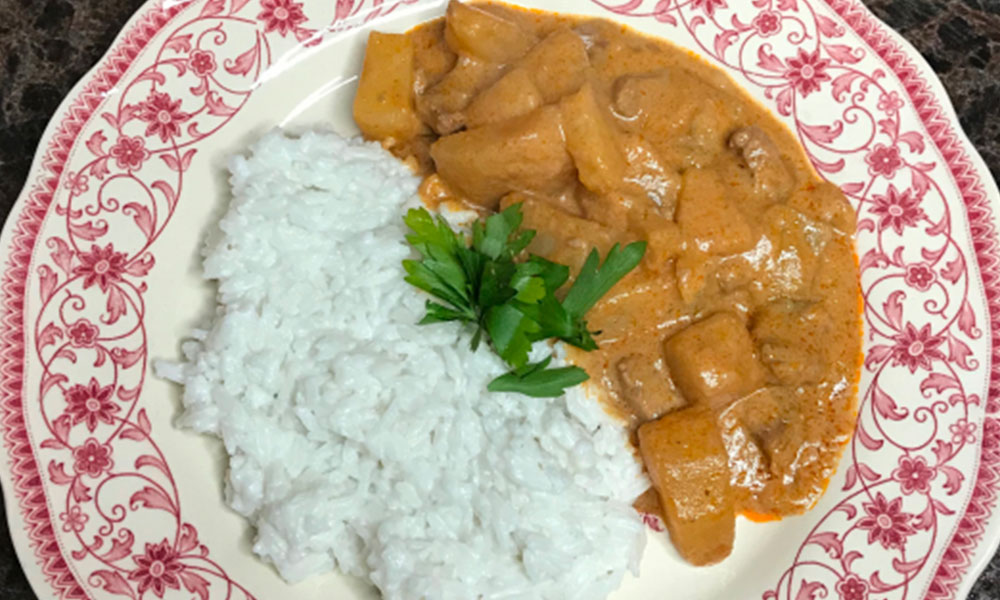 Tender, yummy beef and potatoes in a thick, rich gravy that's umami sweet with an appetizing spicy fragrance. This award winning Thai Massaman curry will soothe and delight your taste-buds. Enjoy with rice for a filling, satisfying meal.
Thai Red Curry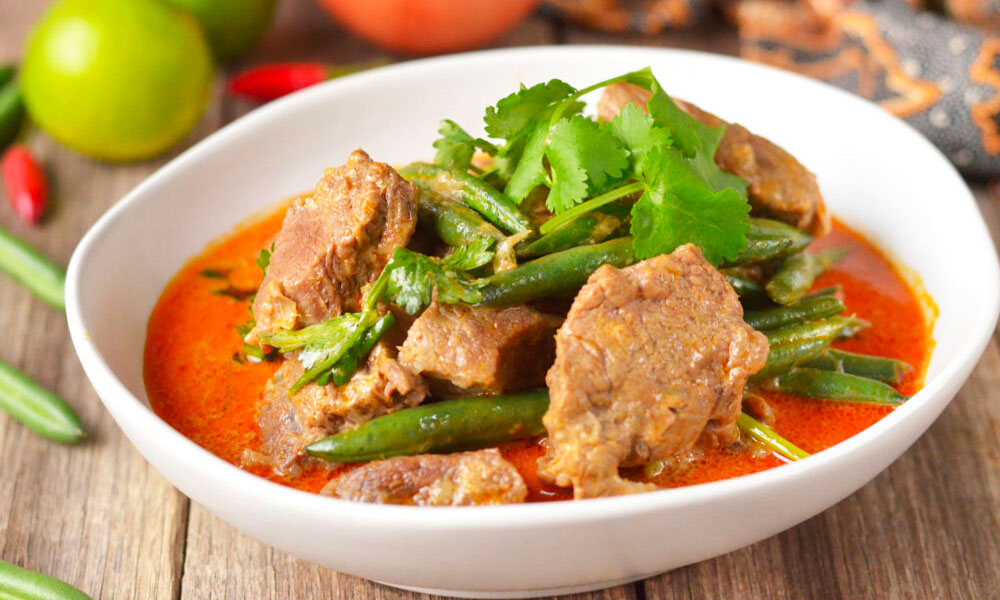 Thai curries get an awesome flavour-boost when slow cooked. Enjoy a zesty and savoury red curry beef with green beans and a velvety gravy, topped with coriander leaves and a squeeze of lime juice for extra aroma.
Laksa Beef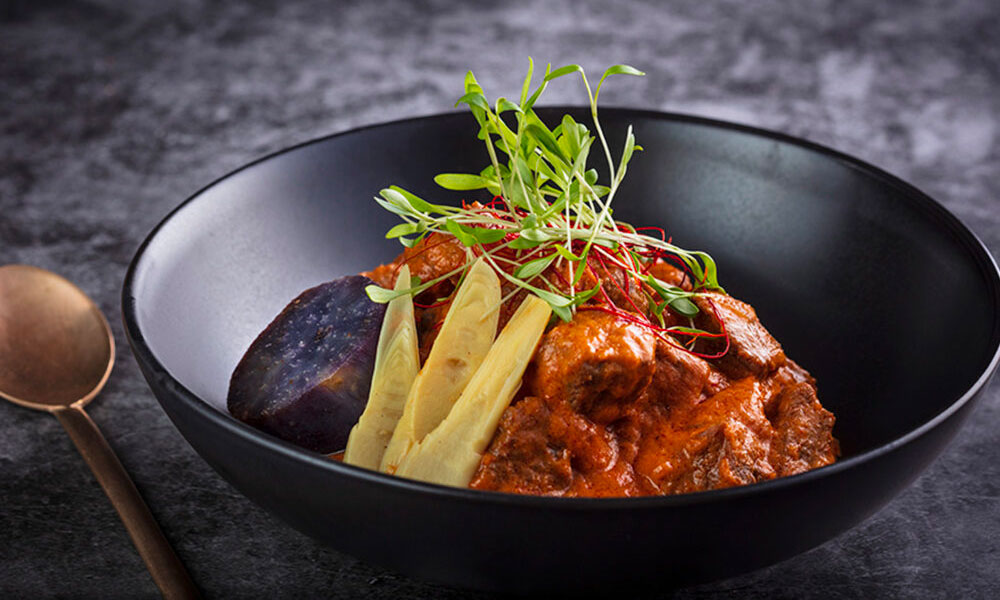 Chef Mod brings you a spicy, savoury and creamy Laksa beef indulgence that's sure to make you salivate. Come grab the recipe!
Rendang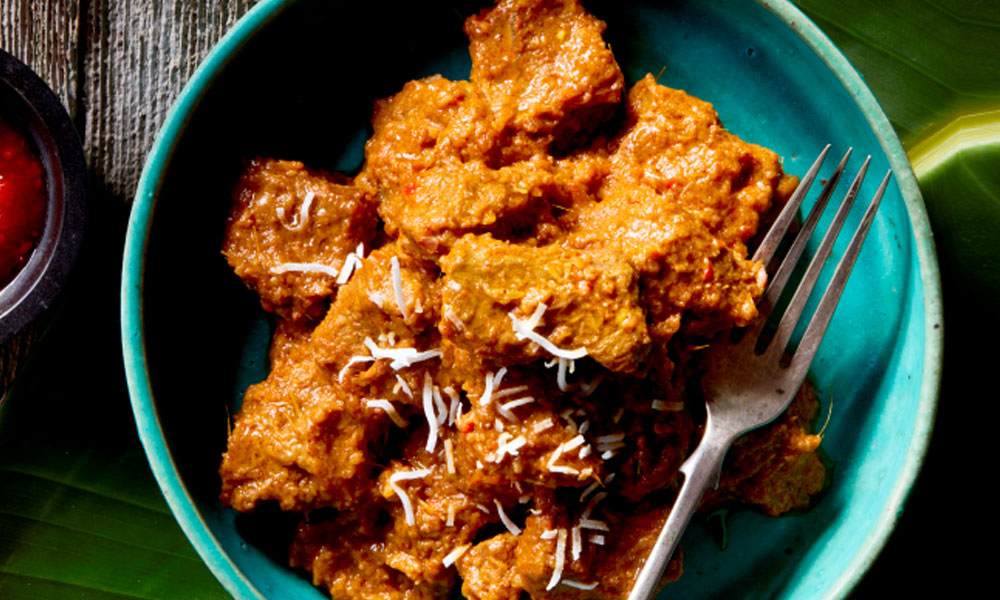 Rendang is the quintessential Malay wonder dish. A must-have for Eid celebration, and an everyday dish enjoyed from households to restaurants and street stalls. The beef is slow cooked till tender, and coated with a lightly spicy and deeply flavoursome thick sauce that melts in your mouth. Make yours with Chef Karen Chan's authentic recipe! Rendang is awesome with chicken, too. Or if you want an Australian taste, savour the lean texture and robust flavour of kangaroo meat, made extra delicious in Rendang!
Kimchi Beef Stew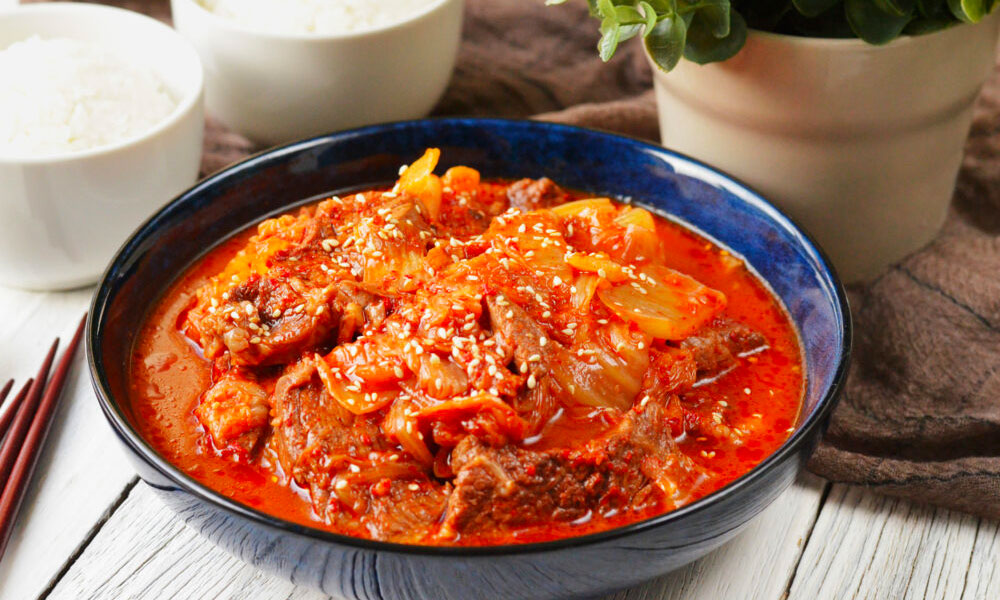 Enjoy the spicy, tangy and savoury taste of Kimchi? Flavour your beef with it, and slow cook to yummy perfection in this bracing, appetizing stew!
Budae Jjigae
Packed with minced pork or chopped beef, luncheon meat, frankfurters, noodles and assorted veggies – the Korean Army Stew or Budae Jjigae is a steamy one bowl wonder that excites, soothes and warms you. Grab the recipe here!
Korean Braised Beef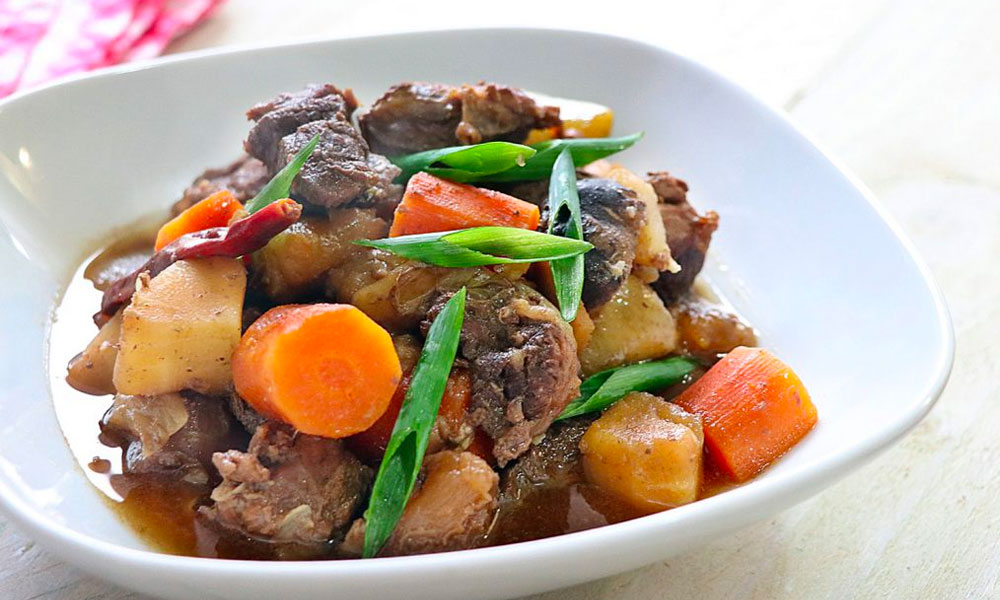 Slow cooking is also perfect for braised meat dishes. Here's a richly umami Korean braised beef delight with radish, carrot, celery and onions; flavoured with a blend of soy sauce, rice wine and honey.
Dongbei Braised Chicken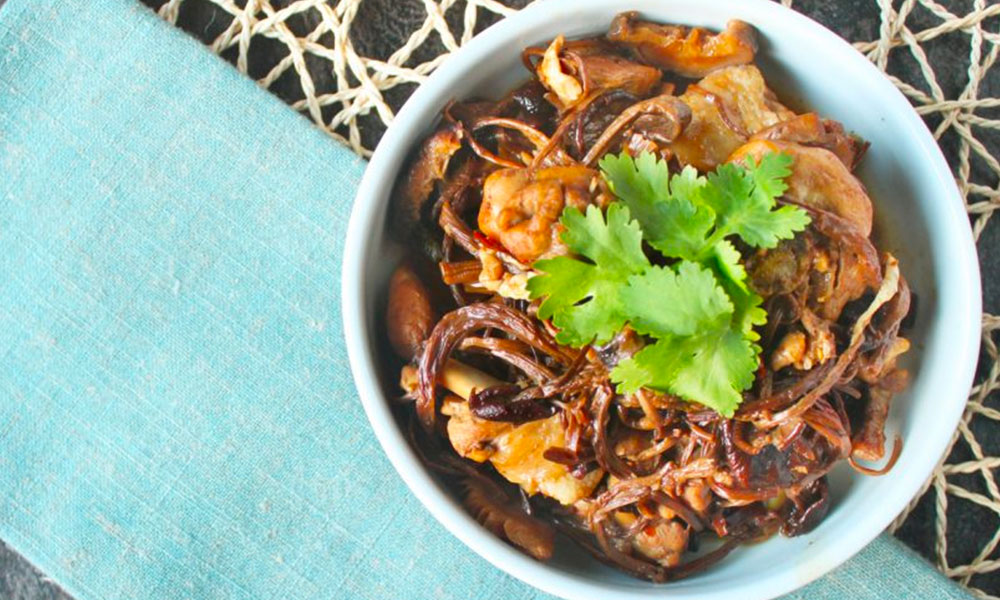 Dongbei is the coldest region of China, and the food here is defined by bold flavours. While braised chicken is a household delicacy all over China, commonly made savoury, the Dongbei-style combines the flavours of dark and light soy sauce with peppery ginger heat, earthy mushrooms, and the sweet-spice fragrance of cinnamon quill and star anise – for a richer umami taste. Try it with our authentic recipe.
Braised Pork Belly with Red Bean Curd Sauce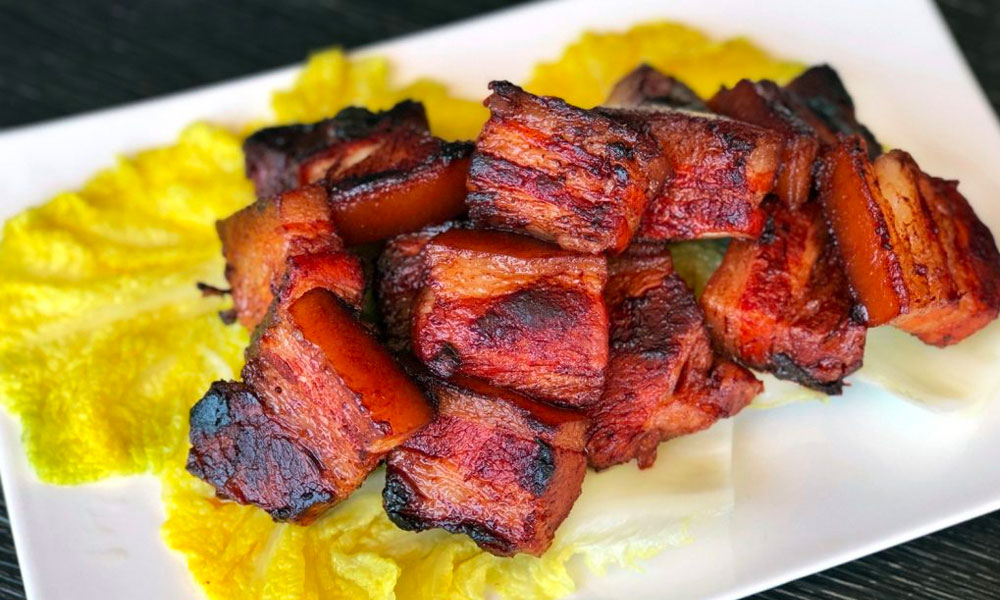 Red bean curd is coagulated soybean milk preserved in rice wine and fermented red rice, cut into tiny cubes and bottled. Enjoyed as a condiment, or used as a bold, earthy and savoury seasoning in Chinese cooking. You can actually find it at Asian grocers. In this braised pork belly treat, the red bean curd is blended with soy sauce, cooking wine, cinnamon bark, star anise and white rock sugar to make the rich, umami sauce – slow cooked till it coats the meat in an alluring red-brown hue. Succulent and delicious!
Slow Cook Beef Cheek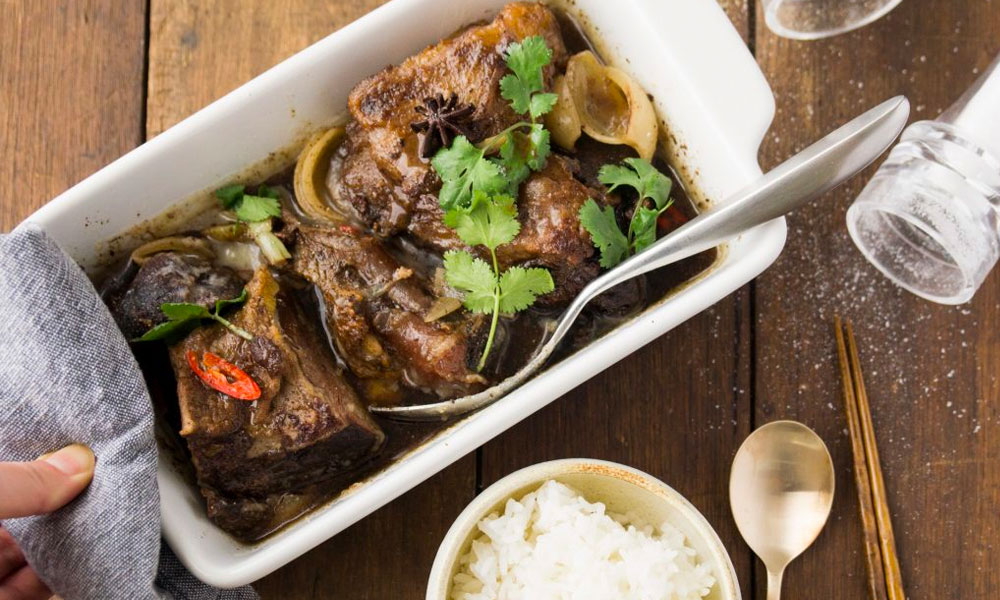 Slow cooked beef is a favourite among the Chinese too. Here's a sumptuous beef cheek special that you can cook in your oven. Seasoned with five spice powder, star anise, cinnamon sticks, garlic and honey. Umami and comforting.