China is massive—1.2 times larger than Australia in terms of landmass, and 1.4 billion more people living there. So, while we may think of the cuisine as a 'singular' food culture, most of what we know as Chinese is actually Cantonese, one of Eight Major Cuisines. Yet, even those 'categories' hardly cover all the magnificent flavours China has to offer. For instance, of the big eight, only Lu cuisine comes from the north. But Northern Chinese food too differs along with the provinces; each with a plethora of signature dishes evolved and inherited through millennia of civilization and the deep love for food. Among the Chinese, 'have you eaten?' is synonymous with 'how are you?'
Northern Chinese flavours are generally described as akin to the peoples' cultural personality: loud, bold and boisterous; though it's more nuanced than that.
Let's take a foodie tour across the region.
Dongbei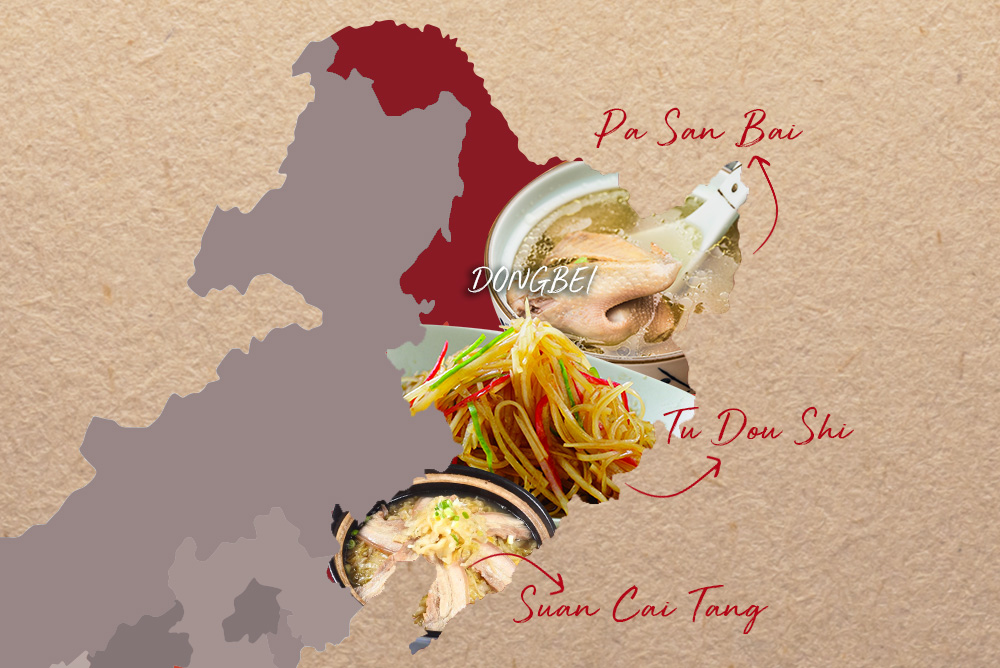 Dongbei is the north-eastern corner of China and its coldest region. However, natural rivers and lakes provide for lush forest and fields; which gives Dongbei an abundance of wildlife, freshwater fishery, livestock and farm produce—especially nuts, potatoes, carrots and legumes.
The food is about simplicity with strong flavours, and less emphasis on how it looks. Often with 2-3 major tastes in every dish, paired in salty, sour, sweet and spicy mixes. Main cooking methods are stew, sauté, and flour-coated quick-fry for meats. Pork is most favoured, while pickled veggies are a regional staple. Because of the cold climate, unsuitable for rice cultivation, wheat is more a staple here, while preserving food (both meat and veggies) is a traditional household practice. In fact, it's often believed that Dongbei people were the first to pickle in China.
Dongbei borders Mongolia, Russia and Korea; and has deep historical relations with all three. So it's no surprise that the food also bears their influence. Slavic sauerkraut, Korean-style pickled veggies and cold noodles, as well as bread, buns and wheat pancakes, are common here.
Signature dishes include sour pickled cabbage soup Suan Cai Tang, vinegary stir-fried potato strips Tu Dou Shi, sautéed potato and veggies Di San Xian, chicken herbal soup Pa San Bai, La Pi cold potato starch noodles, and Sai Xiong Zang fried winter melon with minced pork filling—shaped like a bear's paw, and slathered with sweet-salty brown gravy.
Inner Mongolia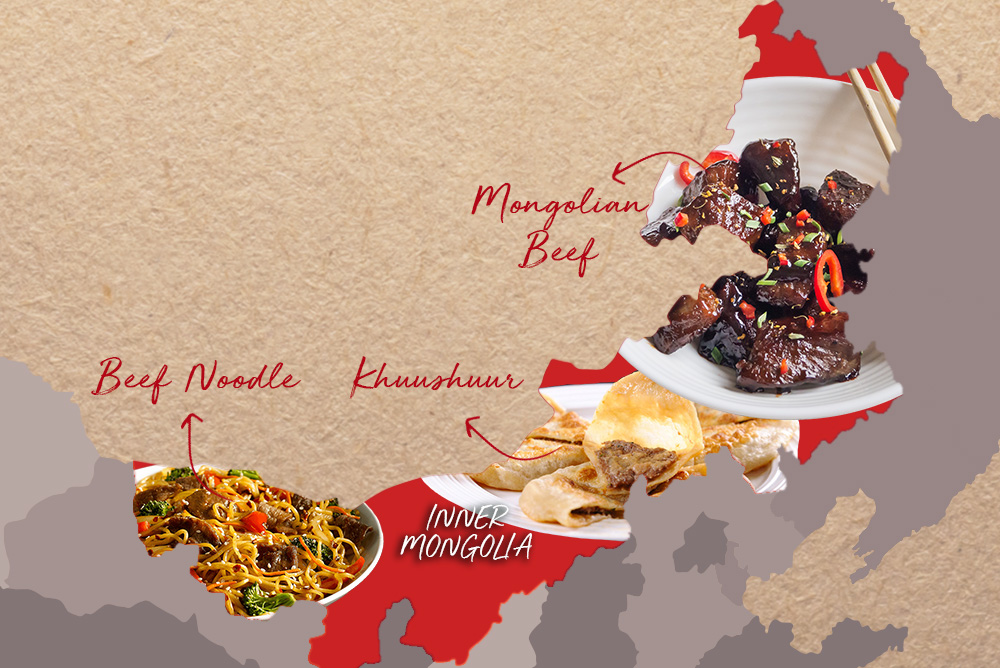 Not to be confused with Mongolia, which is an independent country between China and Russia. Inner Mongolia is a largely autonomous province west of Dongbei. A cold, dry region of steppes with no trees, rivers or lakes that stretch to the far mountainous horizon. It has a complicated history, and though the populace is Mongol descendants, there are cultural differences with Mongolians, including their written language.
Because of its barren grasslands and harsh climate, communal herd farming is most common here, while horse-riding remains a key mode of transport. The cuisine is heavy on 'red food' meats like mutton and beef, as well as 'white food' dairy products like milk tea, milk candy, cheese, butter, yogurt and goat's milk tofu. Cooking methods are grill, steam and boil to accentuate the meat's succulent flavours, with ginger, dried chilli, sesame seeds and powdered peppercorn; paired with salt.
Famed dishes include salted milk tea, barbecued spicy mutton skewers, grilled goat's leg, mutton pie, and a 'full mutton banquet' that features the whole range of Mongolian cooking methods and flavours; enjoyed as a luxuriant indulgence in plates shaped and arranged like a goat.
Shandong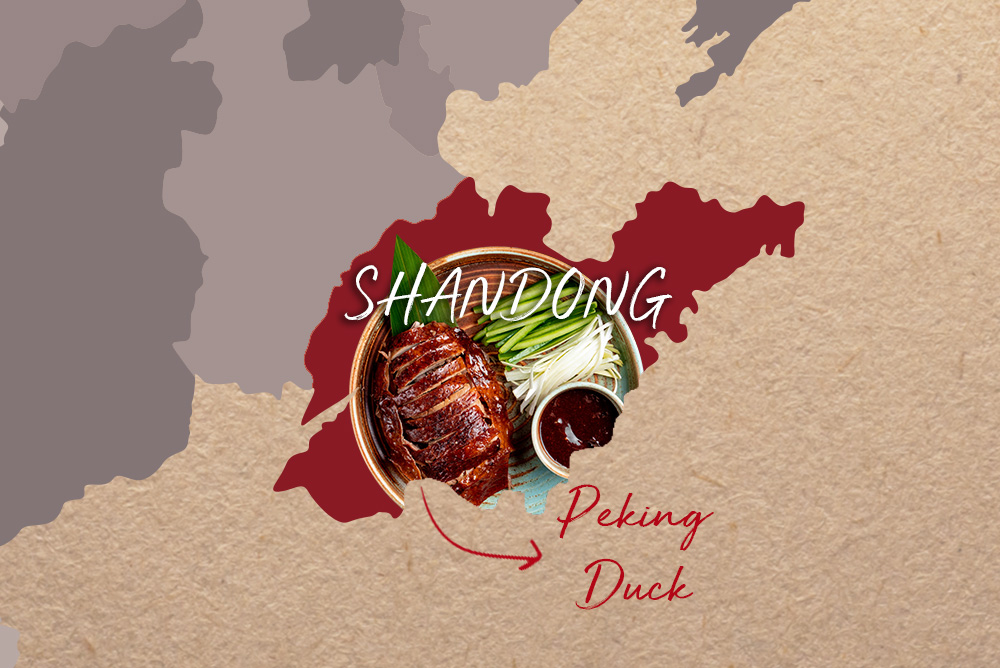 Also known as Lu cuisine, this is the oldest Chinese culinary tradition originated from Qin Dynasty royals since 200BCE and refined through the ages. The food of old imperial courts, considered the most difficult to master even today, and synonymous with 'Northern Chinese' food that includes Beijing and Tianjin cuisines as well.
Shandong is blessed with mild weathers and the fertile Yellow River, as well as a resource-rich coastline. Thus the cuisine features all kinds of poultry, meat, seafood, veggies; and incorporates all cooking methods within the region including steamed, boiled, stir-fry, gravy, soup, stew, etc. It is also the birthplace of Confucius, and his teachings have deeply influenced the culinary values of harmony and balance to achieve agreeable flavours. The key taste profile is natural saltiness and umami tastes according to ingredients, evenly cooked in flaming wok fire that tests the chef's mastery.
Defining delicacies are Zha Jiang Mian fried sauce noodles, Peking duck, BingtangHulu candied hawthorn berries, fried sea cucumber, Shandong dumplings with seafood fillings dipped in vinegar, Four Joy meatballs, deep-fried Youtiao rice-flour pastry, and succulent meat Bao-s.
Shanxi & Shaan Xi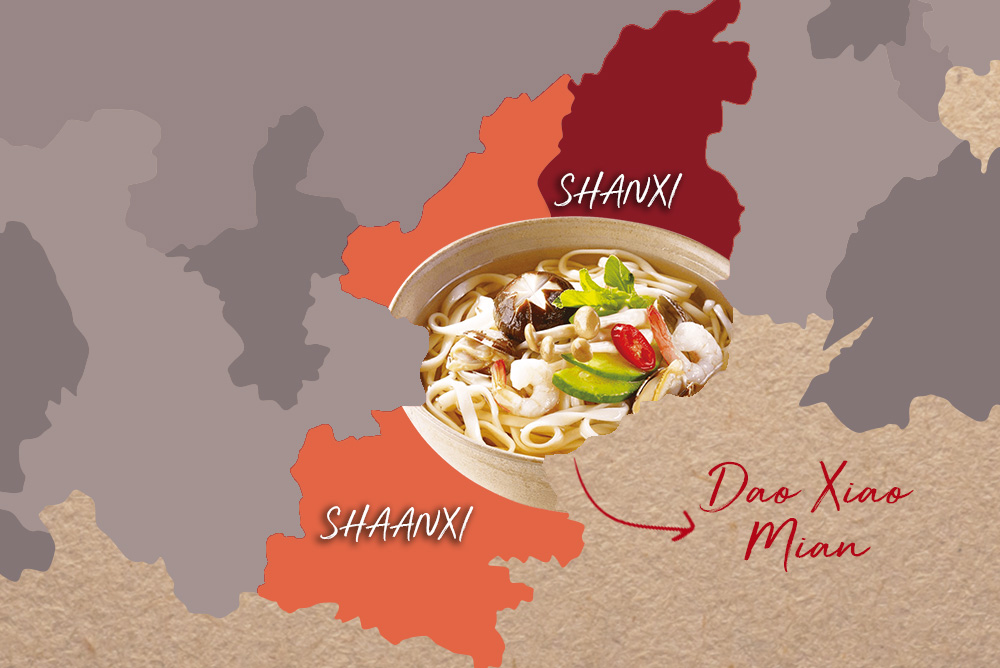 Two north-middle provinces in a landlocked region with distinct flavours. Shanxi (as in 'mountain west') is the cradle of Han civilization, while Shaan Xi (Shaan is a specific name) was the first ancient Chinese province introduced to Islam. The region's climate is mild with a rich agricultural tradition and famed for its noodles.
Shan Xi food is characterized by the aromatic salty key flavour, enhanced by sweet and sour. Cooking emphasizes the mastery of knife and wok-fire skills, as well as savoury sauces. Main methods include grilling, roast, braise, stir-fry and steam. Aged vinegar is a signature ingredient for the distinct tangy flavour. Dao Xiao Mian or Knife-cut noodles is the most famed staple, skilfully shaved from a block of dough over a pot of boiling water. Ten Bowls of Gaoping is a veritable feast with pork in various cuts and marinades stir-fry, steamed and braised, sliced chicken soup, lentils soup, meatball soups and rice. Sour mutton stew with parsley is also another Shan Xi special.
Shaan Xi food is defined by three emphasises. The beef and mutton flavours, the highlight of one core taste in each dish (salty, spicy or vinegary) supplemented by milder flavours, and unique piquant fragrance. Roast, smoke, steam and fry are some of the main cooking methods. Staple dishes include flatbread dipped in lamb soup, spicy oil noodles, Rou Jia Mou minced meat burger and Liang Pi spicy cold wheat noodles.
Ningxia, Gansu, Qinghai & Xinjiang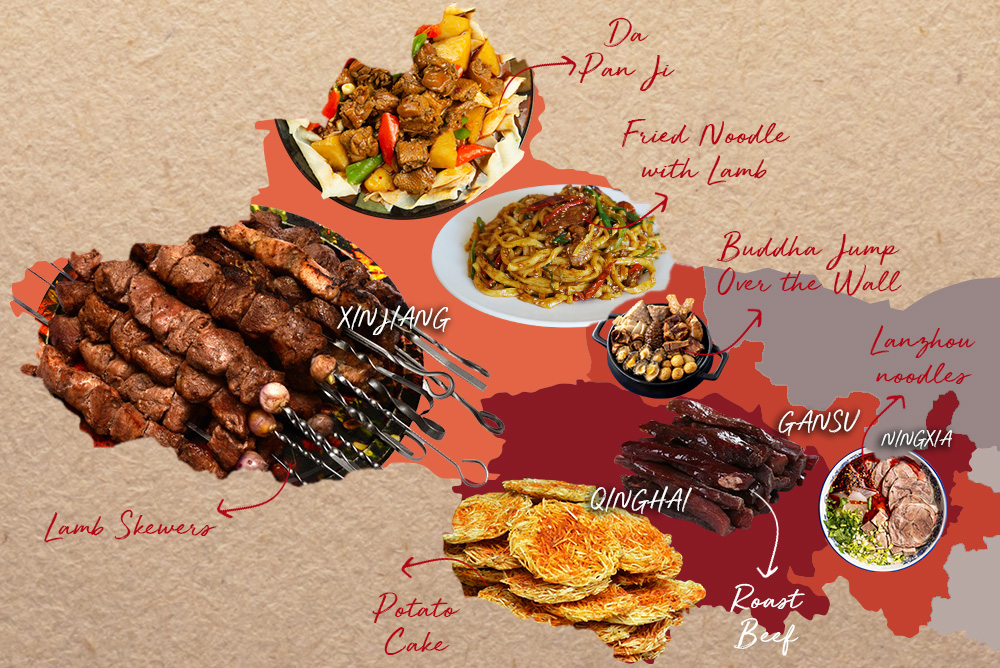 North-western regions of China are heavily influenced by the old cultures that traversed and settled along the Silk Road, who set up way-stations and trading hubs that eventually expanded into towns and cities. The local populace today include Tibetan, Sala and Mongol descendants, as well as Muslim minority tribes.
West of Shaanxi is Ningxia, home to Hui Muslims, who favours beef, mutton and noodles; with an emphasis on spices including peppercorn, star anise, fennel, chilli, garlic, onion and ginger. Braise, steam and stir fry are the core cooking methods to make the signature peppery fragrance.
Gansu is home to Uyghur Muslims, and the old eastern trading hub of the Silk Road, Dunhuang. The cuisine is characterised by nutritious greens and incorporates five main spices of fenugreek, fennel, mustard, cumin and garlic; to make the core flavours of sour-spicy, fresh-salty, bitter, and fragrant spicy. The legendary 'Buddha Jumps Over The Wall' which is a meticulous dish that boils and blends the essence of various ingredients into a super savoury soup, is a Gansu special. Lanzhou beef pulled-noodles is another pride of Gansu, enjoyed all over China.
Qinghai borders Tibet and sits on the same steppes plateau. Rich in livestock, veggies and fruits farming. Beef and mutton are the staple meats with barley, bread and yak dairy products. Cooking combines both Han and Hui traditions. Stir-fry, braised, sauté and steam for sour spicy, tender crispy and rich meaty flavours.
Xinjiang is the north-western edge of China. Similar to the above, food here is also beef and mutton heavy, but with more veggies, fish and egg. Salty-spicy is the signature flavour. Roast, stew, steam and fry are the main cooking methods; as well as kebabs, spiced meats and flatbreads. Staple dishes include Da Pan Ji or 'Big Pan' chicken, named after the savoury chunks stir-fried with a rich mix of sauces for a lightly sweet, spicy and umami taste. Zhua Fan spicy fried rice with carrots, lamb, raisins and spices. Xinjiang Pan Mian wheat noodles with mutton, peppers, tomatoes and green beans; enjoyed by dipping and mixing the special sauce.