All Asian cuisines have stews, soups and gravy-rich dishes that satiate your taste buds, and warm your belly; especially fulfilling in cold weathers. Although there are traditional earthenware pots still used today for cooking them, the slow cooker is a much more convenient appliance to do it. Made popular around the world since the 1940s, the slow cooker is almost as common as the rice cooker among Asian families.
How does it work?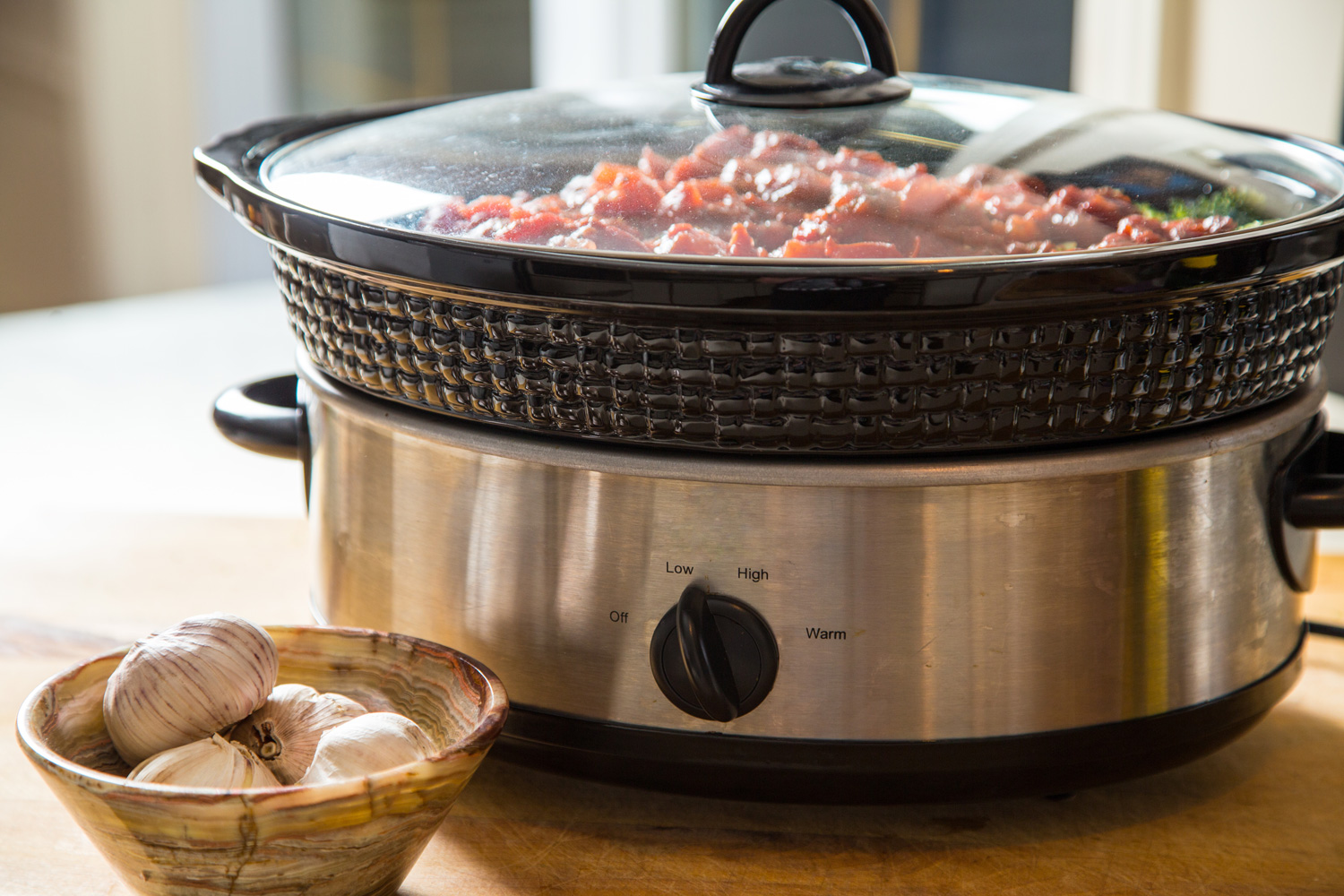 The basic slow cooker design is a ceramic or porcelain cooking pot, housed in a metallic heater, plus a glass lid. The electrical heater cooks at a low temperature. The pot traps and holds the heat. The lid collects the vapour to prevent moisture loss. The slow-cooker takes a longer time to cook, as it continuously breaks down your meaty ingredients into tender, crumbly textures, fusing them with the seasoning flavours, while retaining all the natural umami liquids of your dish.
Early versions of the slow cooker have high and low temperatures that bring your ingredients to the boiling point and continue to slow-cook. Some modern versions include adjustable time and temperatures. Just prep your recipe, put in the ingredients, close the lid, and let it cook. No need to stir or watch the heat. Perfect for busy households. You can leave a dish to cook for the day, or overnight, and come back to a warm hearty meal.
Slow cookers come in oval, round and square shapes, as well as small, medium and large sizes, to suit your needs, preference and kitchen space.
Tips to remember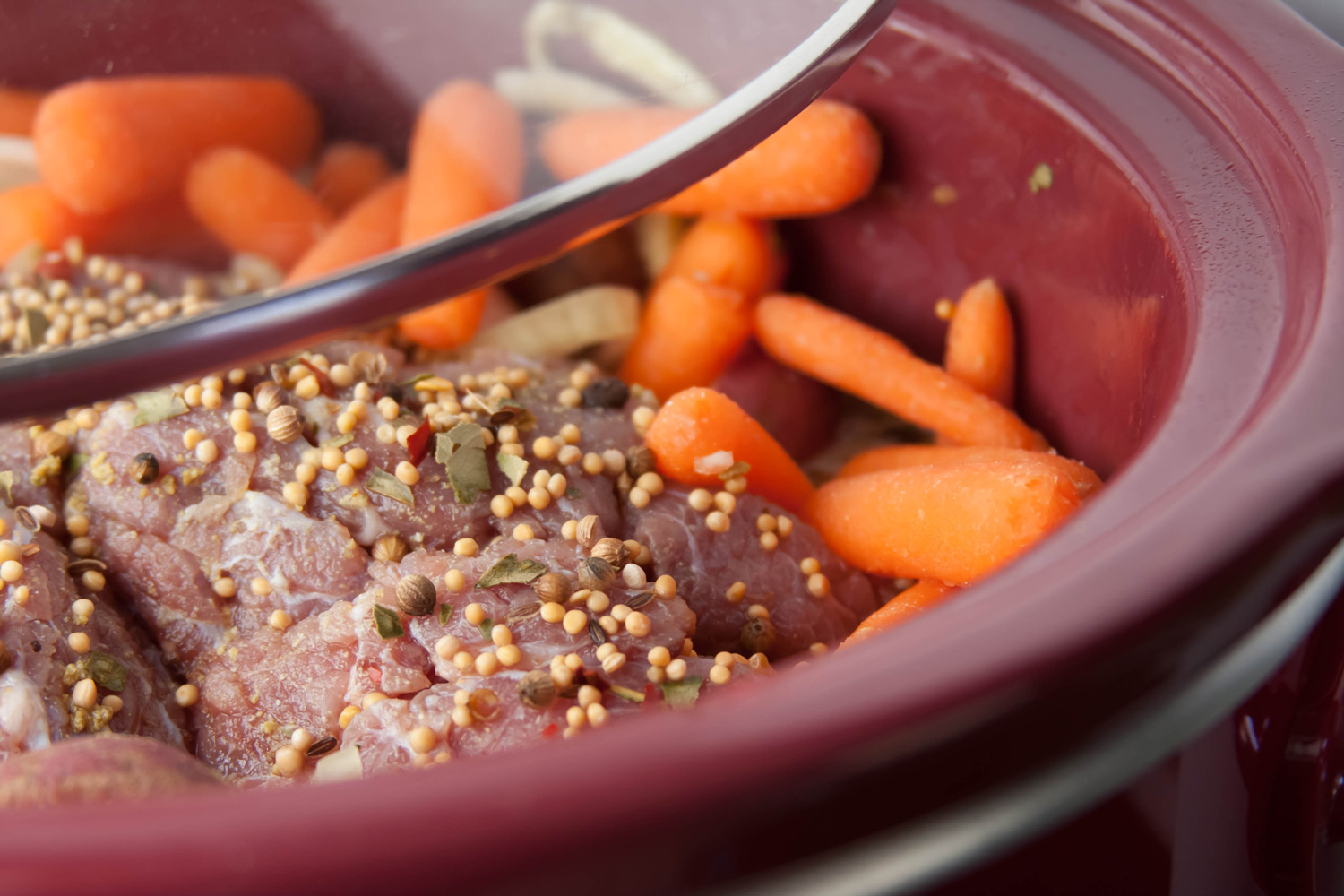 Cook cheaper cuts of meat, which often have more fat and connective tissue that breaks down in the slow cooker's long, moist and consistent heat. Lean cuts usually cost more and tend to dry out in the process.
For extra flavour, brown your meat separately on the stove, before transferring to the slow cooker for the main cooking. Some slow cookers also have a browning function for this.
Cut veggies into small pieces so they'll cook evenly. Place hard veggies like potatoes and carrots at the bottom where they'll get more moisture and heat. For leafy greens, crunchy fresh veggies and herbs that cook fast, add them last into your slow cooker.
Fish and seafood cook faster than meats, so be sure you set the timing just right.
Don't cook frozen foods directly from the freezer to the slow cooker. Besides taking much longer to cook, your slow cooker needs about 20 minutes to reach the safe cooking temperature, during which time your food may attract bacterial growth that could cause illnesses. A safe and easy way to thaw overnight is to place the frozen meat in a sealable container and transfer them to the regular fridge space – good to cook by the morning.
Fill your slow-cooker to three-quarters full at most. If it's too full, your food may not cook properly and might overflow. Too little, and your food may overcook.
You may also want to use a specialized liner bag for your slow cooker, which makes transferring the cooked food easier, as well as less clean-up after.
Don't add too much water. Your ingredients contain juices that are released in the cooking process, which gives the overall umami soup or gravy of your dish. If it turns out too watery, take out the cooked meat, and simmer the liquids in a saucepan on your stove; or remove the slow cooker's lid, and switch to high heat until the stew thickens.
Keep the lid closed during cooking, which can take up to 8 hours, depending on the recipe. Heat escapes every time you open, and as mentioned, your slow cooker takes about 20-30 minutes to regain the set temperature. Thus, opening the lid will mess up the cooking time, and may even affect the flavour.
Your slow-cooked delight is best enjoyed hot and steamy. But if you wish to cook a batch to store, don't keep the food in the slow cooker pot. Instead, transfer the cooked food to a sealable container for the fridge. If you're using a liner bag, don't store the food with it either.
To clean your slow cooker without too much scrubbing, fill the cooker's pot with water and dishwasher liquid, and cook for an hour in a low heat setting; then rinse thoroughly. You can also add a little bicarbonate soda or white vinegar to boost the cleaning effect.