Rice is the staple carb food for most of Asia. And, wherever there's rice, fire and a pan or wok, you can bet there's a yummy range of fried rice flavours unique to the local culture. Simple to cook, and adaptable to almost any seasoning ingredient, fried rice is a quick-fix meal dish that's often packed with meaty bits and chopped veggies. A popular street food and household dish made to satisfy taste-buds and fill bellies, for children and adults alike, among all walks of life.
It actually began as a leftover dish. The earliest record of fried rice dates back to around 500-618 CE, during the Sui Dynasty in Southern China. But it'd be a full millennium later, during the Ming Dynasty around 1600 CE, that fried rice became widely enjoyed. However, it was never an imperial delicacy, but a commoner's fave – to cook up kitchen leftovers for a tasty dish the whole family can share. It typically combines carb, proteins, minerals and fibre in one plate, making it a nutritious meal.
The best fried rice is made with cooked rice kept overnight, after some of the moisture had evaporated. The high-heat stir-fry turns the rice into a crisp yet tender texture, and releases its natural aroma; blending with the flavours of other ingredients. The most basic Chinese fried rice seasoned with sesame oil and salt, can be surprisingly yummy. And of course, as fried rice spread from China to other parts of Asia, every culture gave it their own signature tastes.
Here are some of our favourites: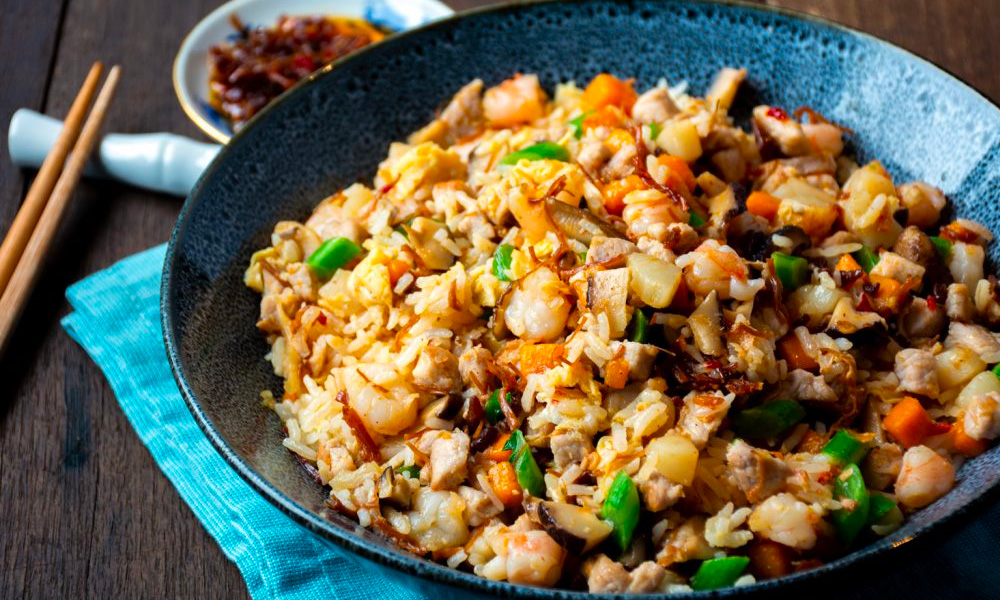 XO Sauce Fried Rice
The spicy-salty Fujian Shacha sauce is made from soybean oil, garlic, shallots, chillies, Chinese brill fish, and dried shrimp. An instant umami booster for Southern Chinese dishes.
Inspired by the unique flavour, the chef of Spring Moon, a famed Hong Kong restaurant, invented the XO sauce during the 1980s. Made of chopped dried scallops, fish and shrimp, cooked with chillies, onions and garlic. Deeply savoury with a spicy edge. Today, you can find XO sauce in pre-made bottles. Awesome for a great variety of dishes, including fried rice. Try it in this mouth-watering recipe by Chef Leslie Chan!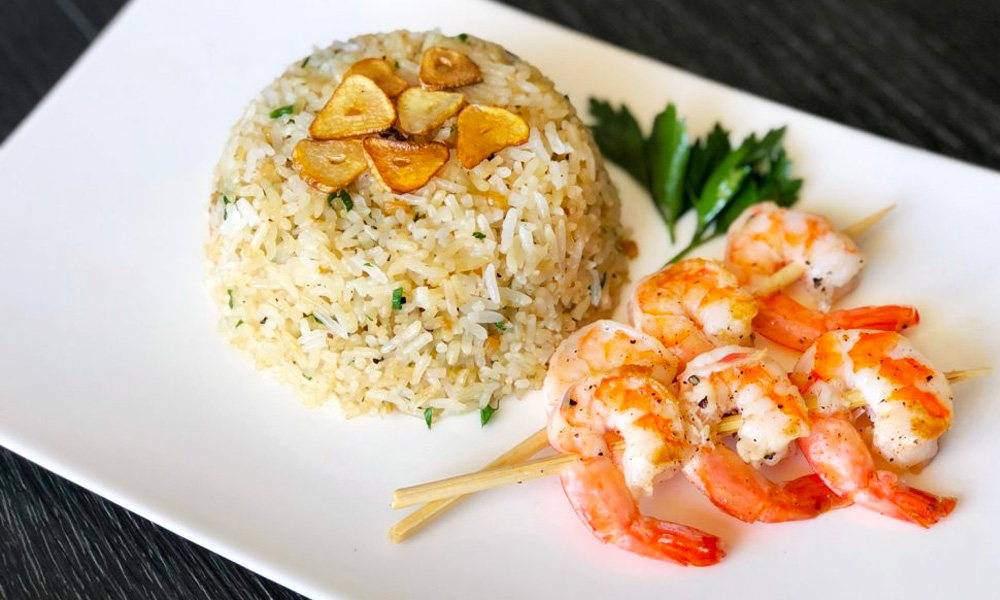 Japanese Garlic Fried Rice
Japanese cuisine typically favours milder, balanced tastes, exemplified in the umami garlic fried rice. It also uses short-grain sushi rice, with a slightly chewier texture than the long-grain rice of other cultures. Made fragrant with garlic, seasoned with soy sauce, black pepper and salt, infused with butter and olive oil – resulting in a savoury, satisfying flavour. Add a side of pan-fried shrimps for a yummier enjoyment!

Korean Kimchi Fried Rice
Sweet, salty, tangy and spicy, all balanced in one, Kimchi is more than a tasty appetizer, but also the core ingredient of Korean cuisine. Absolutely divine in fried rice with luncheon meat and enoki mushrooms, topped with sunny-side-up eggs, and garnished with spring onions and roasted seaweed. Make your own fresh Kimchi at home with our step-by-step guide, and savour it in an authentic Bokkeumbap fried rice.

Vietnamese Fried Rice
Vietnamese cuisine has its roots in Chinese cooking, and their fried rice flavours are similar. The basic recipe features the meaty, smoky sweetness of Chinese sausages and diced veggies. Seasoned with garlic, salt, pepper, and sugar. Cooked to fragrant in vegetable oil. Simple, umami and comforting. Great for your weekday meals.

Thai Pineapple Fried Rice
Thai cuisine emphasises the balance of rich exotic flavours. So, their 'tropical' variant of fried rice brings in the tangy-sweetness of pineapple, to temper the spicy ingredients. Make yours at home with Elena Duggan's special recipe!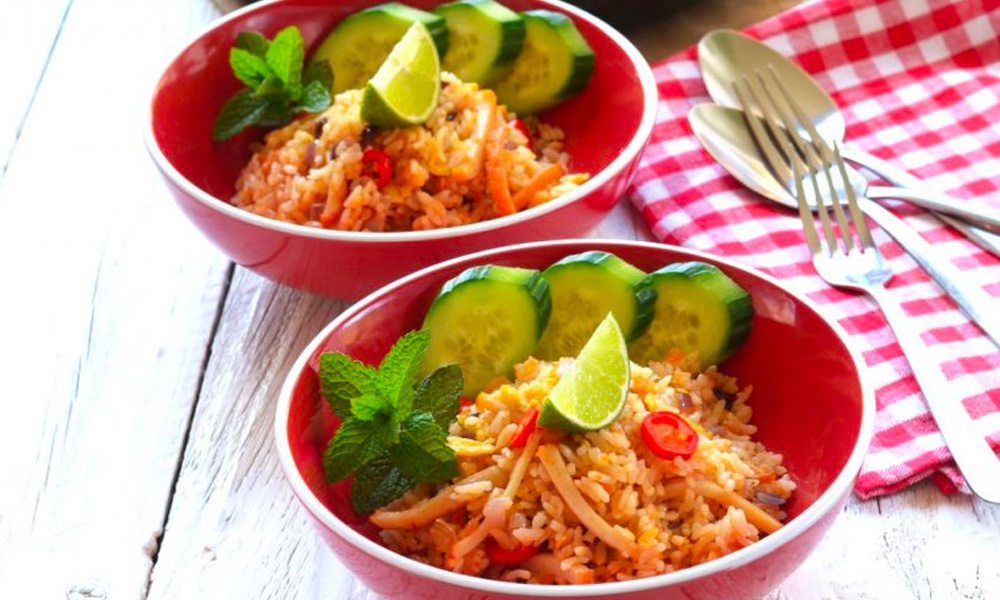 Laksa Fried Rice
Laksa is among the ultimate expressions of Southeast Asian cuisine, with a spicy, savoury complexity that excites, delights and comforts, all at once. Laksa paste is also delicious for fried rice. You can actually find it pre-made and bottled at Asian grocers. Savour a rich, heavenly laksa fried rice with this easy recipe!

Malaysian Omelette Fried Rice
Known as Nasi Goreng Pattaya, this Malaysian favourite didn't really come from Pattaya, Thailand, but probably named so for novelty. Regardless, the omelette-wrapped fried rice packs a flavourful punch with simple seasoning, and some stir-fry skills. Warm, savoury and tender to chew. The alluring fried rice aroma whiffs out, once you tear open the omelette.

Indonesian Kampung Fried Rice
Indonesian Nasi Goreng is so famed for its incredible, appetising taste that it's actually their national dish. Made superbly flavourful by sambal and Kecap Manis – their unique sweet soy sauce. However, there is another signature version of Indonesian fried rice from rural cooks, with a comforting spicy savoury fragrance and flavour. Seasoned with birds-eye chilli, garlic, onion and dried anchovies. Try it with this authentic recipe.