Bao is probably one of the tastiest culinary inventions in Chinese cuisine that begins with the basic idea of fillings in the steamed dough and has spread, evolved and flourished into a plethora of flavours across China, Southeast Asia, and the worldwide Chinese diaspora. Its origin is a creative legend, and its history, one of evolution.
The tale goes: the famed war strategist Zhuge Liang was returning with his army from a victory. They came to a river too rapid and deep to wade through. The local told him that a deity lives in the river and only takes human heads to grant passage. Unwilling to behead his own men, Liang told his army to stuff their wheat bun rations with minced meat, reshape them to look like heads, and throw them in the river. The deity was very pleased and parted the waters for the army to cross. The bun was thus named 'mantou', which translates to 'barbarian's head'.
However, according to historical text, the mantou, which is basically wheat dough folded into a bun, had existed then as a common delicacy. The legend may have inspired fillings, and thus the Bao is believed to have been 'born' around 400 BC, during the Three Kingdoms warring states era.
Beginning as a Northern Chinese delicacy, the Bao spread to all of China and beyond in the following dynasties and millennia. And, as it did, the kaleidoscope of Bao fillings spawned from localized ingredients and tastes, and became the ubiquitous goodies we know today; with a unique Bao flour that's ideal for steaming, with a fluffiness between bread and cake.
The Shanghai Xiao Long Bao is an Aussie favourite, and you've definitely tasted Char Siew Bao for yum cha. Well, here are more delicious Bao recipes to wow your taste buds! And, if you're new to the bamboo steamer that gives homemade Bao a fuller flavour, come check out our tips. No bamboo steamer? Here's the guide for you.
Salted Egg Yolk Custard Bao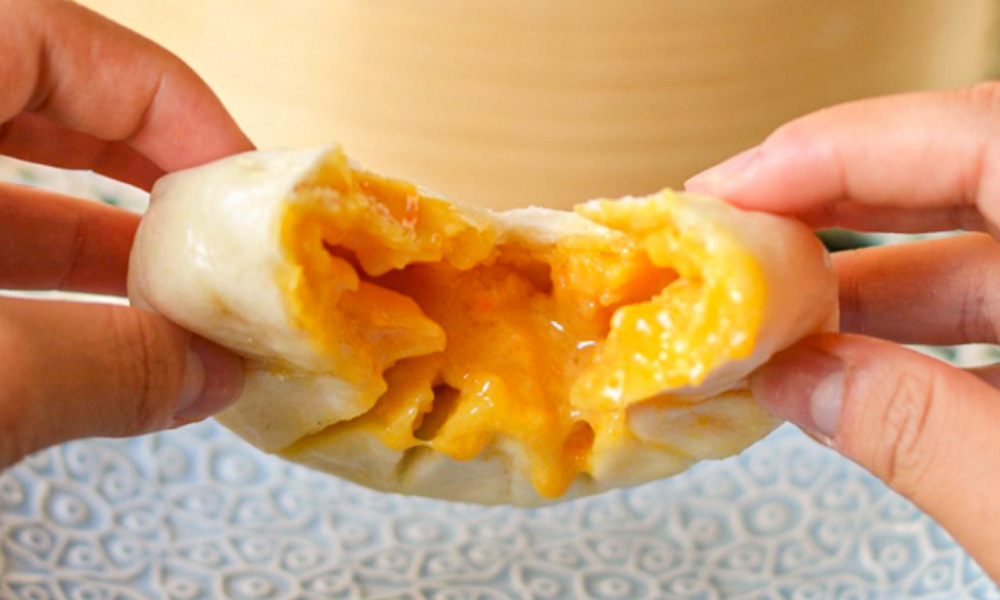 A fave in Hong Kong, and Southeast Asia, this recipe combines sweet and savoury tastes. Salted duck egg is a traditional Chinese preserved food, usually enjoyed with rice porridge. But the yolk is also a rich flavour ingredient, enjoyed in pastries such as the mooncake. Here, the salted egg yolk is whipped smooth, and shaped into a ball, then stuffed into the Bao dough. After steaming, the yolk turns into creamy umami custard that melts in your mouth!
Tempura Mushroom Bao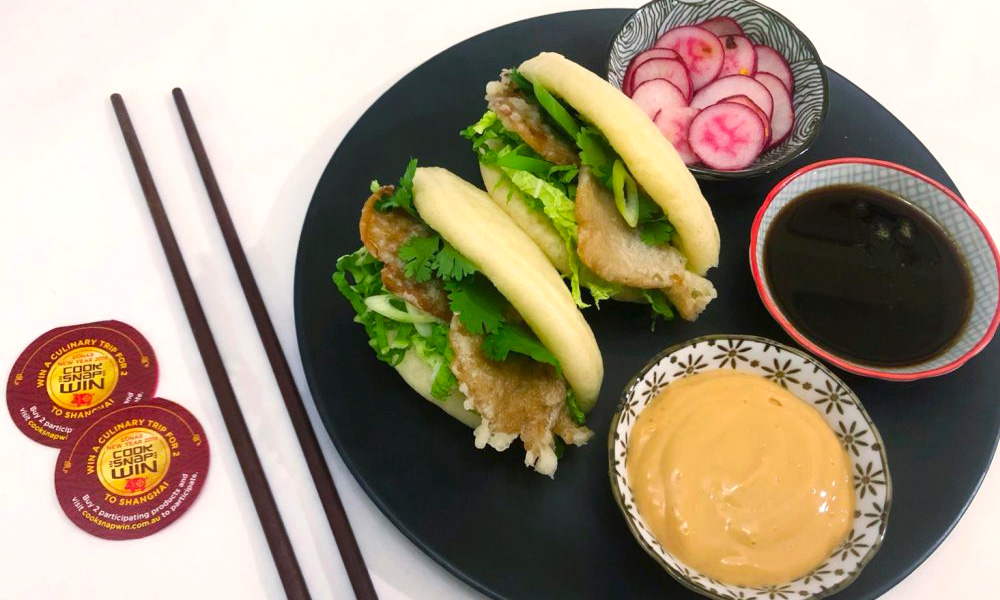 A 'cross-cuisine' special with Japanese tempura in a steamed bun—not all Bao-s are whole buns, 'sandwich' or 'burger' style are considered Bao-s, too! The crunchy tempura oyster mushroom matches the Bao dough's tender texture and subtle sweet touch. Enjoy with pickled radish and miso mayo for maximum flavour.
Grilled Miso Salmon & Coleslaw Bao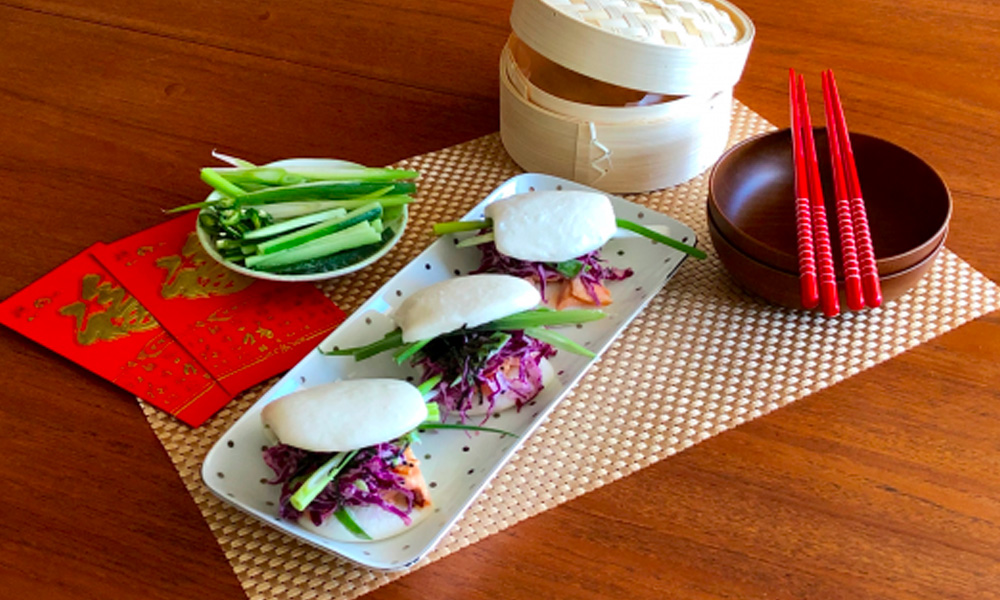 A delicious recipe of miso-marinated salmon grilled to fragrant umami, and coleslaw veggies flavoured with a rich dressing mix of Japanese mayo, soy sauce, rice wine vinegar and sesame oil. All wrapped in a tender Bao bun. Savoury and satisfying, with a complex yummy aftertaste that lingers on your tongue.
Vegan Sticky Bao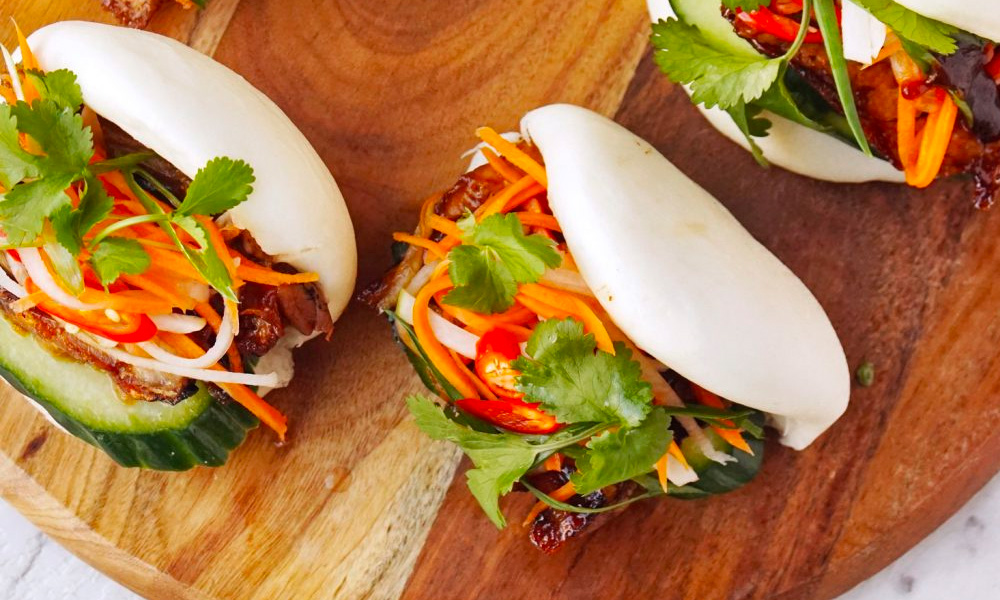 Bao-s can be vegan too! Here's a full-flavoured delight packed with tofu and assorted veggies, seasoned with a delicious mix of hoisin sauce, soy sauce, Shaoxing wine, and five-spice powder. Wholesome and yummy! Want the meat version? Grab this recipe instead.
Asian Pulled Pork Bao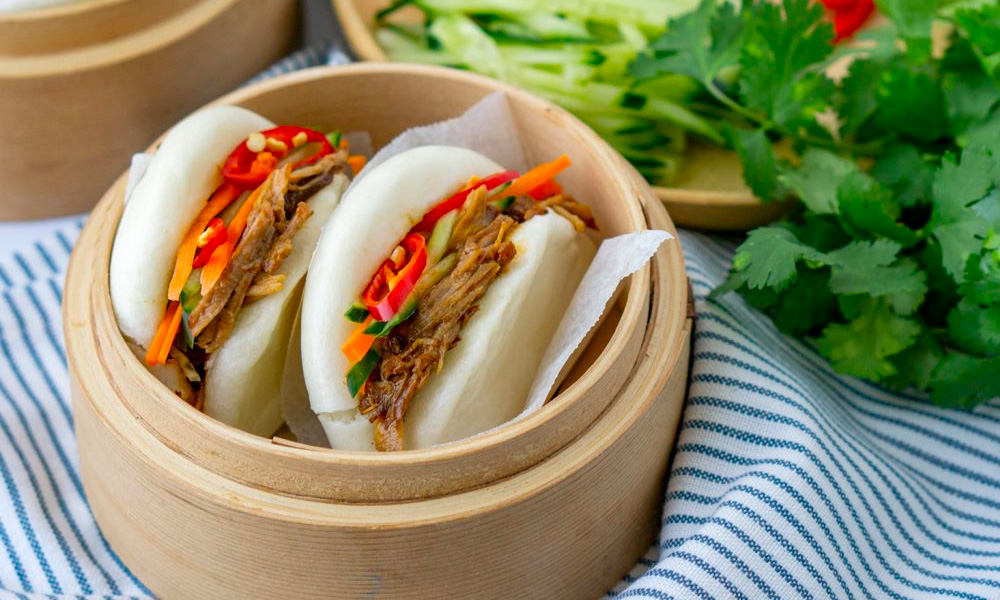 Richly marinated and braised pork, shredded to thin strips and wrapped with simple veggies for this flavourful Bao burger. Bite into the soft bun, and savour the chewy umami taste. Perfect for breakfast and lunch-boxes!
Sheng Jian Bao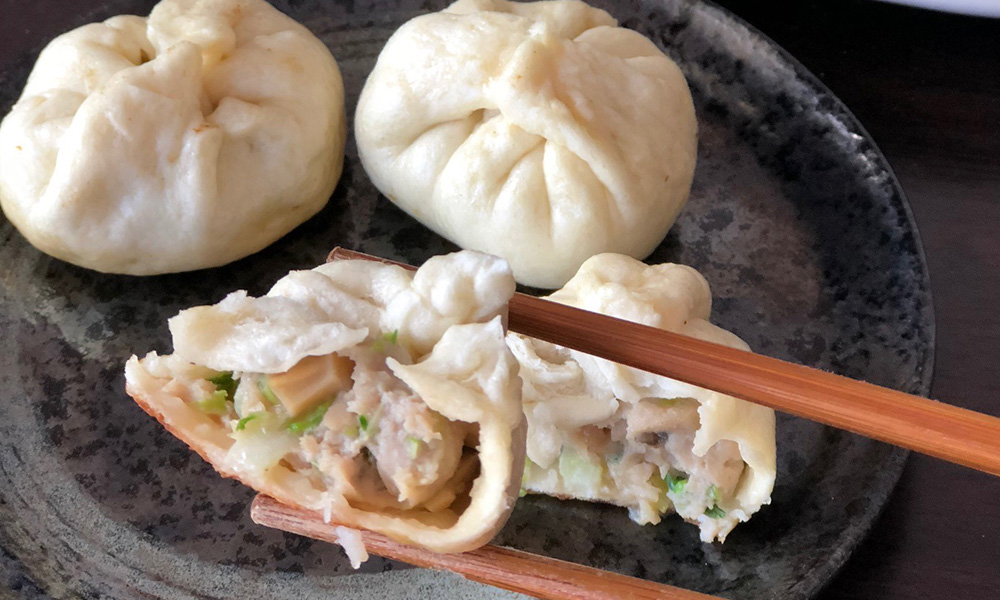 Lightly pan-fried Bao gives the dough skin a firmer and mildly crispy mouth-feel, plus an appetizing aroma. Stuffed with minced pork, diced wombok, and finely chopped shiitake mushroom. During the fry, the filling releases a tasteful soupy moisture akin to Xiao Long Bao. Absolutely divine!
Dou Sha Bao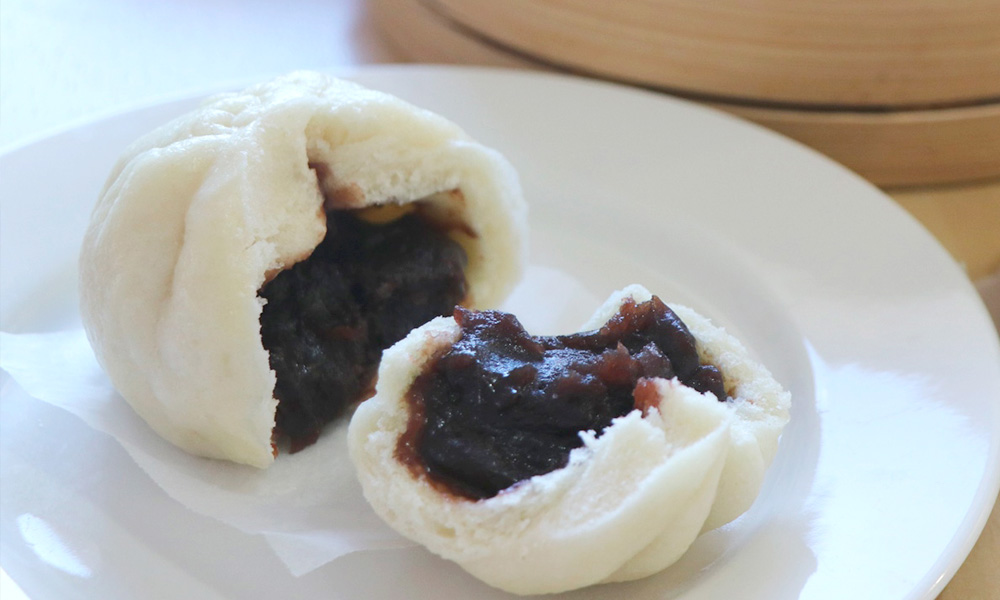 Tender Bao matched with the natural sweetness of red bean paste filling, Dou Sha Bao is a popular Chinese tea-time dessert. The red bean paste's mildly sticky texture softens during the steam, and exudes a sweet aroma, with a light nutty taste. A soothing, yummy indulgence.
Pandan Bao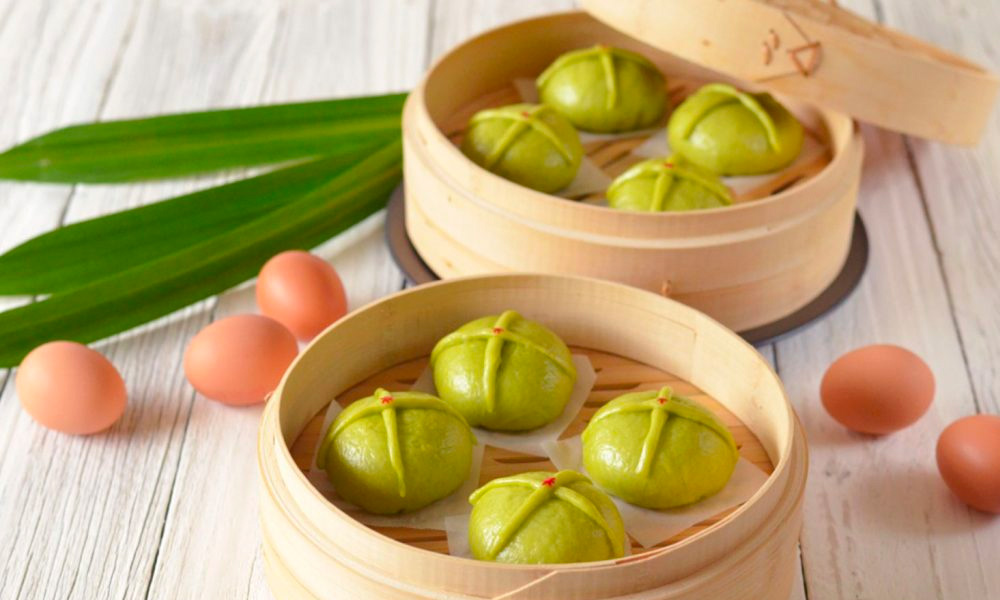 Pandan and kaya coconut jam are two of Southeast Asia's most beloved pastry ingredients. This Bao combines them both! Soft pandan-flavoured bun with a creamy sweet kaya filling. You can smell the vanilla-like aroma during the steam. And every bite brings sweet, tasty joy!
Custard Bao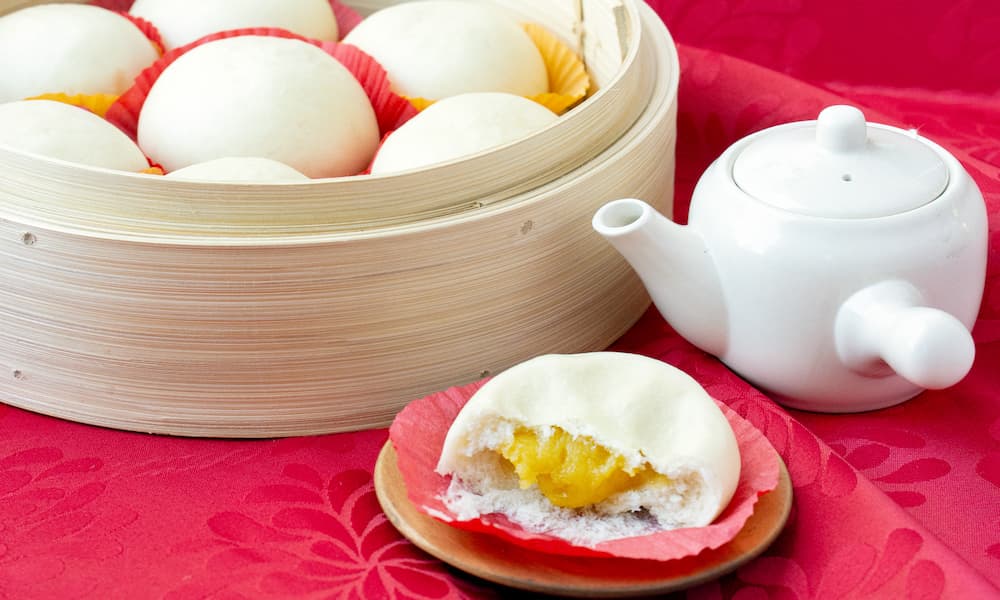 From the bamboo steamers of Southern China, comes the Cantonese Nai Wong Bao. A soft steamed Bao that oozes creamy-sweet custard in every bite. A favourite in Yum Cha restaurants, served fresh and warm for instant delight. Make yours at home with our authentic recipe!
Matcha Bao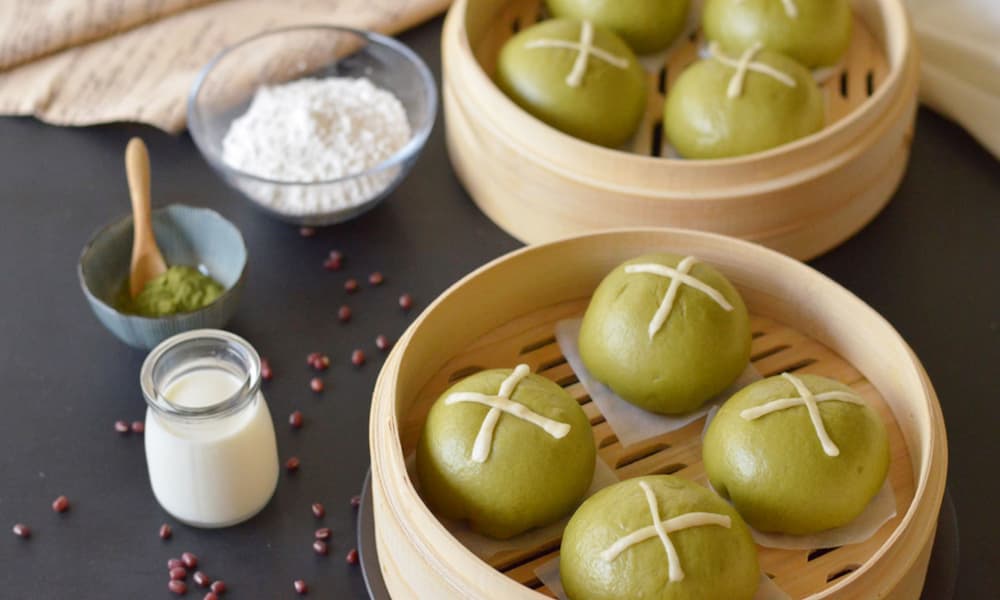 This Japanese Bao is enriched with Matcha fragrance. Tender yet firm to chew, and pleasures your taste-buds with natural sweet red bean filling. A warm and fuzzy treat for any time of the day.