In Asia, 'Western food' typically refers to fast food or fine dining, often recreating common dishes like burgers, steaks and pasta. In Japan, however, it's a whole category that's considered integral to their cuisine; called Yoshoku, with their own authentic flavours. And it actually dates all the way back to the start of the Meiji Era, around the late-1800s.
The History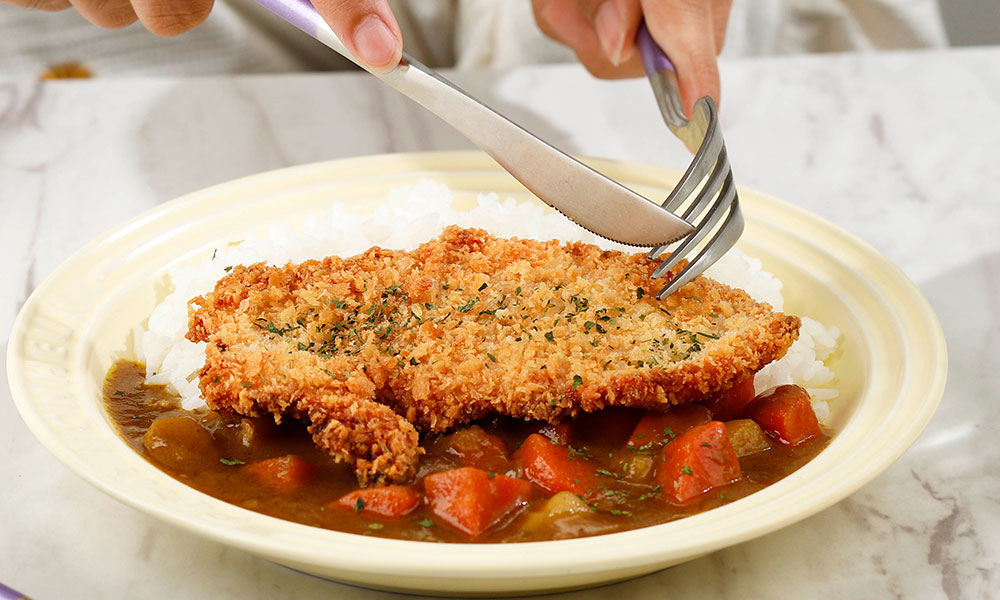 Japan encountered European seafarers since the Edo Period, with French, Portuguese, Spanish and English cuisines introduced back then. But due to cultural isolationism, an imperial ban on meat consumption, and general foreignness, Western foods were only found in restricted ports, and hadn't fully taken off just yet. Around a century later, the Meiji era arrived, and the new government actively promoted eating meat instead, with the hope to physically strengthen the populace. European knowledge and technologies were widely adopted too. Yoshoku became popular among the society's upper echelons, as well as their growing navy.
However, it was the Great Kanto Earthquake of 1923, which devastated much of Tokyo; that marked a change in Japanese lifestyle. Because Yoshoku can be simplified to cook, and considered nutritious, the erstwhile luxury foods were reshaped into everyday dishes to aid with the people's recovery.
Later, World War II and the immediate aftermath saw a massive supply shortage; which further prompted the use of local ingredients to make Yoshoku, as well as the inception of tomato sauce. These combinations and experimentations uplifted Yoshoko into their distinctly Japanese flavours. The standard of living gradually improved over the decades, and Yoshoku became a staple of Japanese food culture, enjoyed from restaurants to households.
Yoshoku is Comfort Food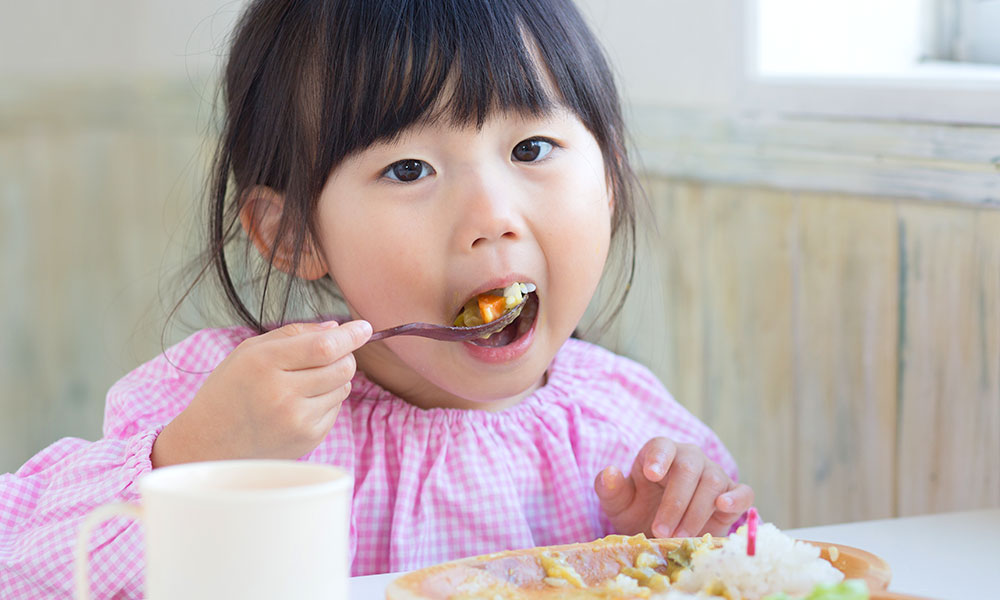 Yoshoku is usually meaty, packed with nutrients and flavours that pleasure your taste-buds, and satiate your appetite. Beloved as comfort food among Japanese children and adults alike. A Yoshoku meal is always a joyful family treat. Come have a taste of these favourite dishes:
Kare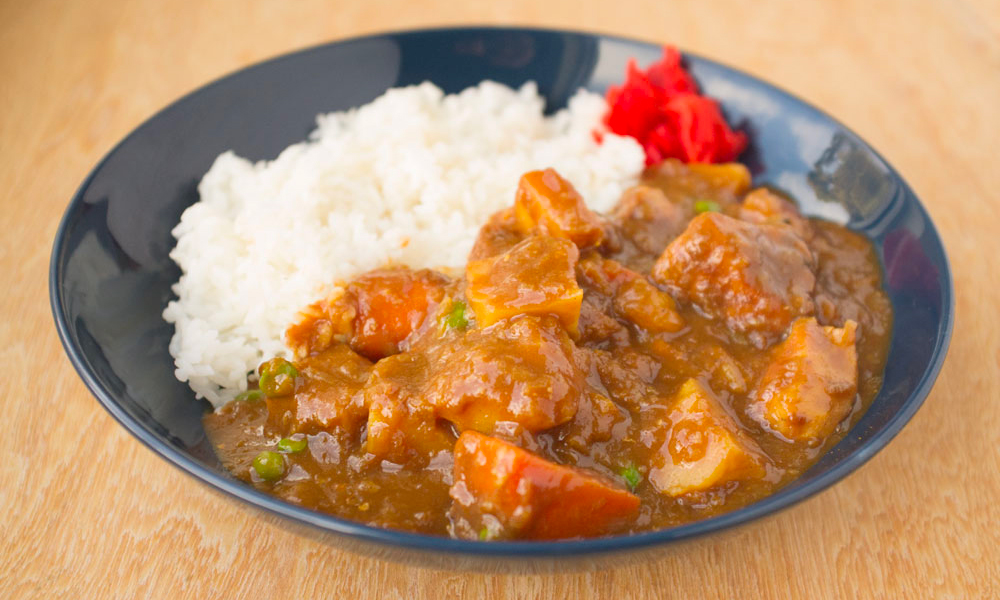 Kare or Japanese curry is an adaptation of an adaptation – recreated from the simplified blend of Indian curry powder by Brit colonials, into their own signature curry roux. Non-spicy, with a rich, creamy texture, appetizing aroma, and deep umami flavour. Typically enjoyed with rice. Make and savour a tasteful chicken curry from scratch, delicious beef curry, or a steamy curry udon.
Omurice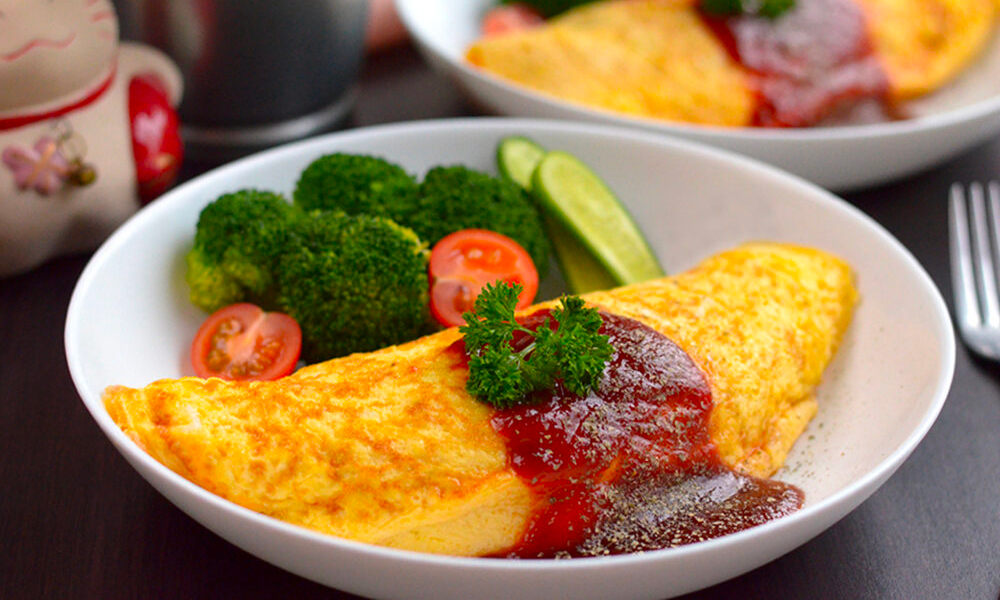 Omurice is the tasty upgrade of plain-old omelette. Fried rice with ham, mushrooms and peas, flavoured by salt, pepper and tomato sauce; in a buttery pan-fried egg-wrap, and topped with a marvellous blend of Tonkatsu sauce, soy sauce, and tomato sauce. Simple to make, and satisfying to taste.
Omurice has two origin theories. The first was at Rengatei in Ginza, Tokyo. A Yoshoko restaurant, in business since the 1900s. Omurice was a quick meal for the employees, which caught the eye of curious customers. So the chef put it on the menu. The second theory says it's from Hokkyokusei, an equally famed and historic restaurant in Osaka; where a loyal customer requested an easily digestible meal, and the chef combined tender fried rice with omelette. Whichever the case, Omurice quickly became popular in both restaurants, and spread among households too. Today, every Yoshoku eatery has their own variations in the fried rice ingredients; but the meat and tomato sauce are must-haves.
Make your cozy Omurice at home with our recipe!
Hambagu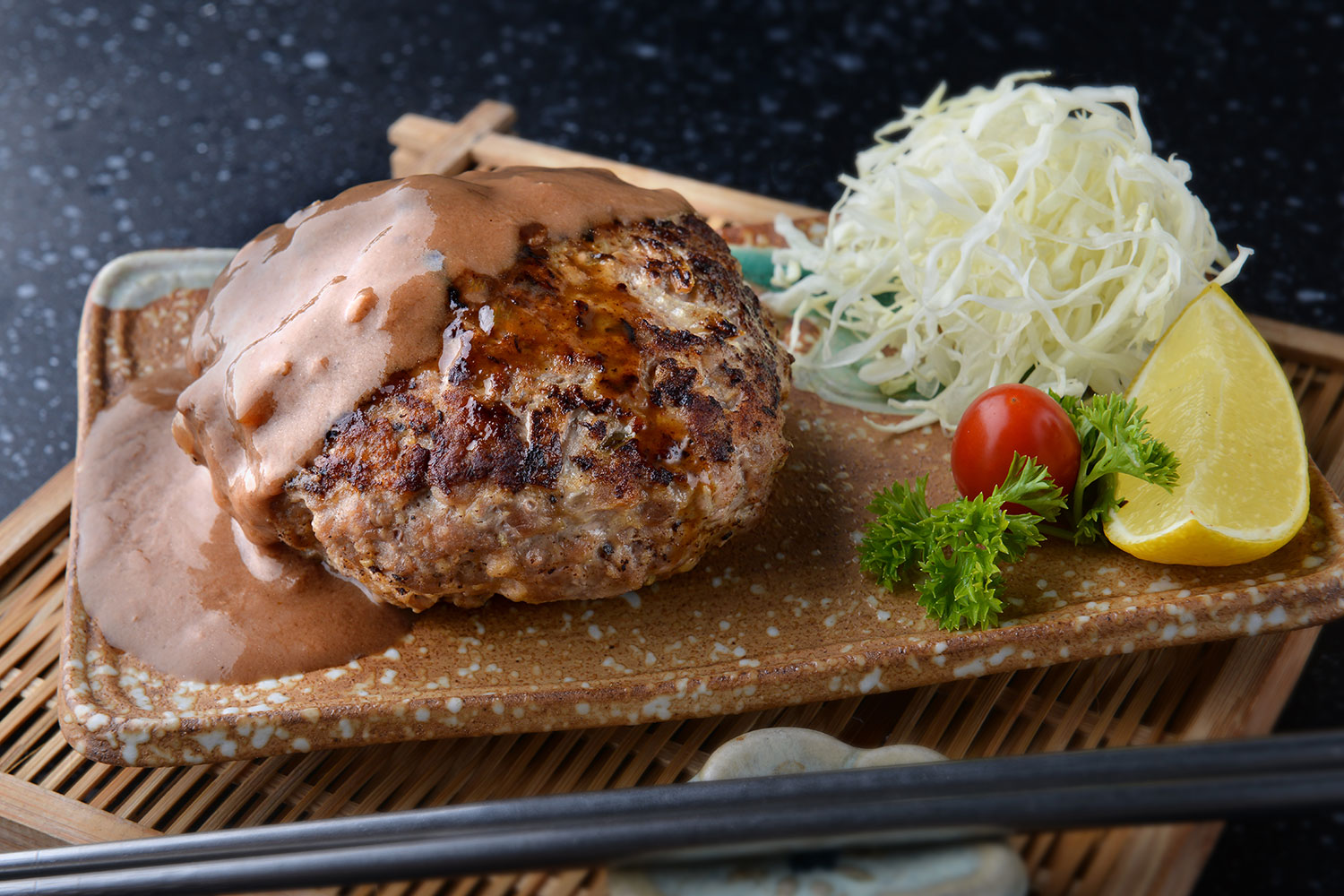 The word Hambagu is the phonetic adaptation of hamburger, though it actually refers to just the patty, cooked in the style of Salisbury steak. The patty is more than minced meat, but mixed with finely-chopped onions, breadcrumbs, and eggs. Molded into a thick round shape, then seared and baked. Lathered with a demi-glaze sauce blend that usually features Tonkatsu sauce and Kewpie mayonnaise. Indulge in a flavourful Hambagu recipe by Chef Masa, or savour a Yoshoku-double with a sumptuous patty-steak delight in creamy curry sauce.
Korokke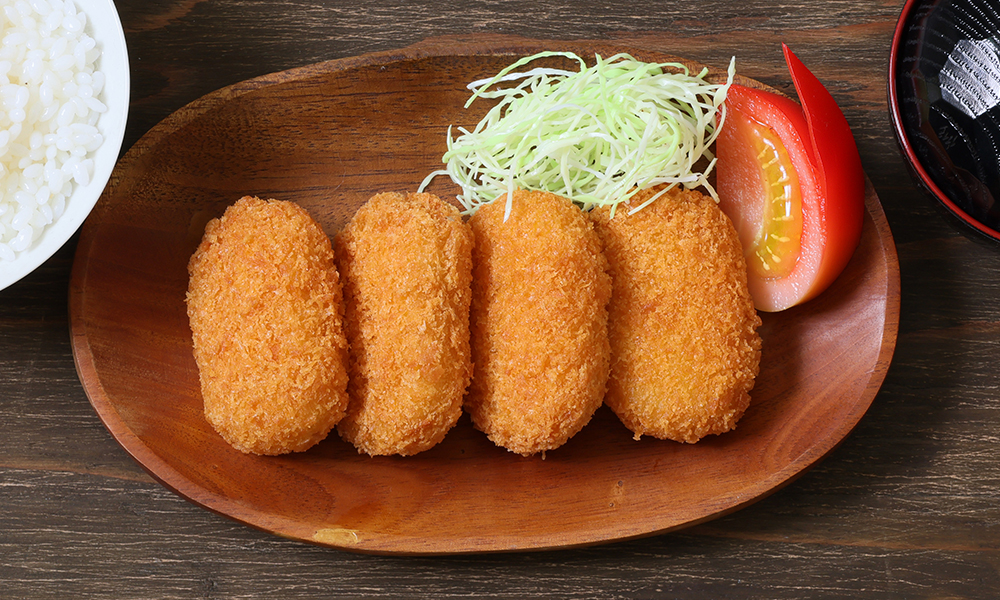 Umami-fied version of the French croquette, with added minced meat, panko breadcrumbs and onions to the mashed potato blend. Deep fried to a golden-brown crust, with tender, tasty filling; enjoyed with Tonkatsu sauce. A yummy treat, appetizer, side dish or lunch-box filler. Enjoy our simple recipe, or go cute and fancy for your house parties.
Tonkatsu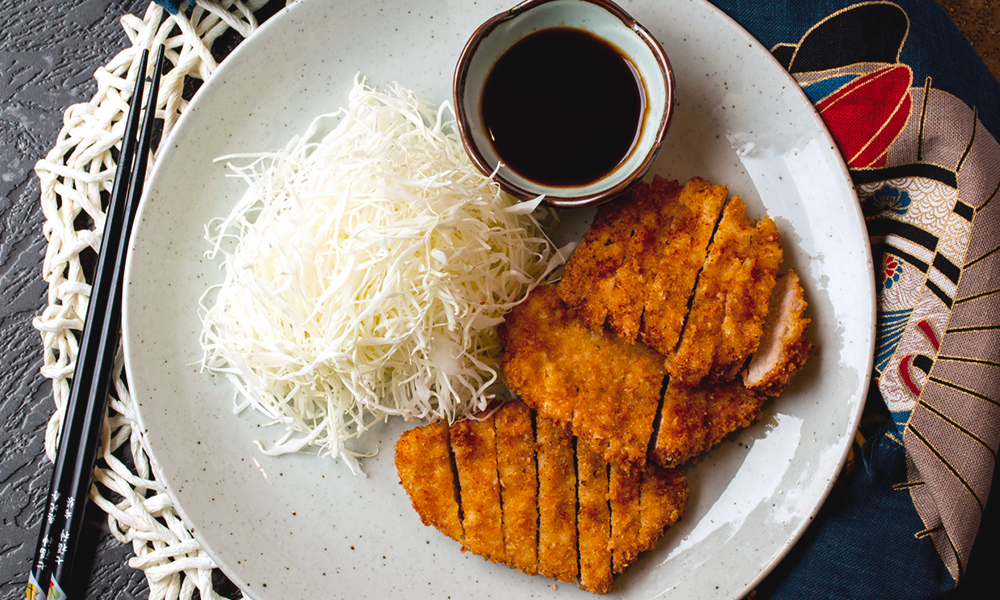 Adapted from the French cotelette: thin slice of meat, breaded and deep fried, served with sauce. Tonkatsu is specifically a pork cutlet, coated in tempura batter of flour and panko breadcrumbs, deep-fried to a crispy crust and enjoyed with shredded cabbages. Originally reinvented at Rengatei restaurant as well. Savour a classic Tonkatsu with this recipe by Chef Kinsan.
Doria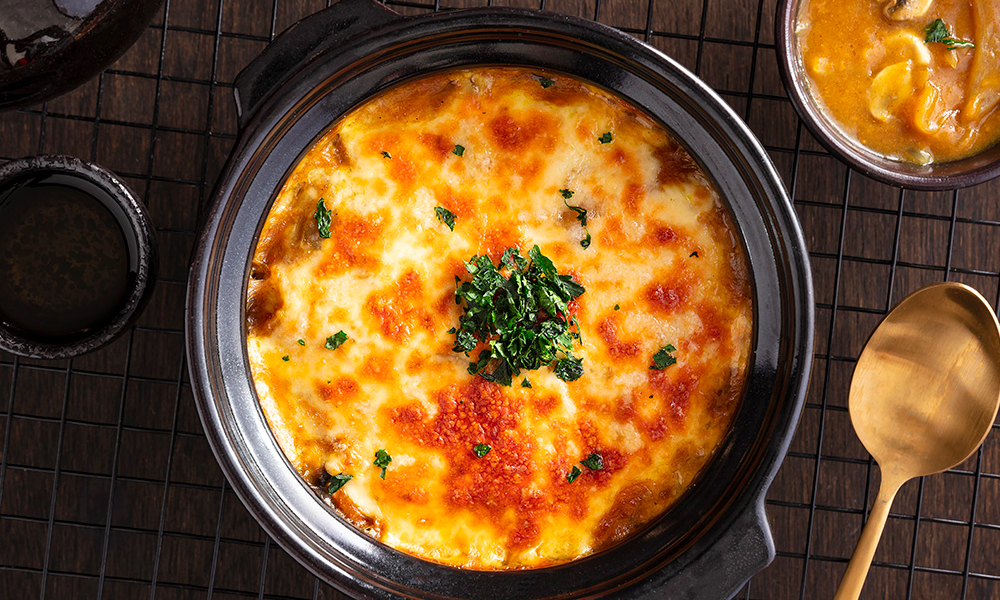 Also inspired by the French, Doria is the Japanese version of the au gratin, or more commonly known as the casserole. Baked cheese crust atop rice with meat, chopped onions and mushrooms in a velvety sauce. Each mouthful is a creamy, savoury, melting pleasure. The rice fillings and sauce are versatile for any flavour you like. Here's our Doria special with curry rice!
Hayashi Rice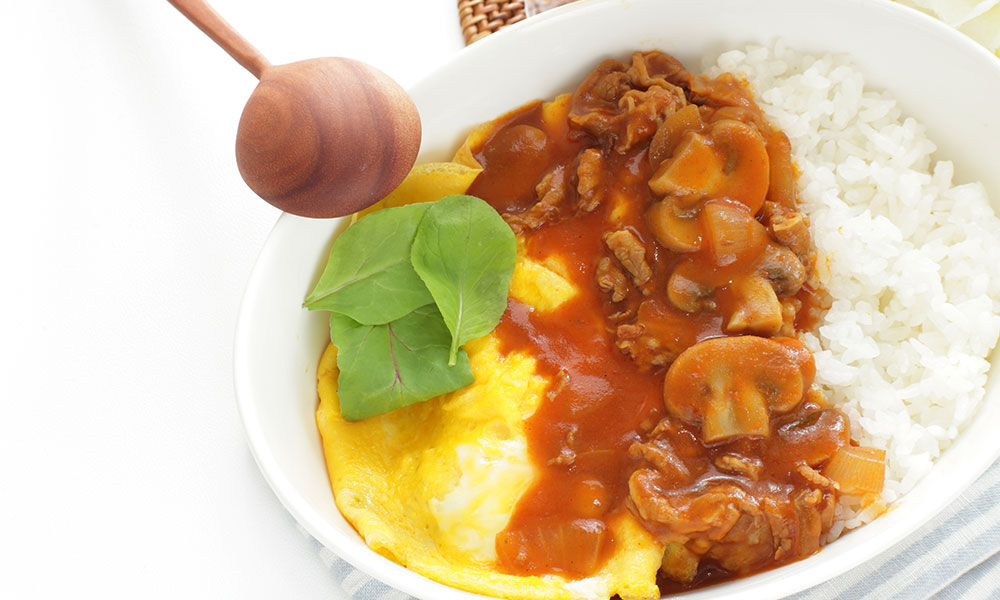 Derived from 'hashed beef', Hayashi rice is the reinvention of beef stew. Thinly sliced beef marinated with salt and black pepper, sautéed to fragrant brown. Then, simmered till tenderised in a stew that's thickened with caramelised butter, flavoured with red-wine, tomato sauce, and Worcheshire or Tonkatsu sauce; and packed with pan-fried onions and mushrooms. Velvety smooth, deliciously meaty, and divine to taste. Enjoyed with white rice for a hearty meal. It does take some time and effort to get that extra tender beef and rich creaminess, but totally worth it!
Hayashi rice is nearly as popular as curry in Japan, and you may find pre-made Hayashi roux-mixes at Japanese grocers for the stew. Or try making it from scratch with this video recipe.