Since its introduction to Japan in 1925, mayonnaise quickly became a household favourite. But instead of just importing regular mayo, the Japanese have adapted the creamy thick sauce into a wholly distinct flavour. You might've tasted it before in a sushi restaurant, though it actually has a lot more yummy uses than a sushi condiment – from traditional faves like okonomiyaki pancakes, rice bowls, tempura and stir-fried yakisoba noodles; to grills, salads and other modern delicacies. In fact, mayonnaise is now often considered a core seasoning in Japanese cooking, alongside mirin, sake, miso, shoyu, and wasabi.
Japanese mayo vs regular mayo
Japanese mayonnaise has a smoother, richer texture and taste, with a slight yellow tinge. This is because regular mayo is generally made from whole eggs and distilled vinegar, better suited for meaty dishes like hamburgers, sandwiches, tuna or chicken salads; while Japanese mayo is made from egg yolks, with rice or apple vinegar, which gives its signature umami, versatile flavour.
Kewpie, the brand that started it all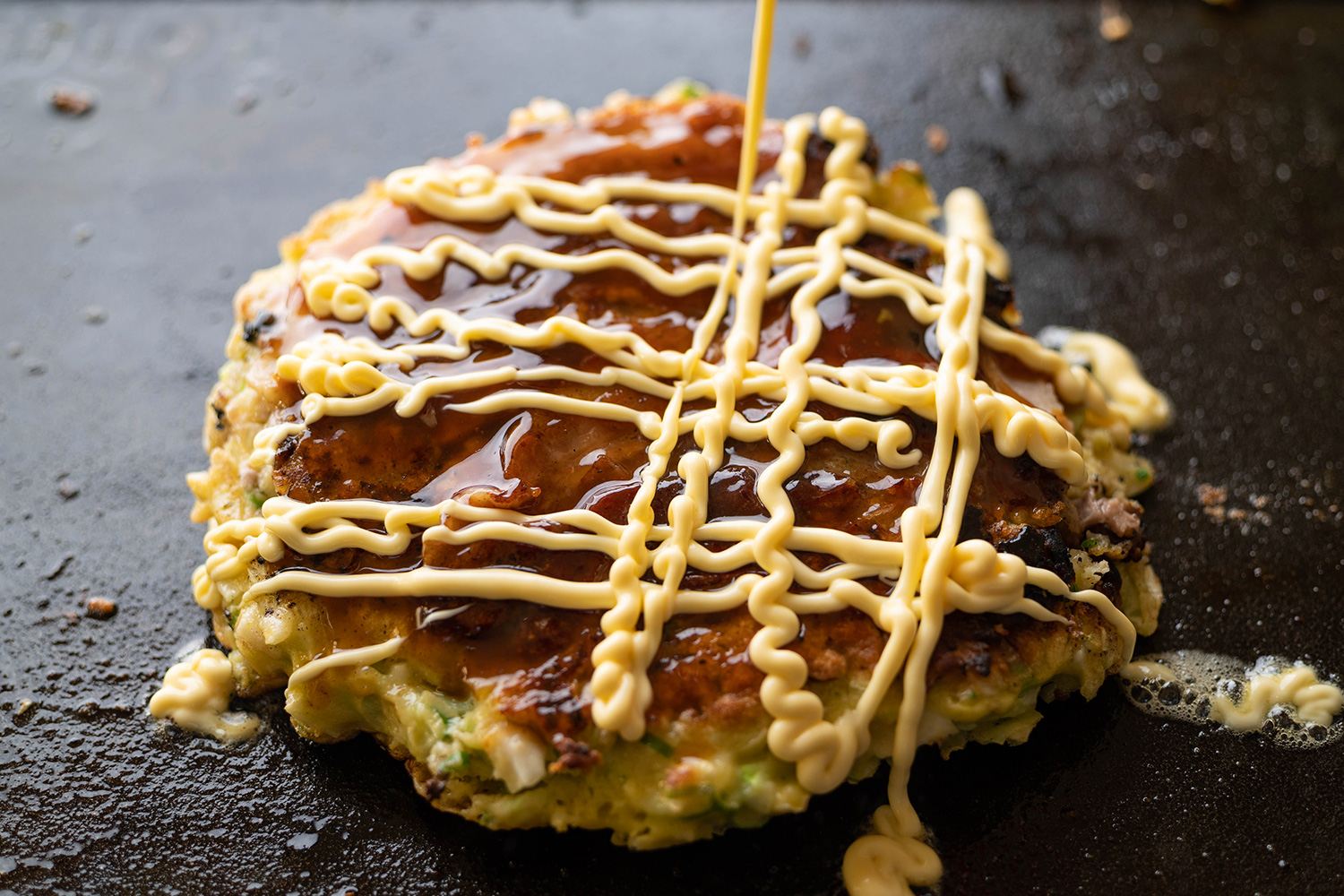 Even Western chefs adore Japanese mayo, and the most frequently mentioned brand is Kewpie – because they're literally the creator. In the late 1910s, Founder Tochiro Nakashima first tasted mayonnaise during his studies of food production techniques in the US, as an intern for Japan's Department of Agriculture and Commerce. Upon his return, Toichiro sought to incorporate mayonnaise into the common Japanese diet, with the hope of improving his people's nourishment and health. So he created a recipe that would suit the Japanese palate and began mass production in 1925. Hence, Kewpie was born and became so popular that today, the name is practically synonymous with Japanese mayo.
Yumminess + Convenience
Kewpie mayonnaise contains 4 finest egg yolks per 500g, vegetable oil, naturally flavoured and preserved with a special blend of vinegar and salt – giving it a well-balanced sweet-sour umami-ness that elevates your dishes' flavours. It comes in a uniquely designed squeezable air-tight bottle. The cap opens to a narrow tip for thin, decorative mayonnaise lines. Or, remove the cap to a star-shaped tip for more generous toppings. Super easy to use!
Kewpie mayo also has a range of signature flavours: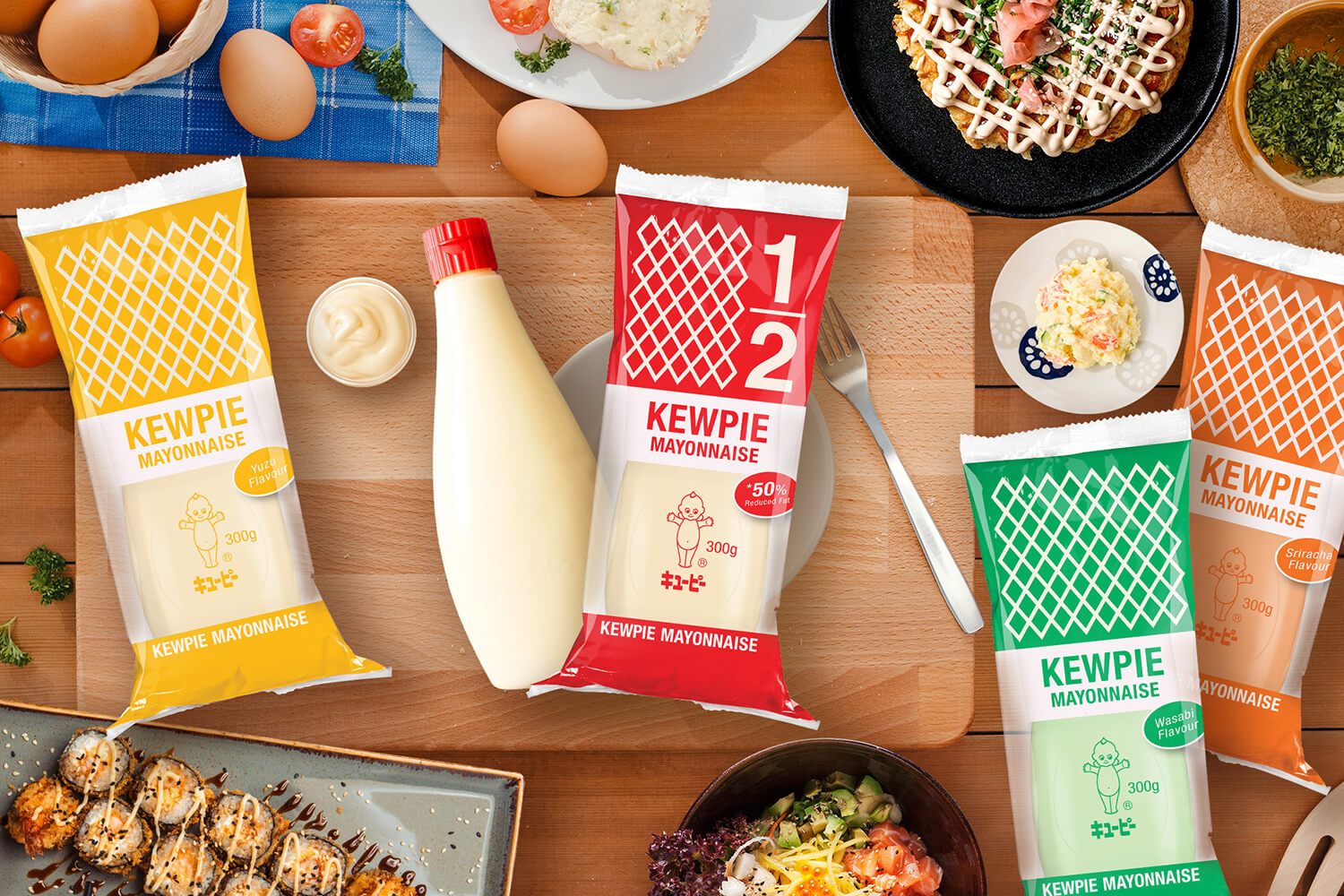 Original Mayo, with a 50% Reduced Fat variant. Either make a delicious gratin sauce with shoyu, cream cheese, milk and white miso paste – amazing in a grilled salmon indulgence. Or, combine with ketchup and tonkatsu sauce to yummify this tofu and beef patty delight.
Wasabi Flavour is imbued with the zesty aroma of wasabi that elevates the flavours of meats and seafood. The perfect accompaniment for this juicy fried pork belly skewer or this prawn cutlet treat.
Sriracha Flavour combines mayo umami-ness with the chilli spicy touch of Thai Sriracha sauce – exciting and tasty in this miso devilled eggs delight. Or, bring the zest to this wholesome and sumptuous salmon bowl with soba noodles, packed with crunchy vegetables.
Yuzu Flavour adds the fruit's citrusy tinge and fragrance to the mayo flavour. Instantly appetizing in this simple meal of salted salmon flakes with steamed rice. Also a flavour-booster for a classic chicken yakisoba quick-fry, and this joyful prawn nori cracker.
More Kewpie recipes
That's just a small sample of the flavourful goodies you can enjoy with Kewpie mayonnaise! In fact, it's amazing for almost any Japanese dish you crave. Come check out our full recipes collection!