Malaysian food is among the most diverse and flavourful in Asia, thanks to its multicultural traditions and history. But while Nasi Lemak, Satay and many more are known to the world, Kuih remains one of the few exceptional delights that have seen the least exposure.
In Malaysia, Kuih is actually a core specialty, with the first recipes created by the Peranakan or Nyonya people – pre-colonial Chinese settlers who arrived during the reign of old Malay Sultanates and had completely integrated their customs with local traditions, including language, faith and cuisines. Other cultures and Western colonials eventually brought even more tasty influences to the region, thus Kuih evolved and adapted into unique culinary art.
Today, it is a colloquial term that includes pastries, cookies, dumplings, and cakes of many kinds. But traditional Nyonya Kuih is still a mainstay enjoyed by all Malaysians. Great for dessert, breakfast and tea-time snacks. Available in morning and night markets, as well as street vendors and warung diners.
The word Kuih is of Chinese origin, but the tastes are distinctively Malay and Indonesian. Smooth, creamy coconut milk blended with rice flour, mung bean starch or tapioca flour. Flavoured with sugar and mild touches of salt, as well as Pandan for fragrance akin to vanilla. Steamed into tender, bouncy jelly-like desserts. Glutinous rice, yam, sweet potato, shredded coconut, sago, palm sugar and blue butterfly pea are also specialty ingredients.
Kuih-making embodies the delicate aspect of Malaysian culture, most often mastered by women chefs and traditional housewives. A skilled art that Karen Chan had honed for years, and strived to bring the unique, delightful flavours to Australian palates.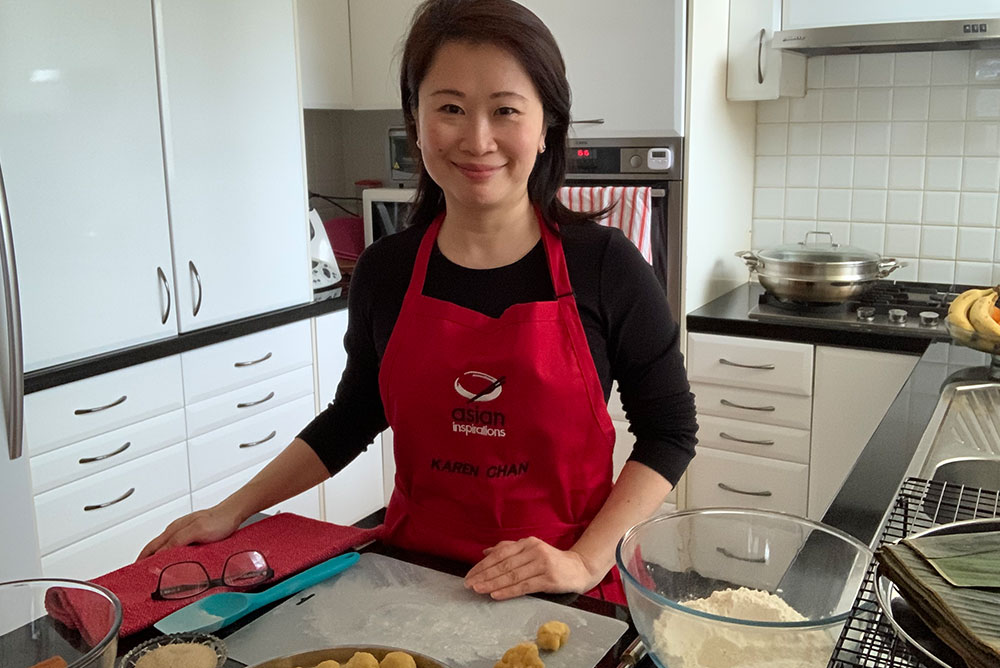 "My love for Peranakan food is not just for the complexity of flavours," she says, "I'm also fascinated in the ingredients' origins and techniques to enhance the dishes."
Migrated to Melbourne in 1999, Kuih was one of the foods she missed the most, and so recreated the tastes from her home. Her most recent feat is a plateful of classic Angku Kuih in the colours of the Malaysian flag, made with all-natural ingredients. A traditional celebration pastry shaped like a miniature tortoiseshell that has also become a local street snack favourite.
"The basic dough is glutinous rice flour, steamed sweet potato or pumpkin puree, sugar and oil," Karen explains, "The filling is usually sweet mung bean paste but you can put anything. My favourite is pistachios."
Beetroot juice is the traditional red colouring. For Karen's Malaysian National Day special: blue butterfly pea flower flour makes the rich cerulean, and pumpkin for the yellow.
However, Angku Kuih is just one of many delicious delights.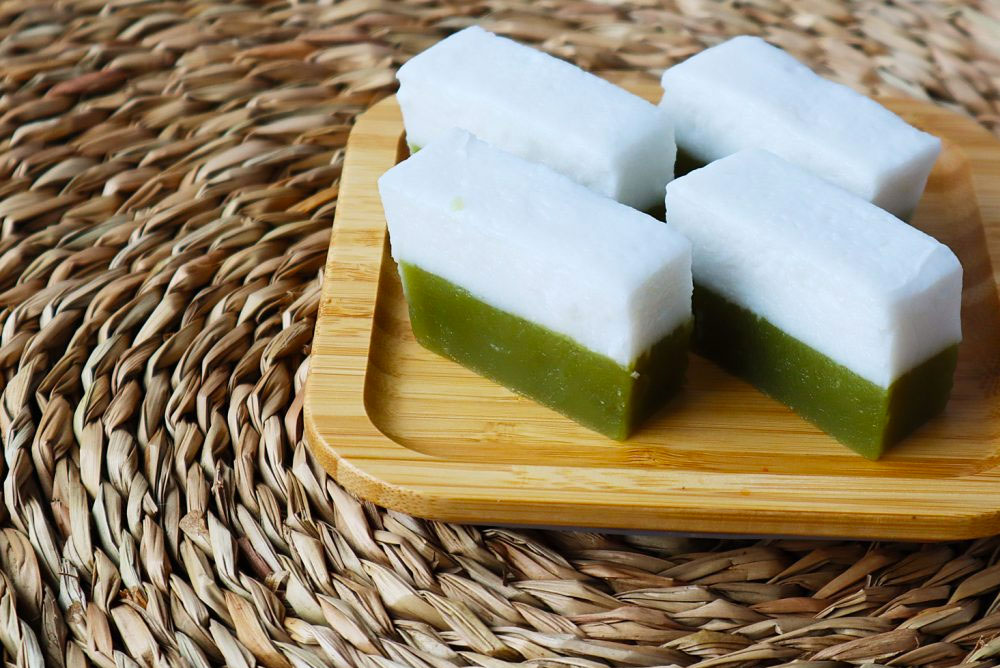 Kuih Talam
Kuih Talam or 'Tray Kuih' is named after its cooking method which involves using a container to steam two layers of batter into a Pandan and coconut pastry; chilled overnight and sliced into sweet bite-sized 'blocks' to serve.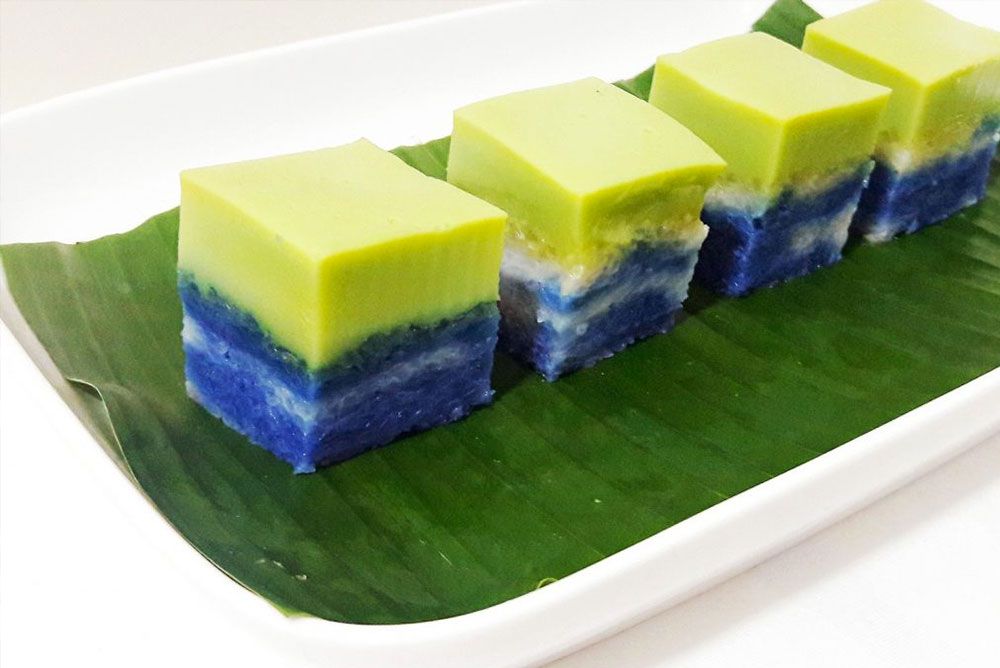 Seri Muka
Named after its vibrant, alluring colours, 'Radiant Face' Kuih Seri Muka takes the basic Talam recipe further and combines the Pandan custard layer with sweet and savoury glutinous rice.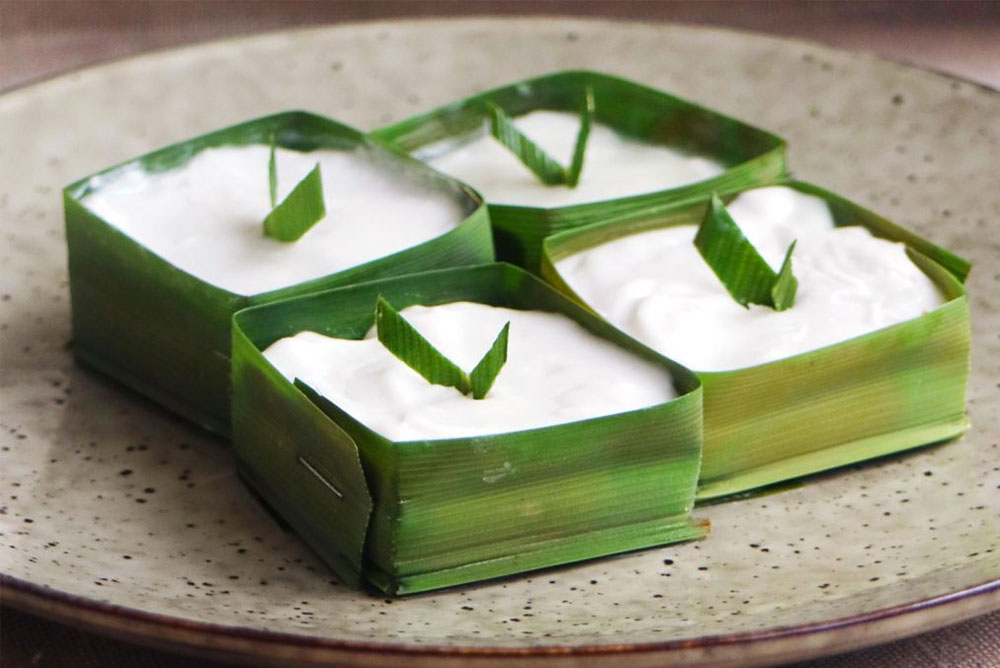 Kuih Pelita
Kuih Pelita or 'Lantern Kuih' is also a two-layered custard-like favourite of Pandan and coconut cream, but uses a banana-leaf wrap to shape instead.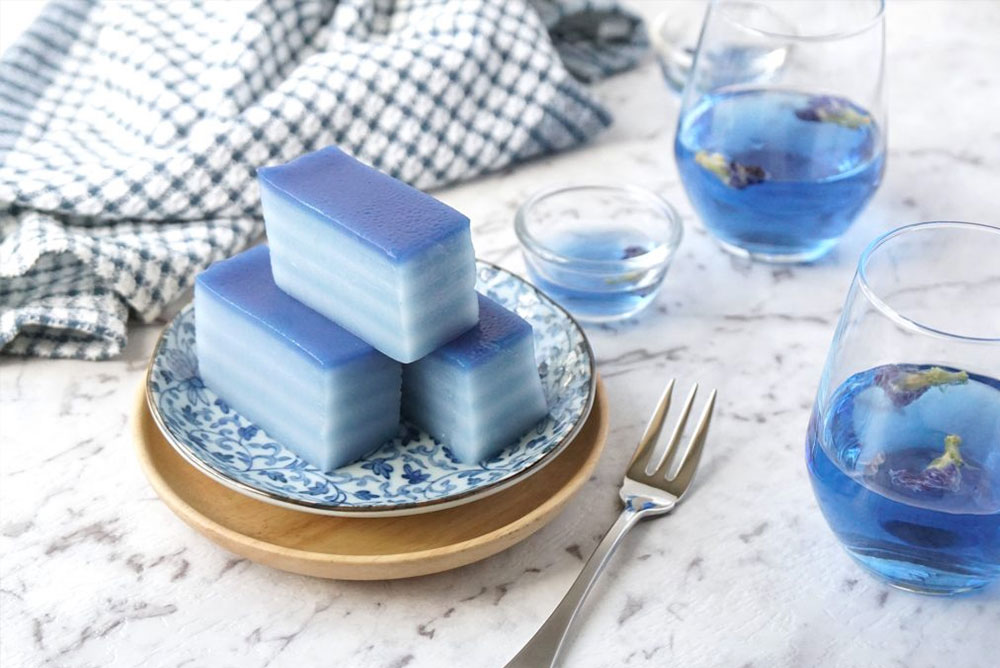 Kuih Lapis
Another variant is the Kuih Lapis, which multiplies into thin yummy layers of classic pink-red colours; but just as tasty in shades of tender blue.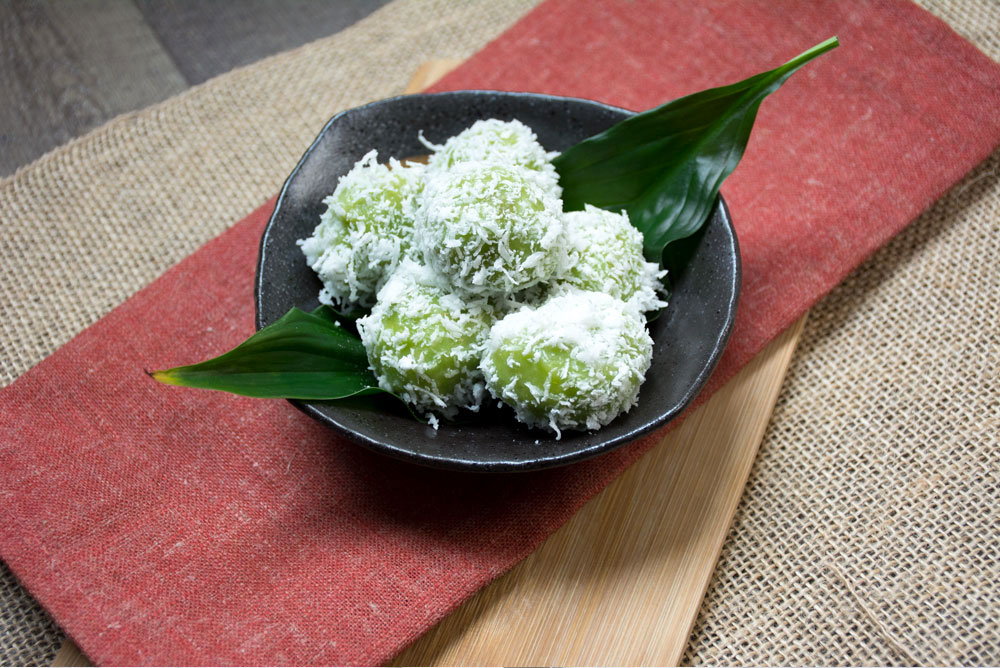 Onde-Onde
Onde-Onde refers to the gooseberry fruits of the Melaka Tree that resemble this glutinous rice balls delight. Soft bouncy skin coated in grated coconut, with sweet, creamy palm sugar filling that bursts and melts in your mouth. Variants include the classic Pandan, colourful sweet potato, and this unique recipe from Karen Chan.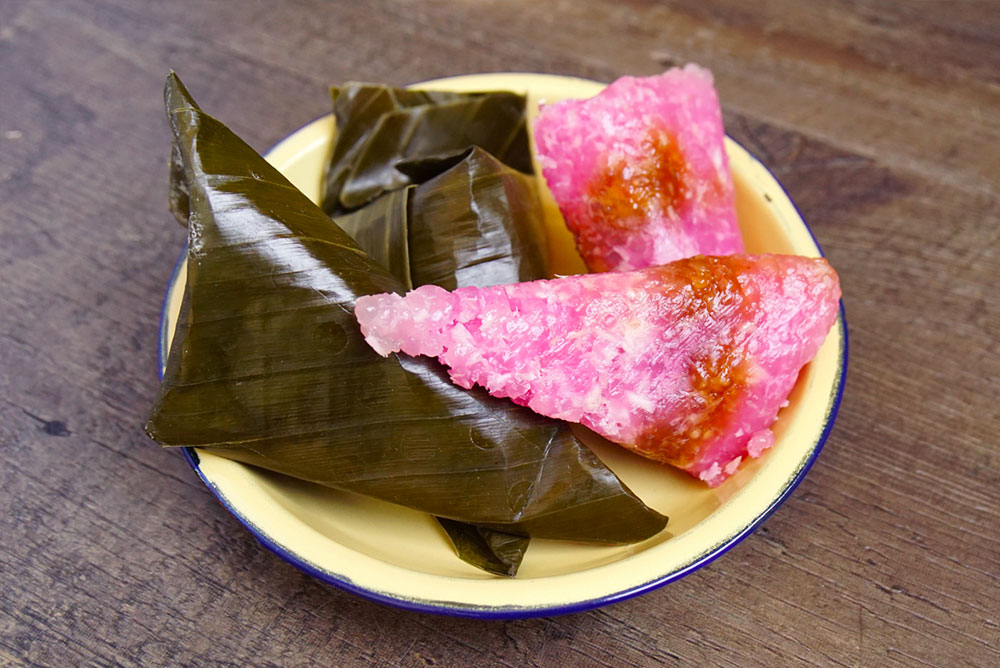 Abok-Abok
Kuih Abok-Abok is named for the tiny 'powder-like' tapioca pearls and shredded coconut; enriched with palm sugar, wrapped in banana leaf, and steamed to sweet, alluring fragrance. An old-timey Malay dessert dumpling favourite.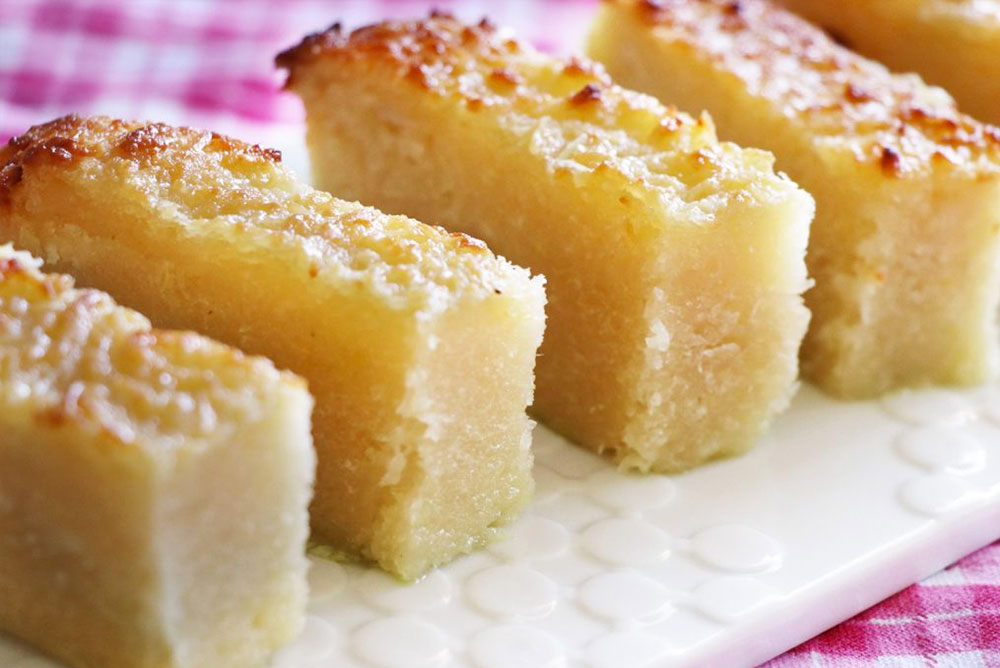 Kuih Bingka/Bengkang Ubi
Bengkang is a category of savoury Kuih-s, usually steamed or pan-fried. Recipes range from rice flour with battered eggs, wheat flour and Pandan with sesame seeds, and the classic steamed tapioca cake, Kuih Bingka.
There are yet more varieties to discover. So, come indulge your sweet-tooth with our Kuih recipes collection!