Thai street food has so much more to offer than Pad Thai. In fact, the list is nearly endless, with a plethora of flavourful varieties across the country's regions. Walk down the streets and bustling markets, and you'll find various food stalls serving low-priced goodies that pack a punch of amazing tastes, cooked fresh on the spot. Smell the fragrance and watch the magic behind the food. Snack-sized options mean you get to sample a range of delicious bites and dishes while filling your tummy. Just follow the locals to discover – the best ones are usually the most popular. Also, remember to bring a small change in Baht!
Here are 14 must-try favourites for your next foodie adventure!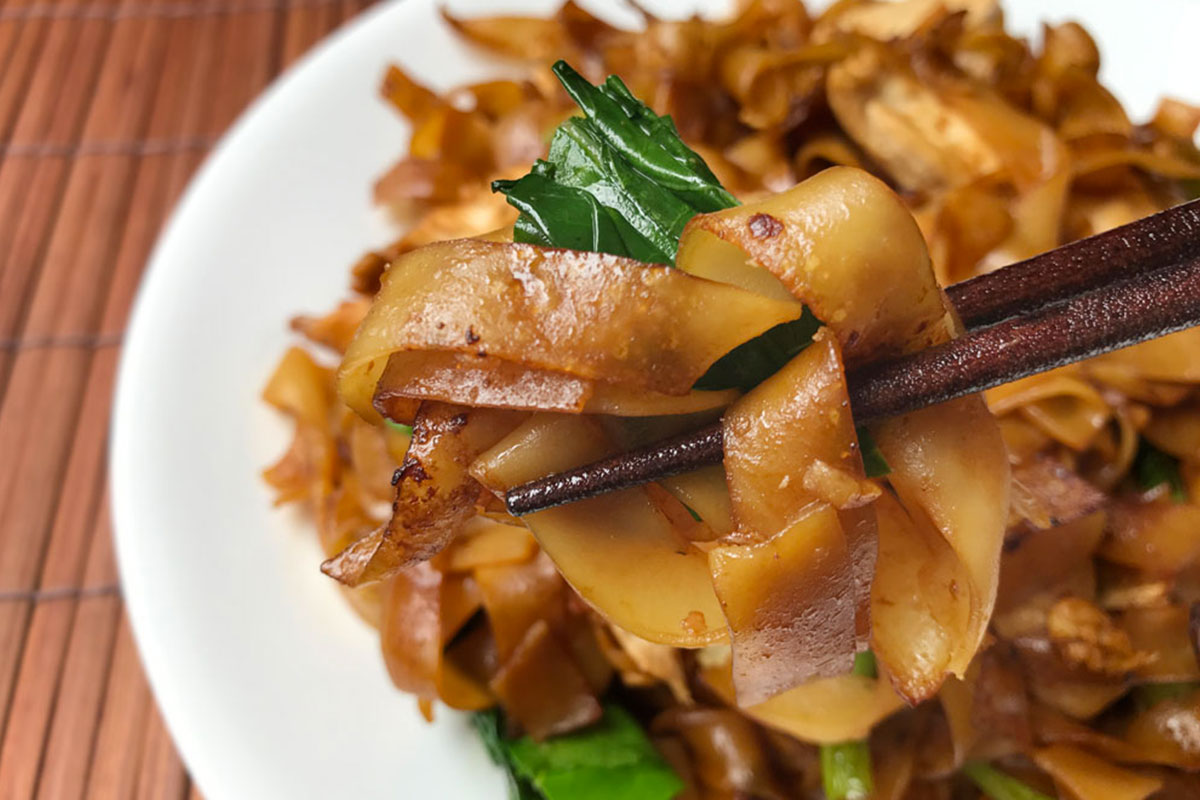 Pad See Euw
Pad basically means 'stir-fry', and besides the classic Pad Thai, another umami noodles delight is Pad See Euw – wide rice noodles stir-fried with veggie and meat slices, flavoured with soy sauce, palm sugar and oyster sauce. Non-spicy but no less tasty. You can also add chilli flakes, vinegar or pepper to boost the flavour.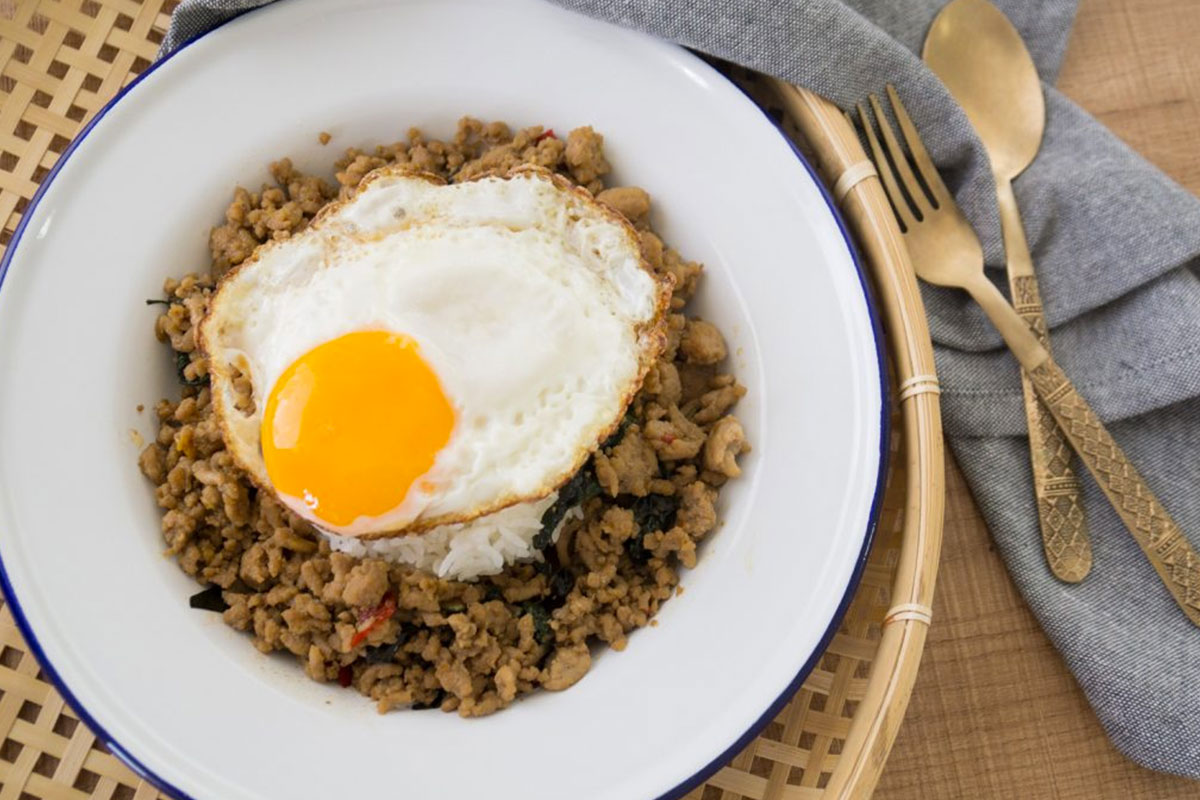 Pad Kra Pao
Fragrant, spicy and savoury, stir-fried minced chicken with basil is a classic household dish and beloved street food, often served with jasmine rice and a sunny-side-up egg. Simple and wondrous to taste.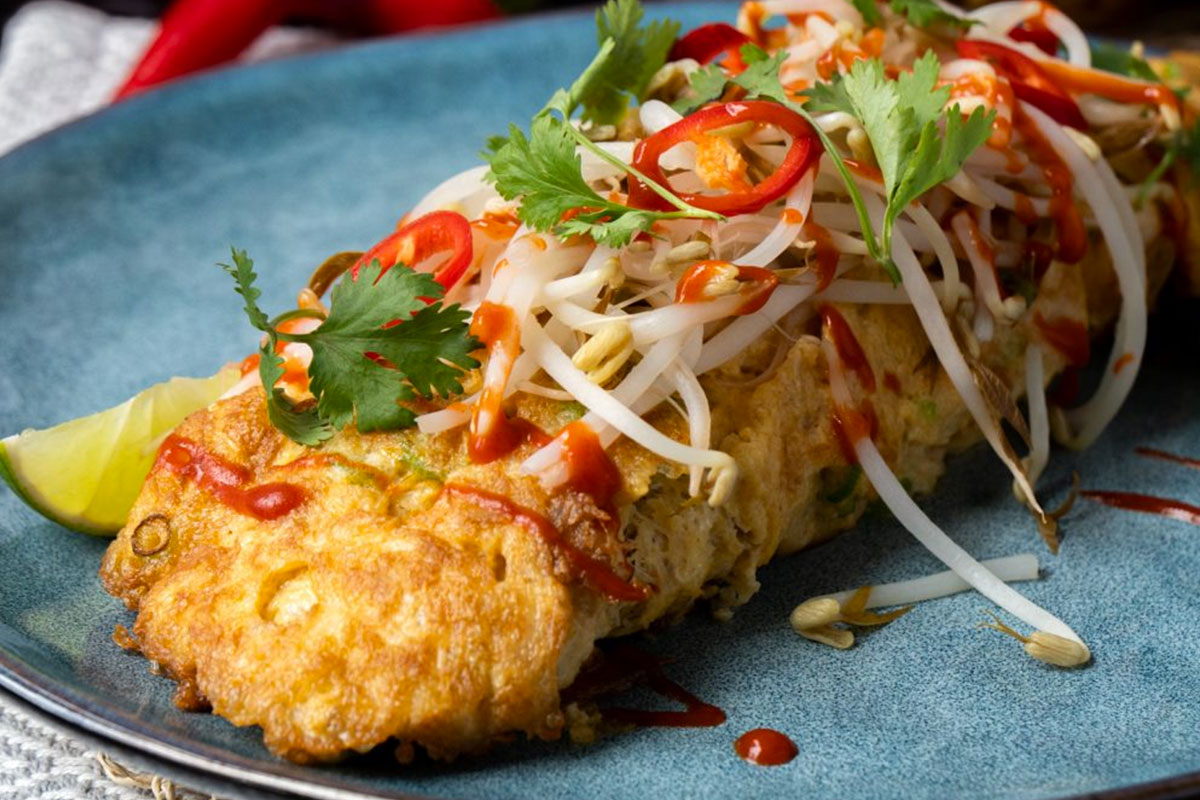 Kai Jeow
Richly texture and deeply satisfying, Thai omelette is often enjoyed as a quick breakfast, or evening and supper snack; typically served with rice and sweet chilli sauce for a fuller meal. The most famous stall in Bangkok is the Michelin-starred Jay Fai, helmed by the friendly and amazing Chef Supinya Junsuta. Superbly delicious.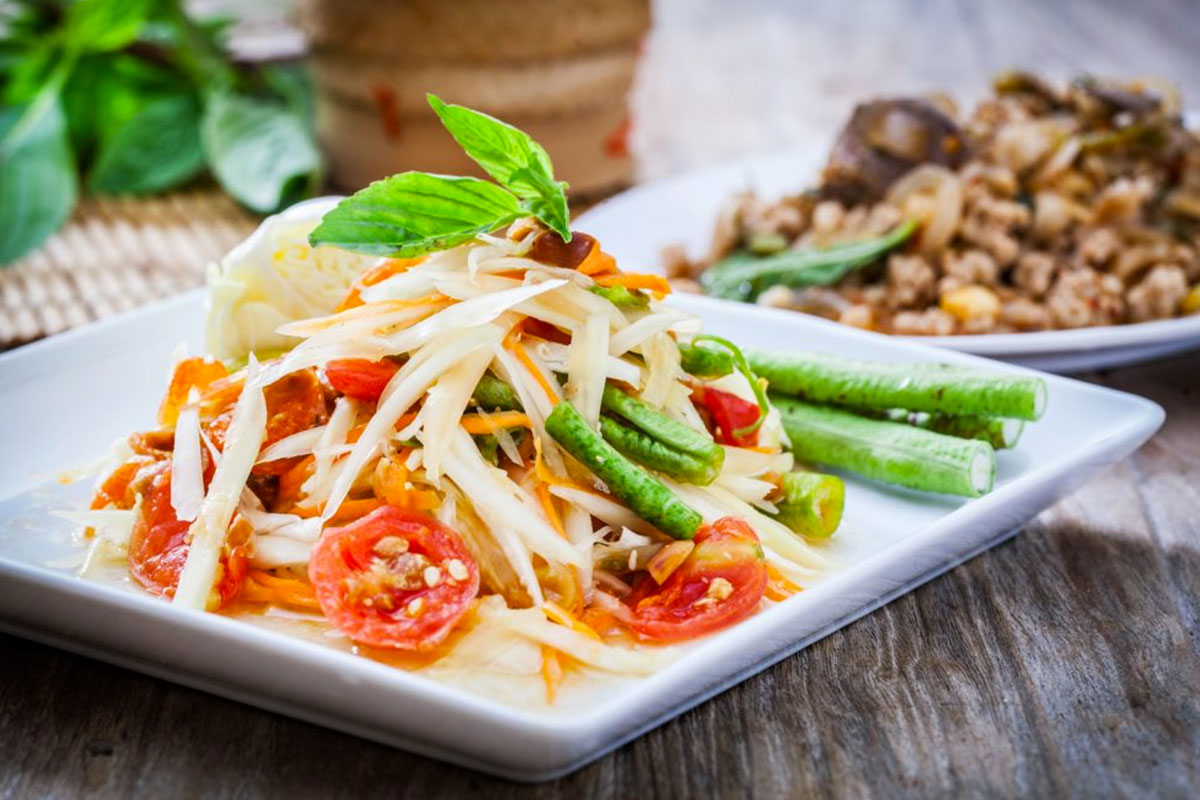 Som Tum
Sweet, sour and mildly spicy, this green papaya salad dish is a northern Thai delicacy with dried shrimp, long beans and tomatoes, flavoured with garlic, fresh chilli and fish sauce. A yummy appetizing snack; also enjoyed as a side to accompany other dishes, as well as an entrée in restaurants.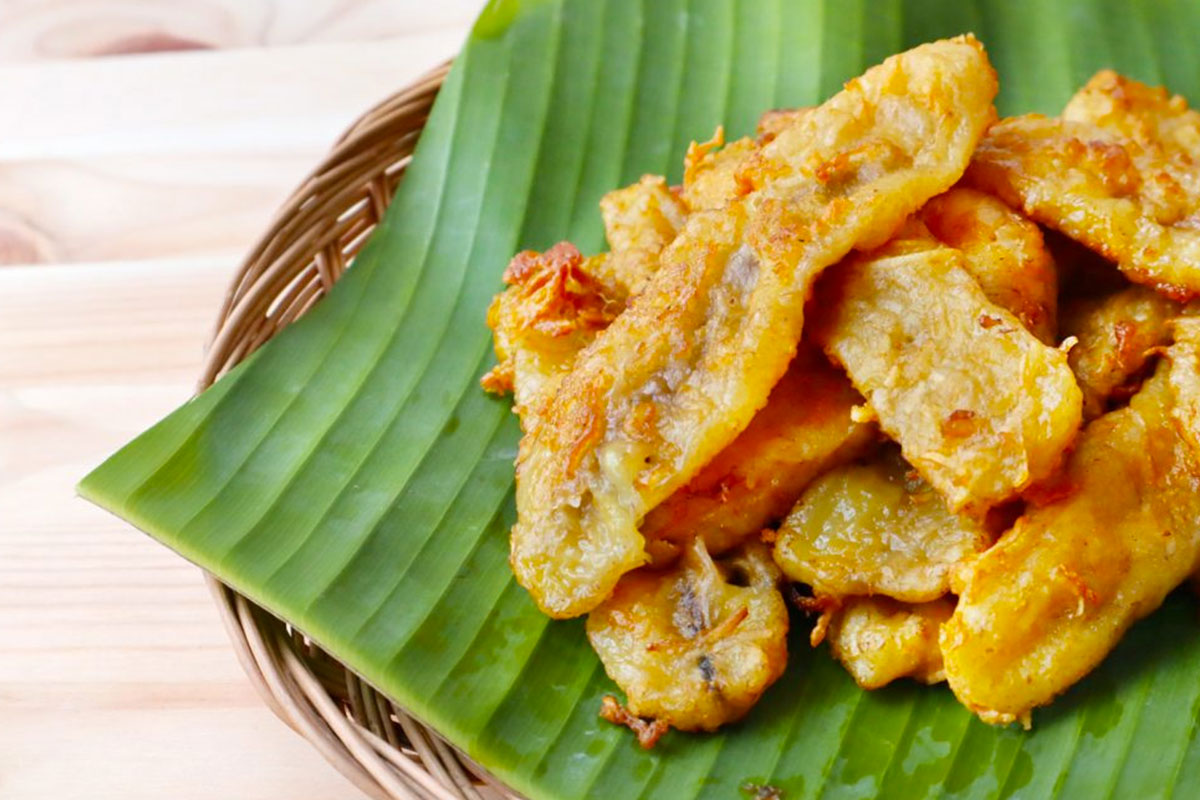 Kluay Tod
Bite-sized deep-fried banana fritters - crunchy outside, sweet and creamy inside. A fruity quick snack for your street walk or afternoon treat. Fun and tasty for children too!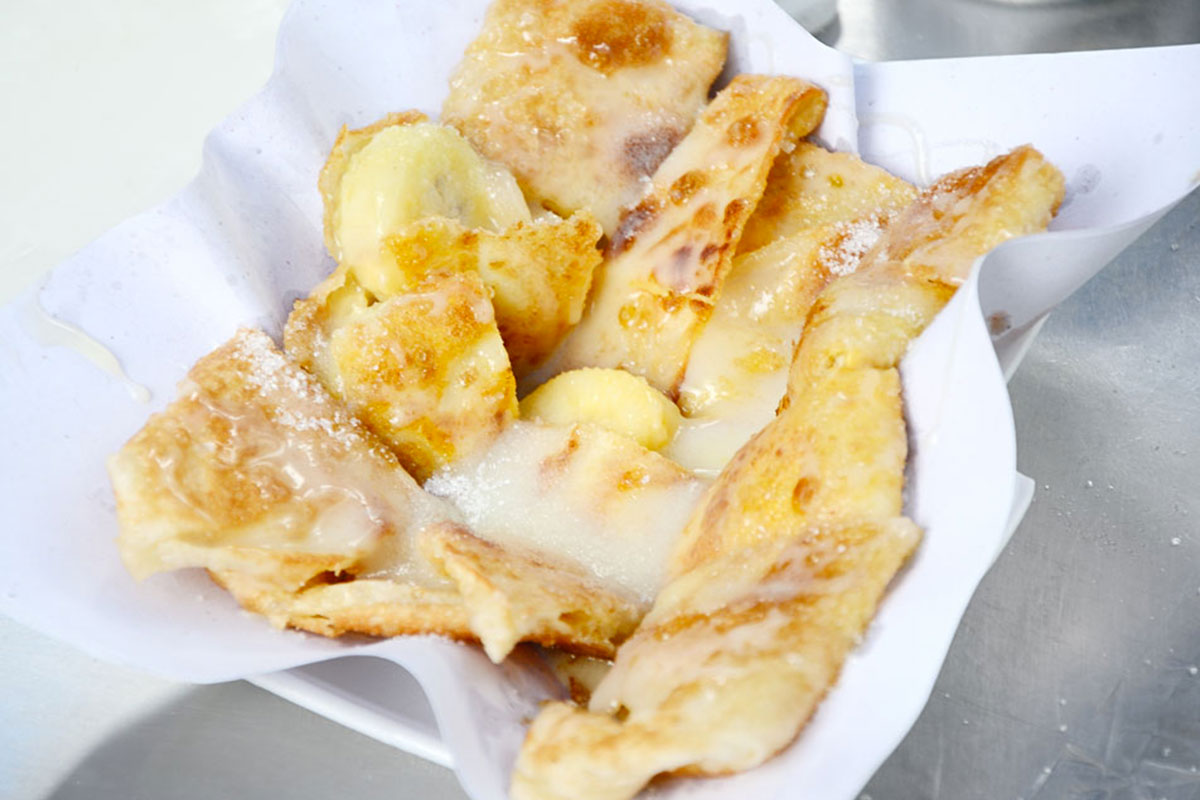 Banana Roti
Another popular sweet, crispy and fruity delight is the banana roti/pancake; topped with condensed milk. Yumminess that literally melts in your mouth, with a crunchy 'skin' and tender fillings.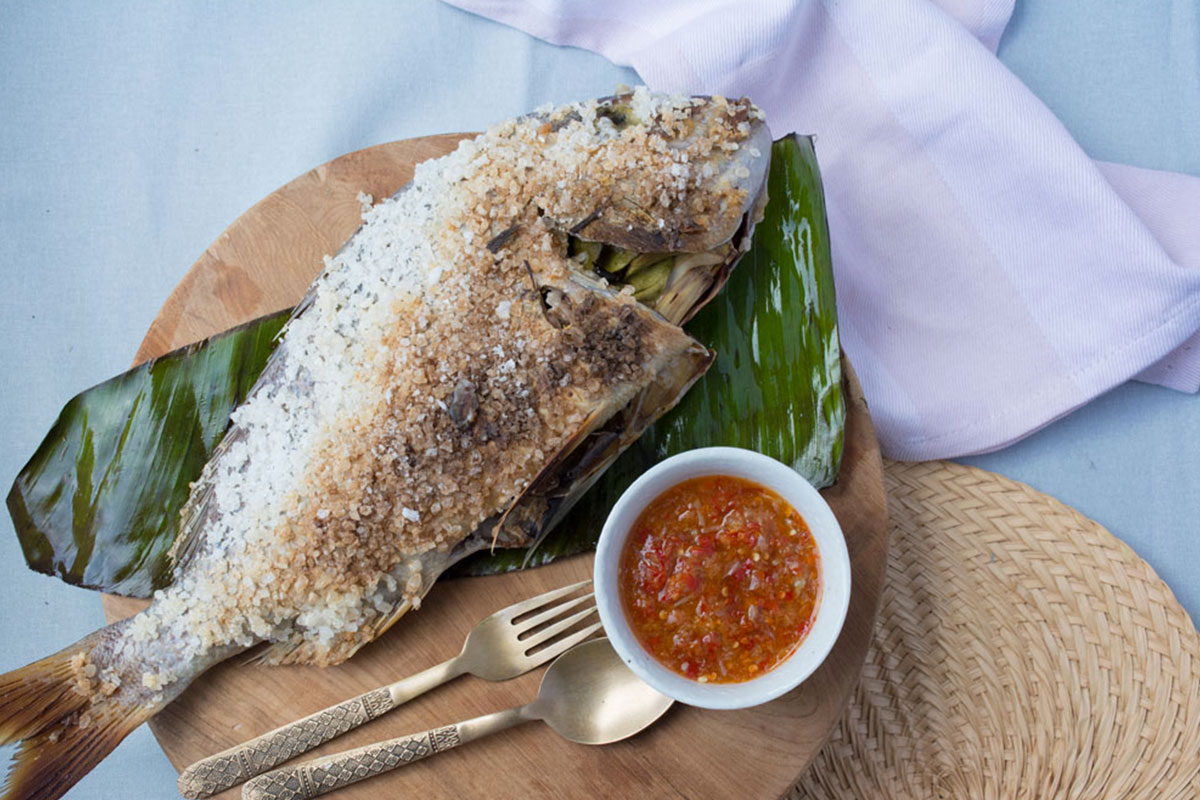 Pla Pao
Pla Pao is typically cooked on banana-tree leaves on a large grill with rows of similarly prepped fishes, you can smell the mouth-watering aroma as you approach the stall. The fish is stuffed with lemongrass, chilli and kaffir lime leaves; coated with salt, and grilled to delicious perfection. Peel off the crust to savour the rich herbal and spicy flavoured meat within. Best enjoyed hot.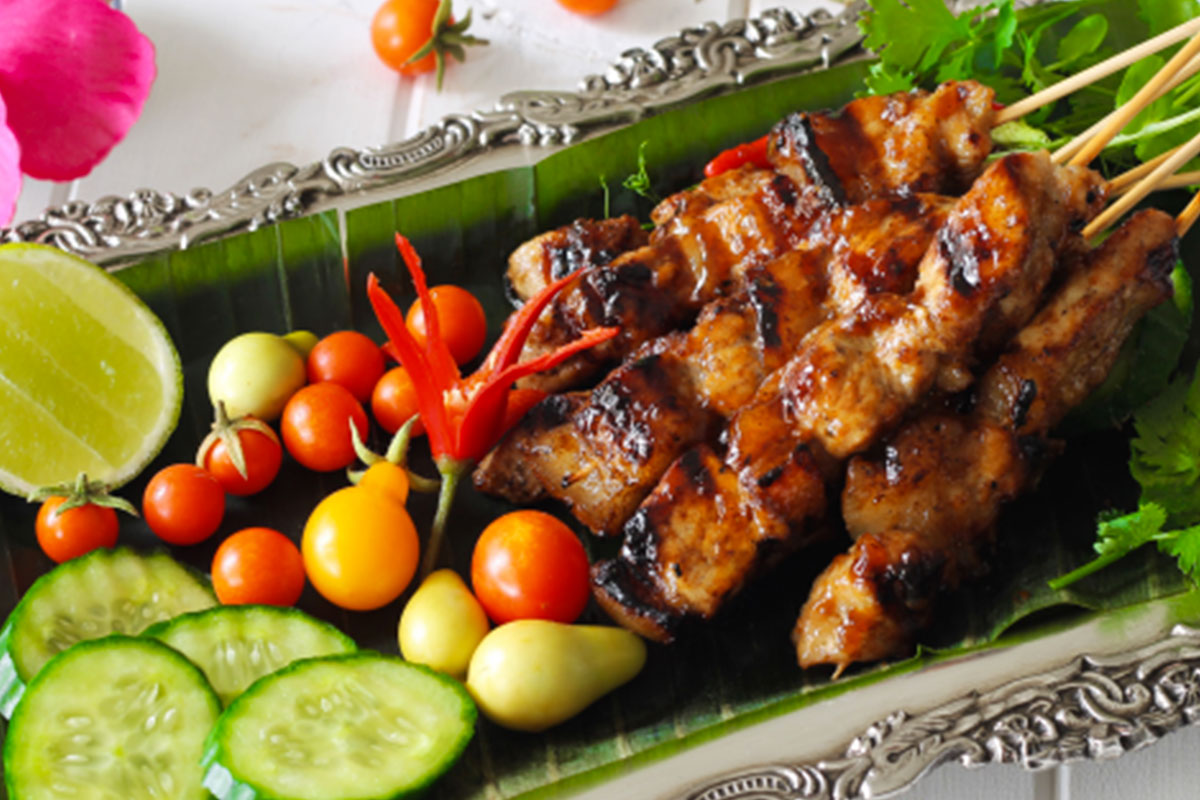 Moo Ping
Succulent pork skewers frequently found in street and market stalls along with other meats on the grill; marinated with rich sauce-mixes that include oyster sauce, coconut milk, palm sugar, garlic cloves and coriander roots. Every vendor has his/her own unique recipe, though all are usually yummy with a combination of sweet, umami, and chewy flavours. You can also try it for your own barbie at home with our special recipe!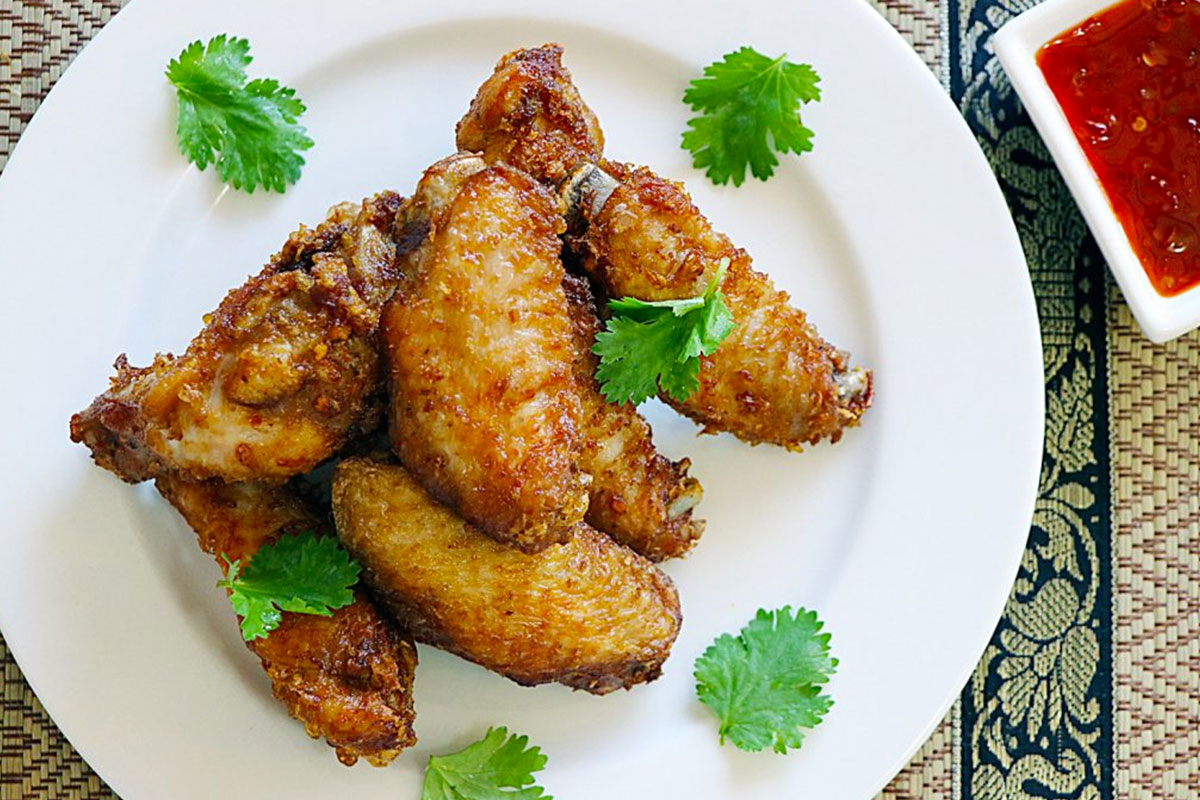 Gai Tod
There's fried chicken, and there's Thai fried chicken – marinated with a mix of garlic, coriander seeds, ground white pepper, fish sauce, oyster sauce and chilli powder; fried in fluffy batter. Much less greasy than other fried chicken recipes with a uniquely Thai flavour; sometimes served with sticky rice.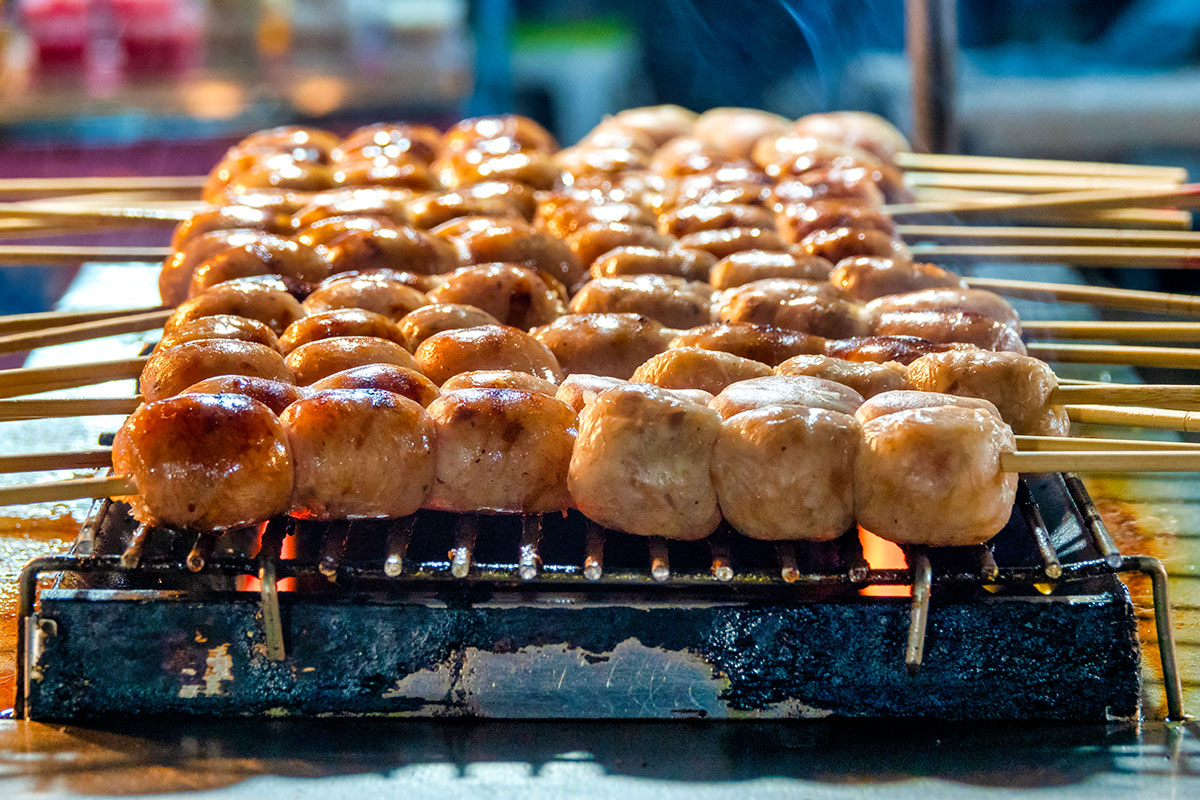 Sai Krok Isan
Bouncy fermented pork-rice sausages, grilled and served with chilli, cabbage and sliced ginger as a tasty snack. A traditional favourite you'll see them dangling on strings at roadside stalls, especially in the north-eastern region of Thailand called Isaan. You can also find it at snack stalls in Bangkok street markets.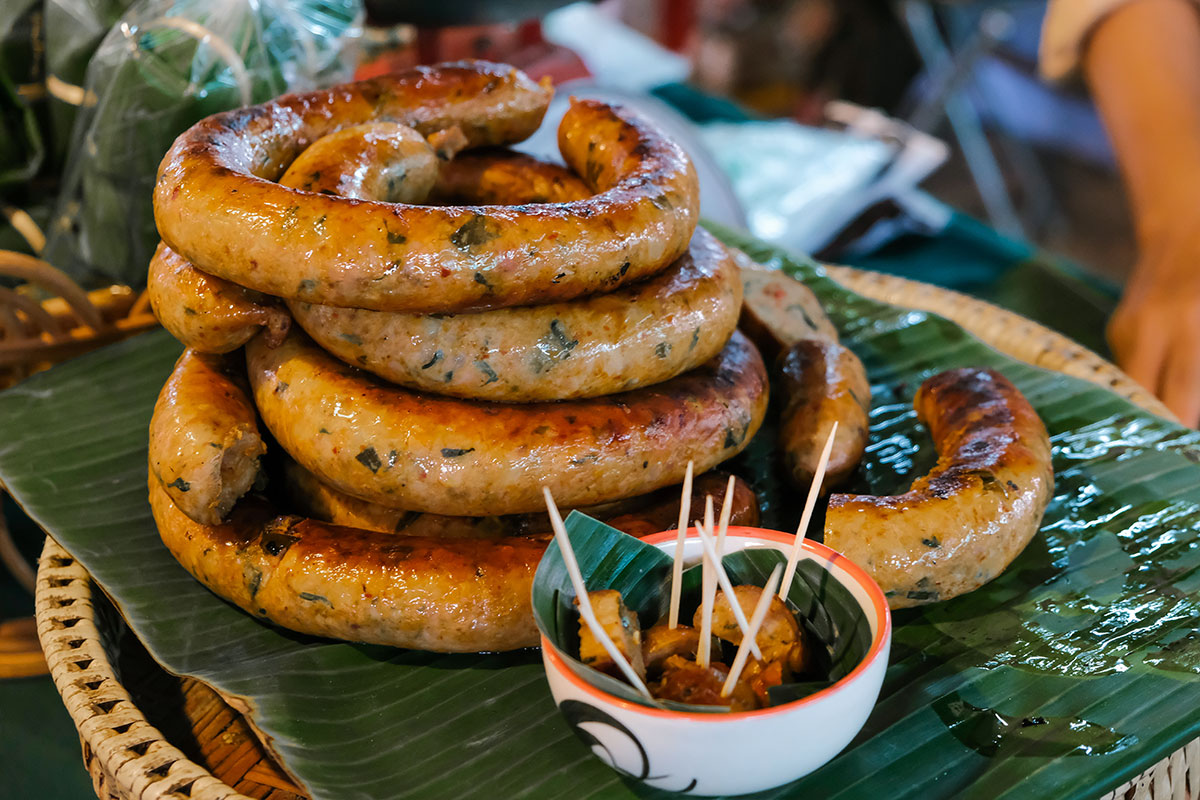 Sai Oua
Another delicious Thai sausage is the Sai Oua from Northern Thailand – fat, long 'frankfurters' of minced pork flavoured with aromatic herbs and spices like lemongrass, galangal and kaffir lime; served in cut slices with fresh chilli. Sai Oua street vendors usually start around late afternoon for the pre-dinner snack crowd.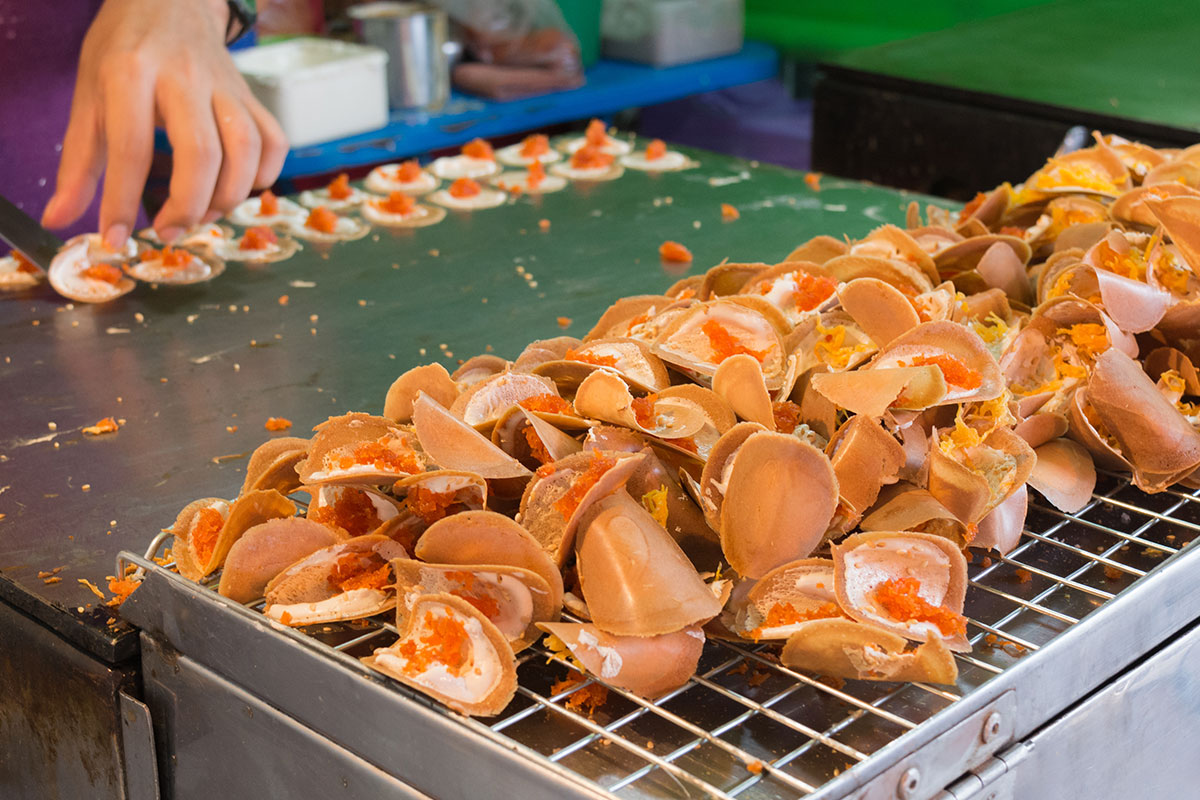 Khanom Buang
Crispy Thai crepes made of rice flour, cocoa powder and mung bean flour; with creamy sugar and egg yolk filling, topped with egg, shrimp or pork strands. A sweet and savoury treat with a surprisingly complex mouth-feel and flavour.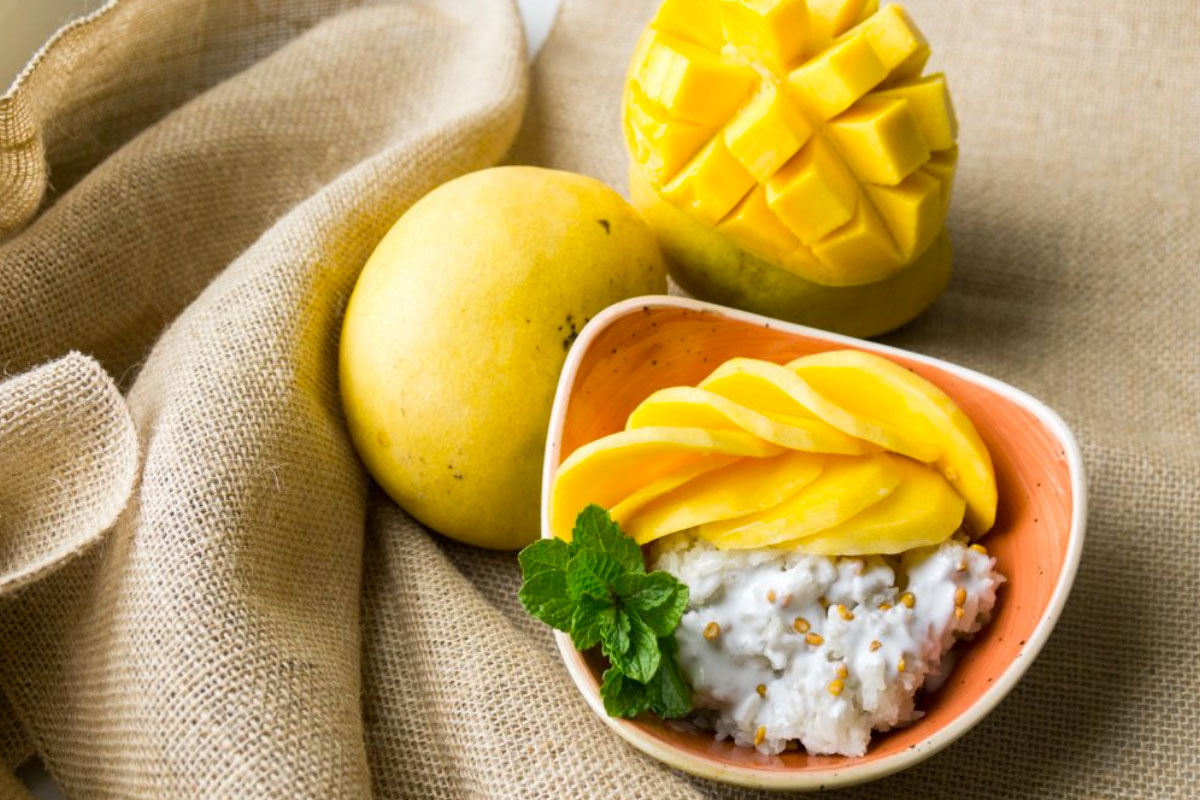 Kao Niew Ma Muang
An all-time favourite Thai-style dessert, this wholesome, creamy and delicious wonder is always a treat. Fresh coconut cream/milk lathered upon sticky rice, flavoured with salt; accompanied with slices of juicy ripe mango. Simply amazing.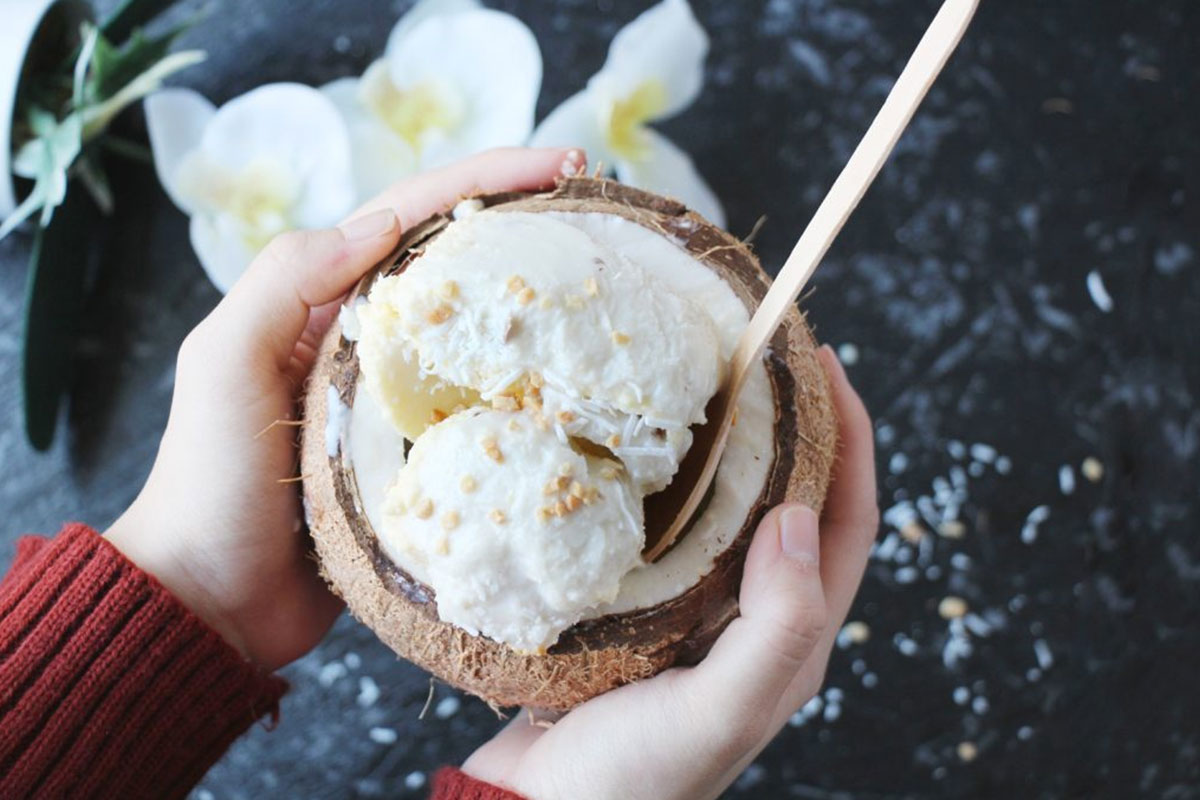 Coconut Ice-Cream
The cool, sweet and silky yumminess of ice-cream with the healthy fats and fruity taste of coconut milk, meat and water; topped with crushed peanuts. Enjoy it in a coconut shell for the full Thai experience!