Across the South China Sea from Vietnam, and northeast of Malaysian Borneo, are the 7,000 islands of the Philippines. A tropical archipelago with a myriad of ethnic groups, languages, scenic beaches, colourful cultures, and of course, amazing foods. While diversity is a common feature among Southeast Asian countries, the Philippines' rich and complex history imbues an East-meets-West dimension in their cuisine, unique from their neighbours. Namely, the Spanish influence.
Which isn't to say the Filipino peoples didn't have their own cultures prior to colonization. In fact, permanent settlements on the islands date back to around 700,000 years ago, during the Neolithic period. From the subsequent Bronze and Iron Ages, to the earliest seafaring states, the Philippines had birthed several kingdoms and empires, right up till the Spaniards went there. The following centuries saw many cultural integrations, amalgamations and innovations that eventually made their cuisine what it is today: incredibly diverse and ever-evolving.
Same same, but different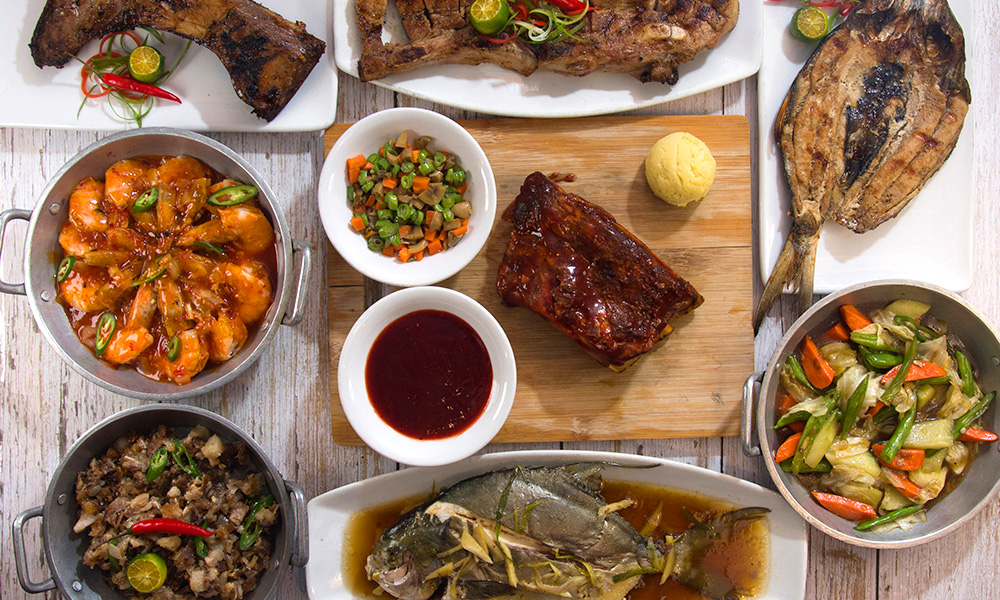 Foodies familiar with Asian cuisines may find dishes that look typically Asian, yet have a surprising Filipino flavour. Some may seem similar to Spanish and Hispanic cuisines, but with a distinctly Filipino taste. And of course, a kaleidoscope of sumptuous, flavoursome wonders that are wholly local creations.
For an oversimplified summary, Filipino staple foods are rice and coconut, while their palate is a combination of sweet, savoury and sour, as well as spicy flavours among the southern islands. Cooking methods include stir-fry, pan-fry, grill, roast, steam, braise and boiled. With an abundance of local herbs, spices, veggies, fruits, and seafood. Their signature ingredients are vinegar, lemongrass, tamarind, fish sauce, kalamansi lime, tomato, bell pepper, garlic, onions, peanuts; plus chocolate and cheese in pastries and desserts.
Lechon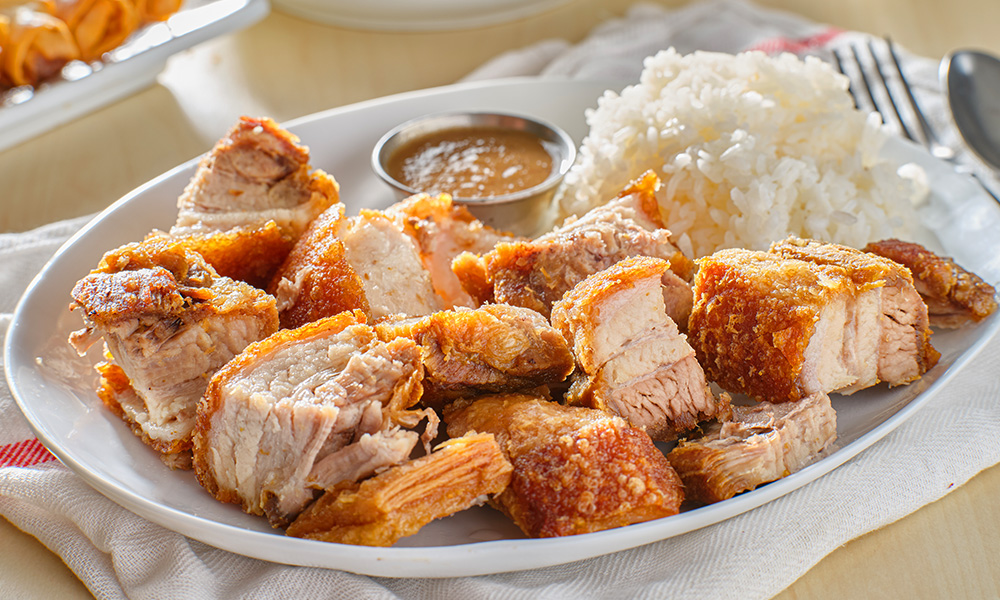 Oh, and they love their meats. Exemplified in the magnificent Lechon. Slow-roasted suckling pig with crisp, golden-brown skin and succulent tender meat. The pig's insides are cleared and cleaned, then stuffed with fragrant, citrusy, peppery and savoury ingredients, infused into the meat during the roast. Enjoyed with a unique sweet-sour and umami liver sauce that accentuates the roast pork flavour.
Lechon is practically a must-have festive food, savoured in weddings, family gatherings and parties. Some may also stuff the pig with beef cuts, lamb or chicken slices for an extra sumptuous roast.
Got your mouth watering? Have a taste of Lechon pork with our recipe, and be sure to enjoy it with the sauce. Also try a baked Lechon chicken!
Inasal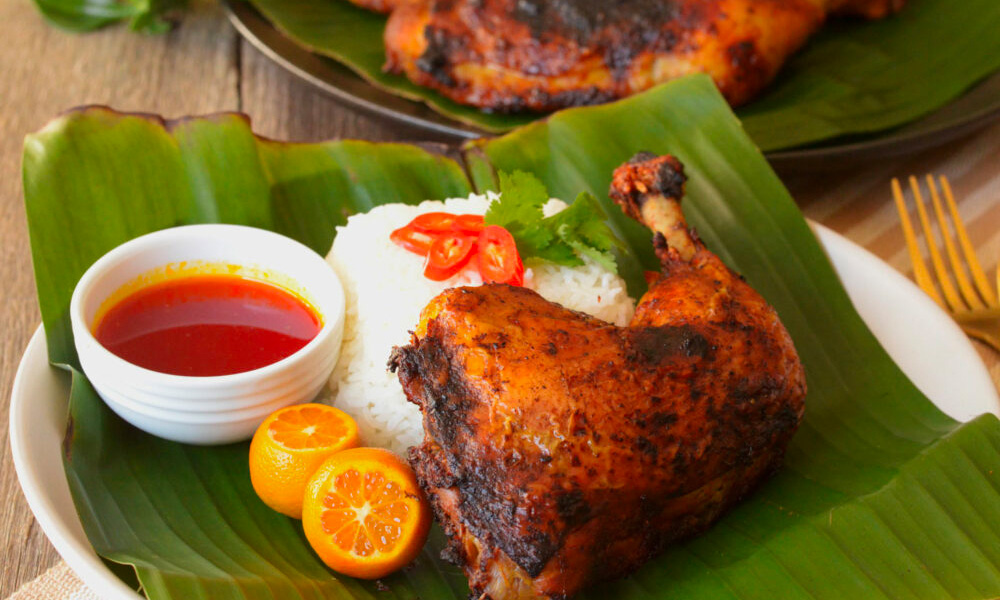 Filipinos also grill their chicken with a unique marinade and basting sauce—a style called Inasal. The marinade blends lemongrass, ginger, garlic, calamansi juice, brown sugar, salt, ground pepper, and vinegar. The basting sauce mixes annatto oil, salt, calamansi juice and butter. The result is a grilled chicken with a rich umami coating, and a perfect balance of smoky, peppery and sweet-sour flavours.
Sounds yummy? Come learn how to make it with our authentic recipe!
Barbecue Skewers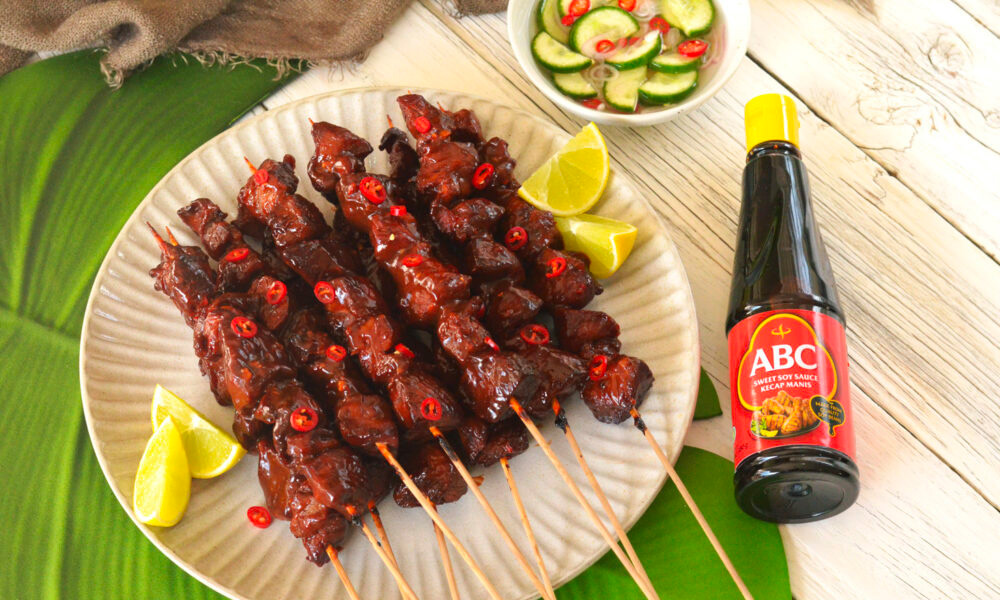 Another Filipino barbecue special are the skewered delights. Lamb flavoured with soy sauce, brown sugar, sweet soy sauce, calamansi juice, and the uniquely Filipino spicy banana ketchup. Plus, the lamb can be tenderised with 7-up or Sprite that leaves a sweet-sour lemonade tinge. Yes, you read that right. Check out the recipe here. Prefer chicken? Come savour this award-winning recipe instead!
Adobo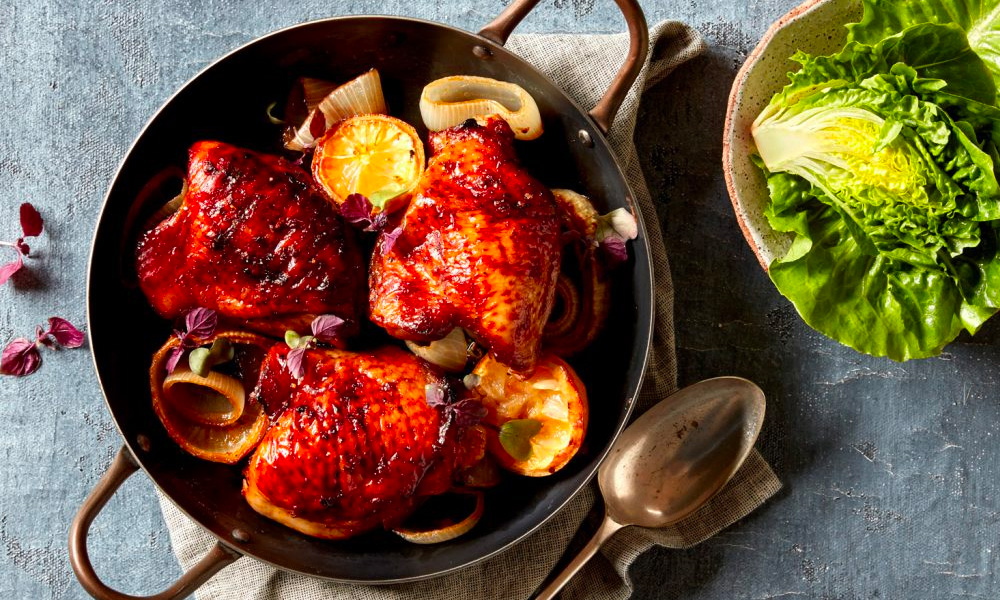 Besides grills and roasts, Adobo is also a meaty Filipino favourite. Enjoyed across the archipelago, with distinct flavours in every region. Adobo is a style of braised meat or seafood, with or without a sauce. Basic flavour ingredients include vinegar, salt, garlic, pepper, soy sauce and spices—a traditional Filipino way to preserve meat and seafood. Come taste the 'dry' but delicious chicken Abodo, or one with an umami sauce.
Stir Fries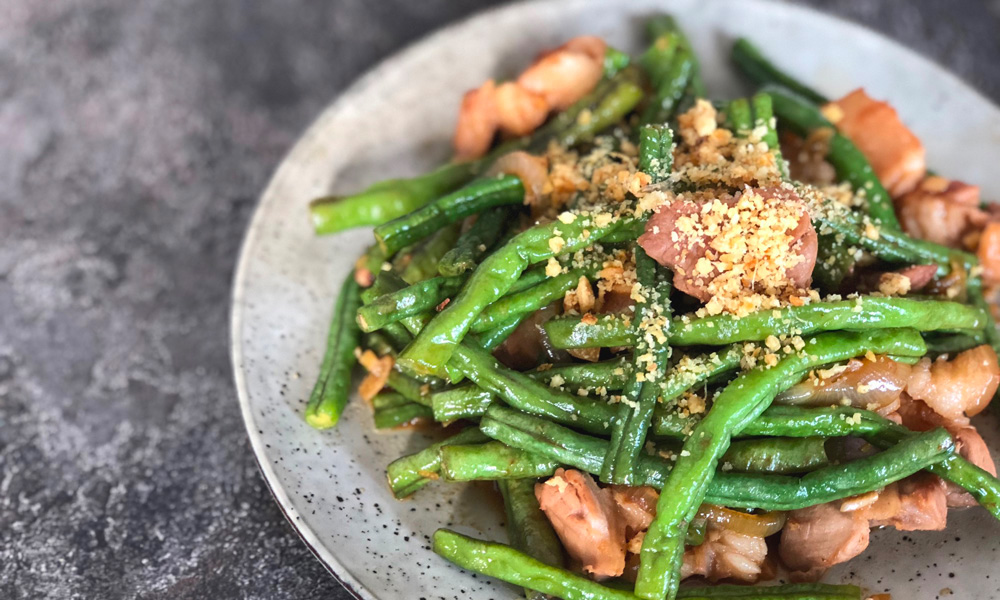 Veggies are a major part of the Filipino diet, and stir-fry is among the common ways to cook and enjoy them. Here's a yummy long bean special with pork that resembles a Chinese dish, but with a distinctly Filipino vinegar-infused flavour.
And like most Asian cultures, Filipinos have their stir-fry noodles too. Filled with assorted veggies and meat slices, tender tasty textures, and appetizing flavour.
Of course, those are but two examples of Filipino stir-fries. A walk through their street food market, or a visit to an authentic diner, and you'll be graced with a myriad of stir-fried delicacies.
Sinigang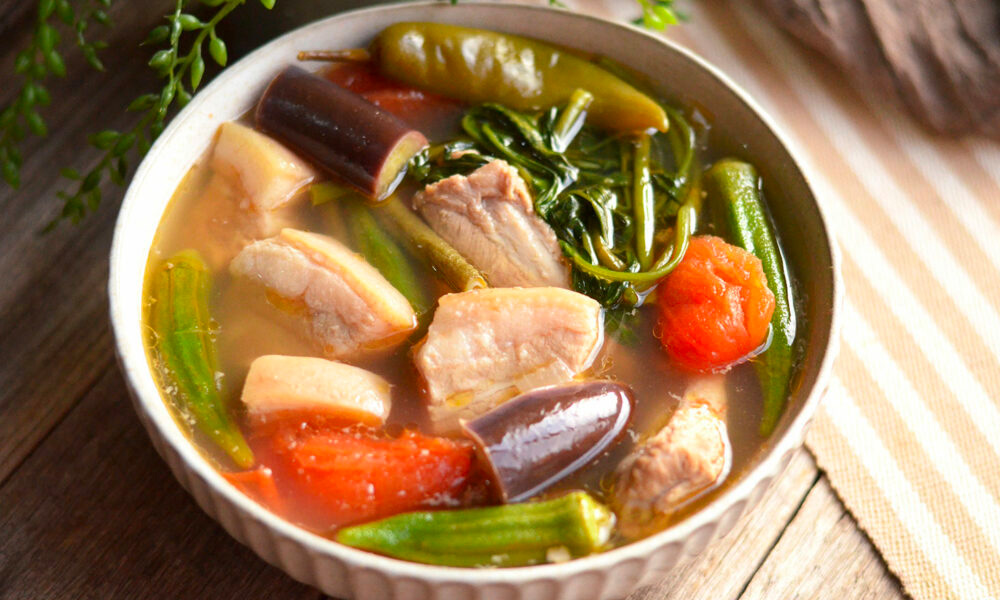 The Philippines go through annual monsoons, often more intense than their neighbours. So it's no surprise that soups are a staple here as well. Often a must-have for family meals, to accompany the table of shared dishes. The Sinigang is a fine example. A pork belly soup with tomatoes, water spinach, eggplant and long beans. Flavoured with fish sauce, tamarind, ginger, onions and salt. Warm, umami and soothing.
Arroz Caldo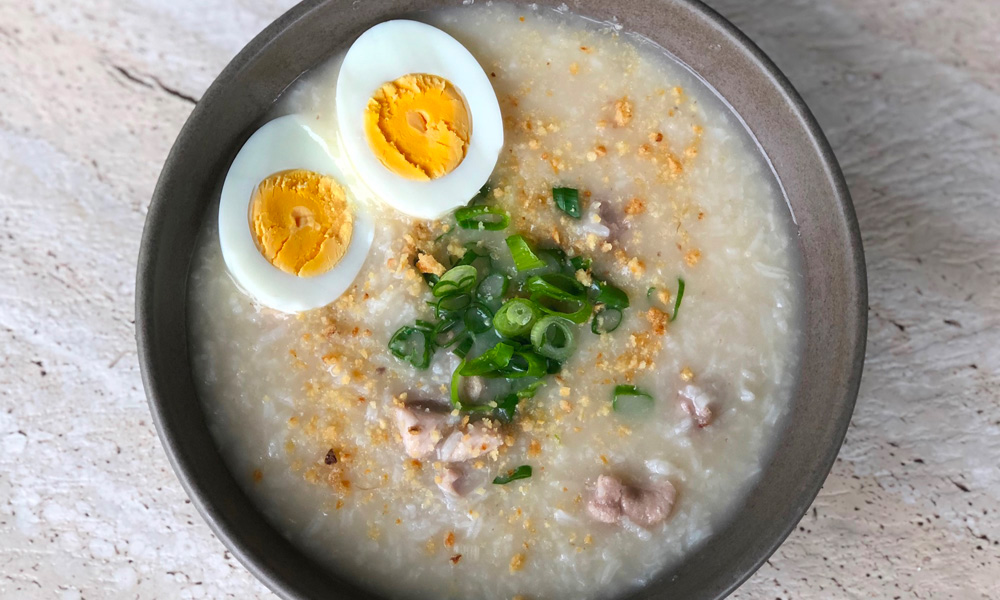 Rice porridge is another Filipino comfort food. The steamy Arroz Clado chicken porridge is flavoured with garlic, ginger, salt and pepper. Topped with hardboiled eggs and chopped spring onions, plus a dash of kalamansi lime juice for extra aroma. Make yours warm and tasty with our recipe!
Fried Snacks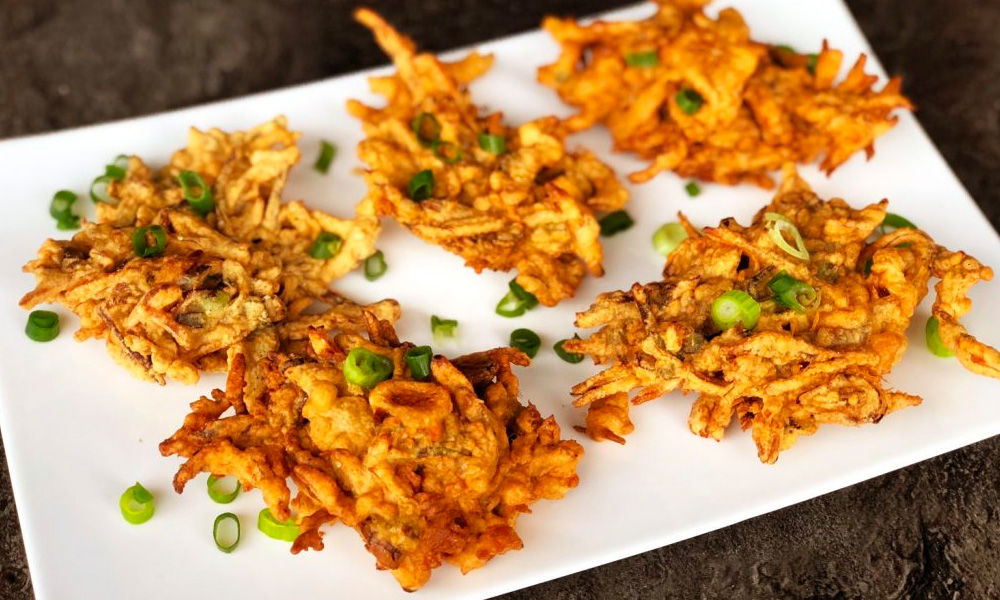 Thanks to their long history of maritime trade, the Philippines have always been a cultural melting pot, with many different peoples settling on the islands throughout the millennia. Among them were the Chinese, and with them came their cooking, which included deep-fried snacks. Filipinos incorporated these with their own flavours, like the savoury anchovy fritters and Lumpiang spring rolls. Try them with our recipes!
There's much, much more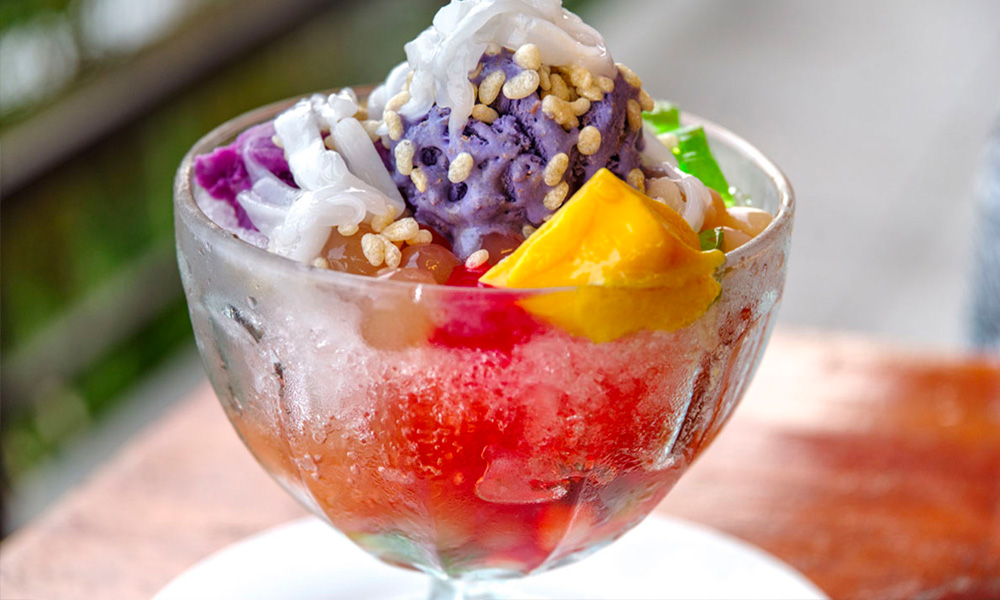 These are but a small sample of Filipino cuisine. There's a whole range of sweet treats and desserts, such as the popular Halo-halo. Also, Spanish-influenced tomato stews, spicy wonders, pasta specials. Not to mention the gastronomic seafood delights, and much, much more. So if you're planning your next foodie trip to Southeast Asia, do try the Philippines!