Besides fragrance, flavour and arrangement, colours too, makes your dishes more appetizing and delightful to enjoy; imbuing them with vibrant fun and happiness, especially for pastries and desserts. While artificial colours and flavourings are readily available since the Industrial Revolution in Western cultures, many Asians today still use age-old methods of making food-dyes from natural ingredients. Traditional Malaysian Kuih-making is one such culinary art that incorporates this. Thai Red, Green and Yellow curries derive their colours entirely from the spice-mixes in their pastes. Japanese mochi and wagashi confectionery practice this as well. And many specialty dessert shops today opt for natural food-dyes that also bring unique tastes.
Powdered fruits, vegetables and spices are the easiest, and can often give you the most intense colours, because they're concentrated and dissolve easily into your flavouring-mix. Another way is to boil, puree or juice the fruit or veggie for their colourful liquids, to be added in your yummy creations. They can also be enriched or diluted. These natural colours come with the tastes and fragrances of their ingredients. For instance, Matcha green infuses with your cake with its distinct, refreshing aroma. Blue Butterfly Pea brings a sweet flowery touch to your lemonade, Kuih Lapis, and even Nasi Lemak. Yellow turmeric with its ginger-like flavours, etc.
Here's an all-natural 'palette' you can make at home!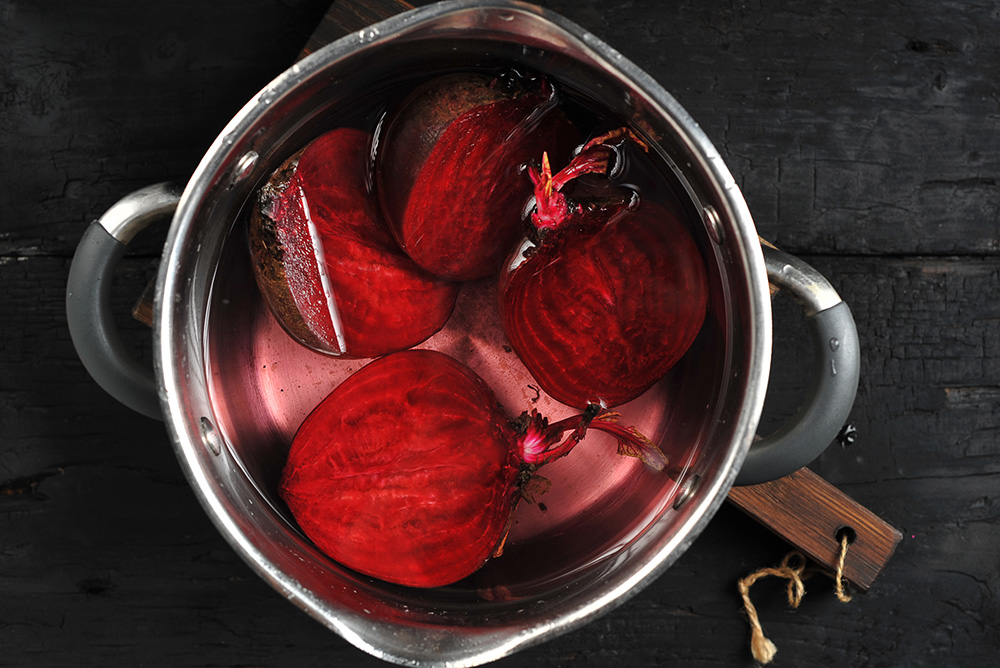 Pink & Red
Beetroot is great for all tasty shades of red. Roast baby beetroots and grate them down or puree them. Heat out the extra moisture gently in the saucepan, for a dense, fudge-like texture and a fun pink hue – a special recipe by Aussie wedding cake maker Hayley Mckee.
For rich reds, cook the unskinned beetroots in a pot, remove and cool; then blend a few tablespoons of water or milk for a creamy texture. Feeling lazy? Get powdered beetroot, and dissolve it with a tablespoon of water; then add to your recipe's mix.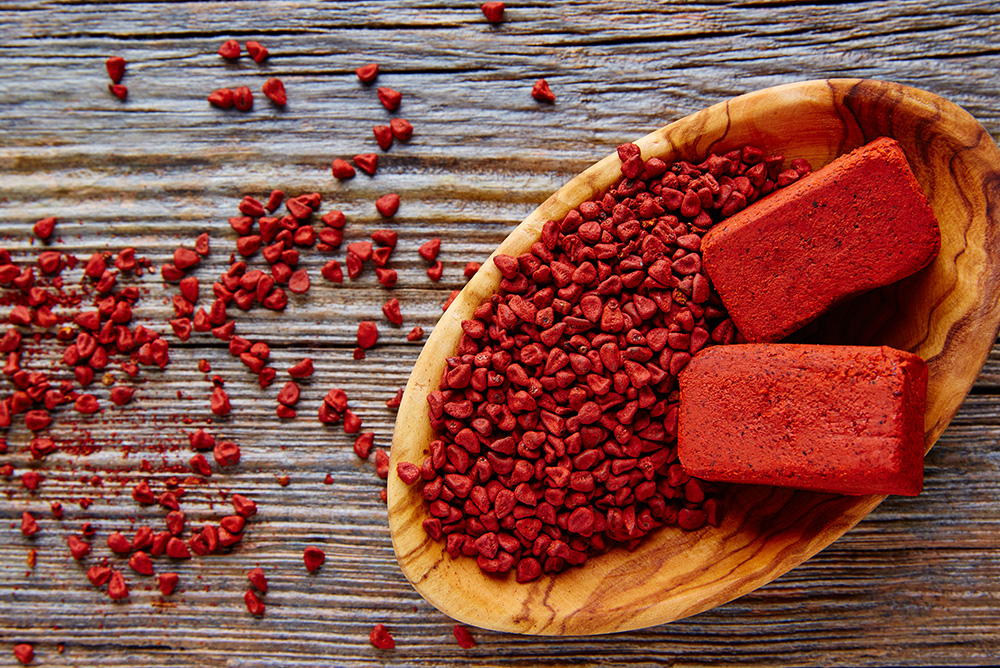 Orange & Yellow
Annatto seed extract actually colours many familiar foods, including cheese, butter, sausages and more – the rich yellow, orange to reddish colours. It's also a traditional orange-red food dye in Vietnamese cuisine. Dried pebble-like seeds heated in vegetable oil, canola oil, olive oil or corn oil to release the vibrant hue. The steeped oil from the cooked seeds is known as Dau Hat Dieu. It's mild nutty, peppery flavour makes it suitable to colour a variety of classic Vietnamese dishes, including Pho and Bo Kho beef stew. Annatto is also available in powdered form and is a great addition to your barbie marinade-mixes.
Carrot powder is another natural orange colouring. Just dissolve in water to use in your cakes and pastries.
Saffron brings a nuanced sweet and floral aroma and rich yellow hue. One of the most common spices used for colouring around the world.
But the Asian alternative, powdered turmeric, is much more fragrant and flavourful. Commonly used in zesty curry blends, Satay skewered meat marinades, warm soothing soups and so much more; for its earthy, peppery taste, and alluring yellow tint.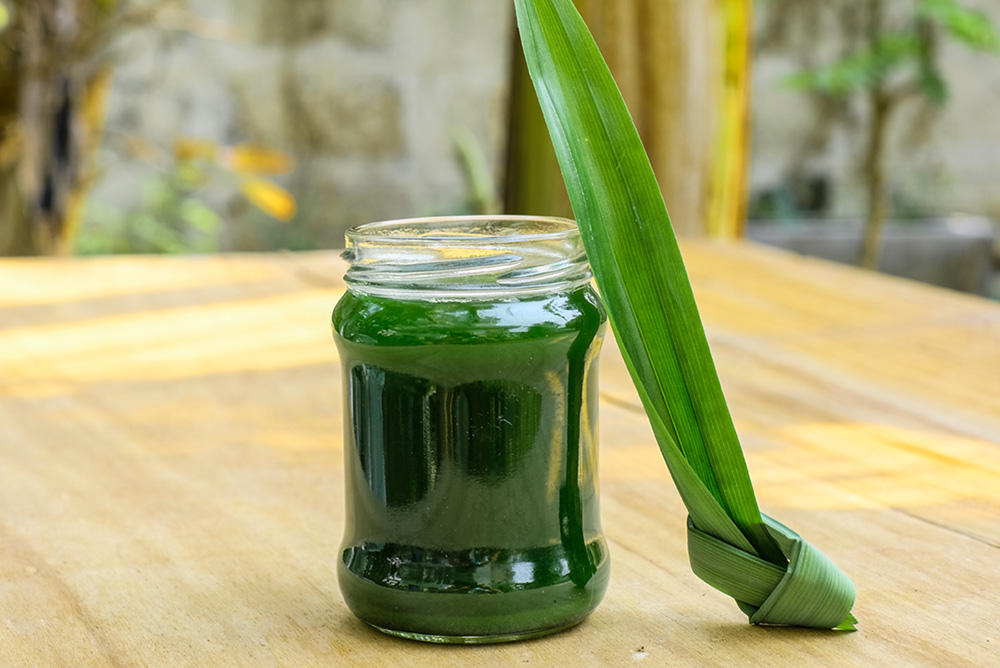 Green
Green is the colour of wellness and invokes a refreshing appetite in Asian desserts, just from the looks and the distinct aromas.
For the Japanese, green Matcha powder is both an indulgence as a tea on its own, and a fresh bittersweet flavouring in desserts and pastries.
For Koreans, mugwort is a traditional medicinal herb called ssuk, as well as an olive-green flavouring in rice cakes, soups and pancakes. Cleaned and cooked like a garnish veggie. You can also simmer it for its coloured juice for use, or purchase the powdered form. It has a minty, celery-like aroma and flavour.
In Southeast Asia, Pandan brings a sweet vanilla-like aroma to traditional desserts and modern cakes. Just clean and cut the long-bladed leaves into strips, add water and blend into a paste, then strain the rich emerald-coloured juice. Put a portion in an ice-cube tray and freeze for longer storage.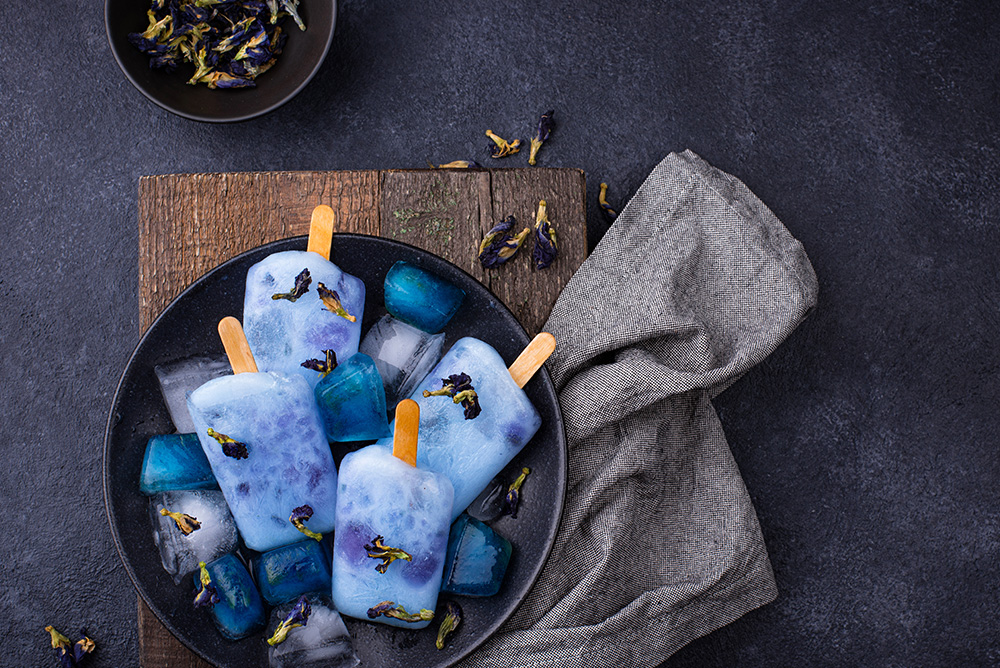 Purple & Blue
Ube purple yam, blueberries, taro, purple sweet potato and red cabbage give luscious shades of violet and purple.
Ube is slightly sweet, and the most vibrant of the lot. Grate and mash it to a paste, or blend it further into a jam for a lush purple shade, delicious in all kinds of desserts from cakes and doughnuts to ice-cream.
Taro and purple sweet potato can be prepared for colouring the same way too. Just boil them tender before the mash.
For blueberries, simmer with water until they burst, mash them further into a wet paste, strain out the juice, and simmer again for a rich purple hue.
For red cabbage, shred and mix with minimal water. Simmer in a pot over medium heat. Let cool and steep for 15 minutes, then strain for purple colouring. But return it to the pot, heat it further to reduce the liquid, stir in a pinch of baking soda, and it turns from purple to blue.
Want a much easier way? Get powdered blue butterfly pea flower, a popular Southeast Asian ingredient. Just dissolve in hot water for instant soothing cerulean hue, with a subtle sweet scent.