Thai cuisine is all about the balance of multiple flavours in every dish. Obviously, ingredients are the major taste-makers, with special Thai condiments, herbs and spices that accentuate, accompany or blend with their flavours. But besides the usual carbs, proteins and veggies, Thai cooking also incorporates tropical fruits in everyday dishes. Coconut is a prominent one, used from flesh, juice to milk and cream in a variety of our Thai faves; including Red, Green and Yellow curries, desserts and barbie marinades.
There's also watermelon, papaya, and 4 more unique fruits you can easily get in Australia for your home-cooked Thai specials:
Mango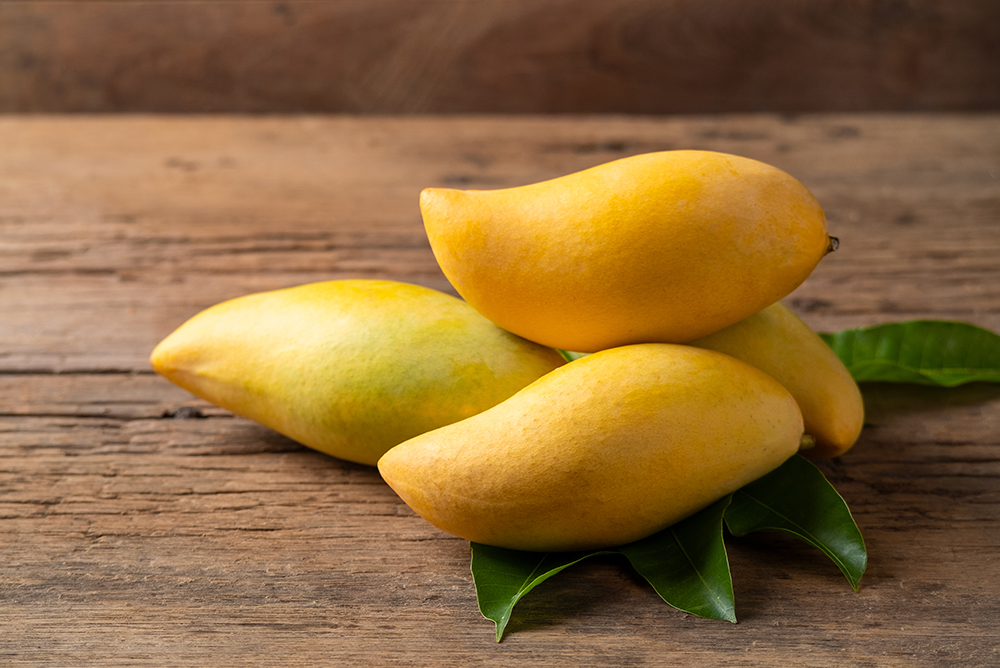 Easily one of our favourite Aussie summer fruits, the sweet-sour pleasures of mango needs no introduction. However, there are several unique Thai variants.
The Nam Dok Mai mango is well-suited to tropical weather, this mango type is easy to cultivate, with trees that can grow up to 35m tall, and small, aromatic yellow flowers in full bloom. The fruits are longish-round in shape and vibrant yellow, with a sweet, fragrant and juicy flavour.
Also popular for its yummy, juicy sweetness is the Mahachanok mango. It is greatly prized among aficionados as 'King of Mangoes', and a specialty ice-cream flavour in Thailand.
Both are enjoyable in Thai desserts like the creamy, sweet indulgence, Thai Mango Sticky Rice.
Sweetness isn't all the mango has to offer, though. The green mango or unripe mango in general, are also used in Thai cuisine as a fruity-sour taste and aroma booster. Try it in this complex-flavoured fish salad delight!
Pineapple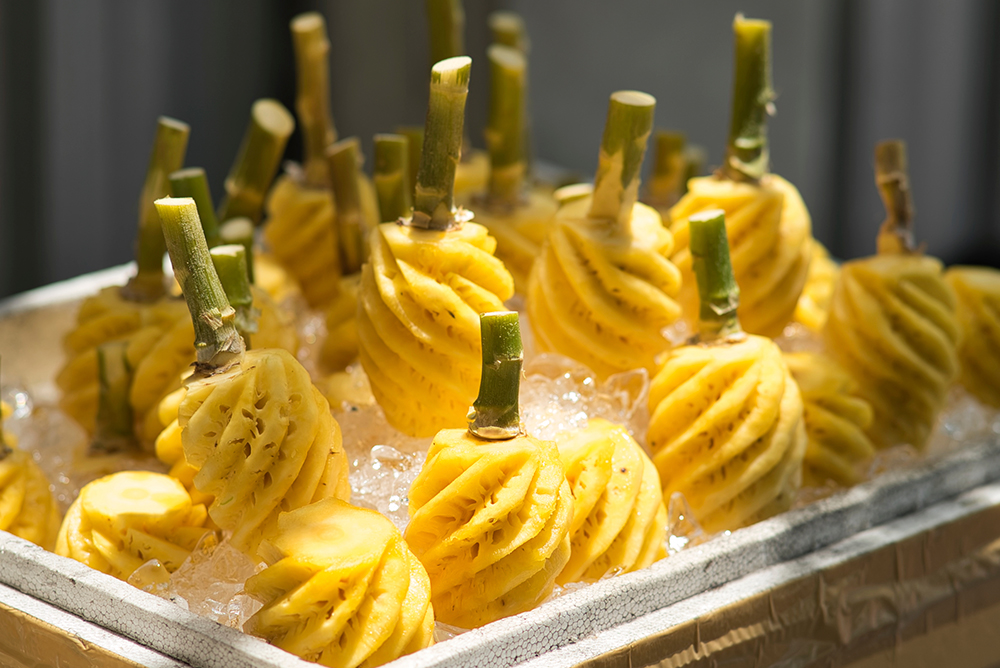 Although originated from South America, Thailand today is actually the world's largest pineapple producer, growing a total of 27 species.
The Nanglae pineapple, grown in Northern Thailand; with a rounder shape and sweeter taste. But its thinner skin doesn't allow for long-haul transport and needs the tropical weather to thrive. So, Nanglae pineapples are exclusive for local consumption.
The Phuket pineapple is smaller and less fibrous, but sweeter and crunchier. The Phu Lae pineapple from Chiang Rai is the same species but rounder in shape, because of the difference in land and soil conditions.
Crunchy, juicy and the strong sweet-sour taste of pineapple is best used in Thai cooking to balance with spicy flavours or to jazz up simple dishes, such as pineapple fried rice.
Canned pineapple is just as good for Thai cooking. The Sriracha Pineapple is a Pattavia varietal grown in Chonburi Province and is one of the variants enjoyed fresh and canned. Savour yours in this zesty, umami and succulent Red Curry duck special!
Pomelo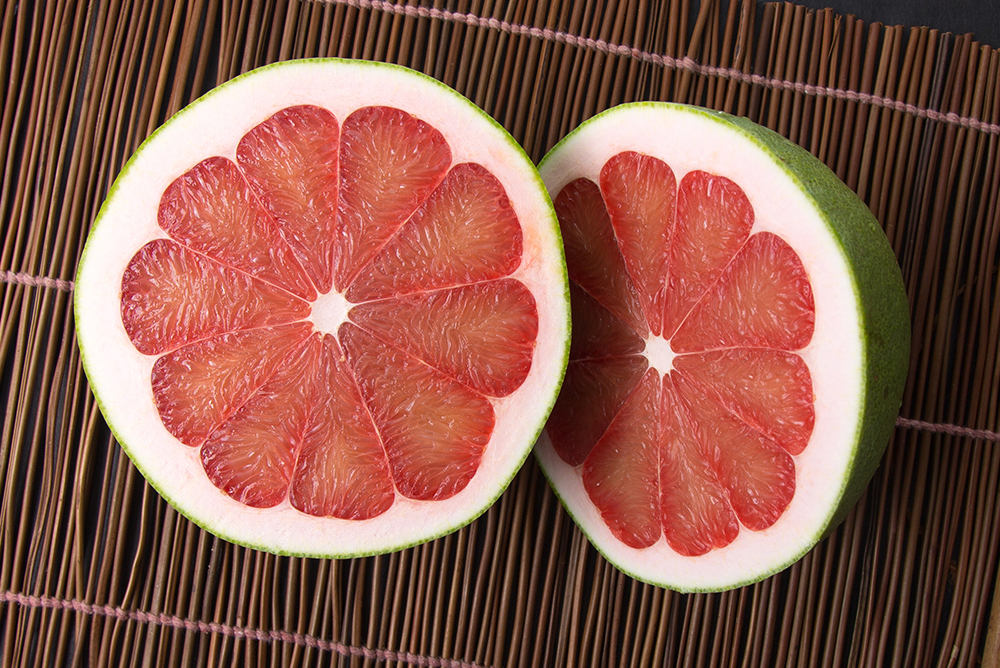 One of the oldest citrus species, and the largest, pomelo is best known for the Moon Fest celebration. But in Thai cuisine, it's also a unique ingredient. Milder sweetness than mango and pineapple, with a subtle bitter note. Very juicy, with tender, lightly bouncy texture; wrapped in a thick skin with a green-coloured surface that's shaped like a basketball.
Khao Nam Pueng is the most popular and common variant, with its translucent flesh, and well-balanced flavour.
Khao Puang's skin is more yellow than green and is pear-shaped instead of round. Its flesh too is slightly yellowish with a sweet-sour note. Best for salads or appetizers.
Thong Dee is recognizable by the pink-tinted flesh and smaller size. Extra fragrant with thicker, stronger skin, making it suitable for overseas exports.
The most prized Thai pomelo is the Tubtim Siam, distinct by its narrower round top and juicy, honey-sweet red flesh. An expensive rare treat, given as gifts for good luck and wealth.
In Thai cooking, pomelo brings a unique fruity touch to meat dishes, different from other citrus fruits. While mango and pineapple flavours are strong and distinct, the juicy flavour of pomelo blends with herbs, spices, sauces and meat for an overall soothing taste. Discover it in this Thai chicken salad!
Mangosteen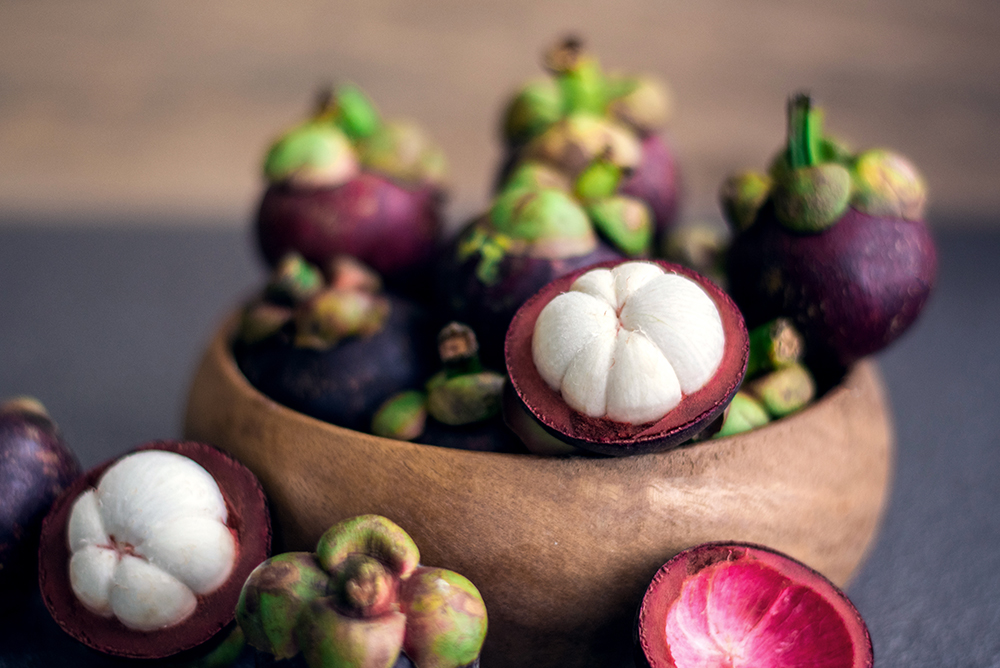 In Southeast Asia, mangosteen is commonly known as the "Queen of Fruits", and is frequently paired with durian, the "King of Fruits".
Probably one of the most unique Southeast Asian fruits, the mangosteen may seem weird to the uninitiated: shaped like small dark purple tomatoes and crowned by a light-green stem with 'bulges'. The outer skin is thick yet soft, twist to break it, and reveal the white flesh within – superbly tender and juicy with a delicate sweet-tangy flavour.
Wondrous to enjoy on its own! Or try it in an exquisite Thai traditional special, the Mangosteen & Shrimp Salad.
Authentically Thai
Want more authentic Thai flavours? Look out for the "Thai SELECT" logo on your next foodie hunt.
"Thai SELECT" is an award of approval granted to Thai restaurants overseas by the Department of International Trade Promotion (DITP), Ministry of Commerce, Thailand to increase the recognition of quality Thai restaurants around the world. It also encourages Thai restaurateurs to raise their quality while maintaining the authenticity of the Thai food they offer.
So anywhere you travel, look for the "Thai SELECT" logo. It assures you that delicious Thai cuisine is being served in a pleasant atmosphere, and with the famous Thai smile. It's not just a meal; it's a journey into Thai culture. "Look for AUTHENTIC THAI CUISINE, look for Thai SELECT".