Say goodbye to tired old sandwiches and expensive take-away meals with five easy recipes for lunch on the run. Send your kids off to school with flavour-packed salads and sushi bowls, and dine 'al-desko' in the office on nutritious Asian soups. With a bit of preparation over the weekend, you and your family will be the envy of the playground and break room.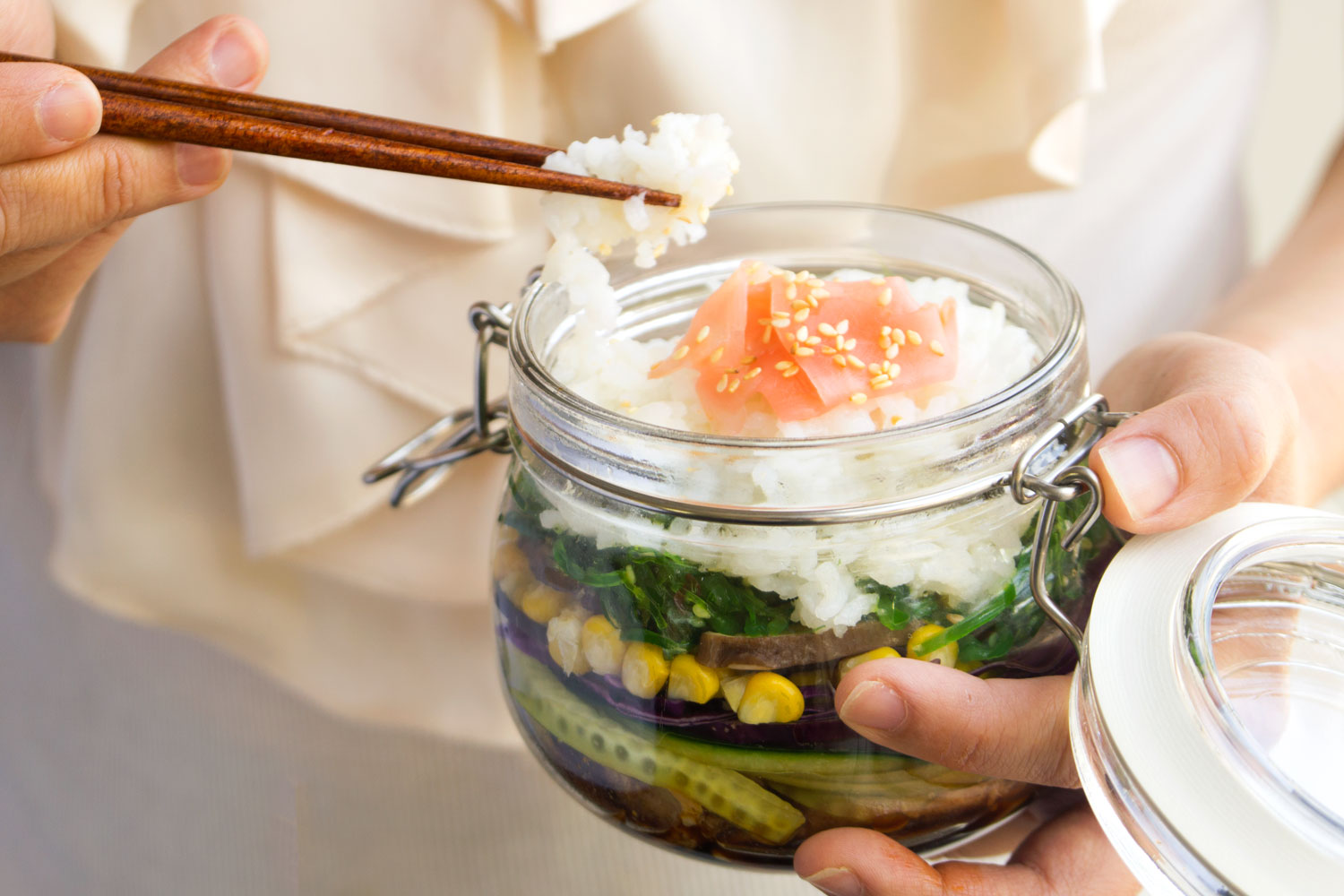 Teriyaki Jar
For
this satisfying lunch jar
, layer a mason jar or plastic screwtop container with juicy teriyaki chicken, cucumber strips, red cabbage, corn kernels and seaweed salad, then top with cooled sushi rice, pickled ginger and a sprinkle of toasted sesame seeds. What an easy recipe! Pack with chopsticks or a fork so you can dig through the layers. Take-away tip: Pack with a frozen bottle of water to ensure the chicken stays cool until lunchtime.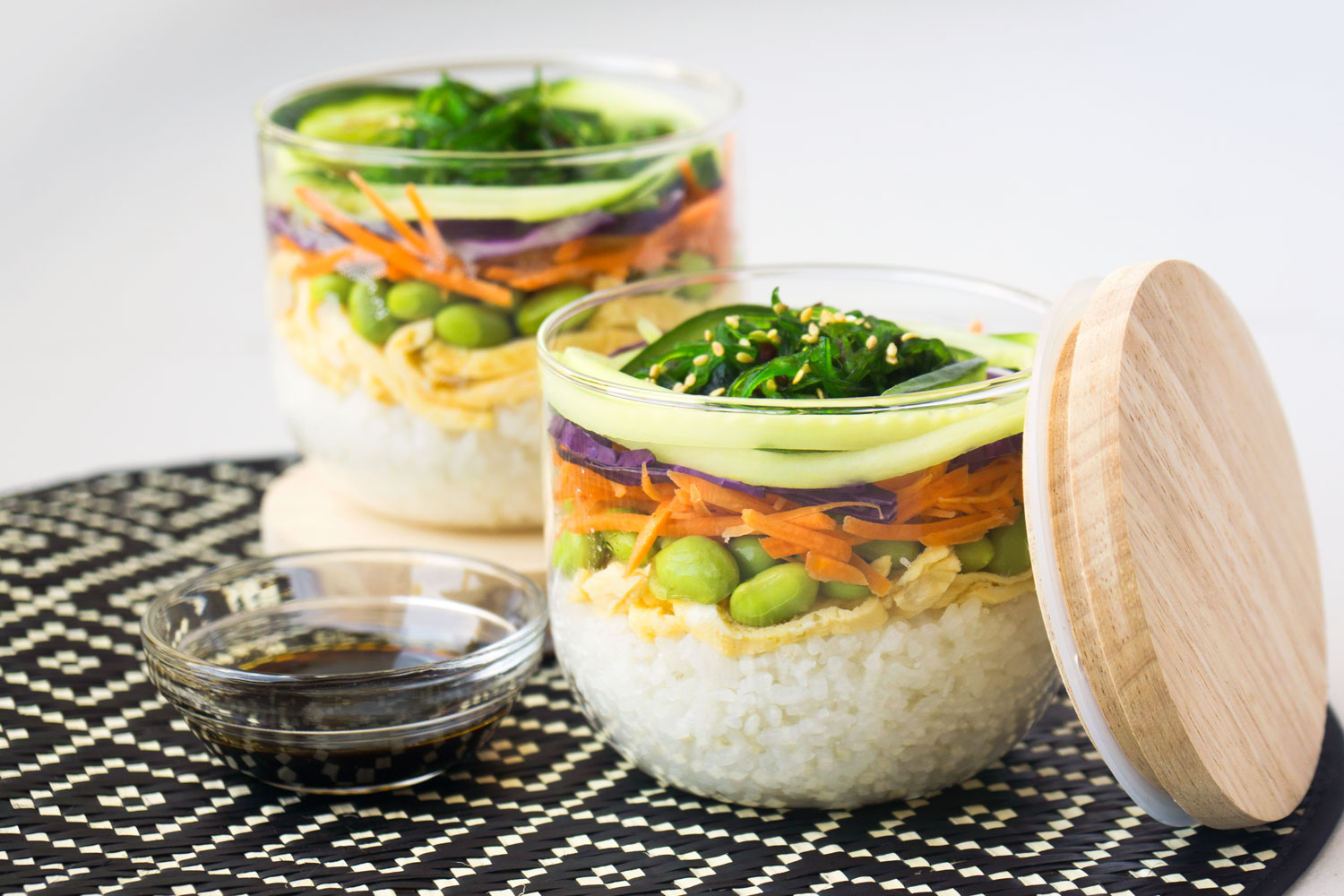 Meat-Free Sushi in a Jar
If you can't guarantee your sushi bowl will stay icy-cool until lunchtime, or you're trying to cut back on meat, then make
this easy, delicious vegetarian version
instead. Create a rainbow of wholesome ingredients, starting with a base of sushi rice, omelette, protein-packed edamame beans, carrot, cabbage, cucumber and seaweed. Take-away tip: Make sure the sushi rice is cooled before placing in the jar.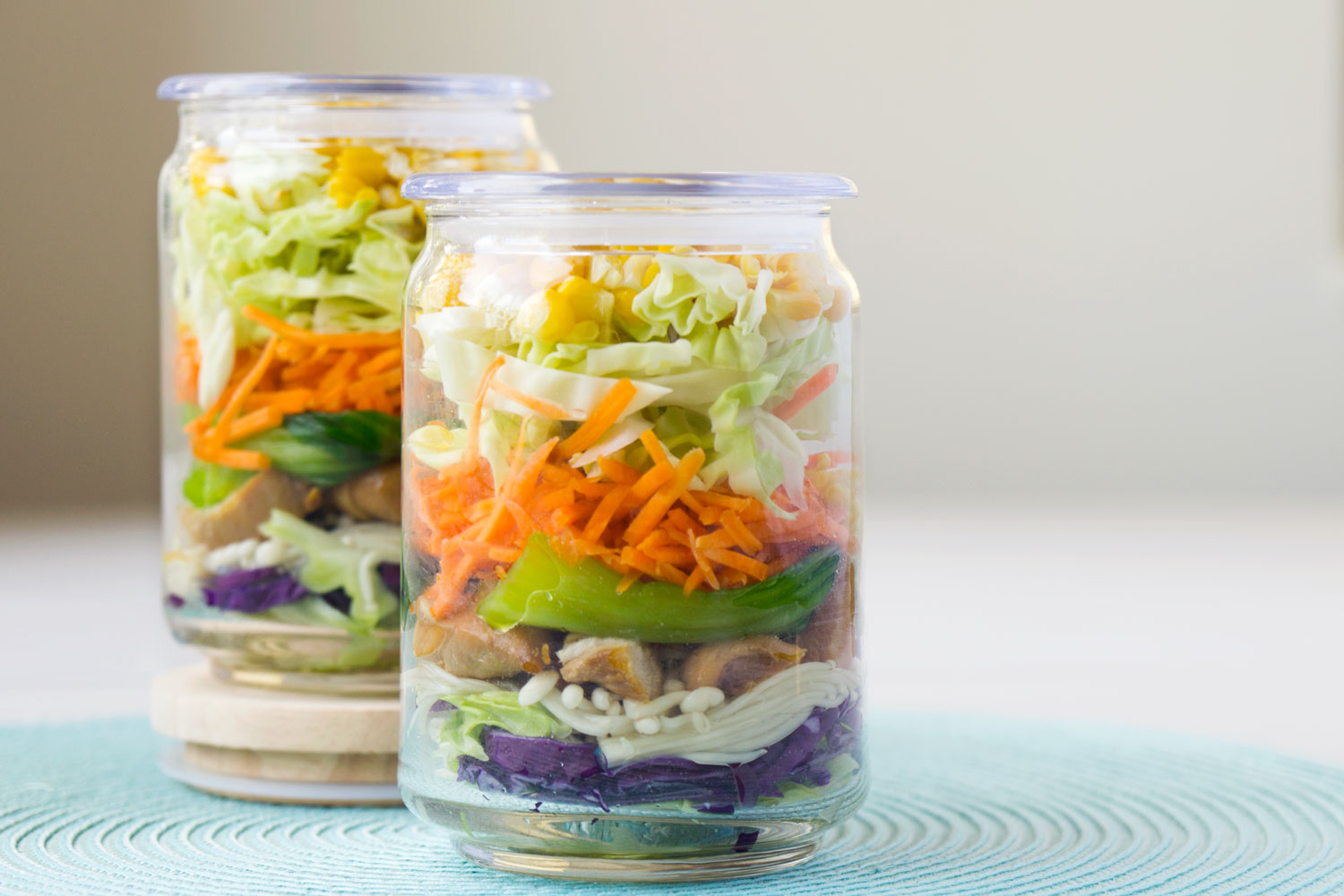 Asian Chicken Salad in a Jar
This vibrant salad
looks fantastic layered in a glass jar (be sure to put your name on it, or you may find it nabbed from the office fridge!). For kids' lunches, place everything in a well-sealed plastic lunchbox—it will toss itself on the way to school. Take-away tip: For a midweek shortcut, use a store-bought barbecue chicken.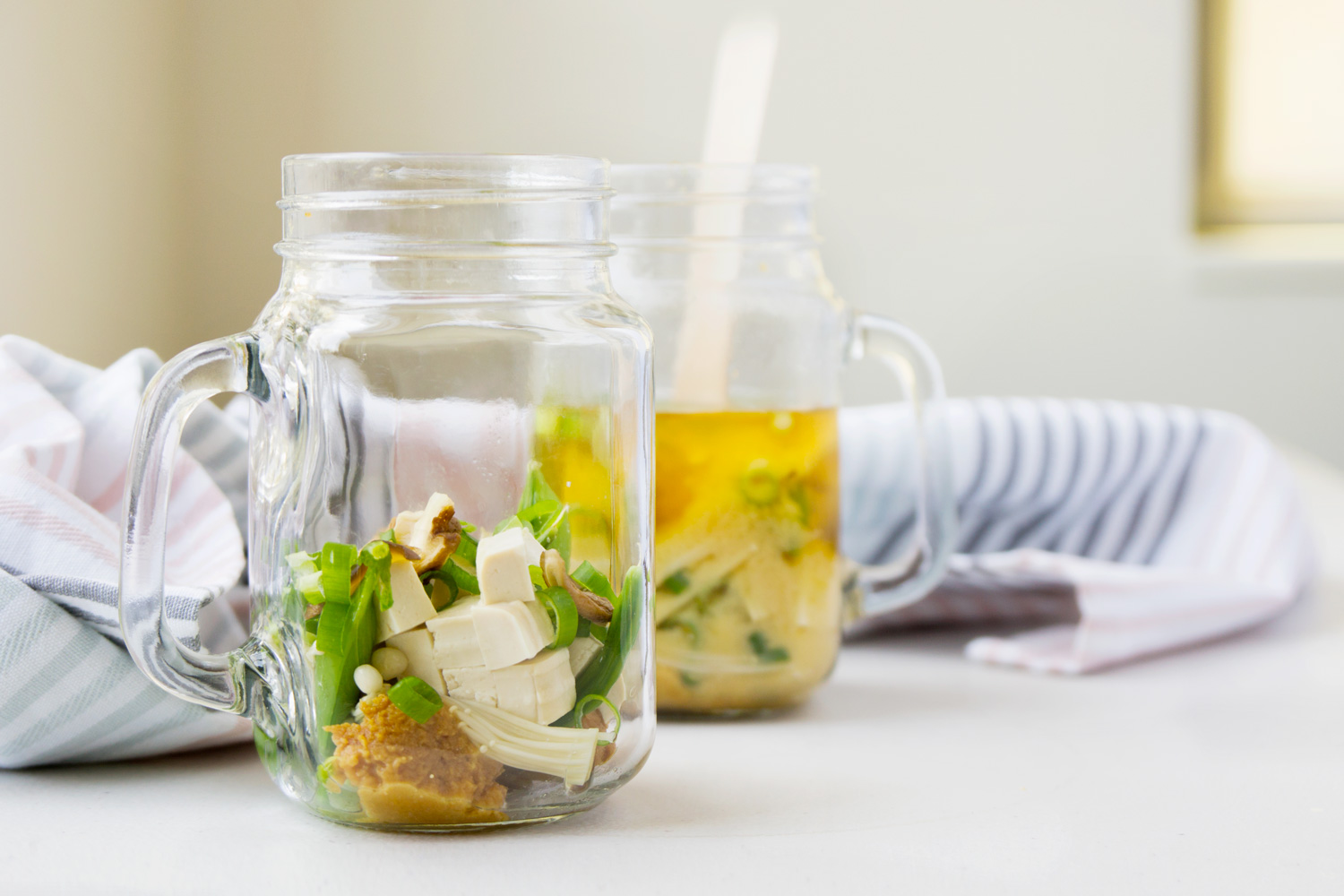 Miso Soup in a Jar
Forget those about floury instant soup sachets. For a nutritious meal in minutes, make yourself a mug of
miso soup to go
. Add a dollop of miso paste, cubes of tofu and sliced spring onion, along with vegetables that will wilt when you pour boiling water over them, such as thinly sliced snow peas and shiitake and enoki mushrooms. Take-away tip: Other suitable vegetables include grated carrot and sliced bok choy.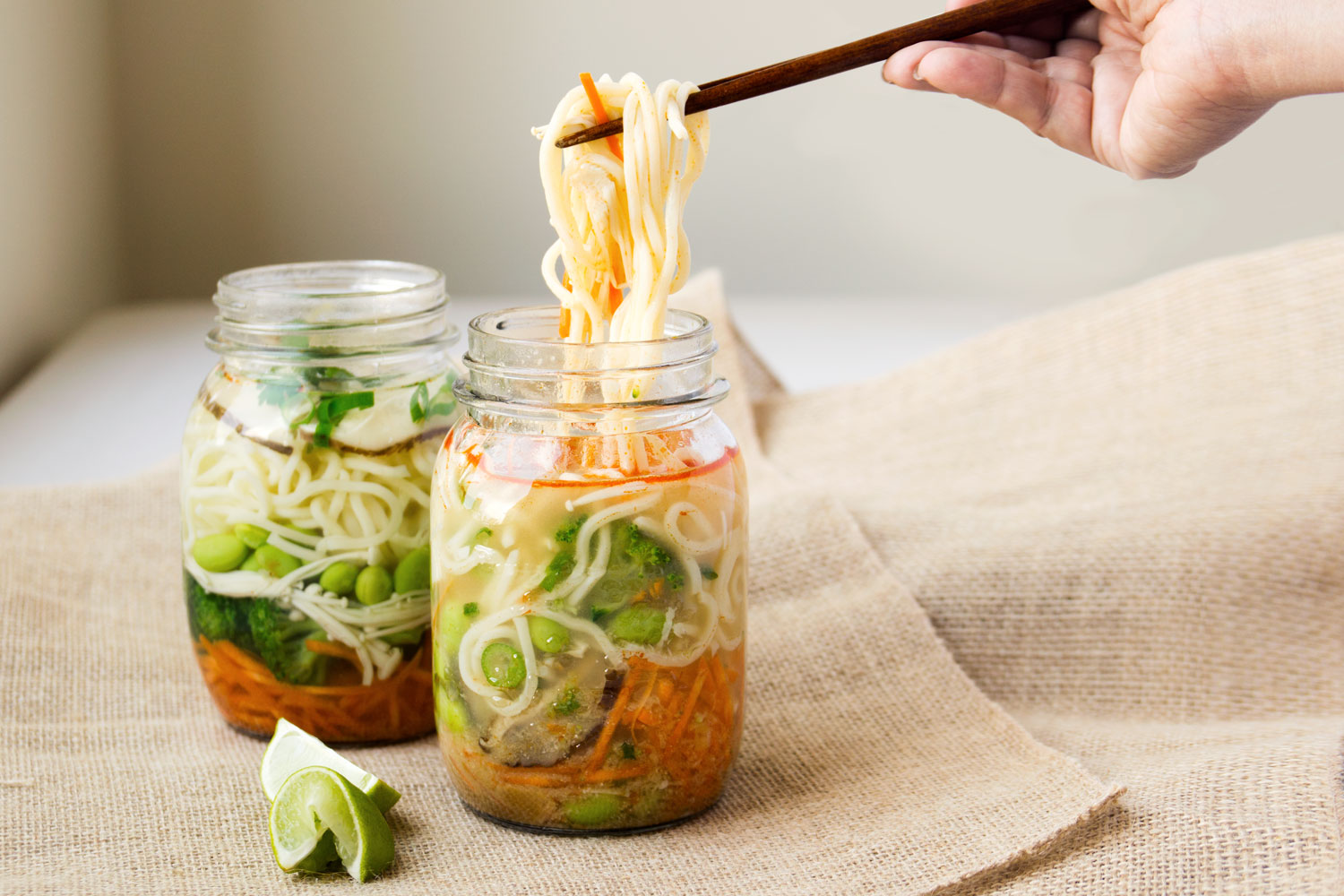 Instant Noodles in a Jar
You'll also require boiling water for
these homemade instant noodles
, so they're not suitable for school lunches, but as far as office lunches go, they're hard to beat. Be sure to choose soft noodles and a selection of vegetables that wilt easily, such as shredded carrot, finely chopped broccoli and thinly sliced shiitakes. So delicious, and such an easy recipe! Take-away tip: For added protein, add chopped roast chicken, diced tofu or peeled cooked prawns.