With the growing popularity of Korean pop culture, many around the world have begun to discover the rich, umami flavours of Korean cuisine. Authentic restaurants are abundant worldwide and especially in Australia, where Korean communities have lived for generations. But the best way to savour the manifold flavours is actually to cook your own. In fact, the trend among Korean young adults these days is to go home for warm family meals, rather than eating out with friends and colleagues.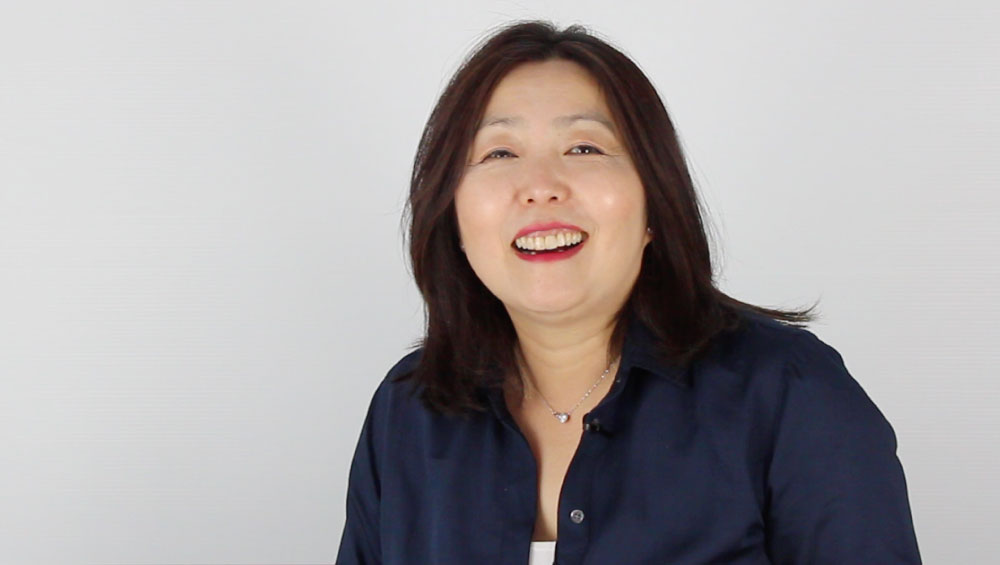 "Korean food translates even better at home," says Chef Heather Jeong, "You can cook 70 to 80 percent of dishes with soy sauce, sesame oil, Gochujang, Gochugaru, and Doenjang."
Gochujang is chilli paste made of fermented soybean with red chilli pepper. Gochugaru is Korean chilli powder – chilli fruit deseeded, dried and ground into fine flakes; with a range of mild to moderate spiciness, and a sweet smoky tinge. Doenjang is soybean fermented with brine into a rich savoury paste – which process also produces Gukganjang, the Korean soy sauce for soups. These ingredients can be stored for long periods of time, and give your dishes all the signature Korean flavours.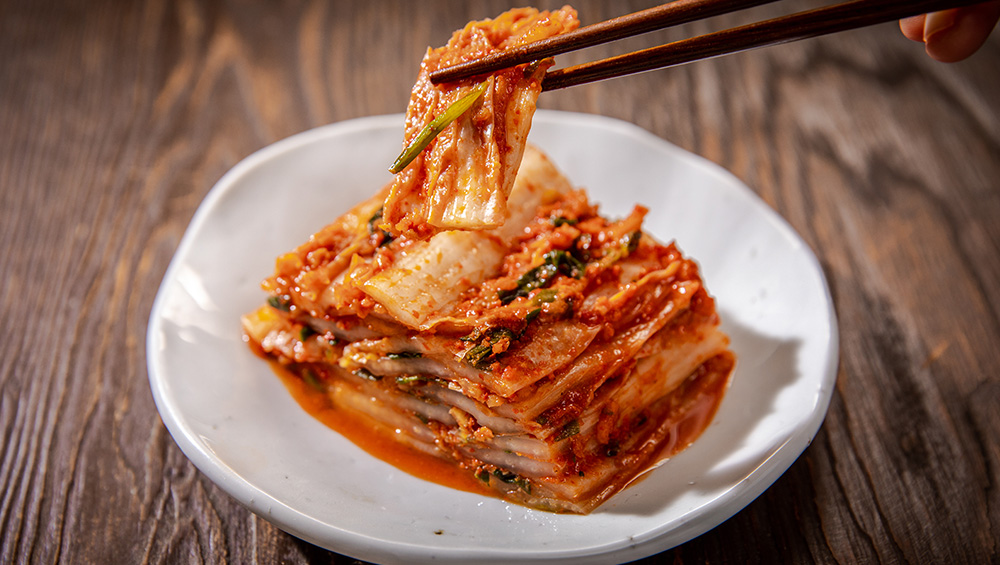 That said, Kimchi is the true heart of Korean cooking. The must-have appetizer in a typical meal, and a rich flavour-maker for a great variety of dishes. You can easily make your own with our recipe, or get premade Kimchi at Korean grocers and your local supermarket.
The ingredient that Heather is really passionate about is perilla oil. It has a nutty flavour and is great for stir-fried veggies and mushrooms. Also, a common Korean flavour-enhancer and condiment pressed from roasted perilla seeds.
Heather gets most of her ingredients from the Eastwood Mart, the Gogima-eul Iseuteuudeu butcher in Meat World Eastwood, Hanaro Mart in Strathfield Plaza, Komart in North Strathfield and the butcher at Goldmart in Chatswood.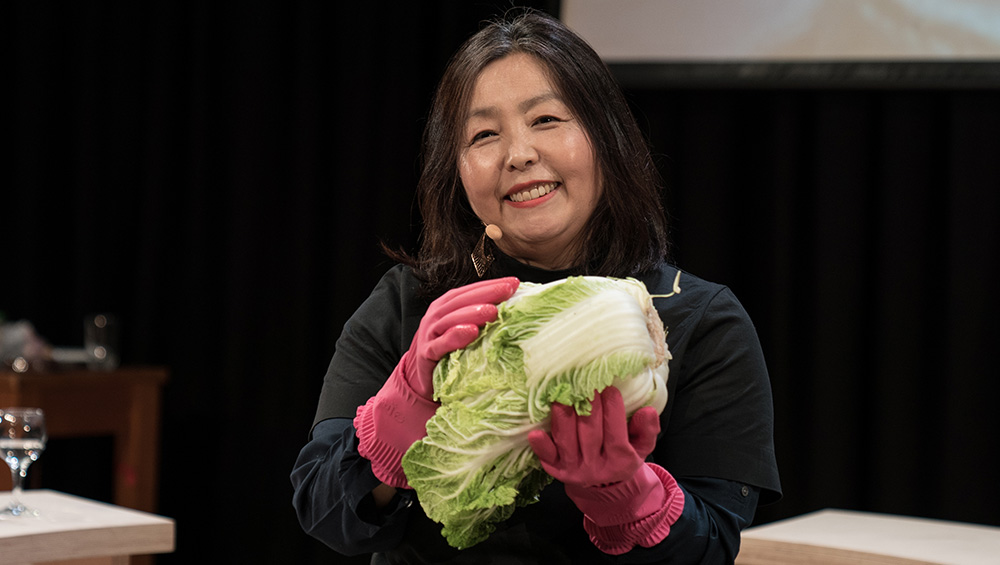 She has cooked, taught and promoted Korean cuisine in Australia for over 20 years; and appeared on SBS Food Safari with Maeve O'Mara, Pop Asia and Sunrise, as well as regularly featured on SBS Kitchen Conversations, Sydney Morning Herald and more. Although the lockdowns had disrupted some of her work, she is currently in preparation for the Double Delicious theatre event, coming soon to Adelaide.
Even so, she mostly cooks at home.
"Korean food culture is all about sharing, so every meal is like a mini buffet. There's rice, one or two main dishes, a lot of side dishes and soup."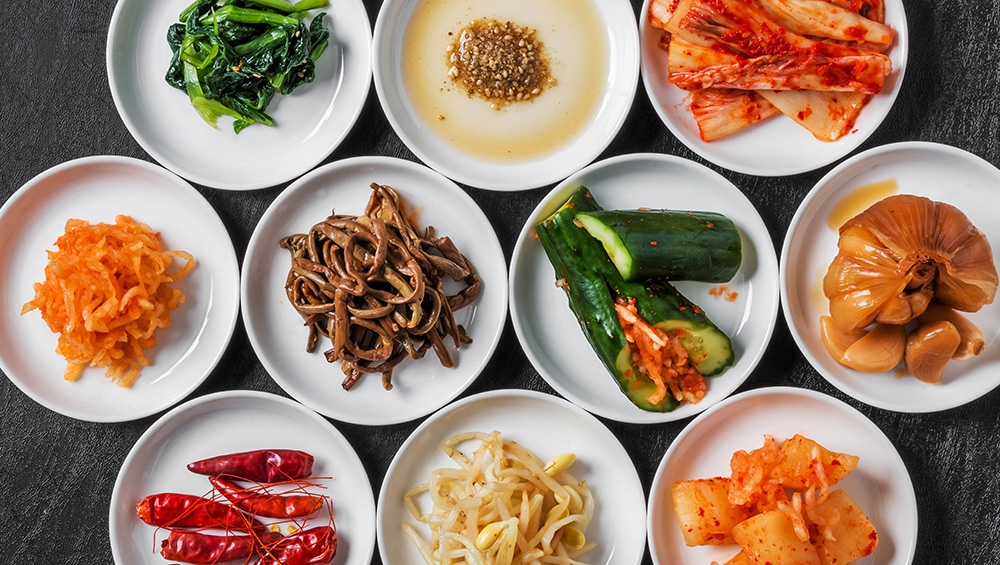 Banchan side dishes are served in very small portions. The set includes Kimchi, Namul (steamed, marinated or stir-fried veggies), Bokkeum (stir-fried anchovies, baby octopus, mushroom or pork), Jorim (simmered meat or tofu in a seasoned broth), Jjim (steamed fish or egg, Jeon pancakes), Japchae, salads and pickles.
There's also Korean barbecue, wherein the meat is cooked at the table and savoured with an array of veggies and sides. Meanwhile, drinking sessions with friends and colleagues must go with special snacks and delicacies, collectively called Anju. Last but not least, is the one bowl wonder Bibimbap, packed with sumptuous meat, veggies and rice, and topped with a raw egg.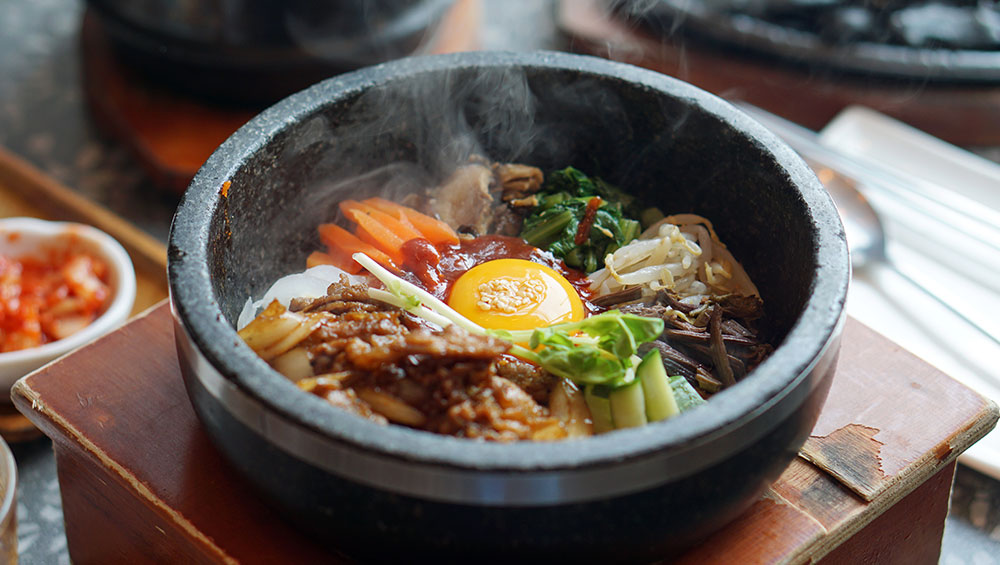 However, there are variations across the Korean peninsula.
"Korean food is seasonal as well as regional," Heather explains, "Down south, around the coastal areas, the food is spicier and saltier, with lots of fish sauce. Around the capital Seoul, the food is more varied, but also less strong-flavoured. So, for instance, Kimchi is not as spicy in the north as you'll find it in the south. Further up north, there's more potatoes and corn. There's also lots of great seafood and specialty dishes. Even in the same city, you can go to different suburbs and find food that's unique to that community."
For novices to the cuisine, try a Korean barbecue at home; Japchae stir-fried potato starch noodles; Haemul Pajeon seafood pancake; Daeji Bulgogi chilli pork (Heather's family favourite), Kimchi fried rice; and finish with a soup. Unlike other cuisines wherein soup is usually the entrée, Koreans have soup at the end of the meal to cleanse the palate.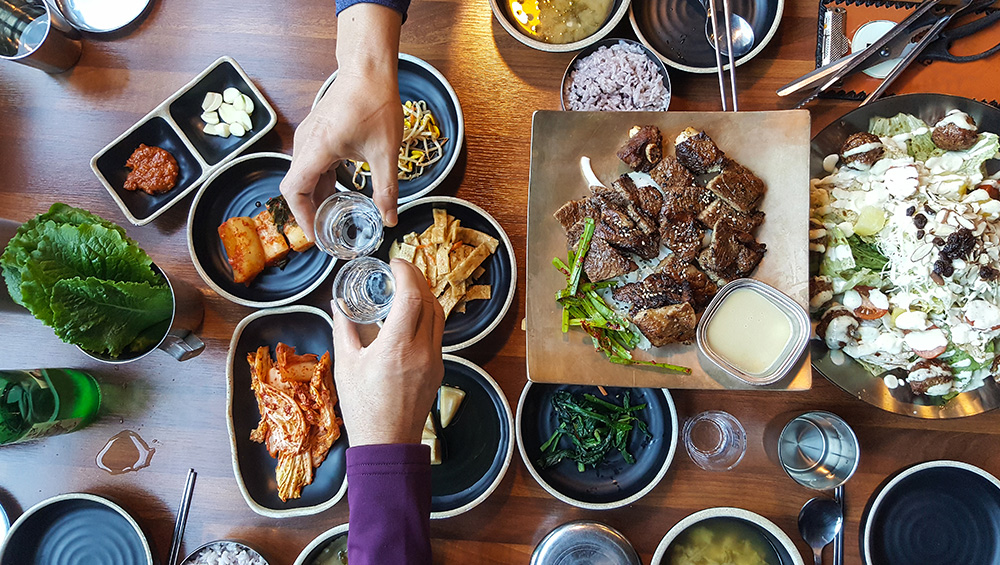 Heather does have her favourite Korean eat-out spots with her friends in Sydney: Mapo Galbi for the marinated meats and side dishes. Stoneage Korean BBQ for the barbecue quality. Both restaurants are located in West Ryde.
Korean cuisine is ever-evolving and easily adaptable to your preferred tastes. So come discover your favourites with our many delicious recipes!