Authentic Korean meals usually feature a variety of meat and veggies enjoyed with rice. However, single-served dishes have existed for centuries as well. One such that's packed with goodness and flavour is the bibimbap – literally means 'mixed rice'. A sumptuous rice bowl with veggies, pickles, meat, and egg, flavoured with soy sauce and gochujang chilli paste. Enough to fill your tummy, satiate your taste buds and provide the fibre and nutrients your body needs.
With the rising popularity of Korean pop culture and cuisine around the world, you can easily find bibimbap at authentic restaurants. But it's actually a Korean staple dish with a long history. Although the first records to mention it date back to the 1500s, the bibimbap's exact origin remains unknown. Some scholars believe bibimbap was derived from the practice of the Jesa rite, where food offerings are made to ancestors, mixed in a single bowl, and then eaten after the ritual. Bibimbap is also a traditional Lunar New Year's Eve dish; when households would clear out their leftover food stocks for the new year, and so cooked and mixed them all together in a rice bowl. For busy rural farmers, the bibimbap is the easiest way to feed a group. For the ancient kings, it's a simple lunch or a between-meal snack with more exotic veggies. Today, Korean families typically make bibimbap at the end of the week, with leftovers in the fridge.
Bibimbap varies from region to region. Along the coasts, the main protein is fish. In the inland and the north, beef, pork and chicken are the norms. There are also vegetarian versions with kimchi and tofu. Common veggies include julienned cucumber, mushrooms, radish, seaweed, spinach, and bean sprouts. Meats are usually marinated with bulgogi sauce, a special mix of sugar, soy sauce and Korean pear juice; then barbecued to delicious perfection. Added with a raw or sunny-side-up egg on top, with a drizzle of sesame oil on the cooked rice to give it a light nutty aroma. Simple to prep, with vibrant appetizing colours and rich flavours that are sure to satisfy.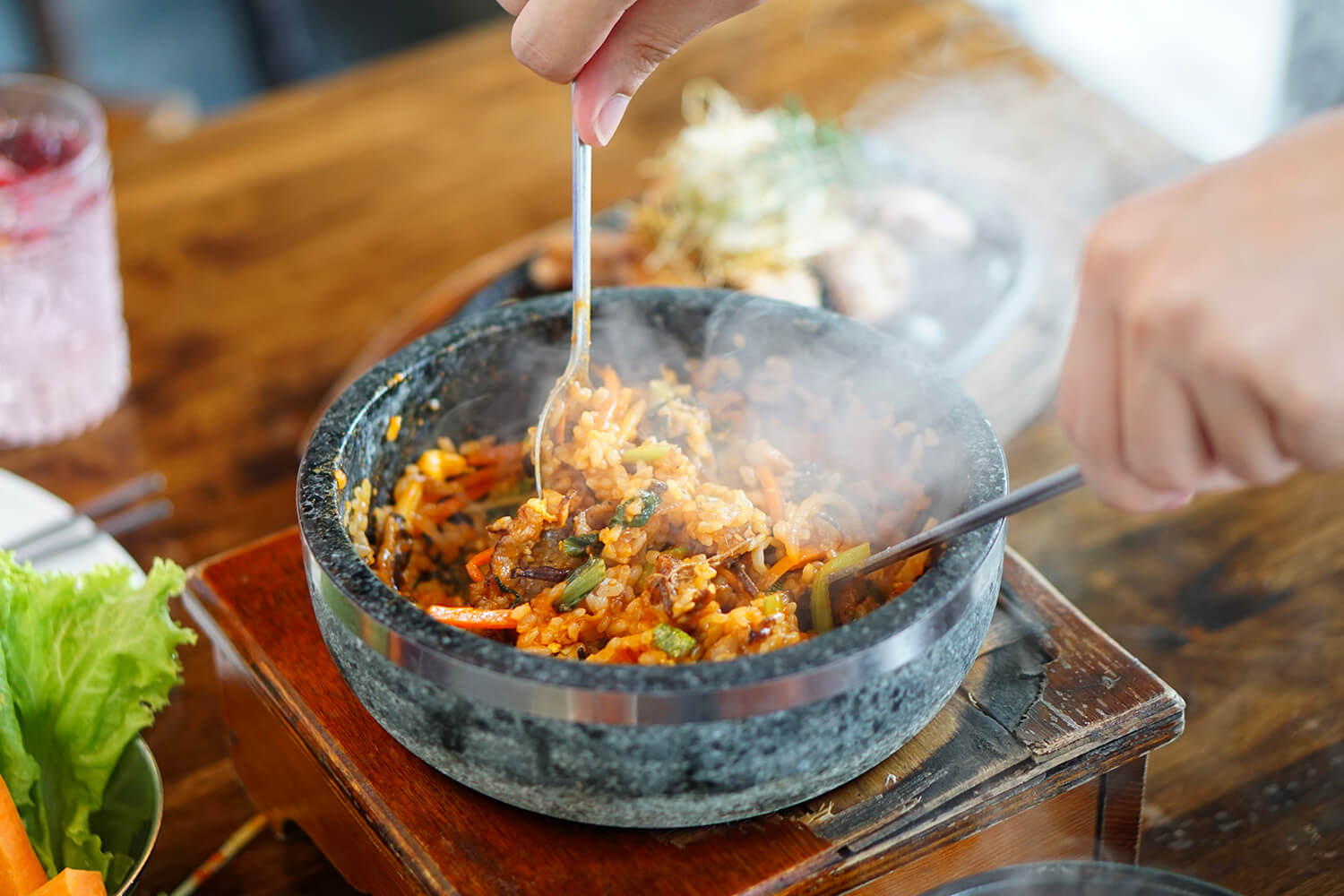 Traditionally cooked and served hot in a stone pot, the residue heat gives your bibimbap rice a lightly crispy and fragrant crust at the bottom. Crack the egg yolk and let it leak into the rice like a sauce. Next, add the gochujang chilli paste for that distinctive tangy, salty, sweet and spicy taste. Don't blend everything from the top to the bottom of the bowl in one go. Instead, let it cool for a few seconds before you start. Mix the rice, veggies and meat with the sauce as you eat. Use the long spoon to scoop the mixed rice, and the chopsticks to add on morsels. Don't use your chopsticks to pick and eat directly. In Korean etiquette, only the spoon should touch your mouth when eating rice.
Bibimbap ingredients also incorporate the traditional Five Elemental Theory, believed to help improve your internal organs' health. Red and orange in carrots and chilli represent the heart. Green in cucumbers and spinach for the liver. Yellow in egg yolk and nuts for the stomach. Black or dark brown in shiitake mushrooms and nori seaweed for the kidneys. Scientifically speaking, a sumptuous combination of rice, meat, veggies and egg gives you a good balance of carbs, proteins, fibre, vitamins and minerals – all in just one bowl. It's also easy to adjust the ingredients' portions to your liking and dietary needs.
So, got leftover ingredients in your fridge? Make your own authentic bibimbap! Start off with this award-winning recipe by Sarah Lewis, and come discover your favourite bibimbap from our collection!