Barbecue is probably the oldest cooking method ever invented since humans learned how to start a fire. So, it's no surprise that every culture in the world has its own unique recipes and flavours. However, instead of backyard cookouts at home like Aussies do, most Asian barbecues today are more popular as street food or restaurant affairs. Also, beyond the marinating spices and sauces that embodies a culture's delectable tastes, Asian barbecue has even evolved into a variety of grill types and roasting styles.
Siu Mei & Shaokao
There are two basic categories of Chinese barbecue. The first is Siu Mei: roasted meat, gloriously hanging on display in restaurant storefronts like Char Siu pork or Hong Kong-style roast goose. Rather than outdoor charcoal grills, Siu Mei dishes are roasted in special ovens that cook with dry, hot heat until the meat is crisp with dripping fat for a rich, smoky flavour. The common marinade is a vibrant red sauce of honey, five-spice powder, soy sauce and hoisin sauce.
Meanwhile, Shaokao grilled skewered meat hails from northern and western China. Popular street food that is similar to Western coal-cooked barbecue; with mostly lamb or mutton cut in bite-sized chunks, and heavily spiced with chilli and cumin. Lesser known to Western foodies are the barbecue starfish, a popular cuisine from coastal Shandong which tastes like a crab; and Chong Qing grilled freshwater fish, cooked with cumin powder and chilli pepper, topped spicy fermented bean paste, and serve with veggies.</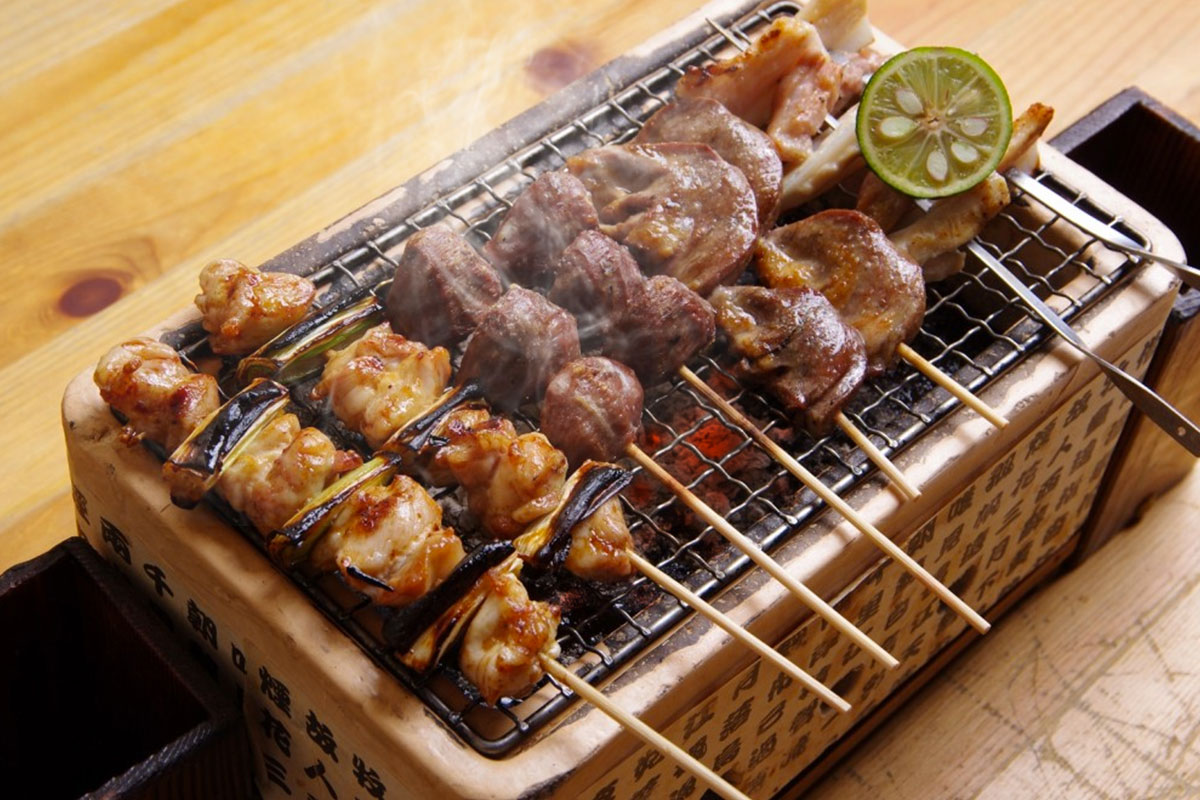 Yakiniku & Teppanyaki
Yakiniku means 'grilled meat' in Japanese. Bite-size beef, pork, chicken, seafood, offal or vegetables, cooked over a charcoal flame; made popular since the Meiji Restoration period in the 1870s. Instead of a typical grill, they've invented Hibachi: a durable, portable open-top container made from heat-proof material to hold burning charcoal. There are even antique porcelain Hibachi-s shaped like vases, though most modern types are cylindrical or boxy with an open grate, made from cast iron and aluminium. Some Japanese restaurants have them built into tables for diners to cook the raw meat themselves; then dip in Tare sauce of sake, mirin, sugar, garlic, fruit juice, sesame and soy sauce. Another uniquely Japanese dish is skewered Ayu fish chargrilled with salt - also popular in Taiwan.
Teppanyaki is a more recent Japanese grilled cuisine, though sometimes confused with Hibachi cooking. Believed to have originated from the Misano Shigeji Fujioka steakhouse during post World War II, chefs use a heated metal plate to grill, broil or pan-fry dishes in front of customers. The cooking is a performance in itself, and Teppanyaki chefs often have mad skills.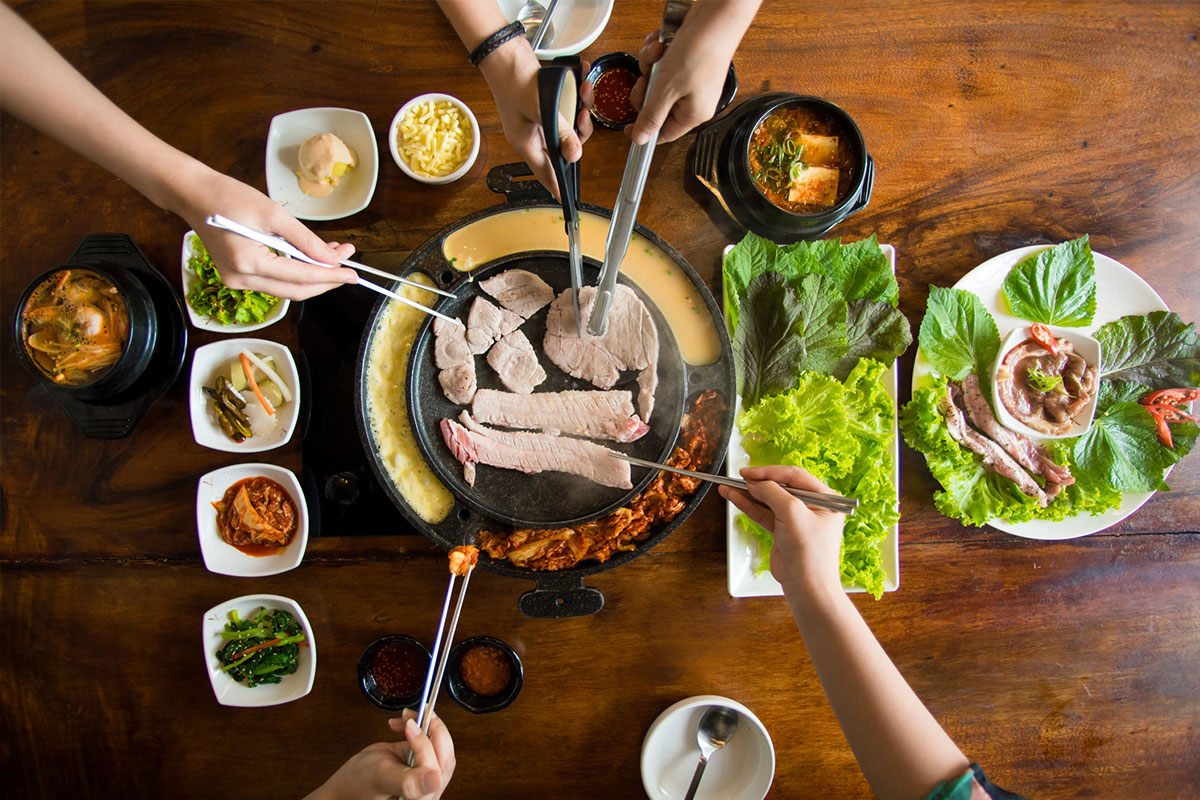 Bulgogi & Chadolbegi
Korean barbecue is called Gogi-Gu-I and includes Bulgogi marinated meats, as well as non-marinated Chadolbegi. Bulgogi beef, pork and chicken are marinated with a mix of soy sauce, sugar, sesame oil, garlic and pepper for an extra umami flavour. Chadolbegi is thinly sliced beef brisket that cooks instantly on a heated pan. However, Korean barbecue is more than just meat, but a joyous group feast for friends and family with a table full of leafy garnishes and Banchan side dishes. The grilled meats are wrapped in lettuce and perilla leaves, enjoyed with Ssamjang sauce of soybean paste, chilli paste, and toasted sesame seeds. Banchan side dishes include kimchi, marinated watercress or spinach, stir-fried anchovies and rolled omelettes.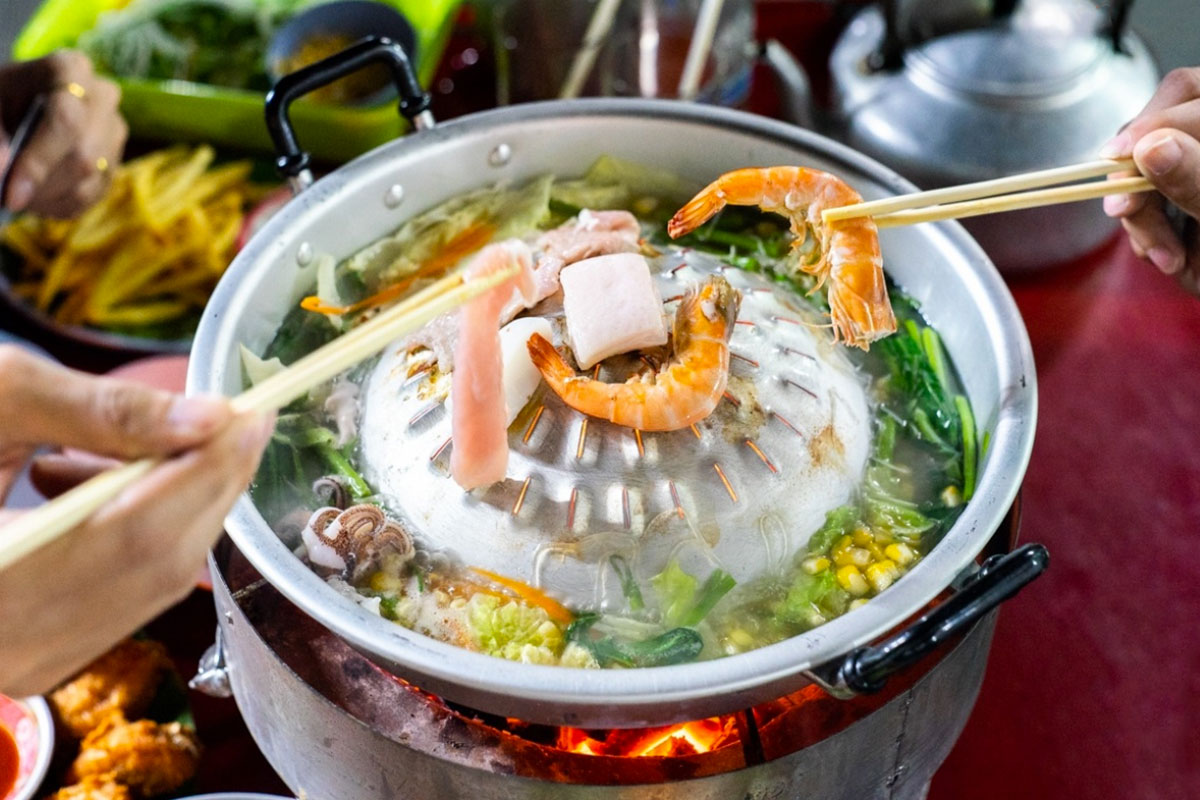 Mu Kratha & Gai Yang
Sometimes spelled 'Moo Kata', Thailand's 'pan pork' cuisine is a combination of Korean barbecue and Chinese hot pot; often as a cook-it-yourself buffet at restaurants. The main feature is the special grill-pan-pot with a dome centre on top where the raw pork is cooked till the yummy fat drips to the boiling veggie broth beneath. There are also arrays of sliced chicken, seafood, fish balls, meat skewers and all kinds of veggies to pick and enjoy. The Nam Jim sauce of garlic, sugar, bean curd and fresh red chilli blends the perfect sweet and spicy flavour for all the ingredients. An absolute indulgence!
A simpler Thai special is Gai Yang grilled chicken with a salivating aroma that fills almost every street market. The secret is the marinade: cilantro, white pepper and fish sauce; often served with green papaya salad, sticky rice or raw vegetables, and dipped in spicy sauce.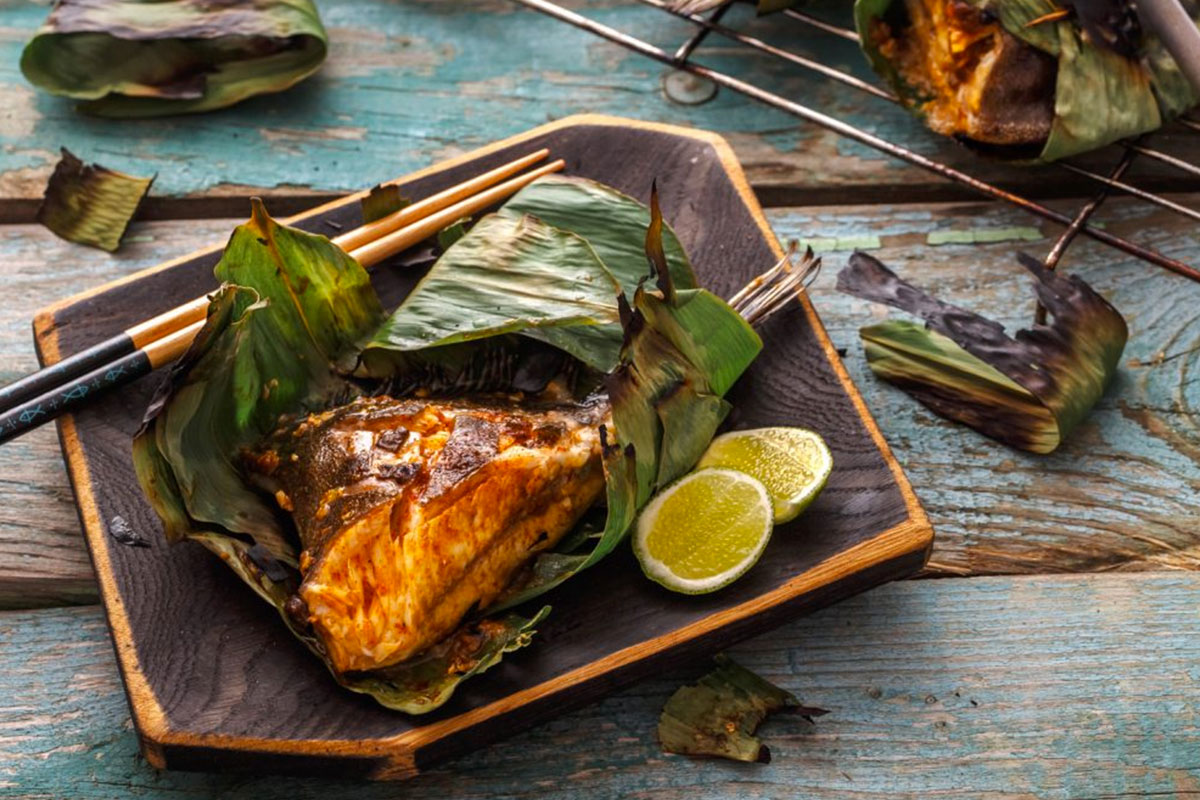 Satay & Ikan Bakar
Although believed to have originated in Java, Indonesia, Satay has long since spread to pretty much all of Southeast Asia. Common meats are beef, chicken, mutton and sometimes pork for non-Muslims. Turmeric used in the marinade gives its characteristic yellow colour, mixed with soy sauce, coconut oil or palm margarine. Skewered and grilled to fragrant loveliness, then served with peanut sauce, cucumber sliced into cubes, and Nasi Impit rice cakes. Satay is probably the most ubiquitous street food in the region, featured from food courts and roadside vendors to upscale restaurants and local feasts.
Ikan Bakar, on the other hand, is a distinctively Malaysian-Indonesian delight. Fish seasoned with shallot, lemongrass, onion, chilli powder, roasted Belacan, salt, sugar and lime; wrapped in banana leaves and grilled over a charcoal fire. The leaf avoids the fish from sticking to the grate while keeping the moisture and juices within. The incredible aroma alone is enough to make your mouth water, and the savoury taste is unlike any other seafood dish - a refreshingly piquant enjoyment.