Southern China is a luscious landscape with many amazing sceneries, replete with majestic mountains, scenic lakes and fertile rivers. The abundance of natural resources provides for a millennia-long agriculture tradition, as well as a great variety of cuisines; each with its own unique flavours. In fact, of the Eight Major Cuisines, seven originated here. While the cold, arid north is better for planting wheat, and thus have more noodles and bread; the warmer south favours rice as the staple food. With more ingredients to choose from, Southern cooking strives for more delicate tastes and layered flavours; usually served in smaller portions to allow for more variety of dishes, especially in family meals.
Jiangsu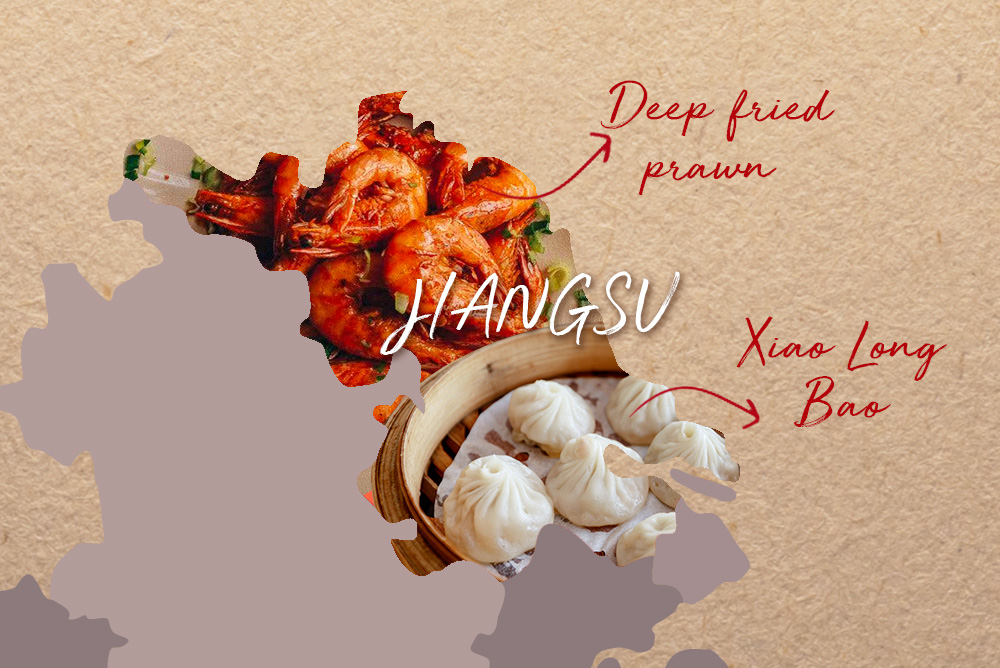 Jiangsu is the south-eastern coastal province nearest to Shanghai and has been a major economic hub thanks to the Jing-Hang Grand Canal, which connects the north to the south. It is also the fifth most densely populated province in China, with Nanjing as its capital and includes the cities of Suzhou, Wuxi, and Changzhou. The landscape is mostly flat plains, with well-developed irrigation systems that link to the Yangtze River, earning it the title 'Home of Waters'.
Jiangsu food or Su cuisine has over 2000-year's history and is considered gourmet in China. Key cooking techniques are braise, stew, steam and fry, with an emphasis on sauce and gravy. Dishes often have a tinge of sweetness, and a reddish shine from wine pickled food; artfully arranged for the most appetizing allure. Flavours are rich yet balanced, made with a variety of seafood, freshwater fishery, local herbs, spices, and vegetables, chicken, duck, geese and pork.
Signature dishes include soupy Xiaolongbao dumplings, umami deep fried prawns, and sweet-sour ribs.
Zhejiang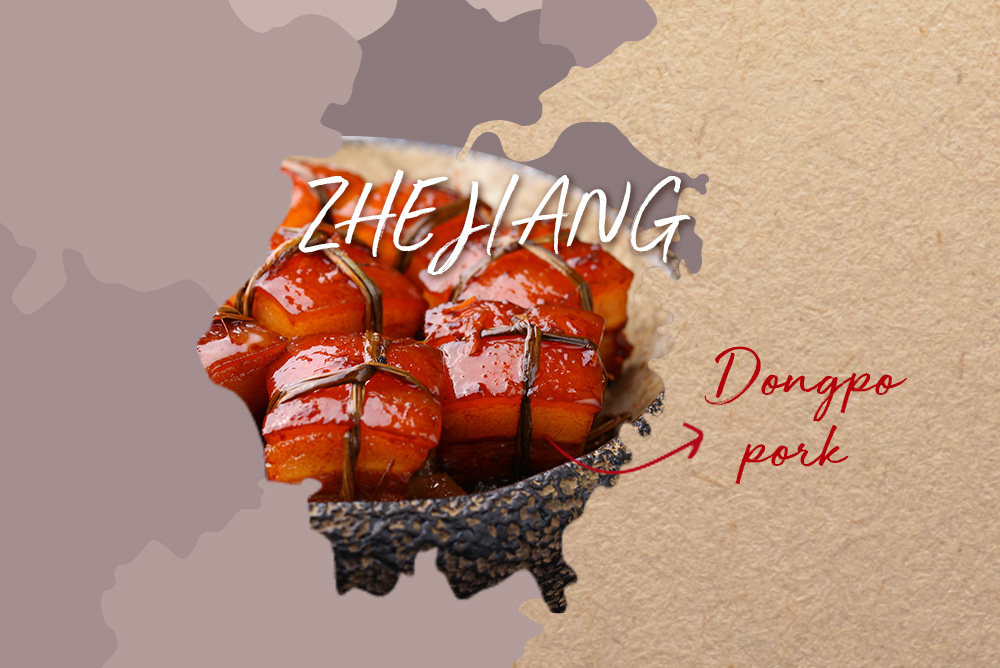 South of Jiangsu is Zhejiang, also a coastal province, rich in seafood from the East China Sea, freshwater fishery from its rivers. It bears the title 'Home of Fish and Rice' and is the top producer in China. Besides fish and seafood, pork, chicken, beef and veggies are enjoyed as well. Shaoxing city, home of Shaoxing wine, is part of Zhejiang. Longjing green tea, one of China's more prized tea, is also grown in this region.
Zhejiang food focuses on the freshness of ingredients, stir-fried, deep-fried, braised, simmered, or roast to enhance the natural flavours. Defining tastes include Hangzhou's sweet-sour sauces, umami Shaoxing fragrance, Ningbo's salty seafood specials, as well as sweet traditional desserts.
Favourites include succulent Dongpo pork, Drunken Chicken, West Lake vinegar gravy fish, and Aunt Soong fish stew.
Fujian & Guangdong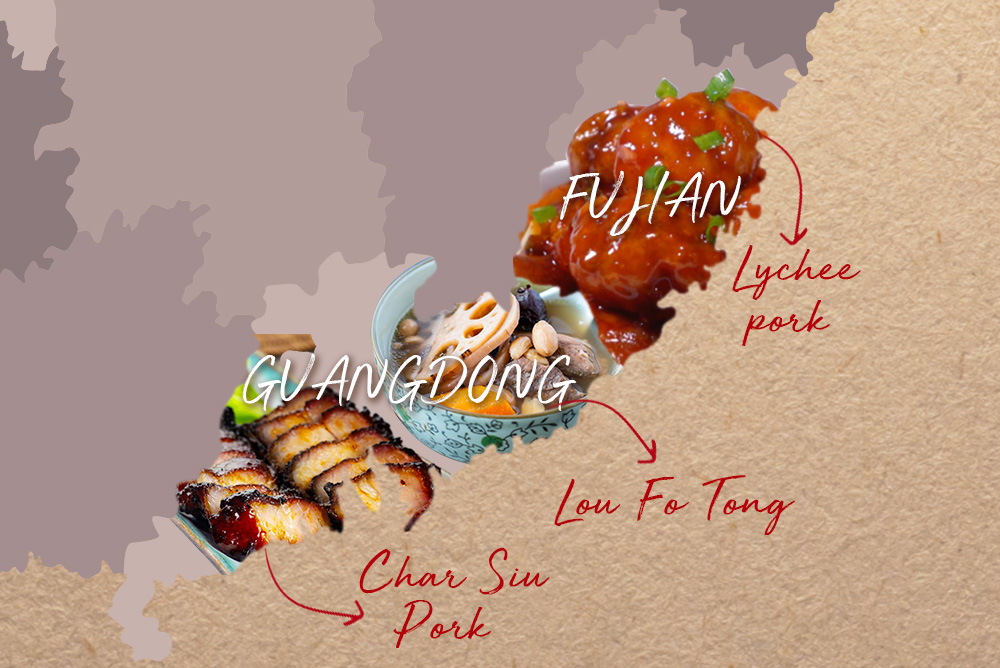 Two southern coastal provinces with two of the most commonly found cuisines around the world: Min Cuisine of Fujian, which deeply influences Taiwanese food; and Cantonese Cuisine of Guangdong.
Fujian is home to Hakka, Hokkien and Teochew ethnic groups and the origin of many migrant descendants in Southeast Asia. Mostly seafaring peoples since ancient times, Fujian food is rich in seafood, especially shellfish; as well as mushrooms, bamboo shoots, lotus, sugarcane, veggies and local fruits. Soups are a must-have in most meals. Other primary methods are steam, braised and fry; with an emphasis on knife mastery, fragrance and subtle umami flavours with combinations of salty, spicy, sweet and vinegary. Signatures include Popiah spring rolls, Lychee pork, Jiuchong rice cakes, and piquant cucumber fish.
Cantonese cuisine is the world's common 'Chinese' food, and the origin of Hongkong cuisine. Its philosophy and techniques mainly strive to accentuate the most authentic flavours with a balance of sauce and condiments. Check out our deep-dive.
Anhui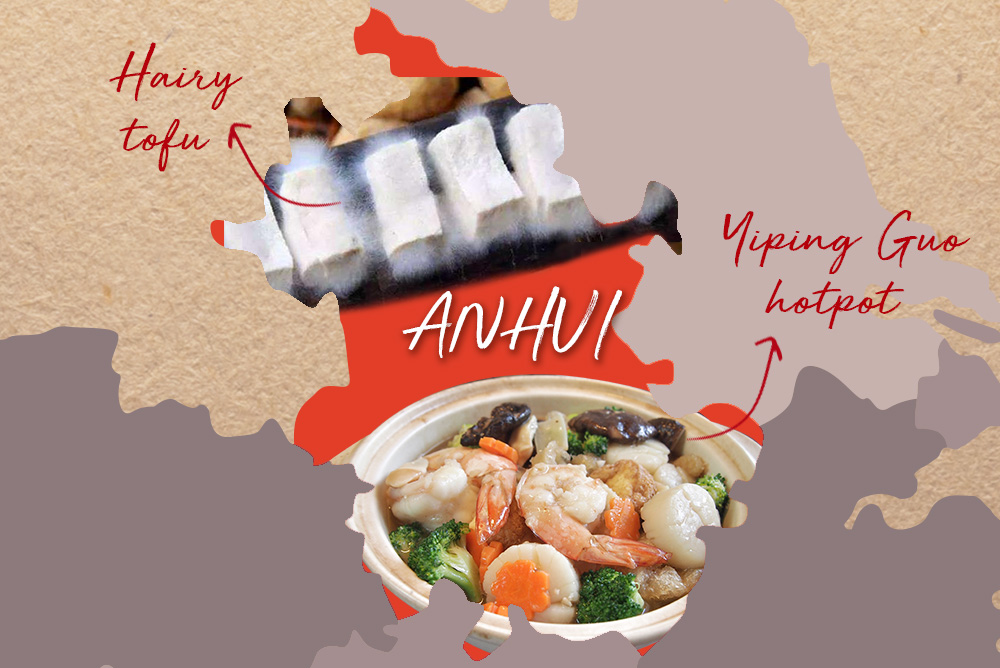 Anhui lies to the east of the southern coastal provinces. A green mountainous province thriving with wildlife, natural herbs, spices, fruits and veggies. With fewer flatlands for farming, the people here rely more on forage and gathering for food. As such, Anhui cuisine uses ingredients that are unique to the land. Braise, simmer, stew, steam, and fry are the main methods, though the tastes are vastly different from other cuisines, often featuring wild herbs. For example, Anhui braise uses local-made veggie oil and coal fire for a characteristic smoky taste.
Staple specials include spicy braised 'Hairy Tofu', sweet-vinegary Yangmei Yuanzi pork meatballs, fresh-salty braised fishtail, and sumptuous Yiping Guo hotpot with layers of bamboo shoots, chicken, duck, meatballs, abalone, mushrooms, vermicelli and assorted veggies.
Hubei & Hunan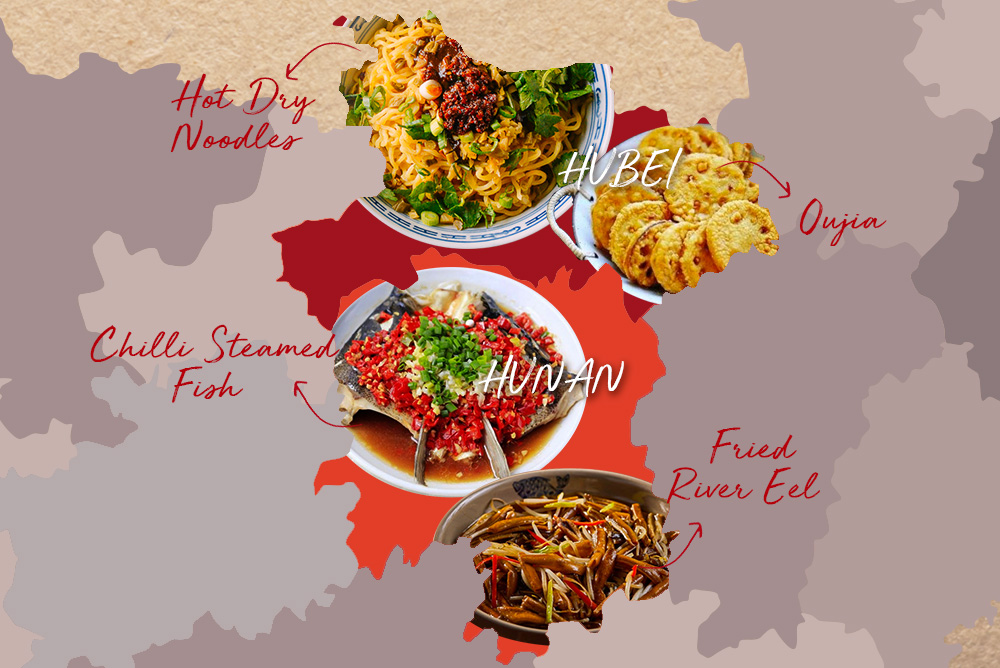 Further inland, in China's southern-centre, are Hubei and Hunan or 'Lake North' and 'Lake South'. But while both provinces are blessed with resource-rich waters, the cuisines are quite different.
Hubei foodies love freshwater fish and lotus root, steamed, soup or fried with umami gravy. The key flavour is a balance of salty-sweet, with nuanced tastes among localized styles, some are oiler and saltier, while others prefer thick sour-spicy gravies. Famed signatures are savoury spicy Hot Dry Noodles, steamed Wuchang fish with chicken essence sauce, and Oujia lotus root sandwich with minced meat filling.
Hunan is where the weather turns humid, and food starts to get spicy. Also known as Xiang Cuisine, Hunan favours dry-spicy and sour-spicy. Chilli is a must-have ingredient in almost every recipe, and even children love the hotness. Traditional dishes comprises three main categories: 'hot-cooked', 'cold-made', and 'sweet-mix'; each with its own set of cooking methods including stir-fry, stew, soup, pickle, braise, etc. Favourites include sliced chilli steamed fish, Zhilong Tuobao spicy fried river eel, and Dong-Anzi stir-fried chicken.
Sichuan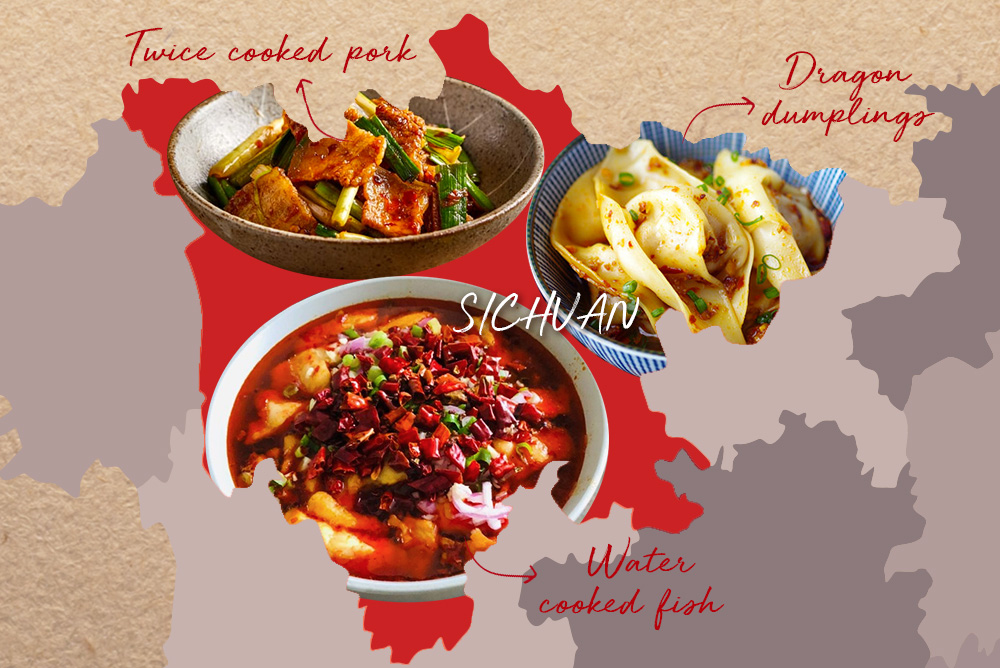 The famed peppercorn capital of China, Sichuan cuisine is best known for 'Ma-la' flavour, or spiciness that numbs your tongue. Even before the introduction of chilli peppers via the Silk Road in the early Ming Dynasty, Sichuan has cultivated peppercorn as a primary spice to ease the humid climate within the province. It is believed that sweat through enjoying piquant savoury food helps the body vent off excess heat and dampness. Today, Sichuan cuisine is renown all over China and around the globe, with Sichuan hotpot, Kung Pao Chicken and Mapo Tofu exciting taste-buds everywhere. But the traditional taste profile is even more complex, blending the numbing piquancy of peppercorn with chilli, bean sauce, ginger, galangal, orange skin and other unique ingredients. Classic Sichuan dishes include Water-cooked Fish, Dragon dumplings, twice-cooked pork, and Dandan noodles.
Guizhou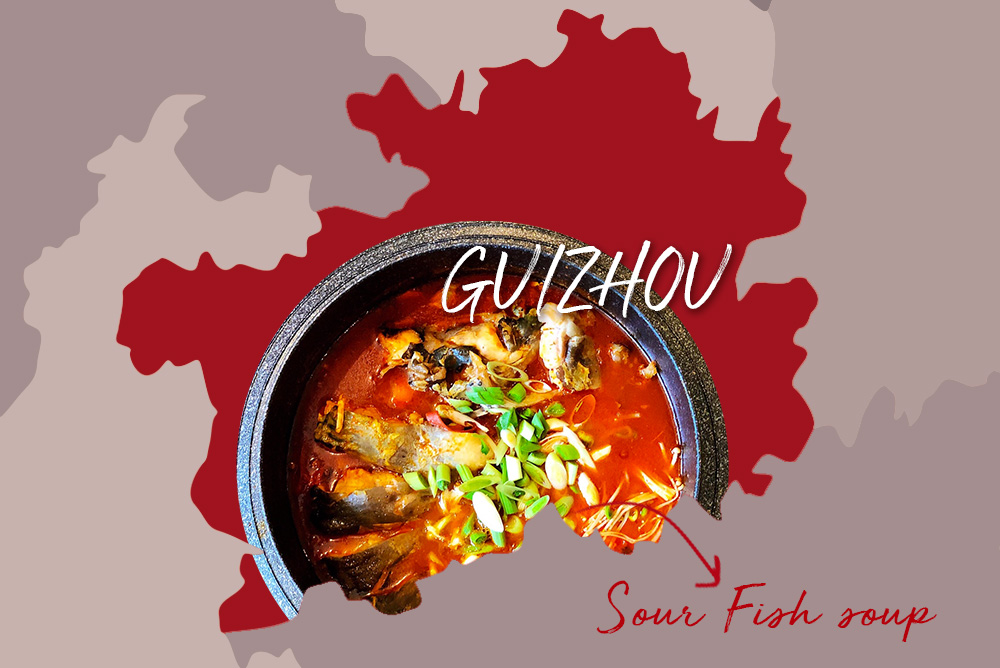 To the southwest of Sichuan is Guizhou, famed for its glorious waterfalls, scenic wetlands, green mountains, charming lakes and traditional villages. Home to the Miao and Dong minority groups.
Guizhou cuisine is an amalgamation of Cantonese, Hunan and Sichuan characteristics, adapted to local ingredients and evolved into its own tastes. 'Hu-la' or heat-dried crushed chilli and 'mochi chilli' paste made by dried chilli peppers ground with ginger and garlic are original Guizhou ingredients, giving the dishes a milder herbal spiciness. Fermenting and pickling food is common, with vinegar as the main preservative that also makes up a core flavour. Thus, Guizhou dishes are often sour-spicy but not as strong as Sichuan 'Ma-la', or Hunan's dry-hotness.
Notable signatures include Sour Fish Soup, Sour Veggie & Red Bean Soup, Qianwei roast chicken, and Zhao La Dai Yu fried fish with crushed chilli gravy.
Yunan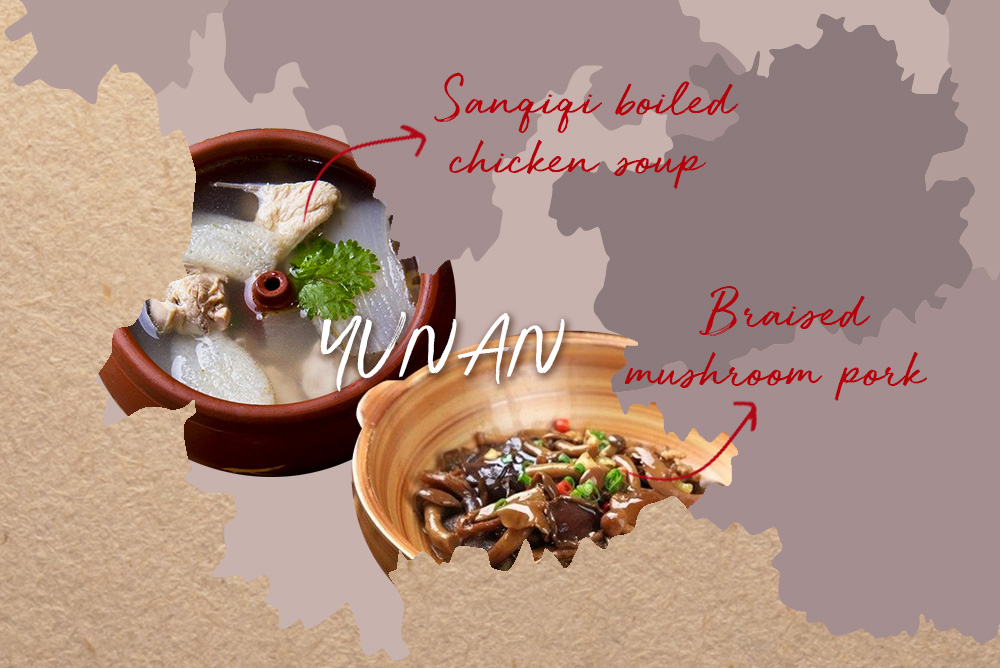 Yunan rests at the south-western edge of China and is most renowned for its beautiful varied landscape of limestone mountains, grand lakes, deep gorges and lush rice terraces; with a near-tropical climate. Bordering Laos, it is home to 25 minority ethnic peoples of China, who combine their own flavours and ingredients with Han Chinese cooking methods, creating a localized cuisine under the umbrella term, 'Dian Food'. Most notably, Dian culinary specializes in flavouring with wild mushrooms, herbs, spices and even flowers unique to the province. This is also one of the few places in China that produce goat cheese.
Some staple Dian dishes are Zhanyi Laji, a curry-like stir-fried marinated chicken dish. Umami Sanqiqi-Guo-Ji boiled chicken soup. Braised mushroom pork. Lao Kunming Chuiguo hotpot with bone broth soup, egg-rolls, ham, vermicelli, carrots, tofu-skin, cabbage, etc.