Domesticated for millennia since the earliest days of farming, chicken is one of the most ubiquitous meats for all cultures in the world. In ancient Asia, royals and the wealthy had savoured it in fanciful dishes, while peasants invented their own recipes unique to the land's ingredients. These delicacies are still enjoyed today, inherited and evolved through the ages.
Here are 6 truly authentic Asian chicken recipes, for you to wow your family's taste-buds, while you regale them with amazing tales.
Drunken Chicken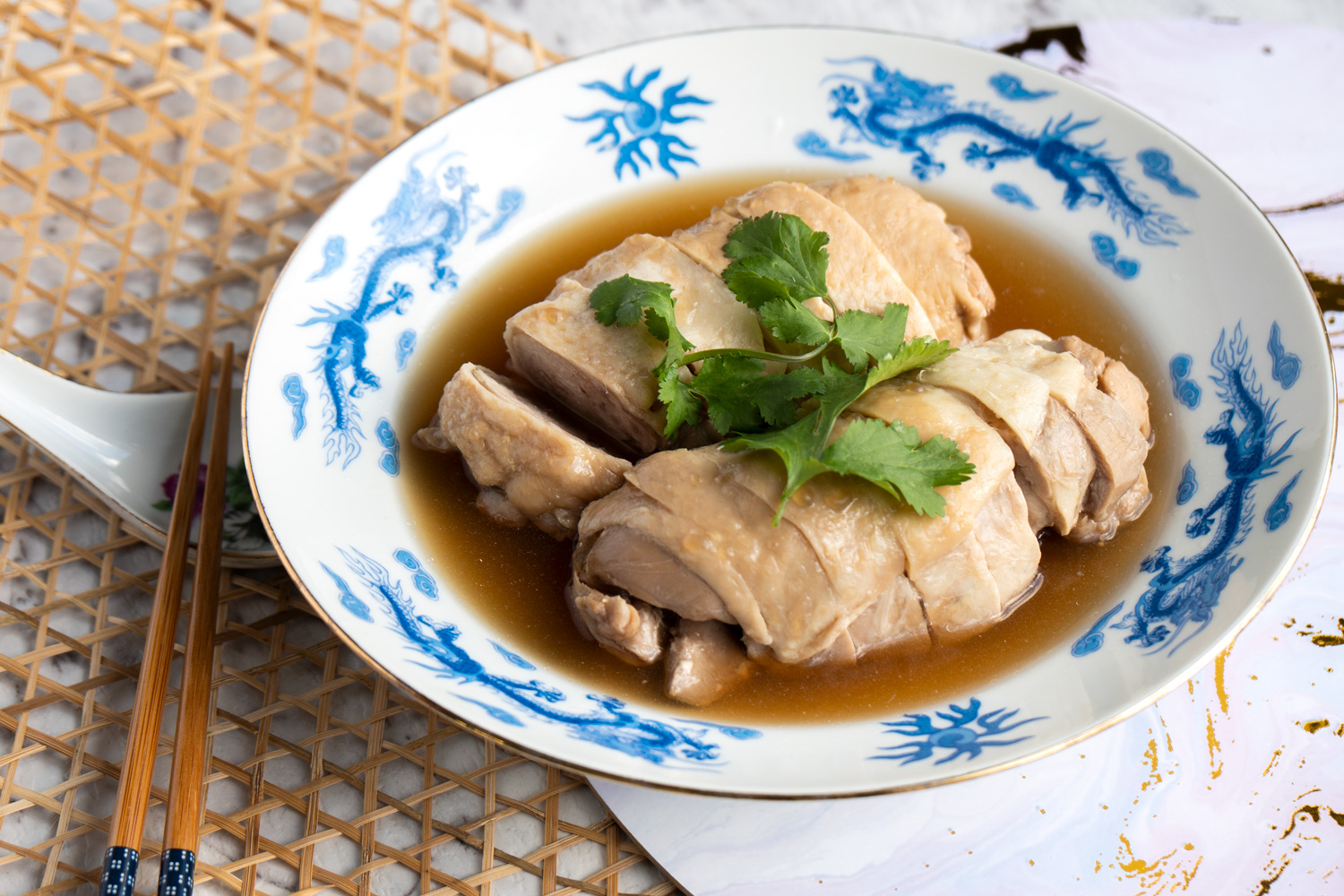 While most Asian chicken dishes are best served hot, Drunken Chicken is a cold delicacy from Zhejiang province of China, and a Lunar New Year dish there. But it has nothing to do with getting drunk or feeding the chicken alcohol. The most ancient method is simply to clean, debone a chicken, steam it, soak it in Shaoxing wine, and leave it covered for three days. The wine keeps the chicken fresh, removes odour, neutralizes the fat, and imbues the flesh with a sweet succulent aroma and flavour. Later recipes also included ginger, salt, goji berries and rock sugar for extra taste; as well as variants with chillies and herbs.
Folklore tells three brothers and their wives who vied to become the household head. The first and second brother married two wealthy ladies who never did the chores, while the third was a commoner who did it all. The brothers knew she was best-suited for the job, but feared the ire of the other two women. So they gave all three a challenge: to prepare a chicken dish without spice or sauce. Three days passed. The first woman made double-boiled chicken coated with its essence, fragrant but the meat was tough and chewy. The second woman served steamed chicken but tasted bland without spices. Then the third woman unveiled her dish, and a rich, appetizing aroma instantly filled the room. The brothers and the wives had a taste and were mesmerized by the tender flesh and the sweet flavour. She had replaced the usual spices with Shaoxing wine, a common household liquor. With that, all were truly impressed, and the third brother's wife became the official head of their family.
Salt Baked Chicken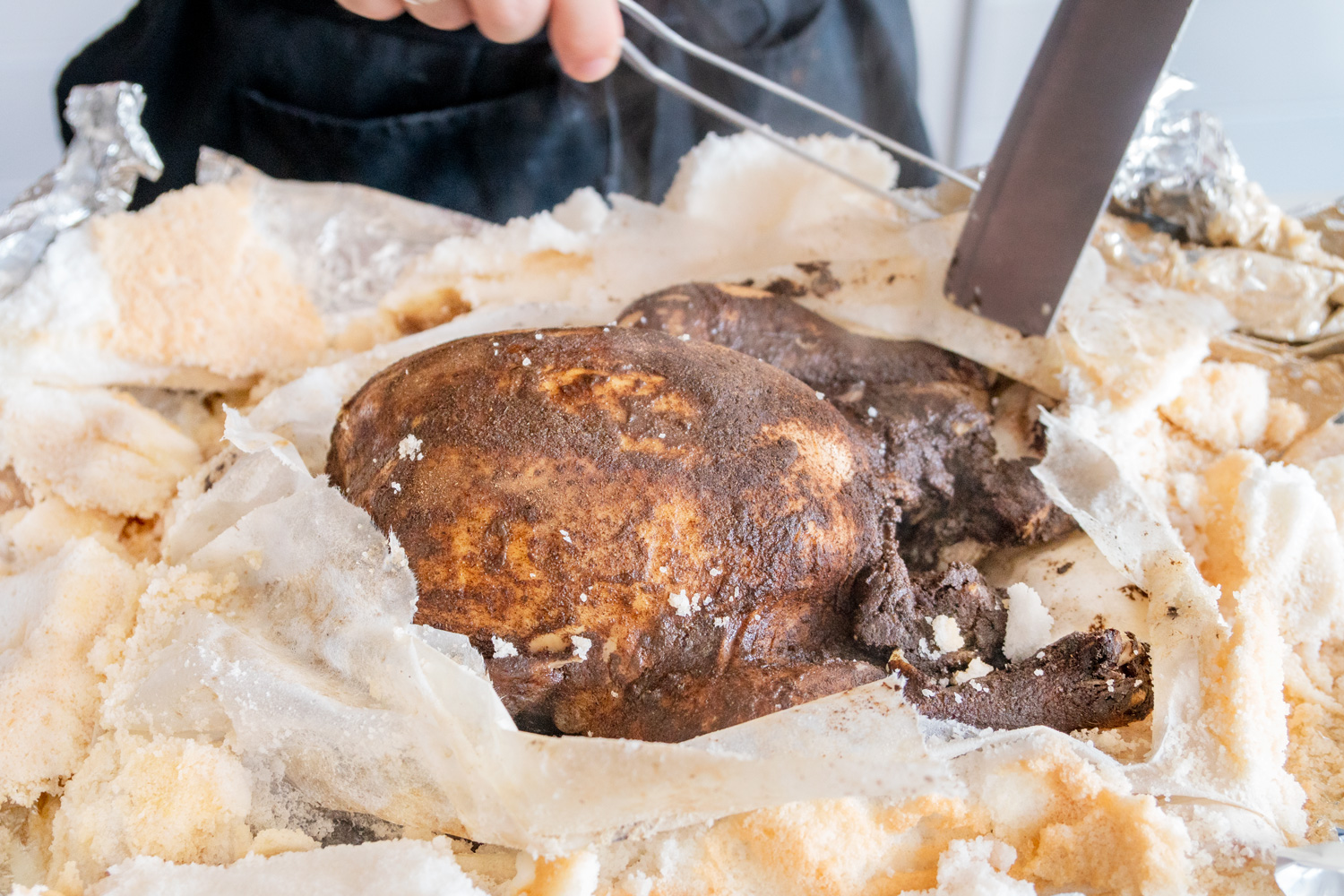 Chicken marinated with salt, peppercorns and five-spice powder, covered and baked to crusty skin, luscious tender meat and briny, umami flavour. Salt Baked Chicken is a Cantonese Hakka classic that has also made its way to Taiwan, Hong Kong, Malaysia and Singapore. A veritable favourite for family meals, with specialty takeaway shops that focus on just this one dish.
It has two origin stories.
The first tells of a merchant who was gifted a chicken as he left a village. A live chicken was hard to travel with, so he had it butchered and steamed, wrapped in brine to keep fresh. He hiked the roads till it was dark and had to make camp. Tired and hungry, he cooked the wrapped chicken over the fire, and thus discovered the mouth-watering aroma and rich salty flavour infused with tender meat.
The second is a tale of ingenuity in adversity. The Hakka were a nomadic people driven from their mountain homes by wars and encroaching royals. They travelled with little provisions and had to endure harsh rejection from other communities. Brine was commonly used to keep meat fresh on long journeys, and the Hakka went an extra step by wrapping it in thick paper, for easy roasting on the road. Thus, the Salt-Baked Chicken was invented, and spread to the lands they walked; eventually became a Guangzhou special when they settled there.
Beggar Chicken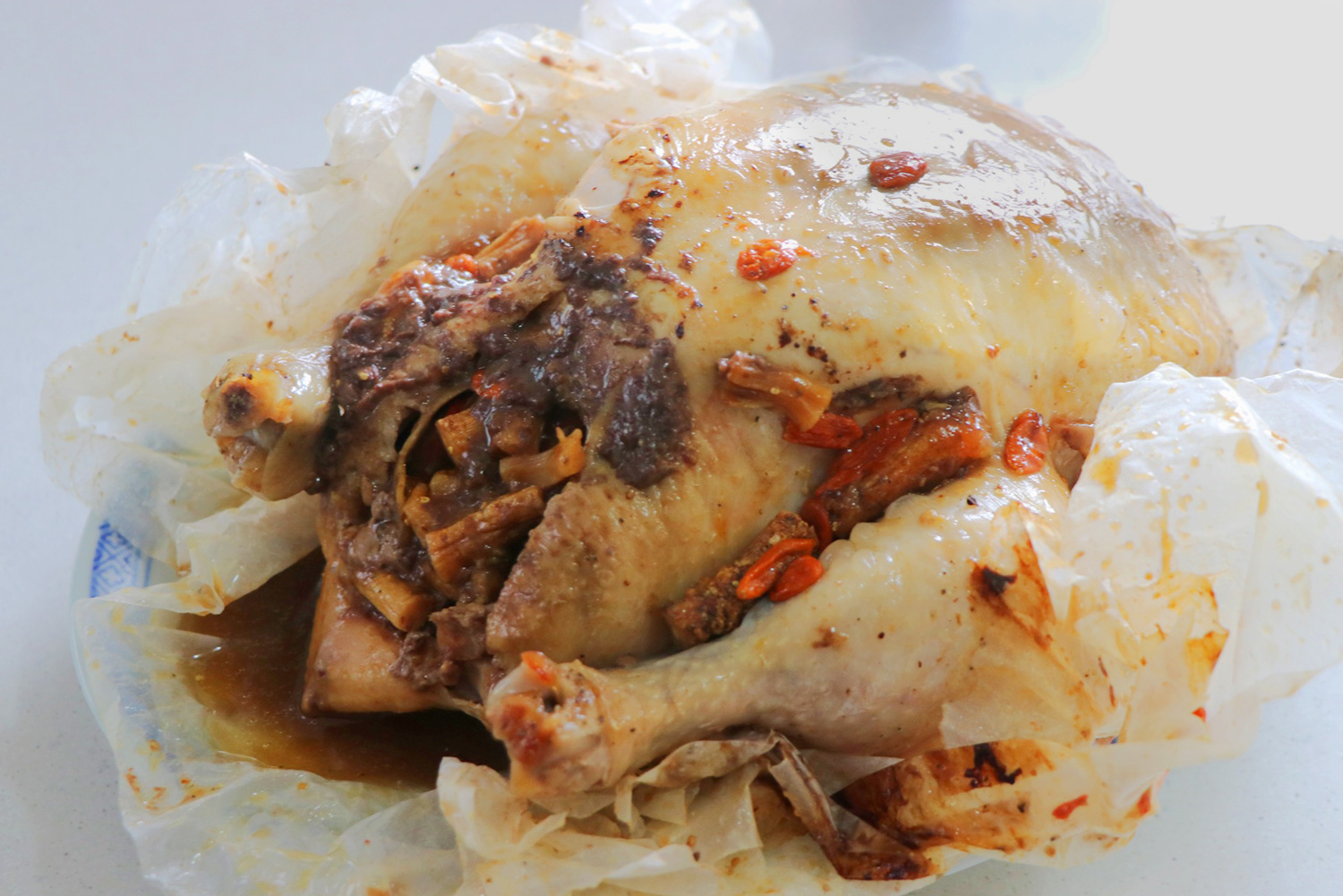 Even beggars need to eat, and this unique recipe tells a tale of one such who caught a wild chicken in his village outskirts. Hungry but with no kitchen or tools, he removed its innards, lathered it in thick mud with the feathers unplucked, started a campfire with dried foliage, and cooked it. The mud heated and dried into a coating that peeled off with the feathers from the well-baked skin, and the aroma was heavenly. He savoured a hearty meal and taught the recipe to others in poverty.
Thus the Beggar Chicken was born, eventually adapted by local chefs to include a rich herbal filling. Traditional cooking still coats the chicken for the oven with a special clay used to seal rice-liquor jars for fermentation. This ensures all the chicken's flavours are concentrated while it is baked, and infuses the herbs with the flesh. A flour dough coating works fine too.
Steamed Chicken Feet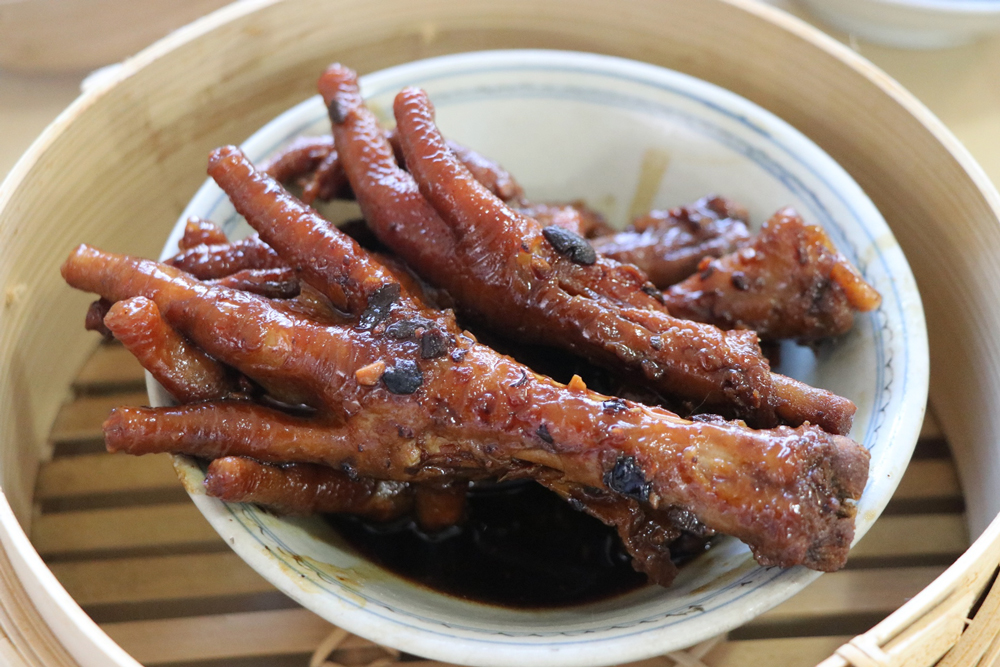 Fung Jao or 'Phoenix Claws' is an example of Asian frugality that espouses a no-waste philosophy. Every part of a food animal can be made into a flavourful dish, including a chicken's feet. The name reflects the Chinese tradition's deep respect for livestock, as the Phoenix is a noble beast in their legends; inspired by the chicken they raised. It is also believed that chicken feet are great for your skin and complexion.
A Cantonese favourite snack is to steam it with a savoury mix of fermented black beans, soy sauce, oyster sauce and Shaoxing wine; often served with dim-sum. But this is just one of many ways chicken feet are cooked and enjoyed. A Chongqing special is to have it preserved with chilli, ginger and assorted herbs; even available vacuum-sealed as a packed snack.
Salivating Chicken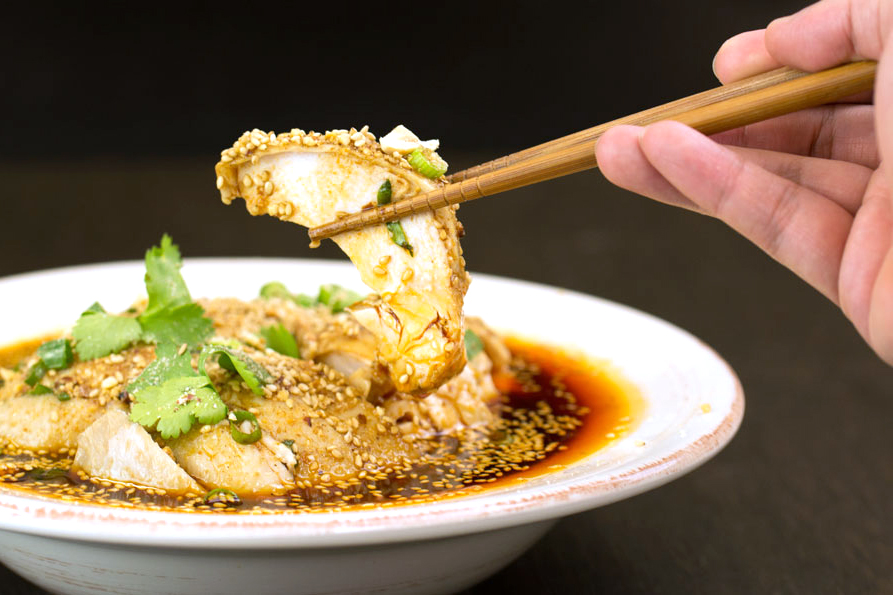 A dish that literally describes how you'll eat it: by slurping and sucking your tongue to the fragrant spiciness of Sichuan peppercorns and chilli mixed oil, with the umami tenderness of chicken boiled with ginger, spring onions and cooking wine.
This is actually the go-to chicken recipe in Sichuan for hundreds of years, a spice-rich province with a cool weather where chilli and peppercorns are savoured to keep warm. The dish eventually spread to all of China, and is so beloved, it has an idiom: "famed across three thousand Sichuan miles, flavours to rival the twelve provinces of Jiangnan."
But the mouth-watering moniker is relatively recent, and 'sort of' came from the astute Chinese historian and archaeologist Guo Moruo (1892-1978). A Sichuan native who had reminisced about the dish which made him salivate in one of his seminal writings. Chefs and foodies popularized the description, and the name stuck till today.
Oyakodon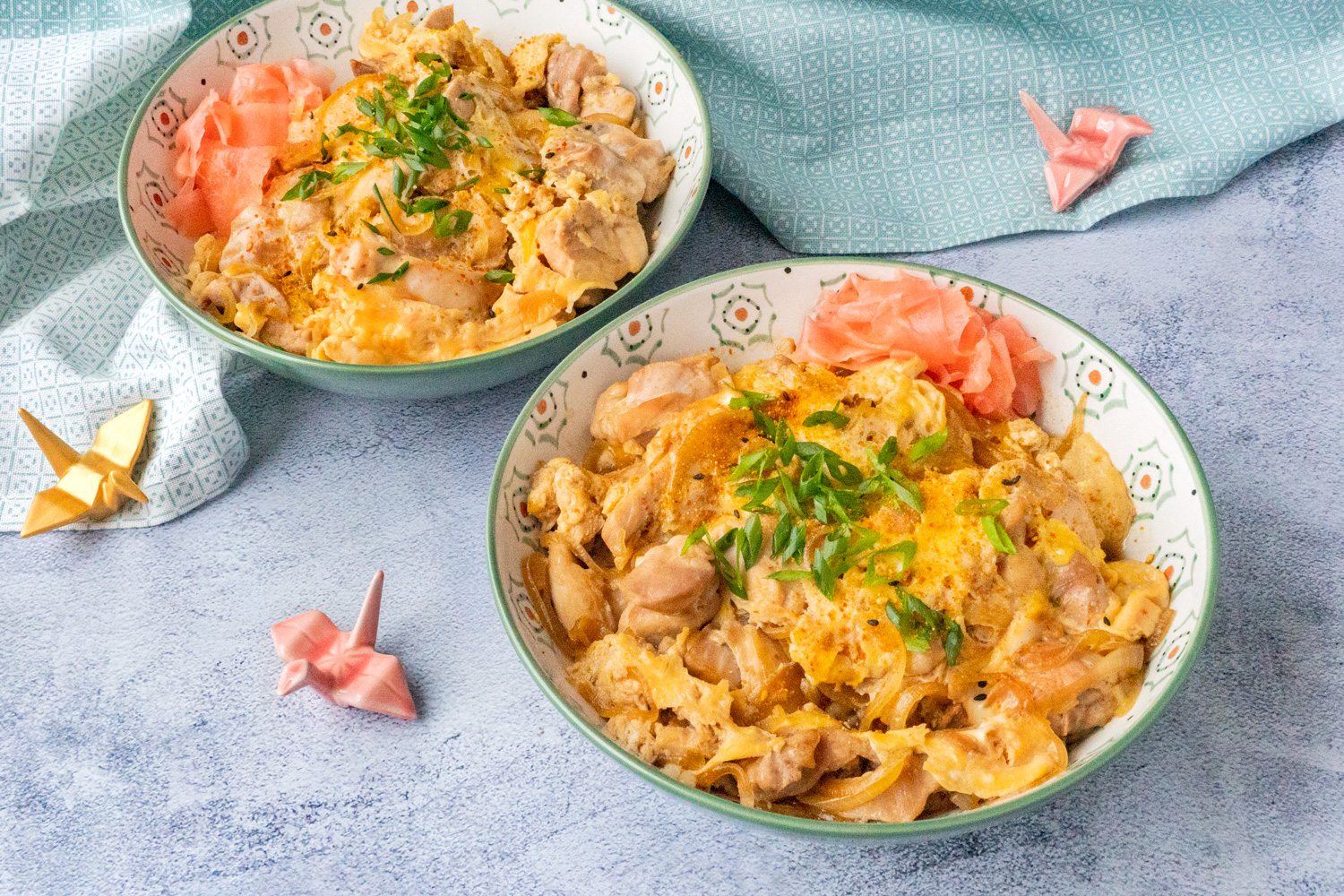 A 250-year old Donburi rice bowl recipe invented by the Tamahide restaurant in Tokyo, still serving with its 8th generation owner today. However, thanks to its simplicity, Oyakodon has also long since become a household favourite for many Japanese families. Chicken fillet slathered with whisked eggs, flavoured with a Dashi sauce mix of mirin and Japanese shoyu, served with steamed white rice.
Its name speaks of familial love that's also in reference to the chicken and egg. Oya means 'parent', and Ko means 'child'.
Things get 'punny' when the chicken is replaced with beef or pork, called Tanindon, meaning 'other people's bowl' or 'stranger's bowl'. Another similar dish with salmon and raw roe is named Sake Oyakodon or 'salmon parent-child bowl'.