Durian is the undisputed King of Fruits in Southeast Asia. Not for its health properties (though there are many), but for its taste – the euphoric sweet, creamy and pure umami flavour that no other fruit nor food in the world can aptly rival.
Jacques de Bourges, one of the earliest missionaries who travelled to the old Siam capital of Ayutthaya in 1662, described the durian thusly: "The flesh is as white as snow, exceeds in delicacy of taste all our best European fruits, and none of ours can approach it."
But the durian is also 'divisive', with its hard and thorny shell-like outer husk, and a nose-biting pungent odour that has inspired all kinds of funky, repugnant allusions. The smell is what turns people away from acquiring its exquisite taste; but once you have, you may always crave for it. Some even say it's the crème brule of fruits.
Thailand has a deep love for Durian, and an illustrious tradition of expert cultivation that has produced top quality durians for centuries. In fact, Thailand remains the largest exporter of durians to this day. Although the fruit has its seasons of growth and harvest, here, you'll get to savour it all year round; with eastern provinces of Chanthaburi, Rayong and Chumphon growing close to 90% of Thai durians.
Durian is rich in potassium which can help relieve fatigue and anxiety; dietary fibre which is great for digestive health; iron that enhances red blood cell formation and improves muscle strength; as well as vitamins C and B complex which help maintain optimal blood pressure, and support your immune and nervous systems. It also contains zero cholesterol and has monounsaturated fats that can lower bad cholesterol in your body.
However, durians are high in calories and sugar, which makes you gain weight if you have too much. Also remember not to mix with alcohol, as this makes your liver work extra hard to metabolise the overload of fats and sugars; and causes body heat to rise uncomfortably. This is why in Thailand and Southeast Asia, durian is not an everyday fruit, but a special indulgence to be shared among close friends and loved ones.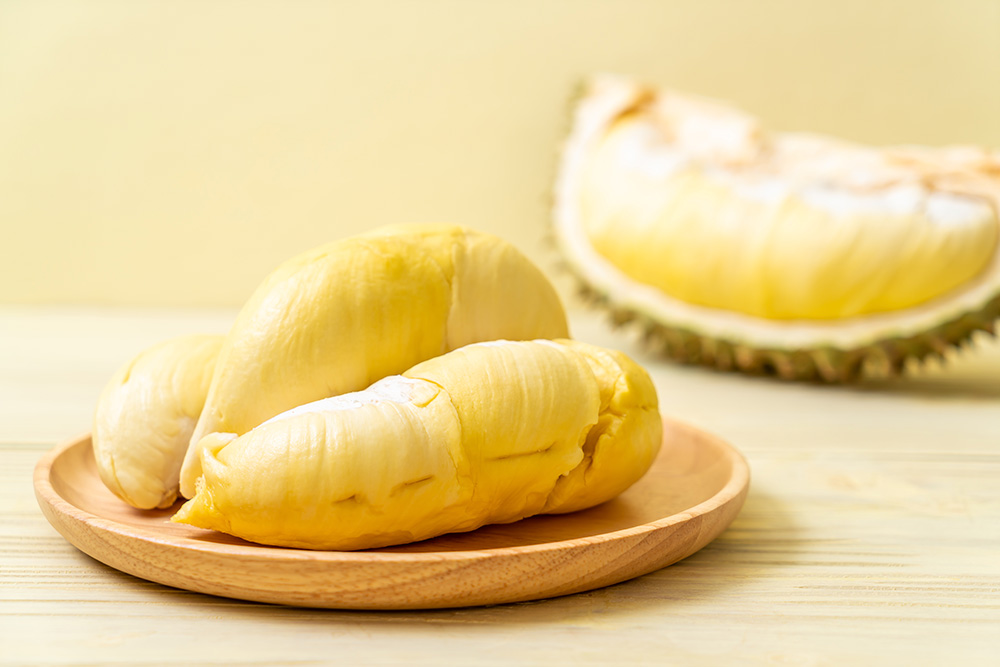 The "Big Four" of Thailand's most favoured durians are:
Monthong, or 'golden pillow', in reference to the tender pale-yellow flesh that's the sweetest of all durians. Also the most widely enjoyed variant outside of Thailand.
Chanee, or 'gibbon' is the probably most common variant in Thailand. Less meaty than Monthong, but rich and fragrant in flavour.
Gradoomthong is shaped like its name, 'golden button'. A smaller fruit that's easy to savour, and no less delicious than others.
Gaan Yao, or 'long stem', is in reference to the tree-stems' shape that bear this unique variant from the lowland riverside orchards of Nonthaburi Province. Recognizable from its smaller thorns, and the well-balanced sweet and creamy flavour, Gaan Yao is the most expensive of Thai durians. A single fruit recently fetched up to US$8,400 at an auction. It's often considered a luxury gift.
Curious about other awesome variants? Come check them out here.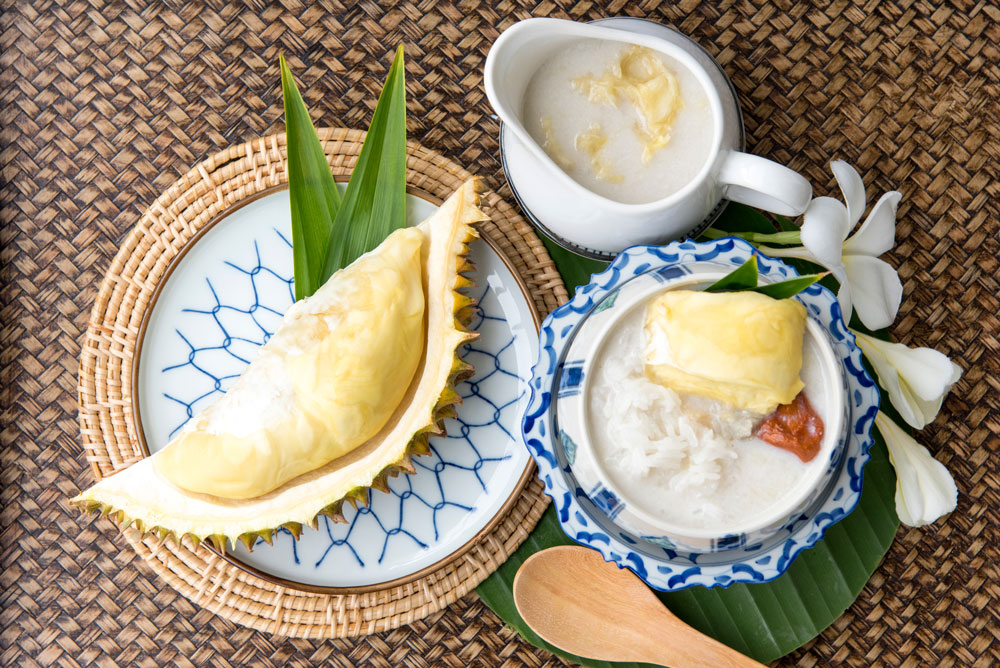 Besides enjoying it whole, durian is also a delicious ingredient in Thai delicacies, snacks and desserts. There are nutrient-packed durian chips that are amazingly addictive. Preserved Durian Guan, a unique eastern and southern Thai treat. The classic Som Tum, by replacing papaya with soft, crunchy unripe durian in this wondrous Thai fruit salad. The amazingly textured and deeply flavourful Khao Niew durian sticky rice delight. Superbly fragrant and mouth-watering homemade durian cakes, as well as yummy durian puffs for the whole family.
Thai durians are usually available at your local Asian supermarket, with the rich yellow flesh vacuum-sealed and frozen in packs as well as frozen whole durians. So, if you're looking for a nutrient-filled exotic fruit, with a flavour like no other, have a wondrous Thai durian today!
*This article is written in collaboration with the Office of Agricultural Affairs, Royal Thai Embassy Canberra.