How to have more meat-free meals, but with the taste and texture of meat? With seitan! The ultimate meat substitute Asians have enjoyed for thousands of years, with the oldest record dating back to the 6th century. If you ever enjoyed a Chinese vegetarian meal, the 'meat' dishes are mostly made from seitan.
What is it?
Seitan means wheat gluten in Japanese. It's called Mian Jin in Chinese, and Milgogi in Korean. Made by washing away all the starch granules from wheat flour, then cooked with vegetable stock, and cooled into a loaf. It doesn't taste like bread though, but has a mild savoury flavour and thick chewy texture, similar to chicken. In cooking, seitan absorbs the flavours of seasoning ingredients, making it versatile for a plethora of yummy recipes. In Chinese cuisine, for example, you can easily switch to seitan for the meat in most stir-fried dishes. You can also marinate it for barbecue, savour it in curries, soups and stews.
As for nutrition, seitan has nearly the same amount of protein as beef, but with far less fat and fewer calories. It also contains iron, phosphorus, calcium, copper, selenium and fibre. In other words, you get to enjoy the flavour and goodness of meat, without the health drawbacks.
How to make seitan at home
So, ready to make your own seitan? Just follow these steps:
Step 1:

Mix flour and water.
Step 2:

Knead into a smooth and pliable dough.
Step 3:

Soak the dough in a large bowl of water. Cover and let it rest for at least 2 hours.
Step 4:

Pour away the soaking water, and refill with fresh water. Then squeeze the dough for 2-3 minutes, until the water turns milky. Replace the water, and squeeze again. Repeat for at least 4-5 times, until the water becomes less cloudy, and the dough turns brownish and elastic.
Step 5:

Drain and squeeze away the water.
Step 6:

Cover and let it rest for about 20 minutes.
Step 7:

Lay the dough flat and stretch it out. Starting from about a quarter at the top of the dough, make two vertical cuts all the way down.
Step 8:

Pleat the dough.
Step 9:

Pinch the ends to seal
Step 10:

Stretch the pleated dough
Step 11:

Fold and knot it up
Step 12: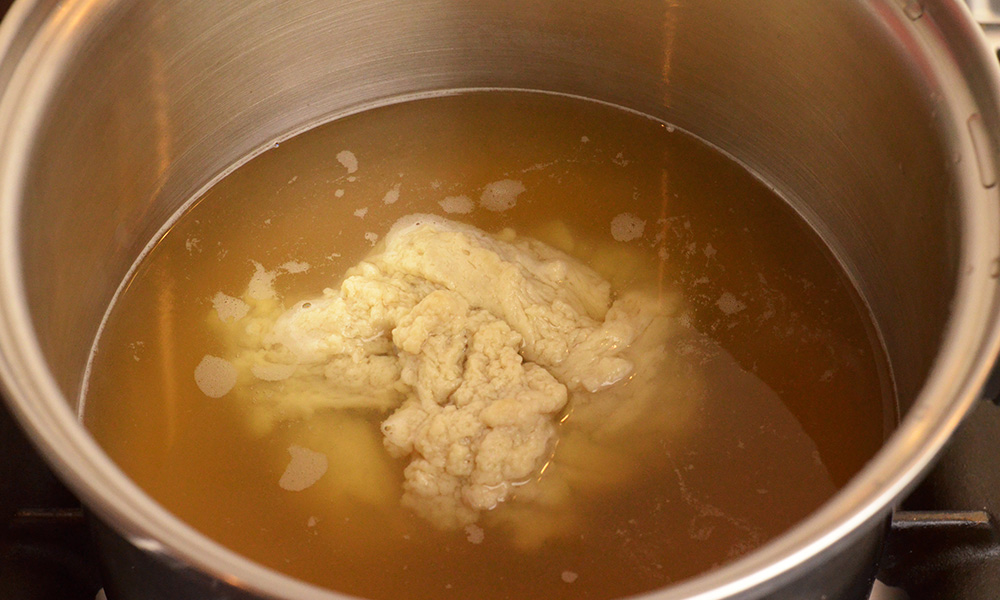 Heat up vegetable stock, put in the knotted dough, and simmer in low heat for an hour. Add dark soy sauce for a deeper colour, or any preferred seasoning for extra flavour. Make sure the stock doesn't boil to avoid trapped air bubbles in the dough.
Step 13:
Switch off the heat, and let it cool completely. Then transfer into a container, and store in your fridge overnight.
Step 14:

Drain off the stock and voila, your seitan loaf is done! You can store it in your fridge for up to 3 months. Be sure to grab this full recipe here.
Delicious vegan recipes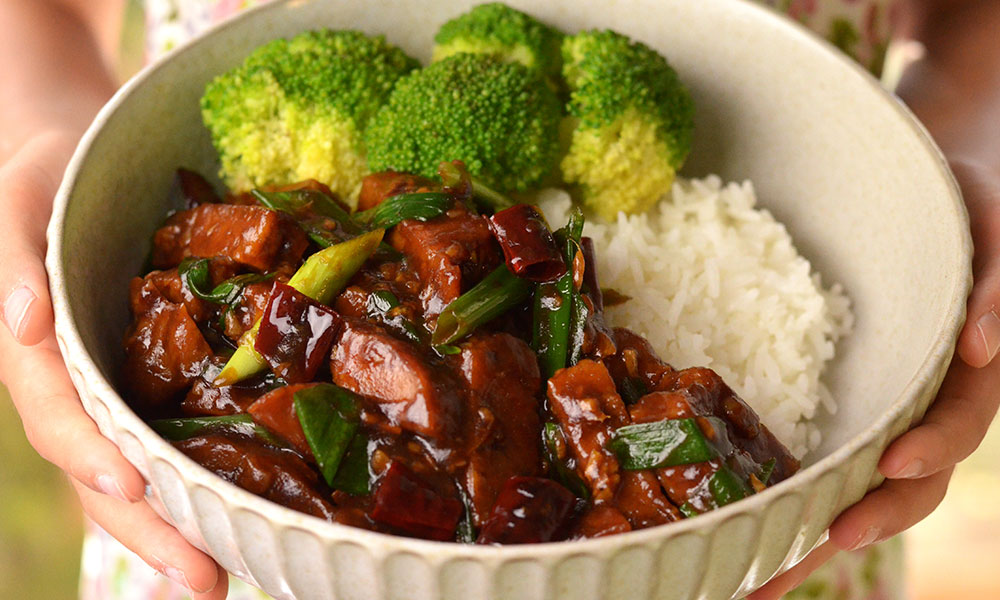 Enjoy your home-made seitan with a richly flavoured vegan char siew, or go umami and sumptuous with a bowl of vegan Mongolian beef and rice! Also check out your favourite Asian takeaways made vegan, and practical tips for a balanced vegan diet. Want more meat substitutes? Try tofu or tempeh!