Thai food is one of Australia's favourite cuisines, loved by chefs, connoisseurs and families alike; with more dedicated restaurants per capita outside of Thailand than anywhere else in the world. Those who have been to Thailand and savour the food will surely remember the flavoursome textures, colours, aromas and taste-combinations that define 'Thai-ness' to the tongue. Maybe you long to revisit that special taste, and have yet to truly find it? But although some purist foodies may say that genuine authentic flavours can be only be found from the source, many Thai restaurants in Australia are in fact, helmed by true Thai chefs; bringing their unique skills, cultural influence and distinctive recipes to the table. Plus, with Australia's abundance of fresh produce, Thai chefs have the best ingredients to recreate your favourite dishes.
So, how to know that you're tasting the real deal? Just savour these 5 delicious staples.
Tom Yum Goong
Warm, hearty soup defined by its rich, zesty, aromatic taste, and the piquant burst of sweet-sour-spicy excitement with every sip. Tom Yum Goong is exceptionally Thai, with no equivalent dish from any other culture. It thrills and lingers with layers of aftertaste flavours, and grows with more depth as you savour. The absolutely key ingredients that provide its taste and fragrance are lemongrass, galangal and kaffir lime leaves; as well as chilli, shallot and fish sauce. Spot that special blend of fragrance and richness on your tongue, with the delicious balance of all the flavours above that, makes an authentic Tom Yum Goong.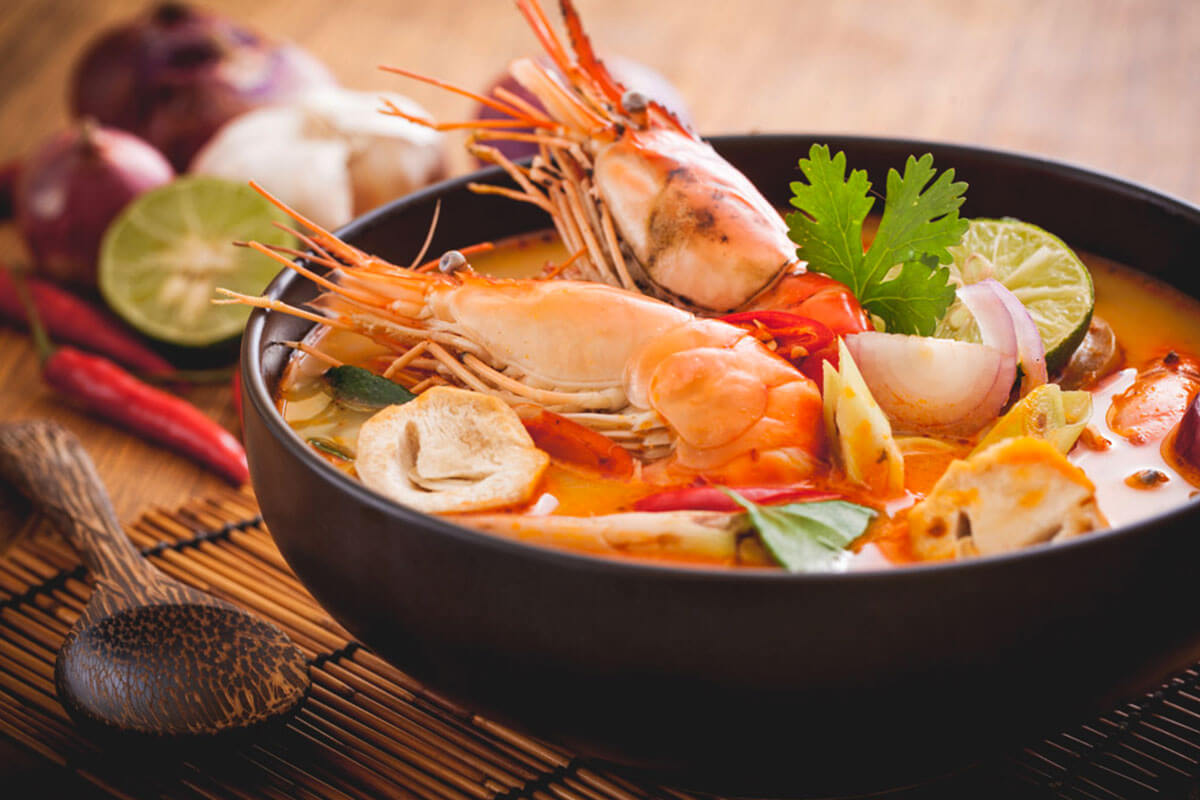 Green Curry
Creamy natural green from the colour of bird's-eye chilli, mellower than other Thai curries, with a deep herbal aroma that blends subtle sweetness and rich spiciness; Thai Green Curry amalgamates the flavours of its broth with its meat ingredient, usually chicken. The curry paste gives its key flavours. Garlic, shallot, galangal, cilantro roots, lemongrass, cumin and coriander seeds, pounded into a thick, fragrant mix, with added shrimp paste to combine and coalesce the flavour. Boil water, add in the curry paste and meat or vegan ingredients of choice, and cook till tender. For the final sweet touch, some may use sugar, but traditional Thai cooking calls for coconut milk. The signature of a true Thai green curry is its warm velvety, sweet-spicy broth that wraps your tongue as you chew into the rich, flavourful meat.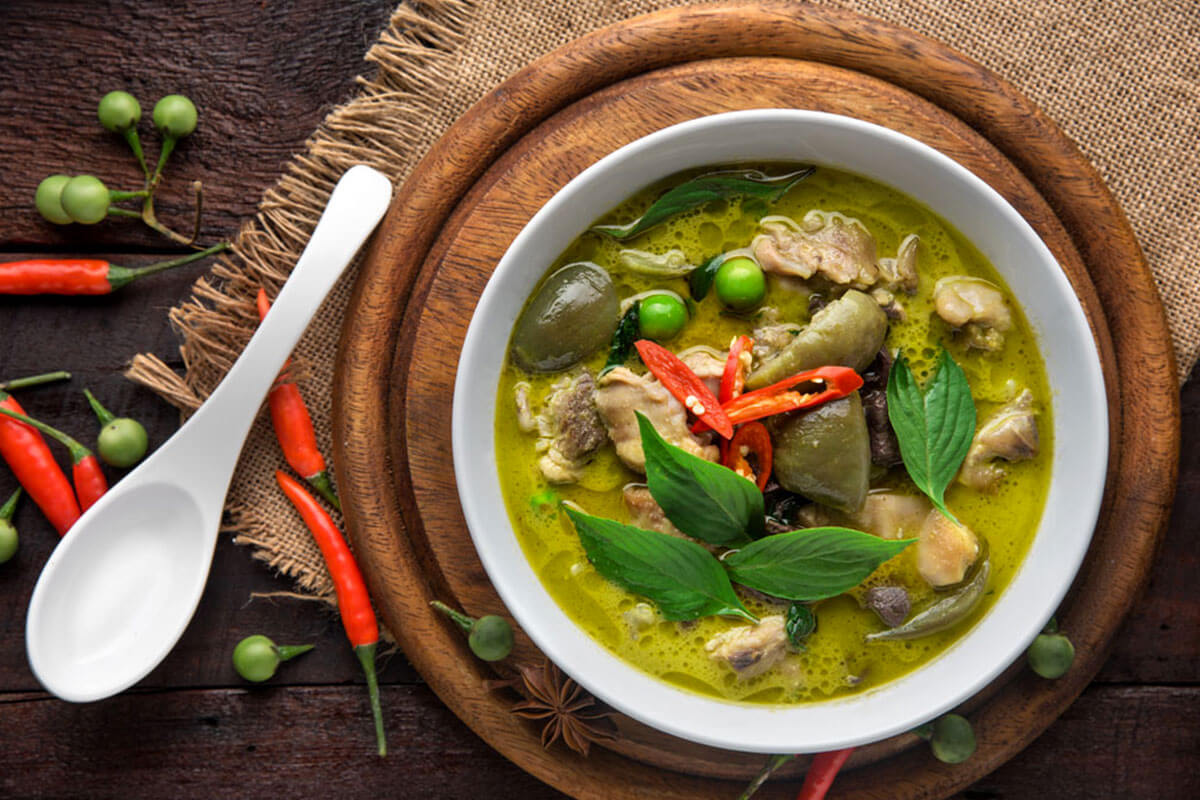 Pad Thai
Probably the most popular dish among Aussies, and the national street food staple of Thailand, everyone loves a good Pad Thai. Stir-fried rice noodles with egg and a unique sauce of tamarind paste, fish sauce, dried shrimp, garlic, chilli and palm sugar. Its texture is smooth and chewy. Its characteristic flavour is a vibrant blend of umami sweet, served with a sprinkle of crushed peanuts and a slice of lime to squeeze for a sour touch that completes its taste profile. With these base ingredients and adequate stir-fry skills, the Pad Thai is actually a versatile dish, allowing multiple variants with meat or vegan ingredients. A good Pad Thai is warm, appetizing, never too-greasy, and richly umami.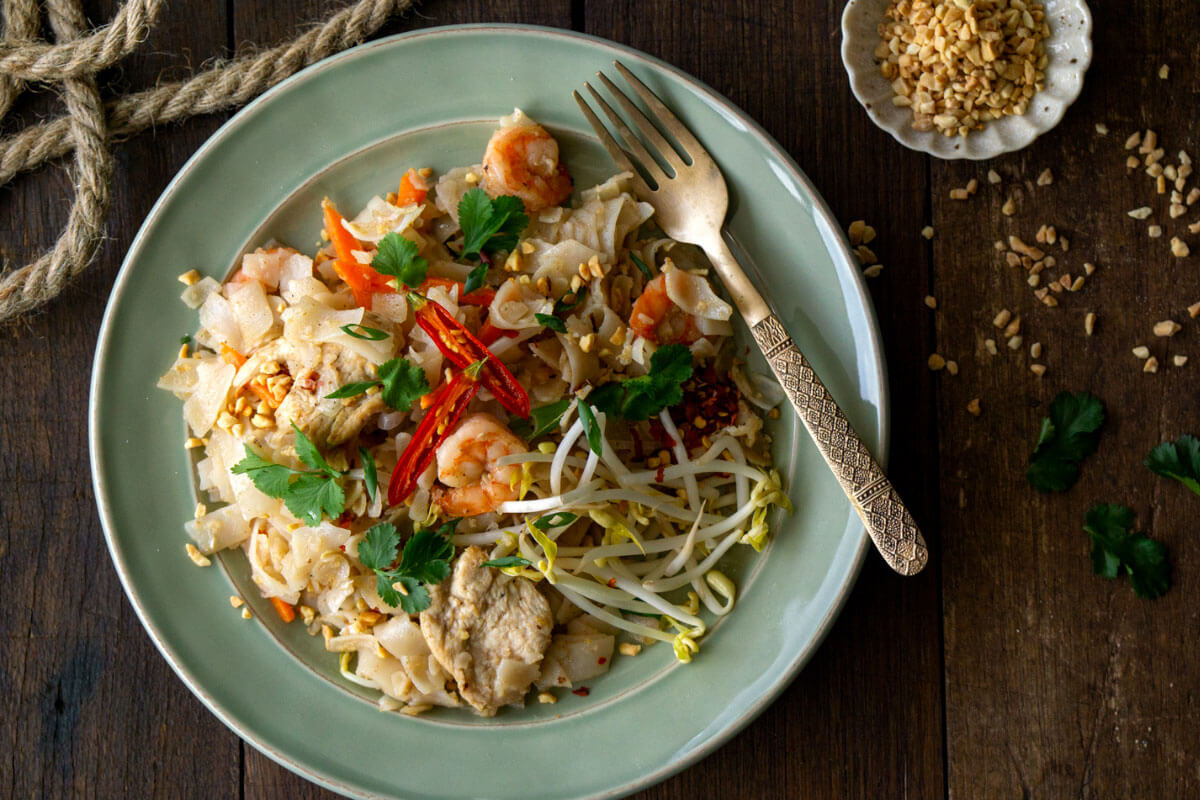 Massaman Curry
Massaman curry dates back to the Persian influence in the 17th Century during the old Ayutthaya kingdom, when Arabic traders came to Southeast Asia, and brought along their culture and cooking. The method of simmering meat till tender, with blend spices to create a thick creamy gravy, was soon adapted with Thai ingredients into the Massaman curry, enjoyed to this day. Shrimp paste, lemongrass, garlic, shallot, cardamom, roasted cumin seeds, peppercorn, dried chilli and coriander seeds; pounded into its unique paste. The paste is fried traditionally with lard, then chicken, beef or lamb simmered in coconut milk, and the two gradually mixed and cooked to a thick, reddish broth; added with shallots, fish sauce, a dash of tamarind paste, and a squeeze of bitter orange juice. Creamy on the tongue, piquantly aromatic, complex and sumptuous are the signatures of Massaman curry.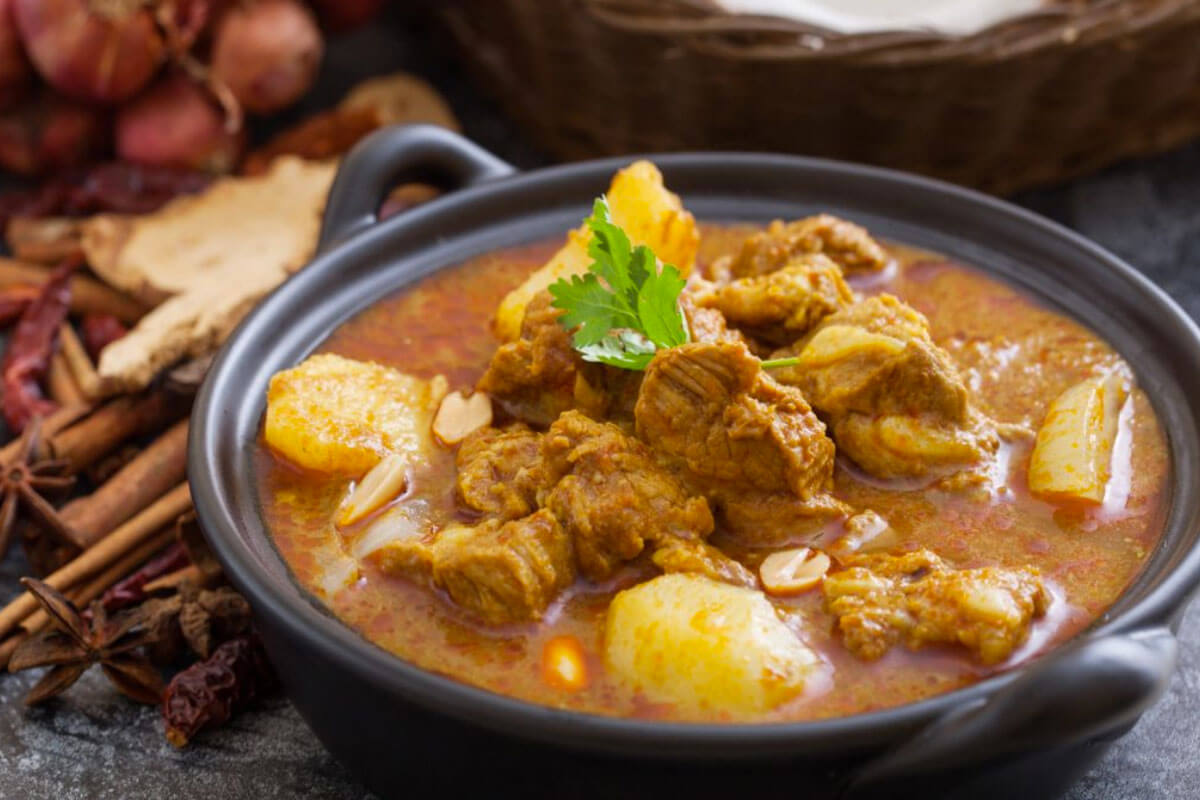 Stir-fry Chicken With Basil
While other staple dishes are perhaps more popular in Australia, for Chef Sujet Saenkham of Spice I Am restaurant, the holy basil and minced chicken stir-fry (Pad Kra Prao Gai Sap) is the quintessential dish that showcases the individual authenticity of its chef. Rich in flavour but surprisingly simple. Holy basil, Thai chilli pepper, and garlic; diced and stir-fried with fish sauce and minced chicken. The result? A blend of mildly spicy flavour and herbal aroma, with the warm, chewy mouth-feel of minced chicken meat, best enjoyed with rice. If the heat from the chilli peppers lingers under the rich fragrance and umami taste, you know the dish is made right.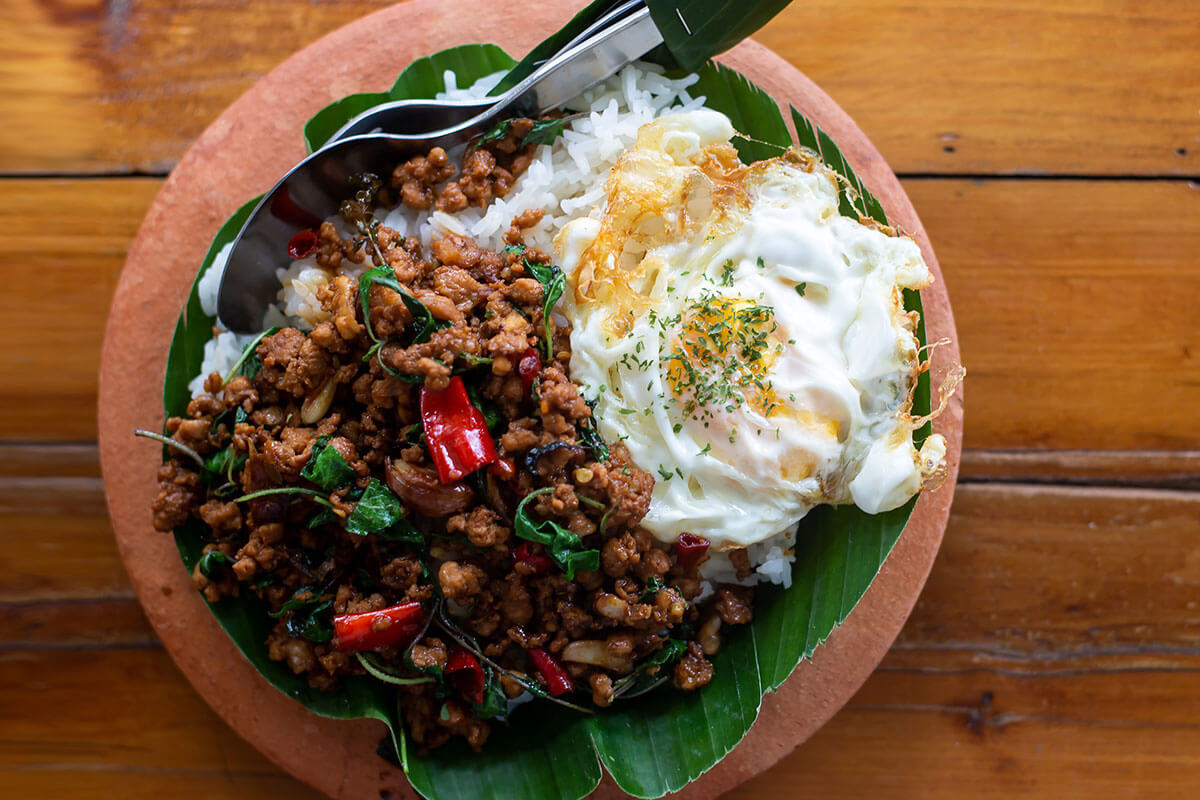 Authentically Thai
Want a way to spot a good, authentic Thai restaurant? Look out for the special "Thai SELECT" stamp!
"Thai SELECT" is a seal of approval granted to Thai restaurants overseas by the Department of International Trade Promotion (DITP), Ministry of Commerce, Thailand to increase the recognition of quality Thai restaurants around the world. It also encourages Thai restaurateurs to raise their quality while maintaining the authenticity of the Thai food they offer.
So anywhere you travel, look for the stamp of approval "Thai SELECT". It assures you that delicious Thai cuisine is being served in a pleasant atmosphere, and with the famous Thai smile. It's not just a meal; it's a journey into Thai culture. "Look for AUTHENTIC THAI CUISINE, look for Thai SELECT."