From home kitchens to restaurants: every chef is different, and even the same dish can have a myriad of personal variants. For Chef Sujet Saenkham, this is especially true for Thai cuisine.
"I think the charm (of Thai food) is the passion behind every meal. We plan for whom we're cooking for, whether it's a community event, religious offering, or to the tastes of our family and loved ones."
Born and raised in a rural village in Central Thailand, Chef Sujet had begun helping out his mother and grandparents in the kitchen since he was eight, preparing meals for his large family while the other adults worked the paddy field. Every family meal was a feast, and Sujet's daily kitchen chores grew within him the love of sharing the best flavours that everyone could enjoy. The same passion had brought Chef Sujet to Australia to open his first restaurant, Spice I am in Surry Hills, Sydney.
The freshness of ingredients is paramount in Thai cuisine, and Sujet believes home-grown ingredients are the best options. But although being a chef far from his home is challenging, the abundance of fresh produce all-year-round in Australia makes it perfect for preparing fresh, authentic Thai food.
"The amount of (Thai) ingredients available here are amazing. You can make fresh curry paste from scratch, or with ingredients from your own farm."
For Sujet, Thai culinary is about cooking up delicious, aromatic dishes that are appetizing, pleasing, and delicious with a balance of flavours; while also keeping it healthy, and with a personal touch.
Take the classic stir fry basil chicken:
"Everyone cooking this dish has its own style. So you can enjoy the (individual) authenticity of the person who cooked it."
And, speaking of personal touch, here are Chef Sujet's uniquely authentic recipes:
Choo Chee Salmon
"Choo Chee is a special treat for people in rural Thailand. But In the city, we have easier access to ingredients like prepared coconut milk. We usually use salmon but other seafood like king prawns, or deep-fried whole snapper is perfect too."
While Choo Chee is commonly translated as 'curry', it is actually a richly piquant red curry gravy sauce that uses coconut cream, different from the soupy red curry that uses more water. Sprinkle some diced chilli and kaffir lime leaves to enrich the zesty aroma.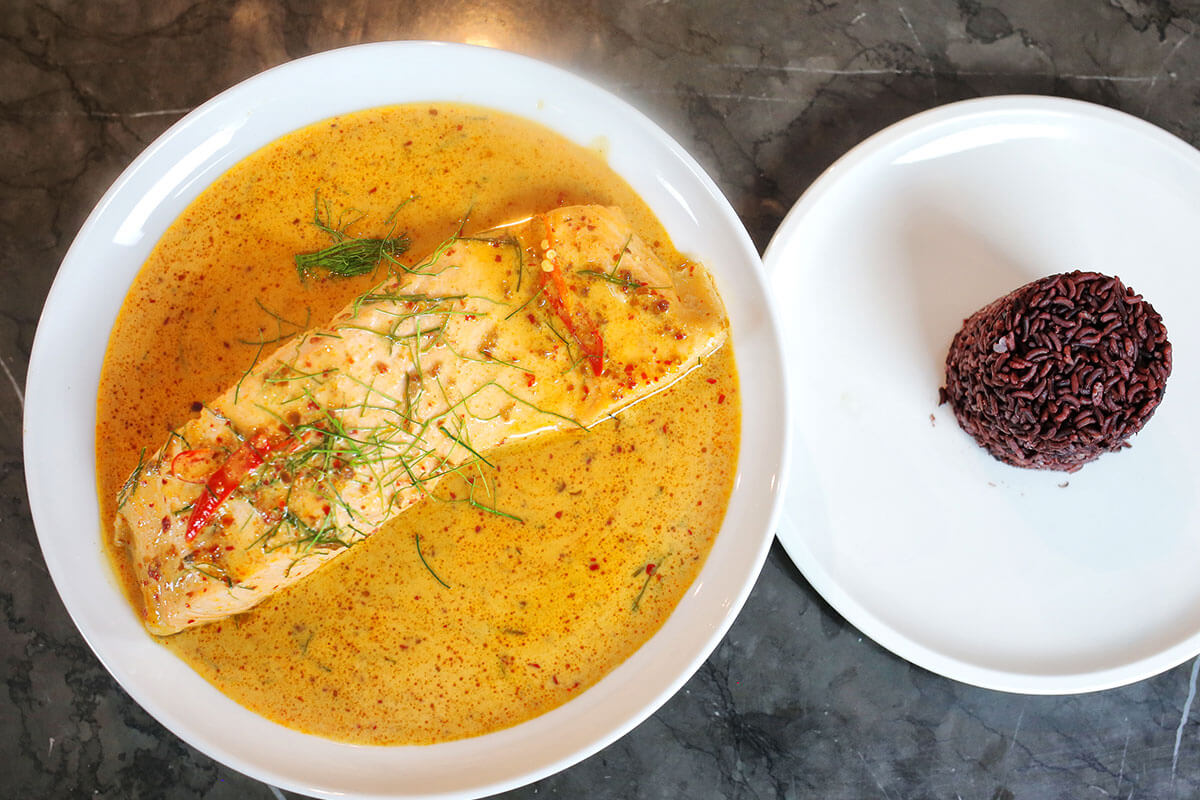 Pad Prik Khing Goong
"This uses the common Thai red curry paste in a stir-fry, with the addition of palm sugar and fish sauce."
A delicious stir-fry shrimp delight with a strong citrusy fragrance, topped with julienne kaffir limes and pork cracklings. Alternative, you could also replace the cracklings with crushed cashew nuts.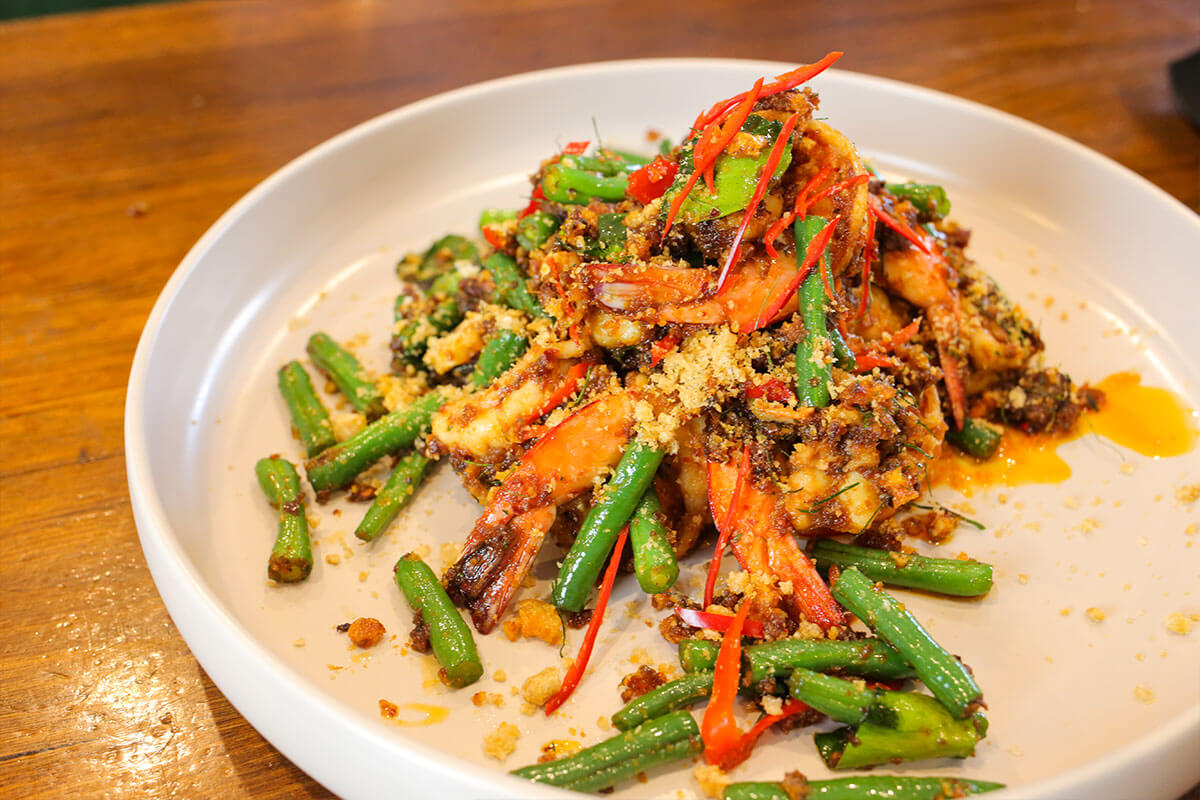 Kai Phra Athit
"An 'Egg' is a common ingredient of Thai food. Today, it is my great honour to present a special Egg dish from the Royal Menu of His Majesty the Late King Bhumibol. It is a creative but simple idea, with easy ingredients that you can find at home; egg, rice and sauce. It is suitable for both children and adults because of its excellent nutritional value. Enjoy the delicious taste of this simple dish with is a shining example of the "Sufficiency Philosophy".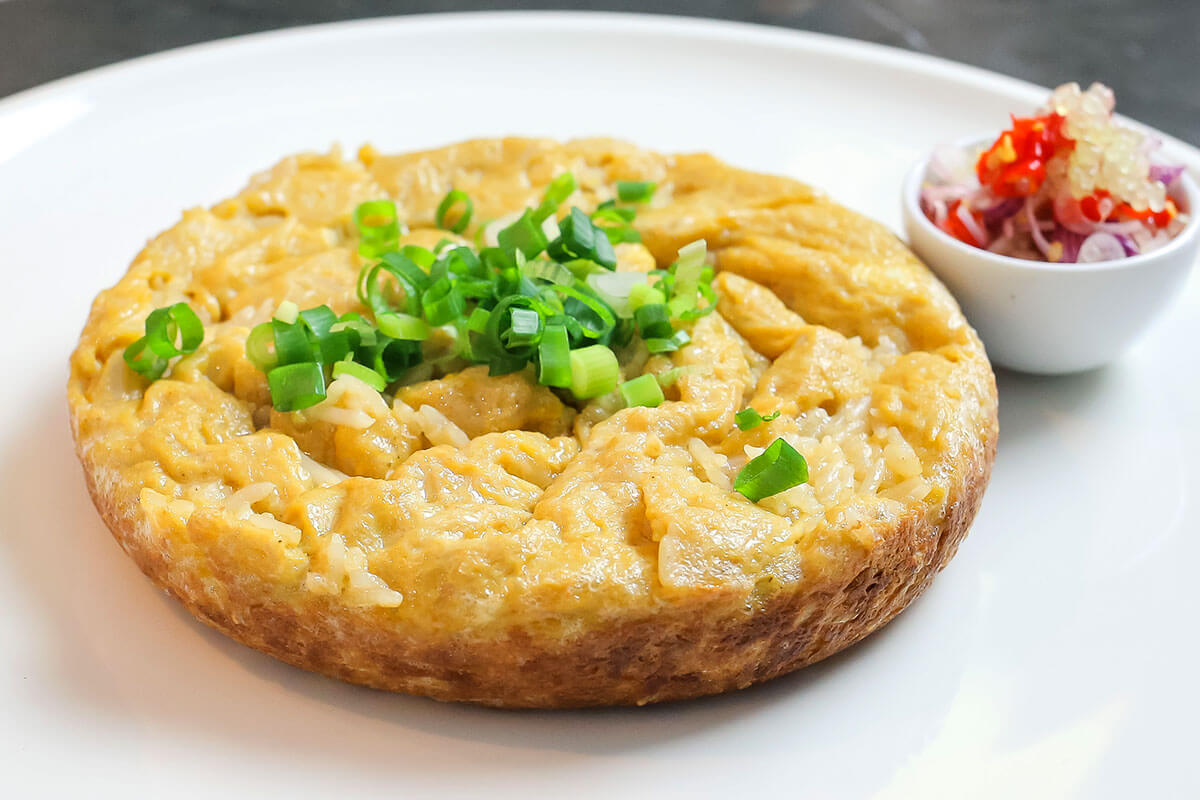 Tom Yum Goong
"(In Australia,) it is easy to get Thai herbs and spices. So you can cook this famous Thai soup any way you please. You can replace the prawns with fish or chicken. Chicken with bones is particularly good."
There are more versions of Tom Yum in Thailand. Some add evaporated milk for a creamier soup. Some may roast the ingredients first then add coconut cream.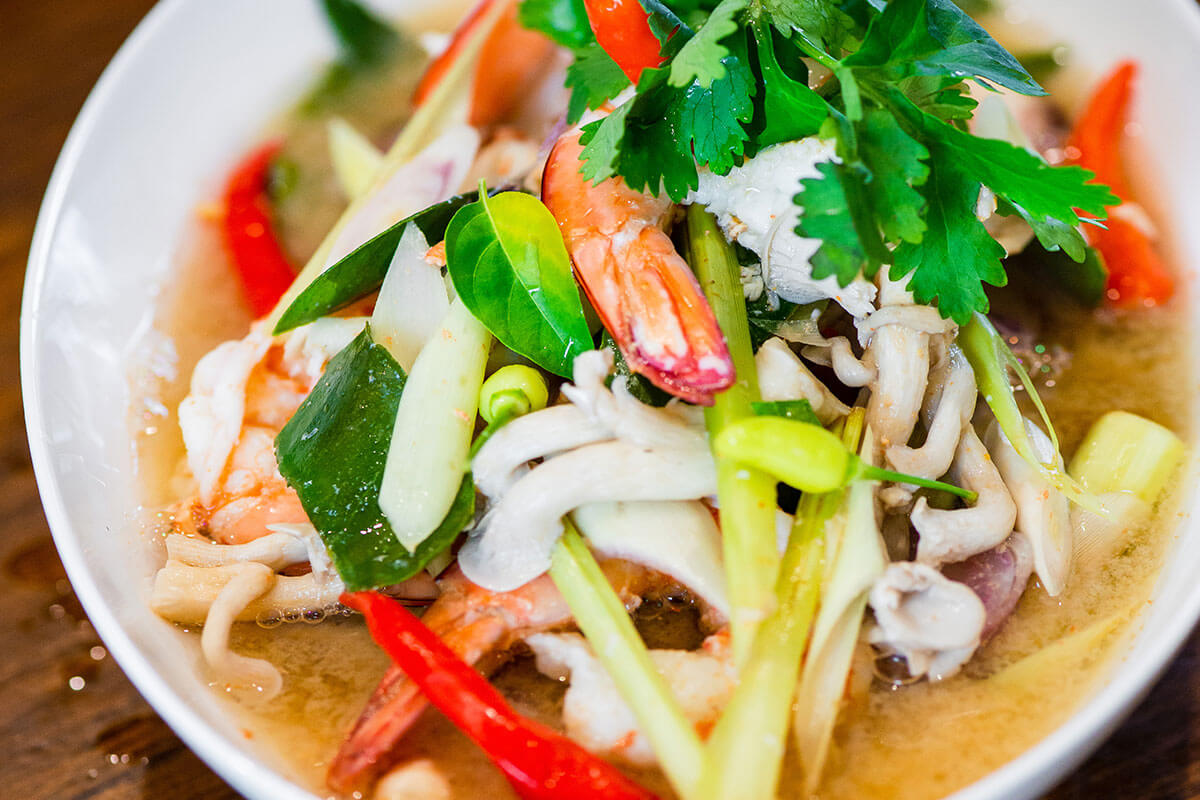 Thai Sweetcorn Salad
"The wonderful fresh sweet corn you can get here is perfect for this salad. It's similar to making a green papaya salad. You can enjoy spicy, sweet and sour in one dish."
A low-fat Thai salad that's yummy and exciting with all-natural ingredients. You can also switch the sweetcorn to julienned green apple, pear or green mango.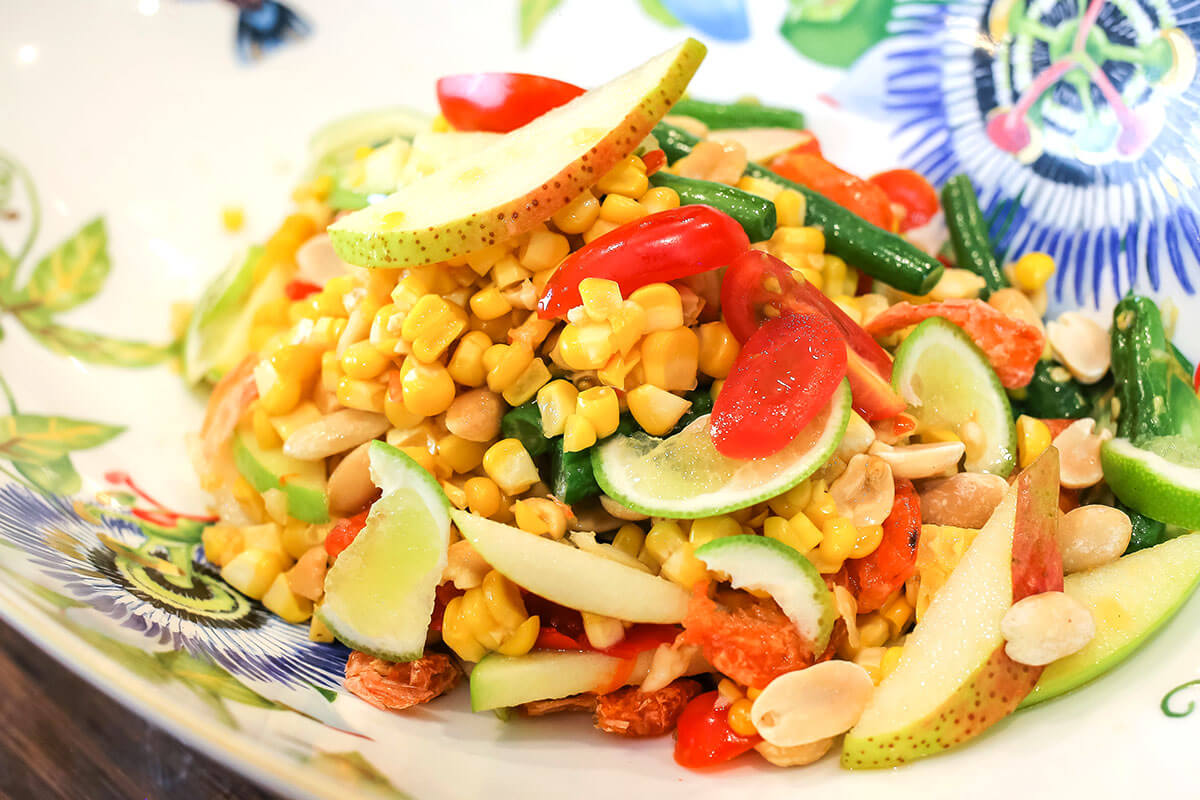 Kluay Buat Chi
"A warm dessert for the cool weather. You can replace the banana with purple sweet potato or butternut pumpkin."
A smooth and fruity delight with the nutty taste of coconut milk and the sweet goodness of bananas. Coconut milk also gives you more nutritional benefits and is a great source of healthy fats. All ingredients can be easily found in your local supermarket.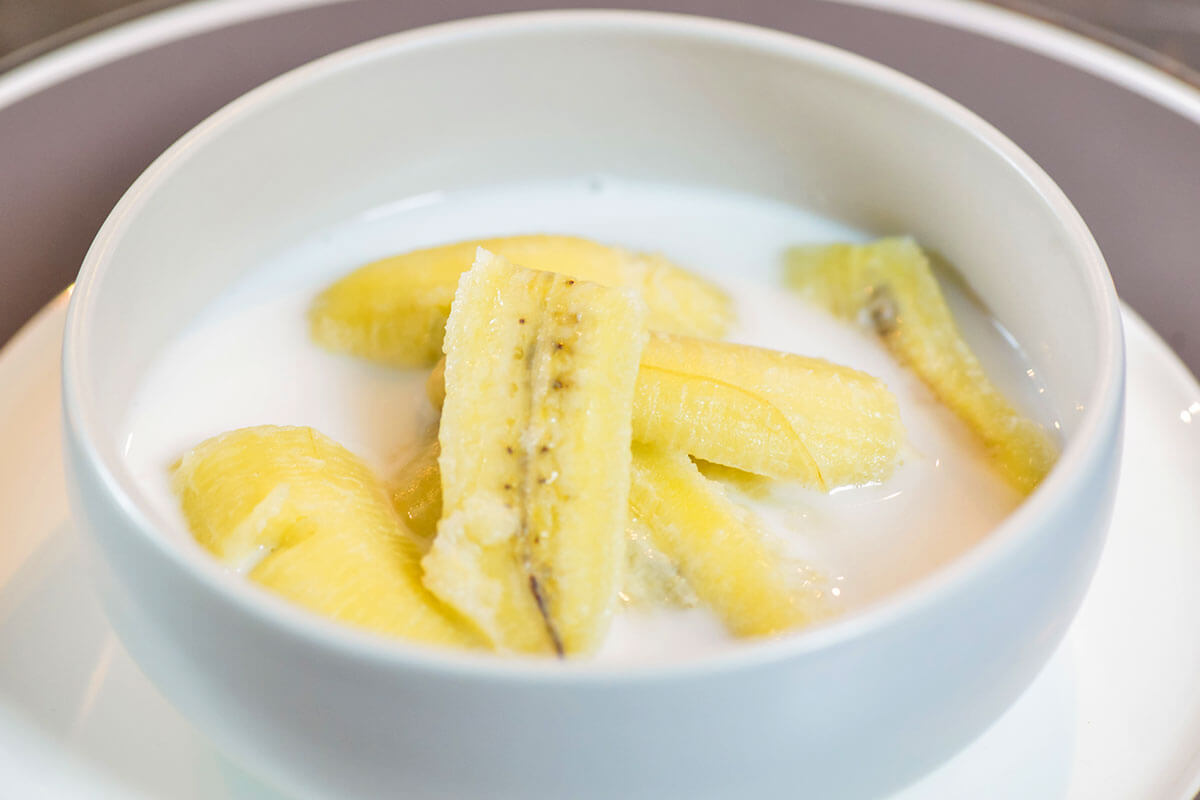 Pla Tod Samunprai
"This is one of my mother's favourite dishes. The sauce is made from palm sugar, fish sauce and tamarind. It's a delicious, exceptional dish that your whole family can enjoy."
Deep-fried barramundi fillet slathered with a rich, fragrant and sweet-sour sauce; topped with a mix of Thai herbs that are packed with health benefits.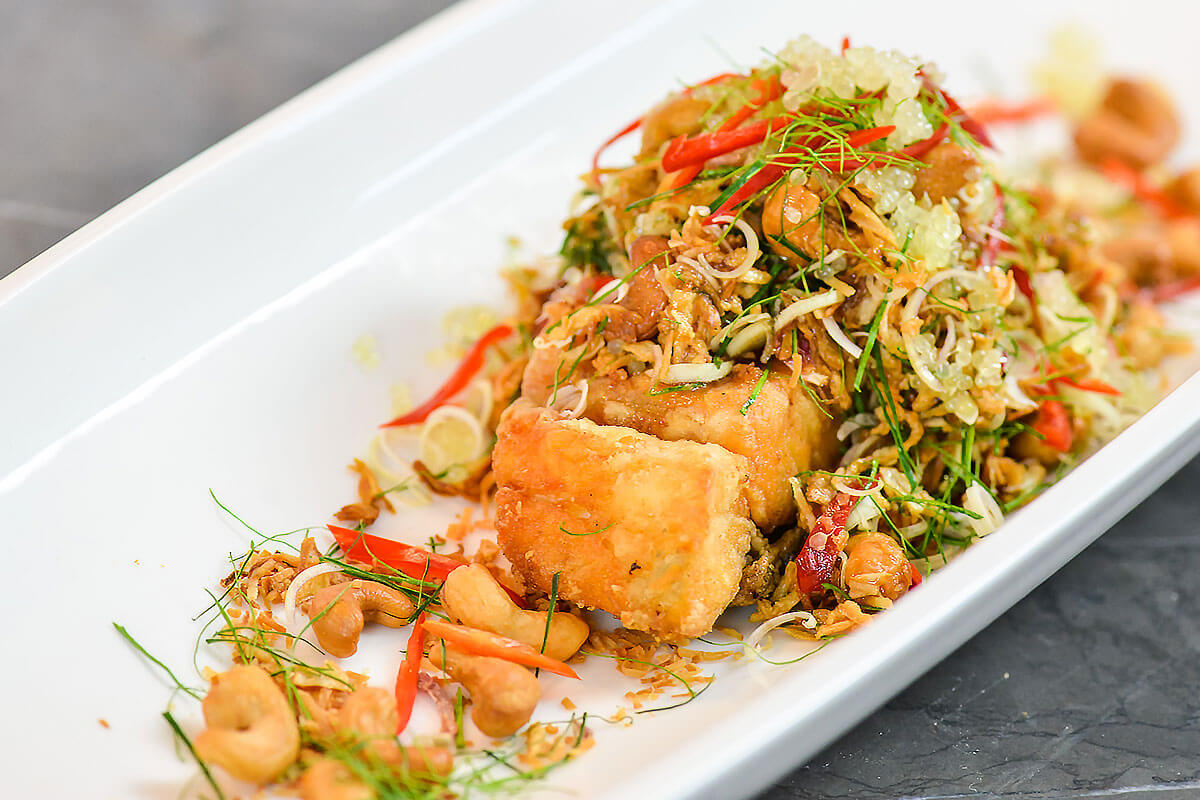 Riceberry Hot Smoked Salmon Salad
"For this recipe, I replace pasta with riceberry, which makes it much healthier, and gluten-free. You can cook with trout or prawns instead of salmon, and also replace the pear with nectarine or peach to enhance the flavour."
Mildly spicy, fruity, salty-sour and very umami. Enjoy a salad with an extra sumptuous and flavourful Thai twist. Riceberry is a uniquely purple Thai long-grain rice, high in fibre and very rich in antioxidants and nutrients. It has a tender, chewy texture and a sweet aroma.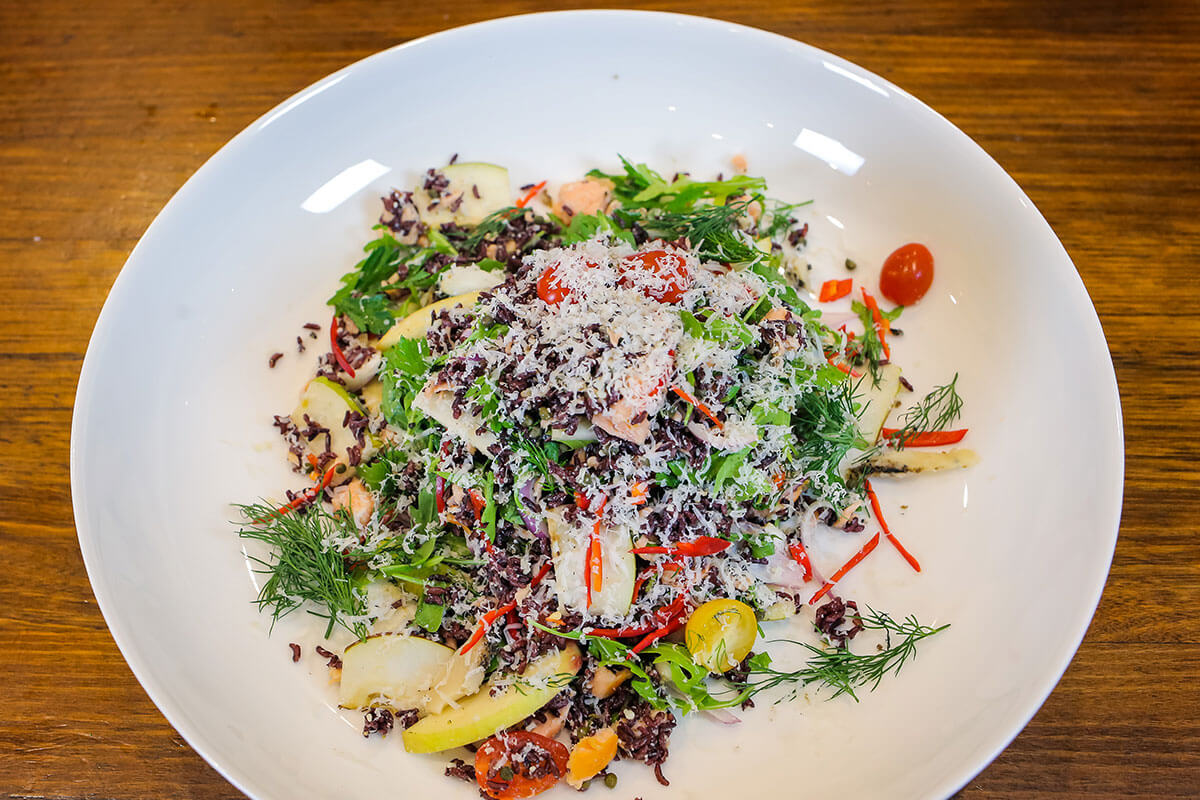 Authentically Thai
Catch exclusive videos for all the recipes above with Chef Sujet, coming soon on our FB page. First one's up this Sunday, May 24, 2020!
Chef Sujet's restaurant Spice I Am is also proudly recommended by Thai SELECT.
"Thai SELECT" is a seal of approval granted to Thai restaurants overseas by the Department of International Trade Promotion (DITP), Ministry of Commerce, Thailand to increase the recognition of quality Thai restaurants around the world. It also encourages Thai restaurateurs to raise their quality while maintaining the authenticity of the Thai food they offer.
So anywhere you travel, look for the stamp of approval "Thai SELECT". It assures you that delicious Thai cuisine is being served in a pleasant atmosphere, and with the famous Thai smile. It's not just a meal; it's a journey into Thai culture. "Look for AUTHENTIC THAI CUISINE, look for Thai SELECT."