What do you think of when you hear 'Japanese food'? Is it sushi, donburi, ramen, tempura, teriyaki, or sashimi? While those are certainly delicious faves, the most common Japanese home-cooked meal, is actually 'one soup and three side dishes', or the Ichiju Sansai.
What is it?
Miso soup, fish, meat and veggies served in light portions with white rice and pickles, as a complete set that gives you nutrition and rich, umami flavours. You may have tried it in a full-course Japanese restaurant, like a small buffet on a tray.
Some history
Ichiju Sansai originates from Honzen Ryori, a refined banquet-style set meal, made for nobles during the Muromachi period. Dishes were served in sets of bowls, arranged on small four-legged tables called 'zen', and presented to guests in three, five or seven tables – each a part of the full-course meal. Over time, this 'format' of serving dishes in sets, simplified into a household practice. Thus, the main 'zen' set of the Honzen Ryori, became the Ichiju Sansai.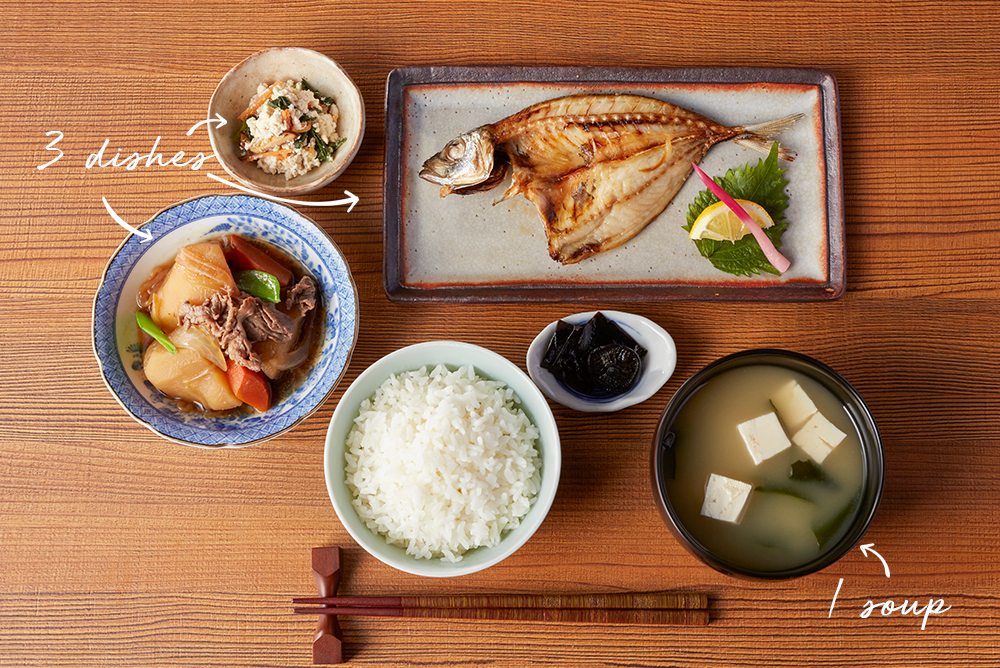 Rice included, but not counted
Traditional Ichiju Sansai must have a soup, a main meat or fish, side meat or fish, and the second side of veggies. But the full set actually comes up to six bowls. Because rice and pickled veggies are the basic staples of a Japanese meal; versatile to combine with any dish.
Size matters
Ichiju Sansai are typically in small servings, including the main dish. Because it's not about stuffing yourself, but to truly savour every dish. For their umami flavours in measured portions that combine to a fulfilling, wholesome meal. It also embodies the cultural essence of 'moutanai' or no waste; ensuring all the food in a meal is finished and enjoyed.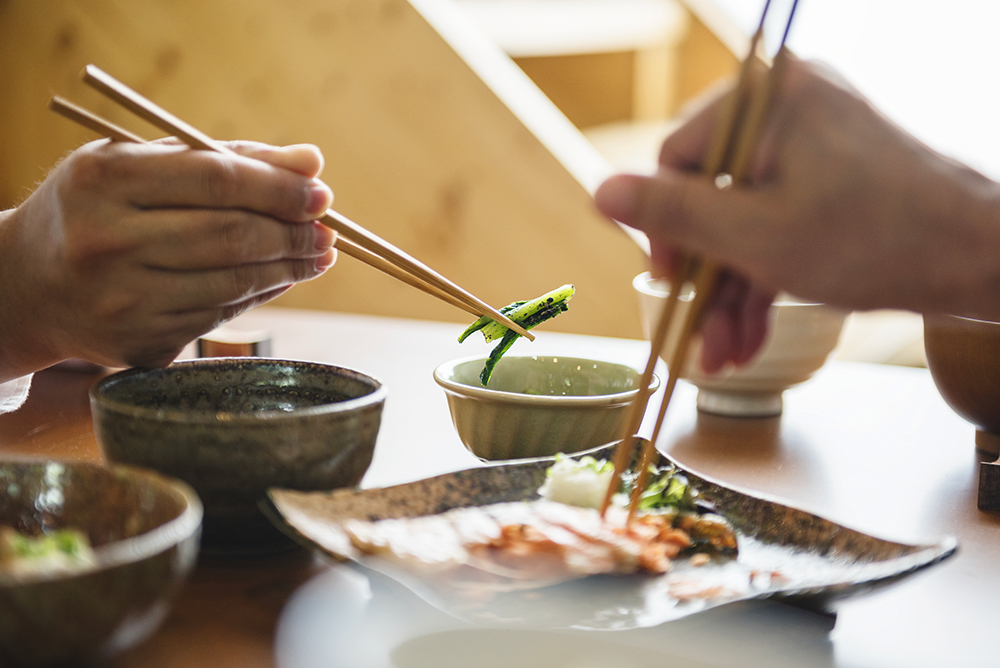 Mindful eating
Our modern lifestyles often have us eat our food quickly, and get on with other activities, or even have us eat and do other things at the same time. But true foodies can tell you that a well-savoured meal will always put you in a wholesome mood. It's the best, and simplest reward to give yourself each day, even better when it's home-cooked. Ichiju Sansai too is created and refined with this in mind. Because when a set of dishes greet you with their yummy colours on the table, you're bound to be enticed and give your full attention to your meal.
It's a philosophy
Japanese recipes for your Ichiju Sansai at home will surely give you an authentic taste experience. However, it's also interesting and practical to think of it as a holistic concept of home-cooked meals. The 'tenets' are in fact, rather universal:
Have well-balanced nutrition from key food groups, namely carbs, proteins, and veggies.
Use fresh, seasonal ingredients.
Cook to tasty, umami flavours with natural condiments
Served in the right portions.
Whether you like meat or seafood, plant-based meals, or just looking to eat healthier, Ichiju Sansai gives you the freedom to swap any dish in your set, to fit your taste, nutritional needs and preferences. So, create your own Ichiju Sansai today!