Cooking authentic Asian cuisines, or for the joy of trying out new aromas and flavours in your cooking, Asian herbs are great to keep handy in your pantry. And, with the dynamic yet hospitable weather in Australia, you can easily grow some of them in your home garden!
Spring Onion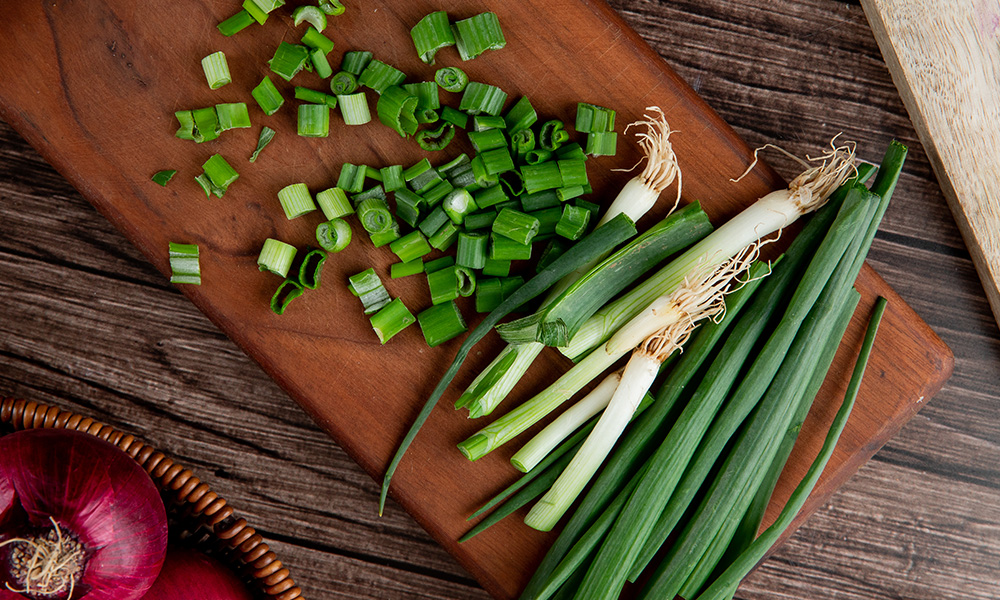 Spring onion is probably the simplest plant to grow on this list -you don't even need the seeds nor fertilizer. Get some fresh store-bought stems, trim them down to about 2-3cm and plant the roots in potted soil. Let your spring onions have ample sunlight and the long thin leaves will grow to their full length in around 8 weeks. Alternatively, they can also be grown in a tall glass of water.
Trim the leaves for your cooking, and they'll regrow so long as the roots are planted. You can regrow each plant about four times.
Spring onions give a savoury green aroma to your dishes. In Asian cuisines, they are enjoyed as a garnish, a pancake filling and many more. Come check out the plethora of Asian yummies you can flavour with spring onion.
Coriander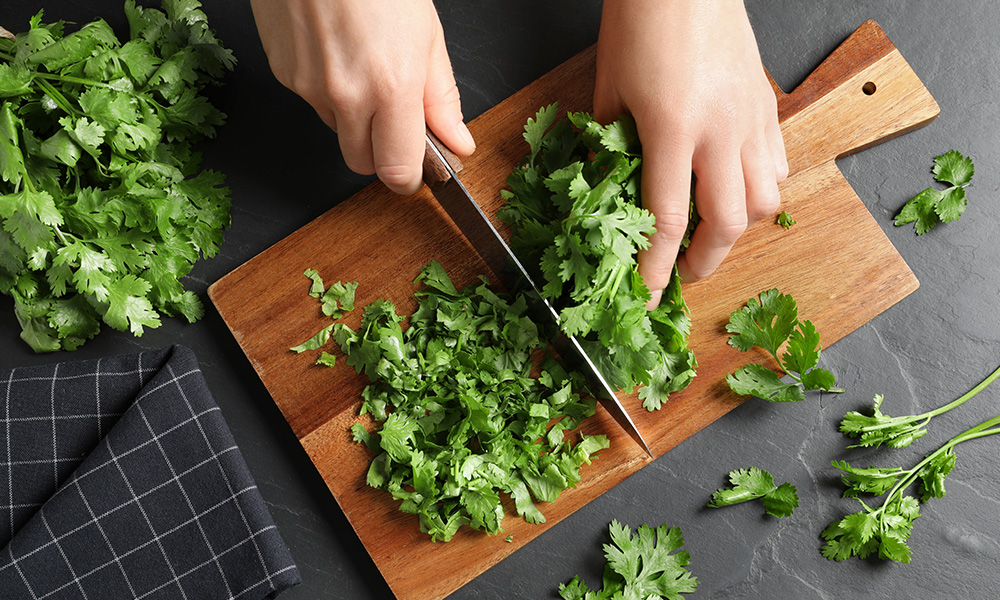 Coriander has soft leaves and tender stems, minty-sweet with a refreshing green fragrance, and is primarily enjoyed as an appetizing garnish in Asian recipes. The seeds themselves too, are a rich flavouring ingredient for spice blends in marinades, cooking pastes and sauce mixes. Coriander thrives in cooler seasons, so spring or autumn are the best times to sow the seeds in ground soil under full sunlight. Keep the plant shaded during summer and hot weather, and be sure to use a liquid fertiliser to encourage lusher leaf-growth. When your coriander has matured, just trim the stem and leaves for your cooking!
Holy Basil, Thai Basil and Lemon Basil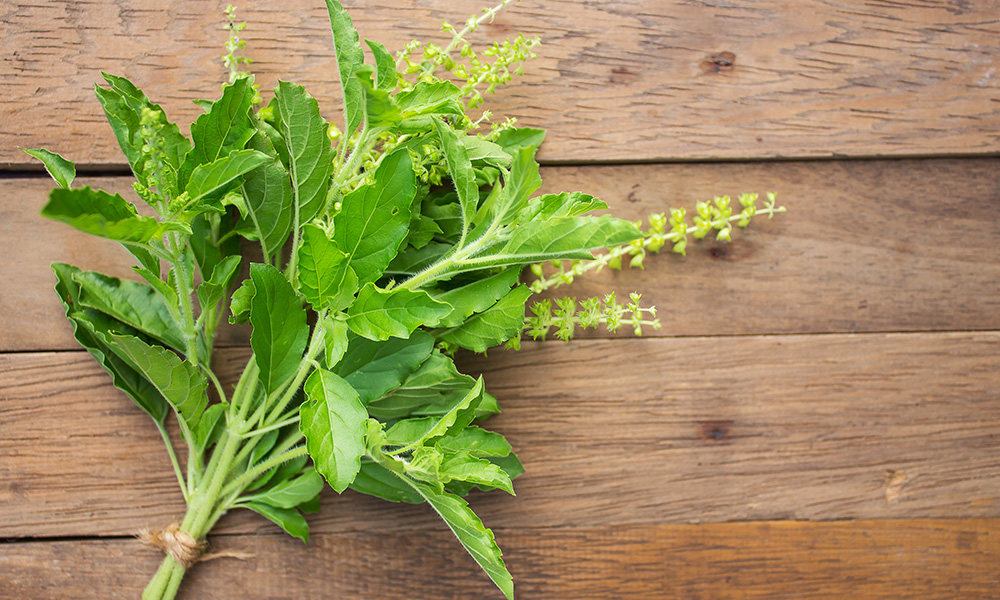 Holy basil exudes a spicy, clove-like aroma; often used to flavour meat and seafood dishes in Asian cuisines. Thai basil has a bold minty-sweet fragrance with a subtle anise-like flavour – essential to flavour Thai curries, soups and salads. Lemon basil is citrusy and sharp, best to accentuate seafood flavours.
The trio of basils can grow easily with the same conditions: a sunny spot, compost-rich free-draining soil, warm weather and regular watering. Come explore the various gastronomic recipes you can make with them.
Vietnamese Mint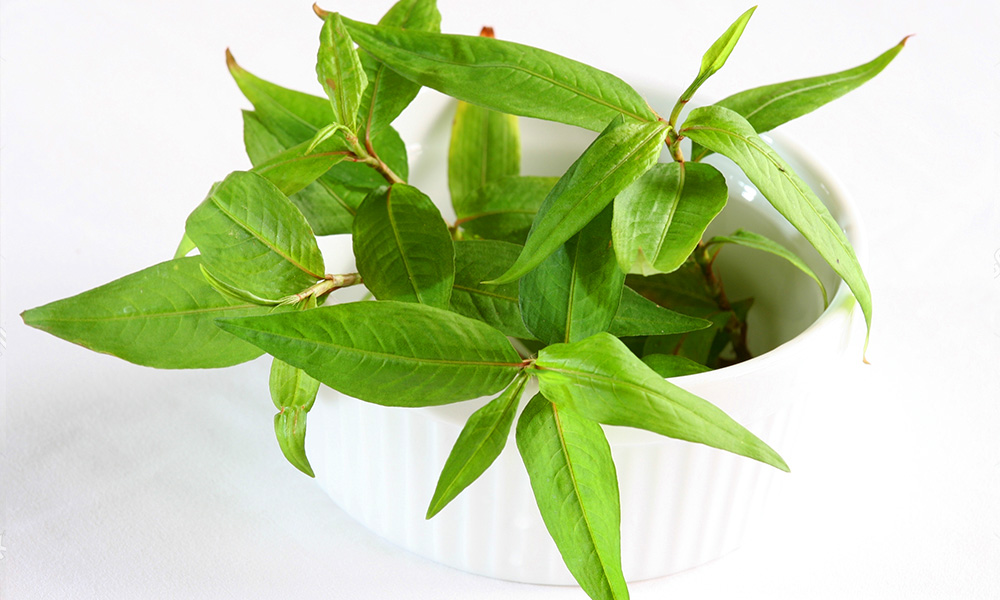 Despite the name, small leaves and minty, peppery aroma, Vietnamese mint is actually not a mint, but belongs to the Polygonaceae plant family; commonly known as smartweeds or pinkweeds. A must-have ingredient in Laksa and Vietnamese dishes for its distinct piquant aroma. Vietnamese mint loves moist soil and warmth. Grow them in a pot so you can move them indoors during winter. Besides watering, you only need to add a liquid fertiliser once a month. Pluck the stems regularly to get a bushier growth. Like spring onion and lemongrass, you can easily propagate Vietnamese mint by placing the stems in water for the roots to sprout, then transfer to potted soil.
Lemongrass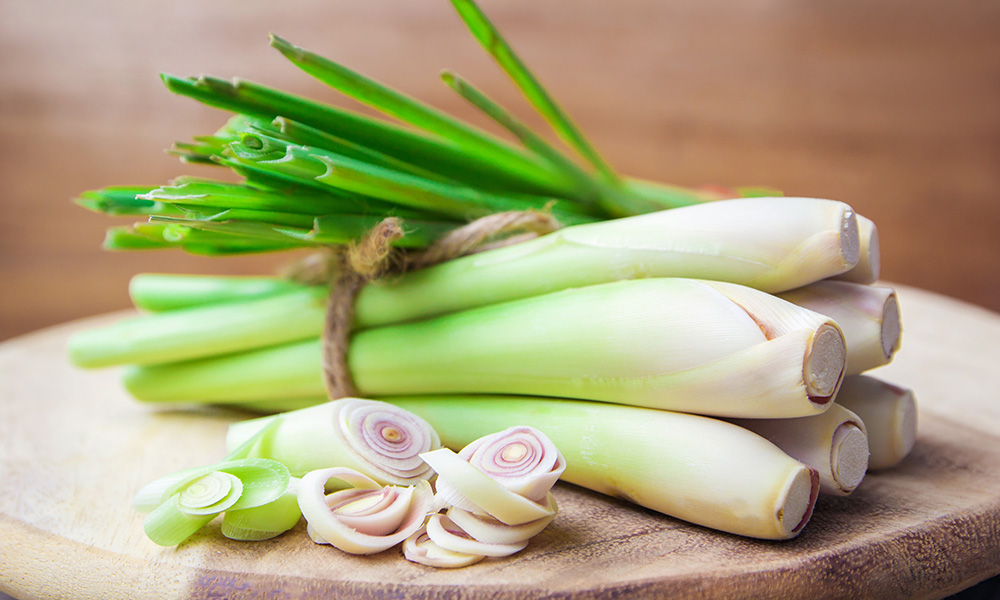 A must-have herb across all Southeast Asian cuisines. The citrusy fragrance of lemongrass adds a refreshing, piquant and alluring flavour to curries, soups, stir-fries and more. Lemongrass grows best in a warm, frost-free environment, so potted soil is best to move your lemongrass indoors when it gets too cold. The leaves will also turn brown during winter, but you can trim them off come spring, and cut back to 10cm above the stems, continue to water and fertilise under ample sunlight, and the lemongrass will grow back to lush green.
Alternatively, you can also grow them indoors with a direct sunlight source – which can enhance the lemongrass's aroma. Fertile, free-draining soil with regular watering and compost is great for your lemongrass's health and growth. Besides a seedling from the nursery, you can also propagate lemongrass from store-bought stalks. Put them in a jar of water to let the roots grow out, then transfer to a pot.
Curry Leaves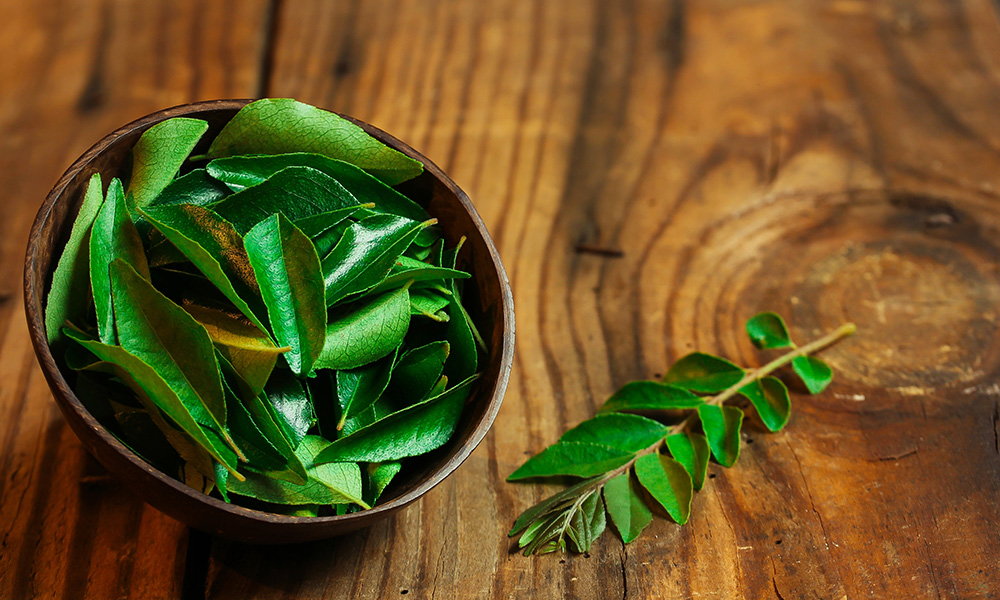 The zesty savoury aroma of curry leaves can be used to cook more than Asian curries, but also flavour marinades, soups, stir-fries and even plain rice. The curry plant is also a small tree with delicate stems. Best grown in a pot or container, kept in a sunny, sheltered spot away from frost, watered and fertilized regularly. Curry leaves easy to grow but quite delicate, so do keep them safe from pests and harsh cold weather.
Pandan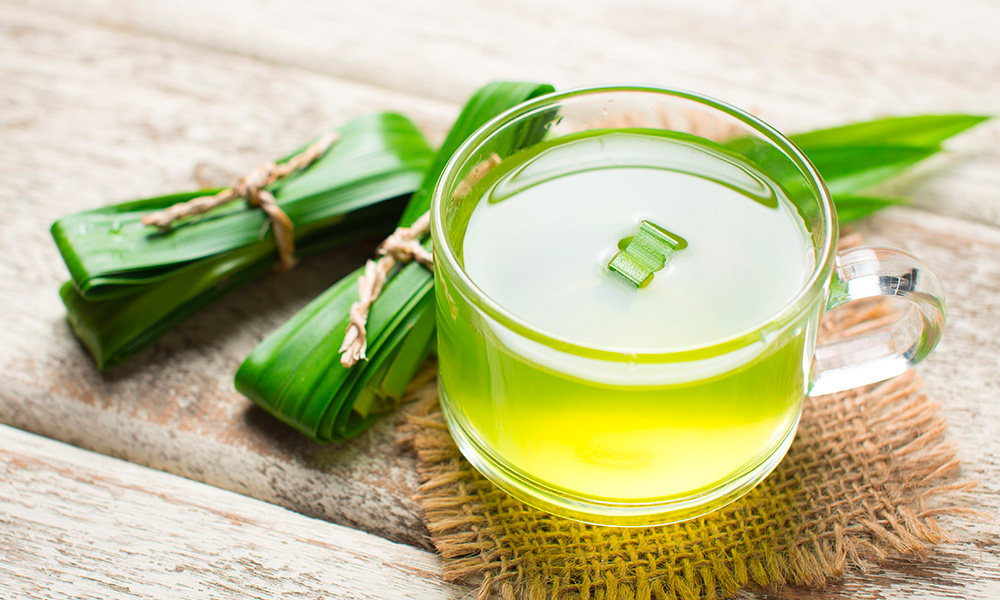 The vanilla of Southeast Asia, the long-bladed leaves of pandan are beloved across many cuisines, with a richly pleasant aroma to enrich a myriad of delicacies and desserts. It is a type of mangrove screw pine that can easily grow in potted soil. Pandan loves moisture, wet and slightly acidic soil, as well as lots of sunlight. A mildly shaded area is ideal, in case the weather gets too hot. Water regularly and add compost or natural fertilizers to boost growth. Pandan is a tropical plant. It can handle the cold, but frost and temperatures below 10°C are no-nos. So, remember to bring your potted pandan indoors during winter.
Kaffir Lime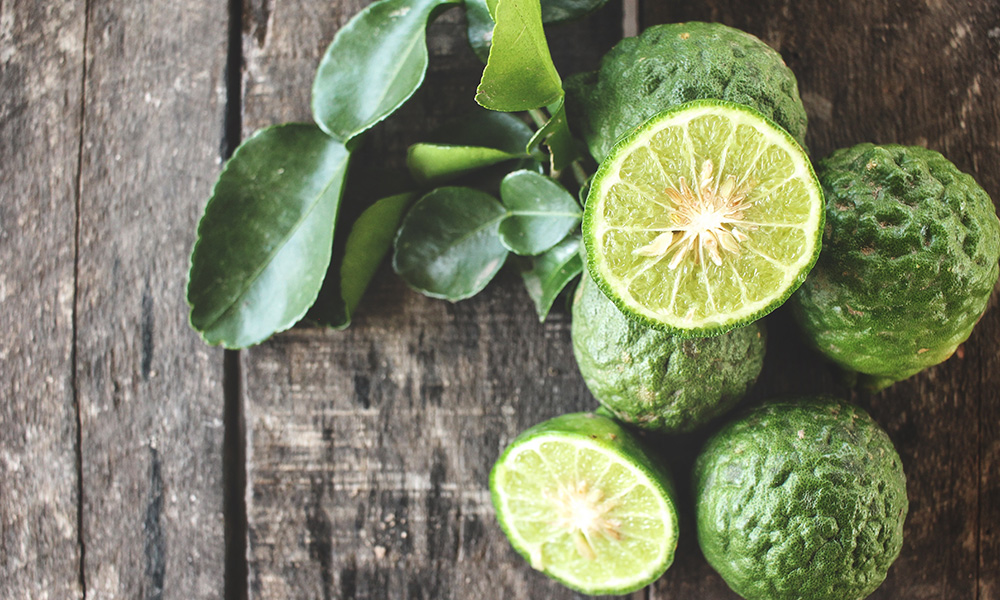 Another citrusy aromatic herb in Asian cuisines, kaffir lime leaves and rind impart a sharp lemony oomph to curries, soups, stir-fries and dip sauces. The plant is a small tree that thrives in warm, sunny spots away from strong cold winds and frost. Potted free-draining soil with plenty of compost is best to start growing a kaffir lime tree. After that, water and fertilize regularly till the plant matures. Kaffir lime leaves grow in pairs. Just trim them off along with the stem and fruit, then pluck off the leaves for your cooking. The fruit's juice can also add an extra citrusy touch to your dishes as garnish.