A 'wake up' drink, after-meal beverage and a comforting leisure indulgence, coffee is one of the world's most popular drinks, with an estimated 400 billion cups enjoyed each year. Although its widespread cultivation and consumption is a colonial legacy, in the cultural melting pot of Southeast Asia, coffee has become a local specialty, with each culture combining its own unique ingredients, techniques and tastes to create signature drinks like no other.
So let's take a trip to the exotic tropical region of Asia, and have a cuppa of the most popular coffee drinks.
Kopi Luwak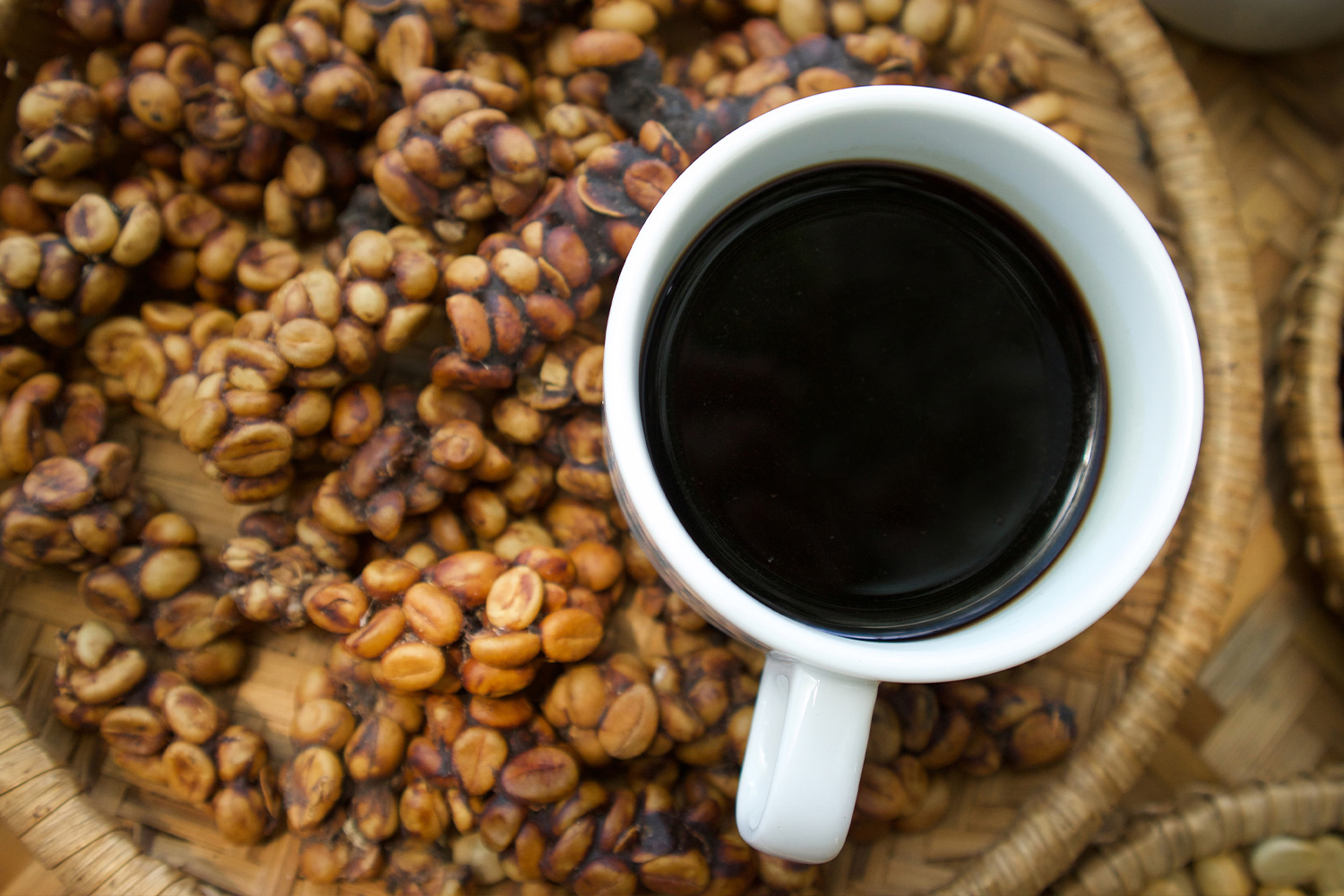 Kopi Luwak is coffee beans picked from the droppings of civets that consume ripe coffee cherries. Strange as it sounds, research actually shows that the civets' digestive process reduces the coffee's bitterness; and when roasted, elevates its natural aroma. Kopi Luwak's discovery is kind of a rebellious act. When Dutch colonials brought the coffee crop to Indonesia for mass cultivation, they banned the locals from tasting it. Undeterred, the locals found the digested beans in the civets' droppings and made it their own coffee flavour, some say far better-tasting than drinks brewed with regular beans. The Dutch at the time never found out. Post-colonial today, Kopi Luwak is a rare and exotic coffee that can go upwards of $500 per kilogram.
Butter Coffee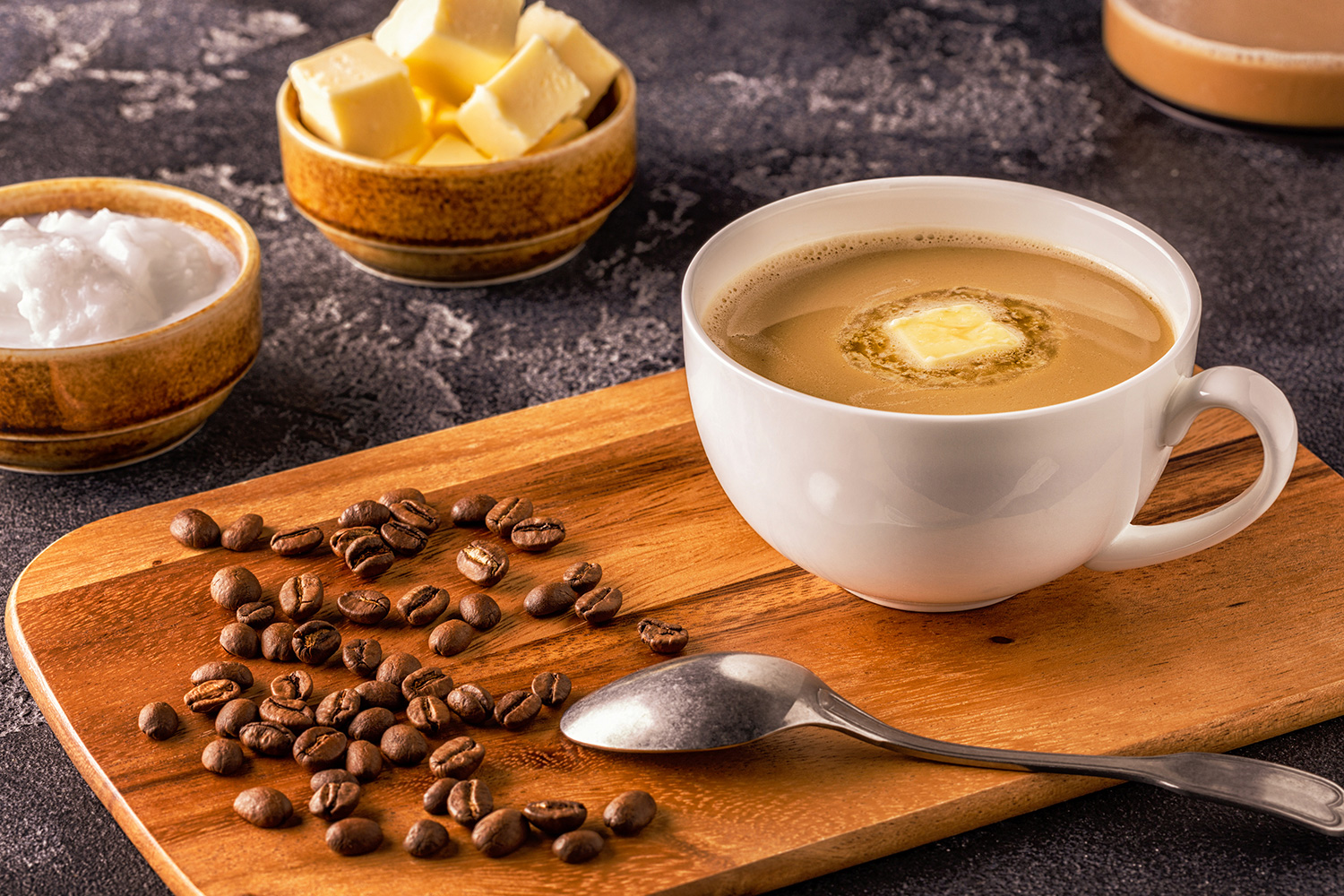 Dubbed as 'Bulletproof Coffee' in the West, and 'The New Power Drink of Silicon Valley' in 2014, coffee with condensed milk and a slab of butter is arguably a Singaporean invention. Kopi Gu You or Butter Coffee is just as the name implies. The butter brings a smooth caramel touch, and softens the coffee's harsh bitter notes, resulting in a sweet, aromatic and velvety drink. Besides that, the additional protein and fats from the butter give you an extra energy boost!
Ipoh White Coffee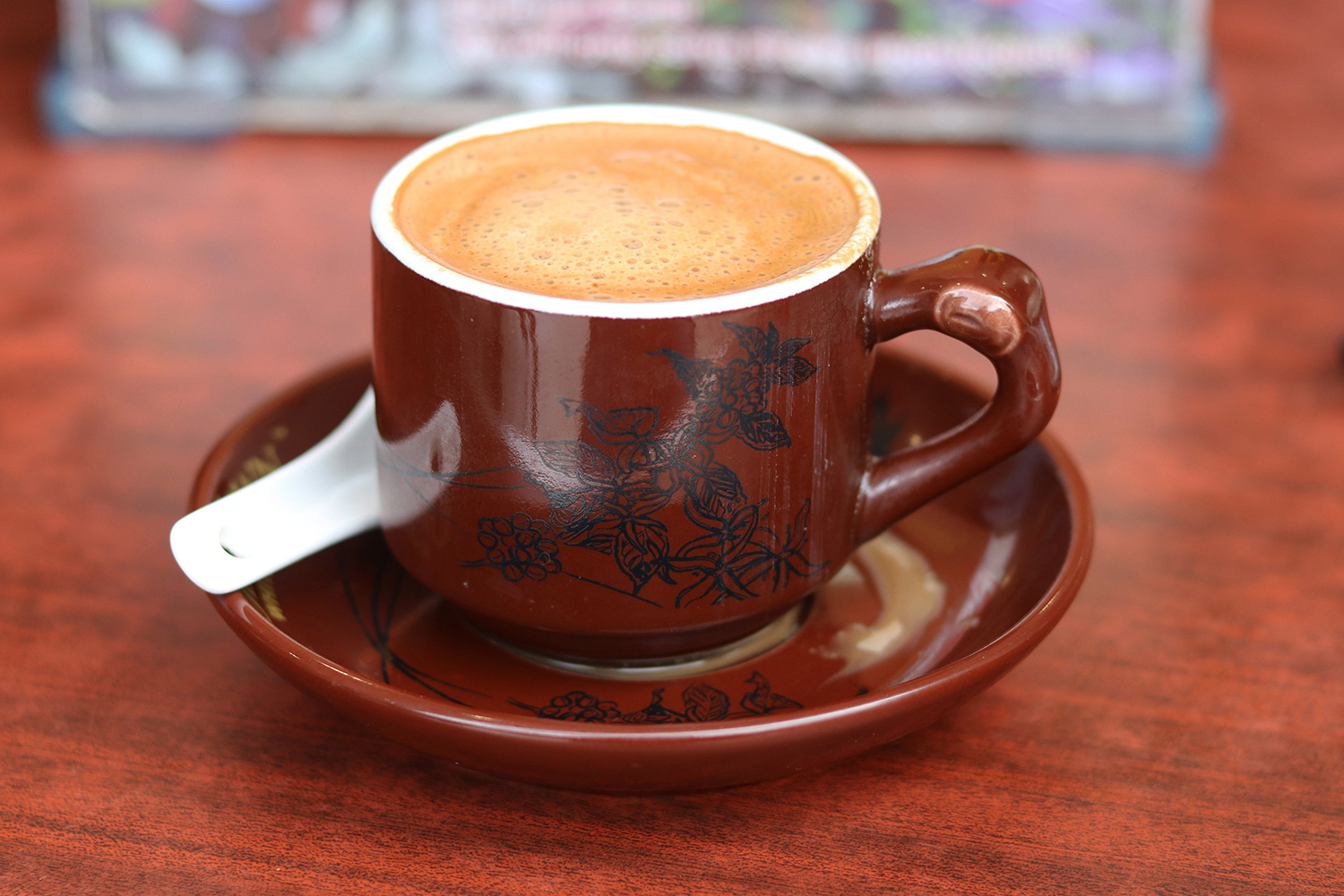 Ipoh is a small idyllic city in central Peninsula Malaysia, about a two-and-half hours' drive from Kuala Lumpur. Famed for the hilly scenery, delicious local food, and White Coffee. The name has to do with the roasting, brewing and stirring techniques. Because the region's climate is most suitable to grow the less aromatic Robusta bean, Malaysian coffee beans are typically roasted with margarine and palm sugar to enhance the flavour. White coffee, however, is roasted only with margarine, and in low heat; which gives the beans a lighter colour but with more natural flavour preserved. This technique is slower and requires practised skill. Ipoh locals have also invented a cylindrical brewer for coffee shops that steams and steeps the ground beans in hot water, into a rich, fragrant drink. Mixed with sweetened condensed milk, the coffee turns an alluring beige hue. Aromatic with a mild smoky tinge. Smooth and pleasing in every sip.
Hainanese Coffee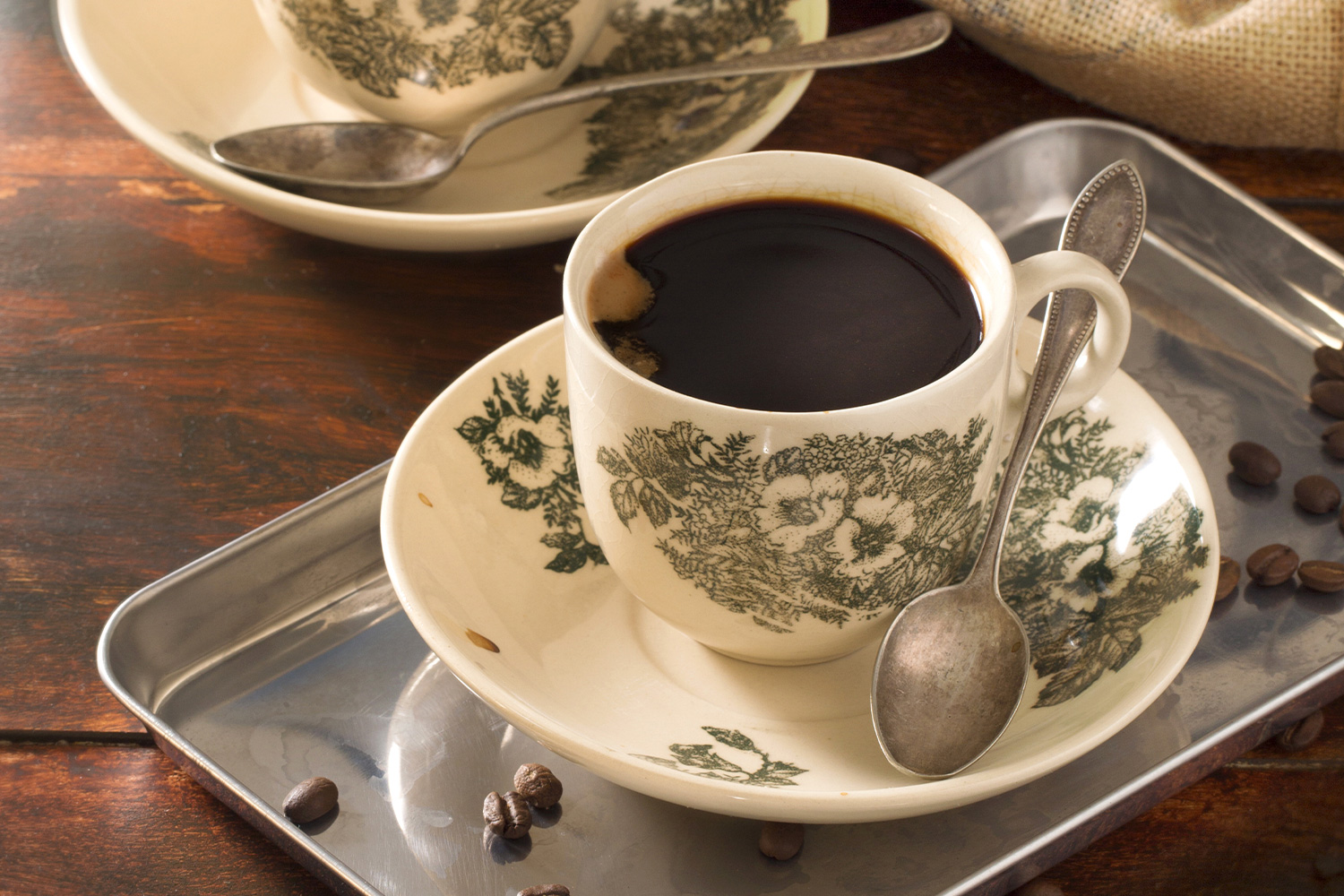 Hainanese Coffee is another Malaysian and Singaporean specialty, introduced by migrants from China's Hainan Island during Brit colonial times. Instead of roasted, Hainanese coffee beans are baked, then wok-fried in low heat with butter, corn and sesame; which gives it a complex nutty aroma, mild caramel flavour, and subtle sweetness. The beans are then ground into fine powder. To brew, the powder is poured into a cloth bag, placed in a long-snouted pot and soaked in hot water; filtered multiple times into a rich, dark brown. Enjoyed black or sweetened with condensed milk. Typically served hot in a porcelain cup and saucer.
Vietnamese Drip Coffee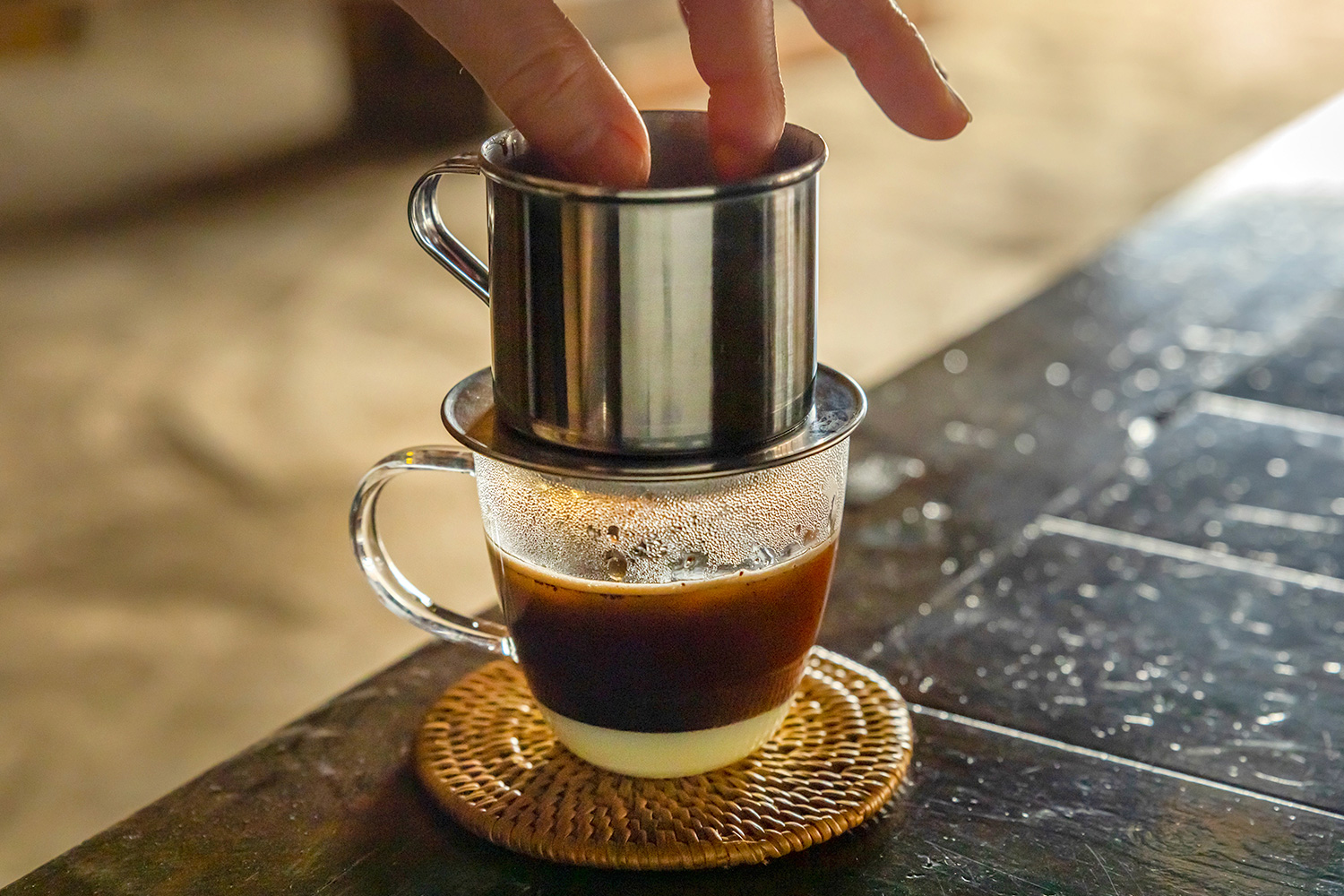 Probably thanks to French colonial influence, coffee is a leisurely drink in Vietnam, exemplified by the Phin. A small stainless steel filter cup that presses ground coffee beans while it brews in hot water. The filter net at the Phin's bottom drips the coffee slowly into your drinking mug. Richly fragrant with a bracing edge that instantly invigorates your senses. Enjoyed black or with milk, hot or iced. A lovely coffee drink for you to chill and refresh.
Thai Iced Coffee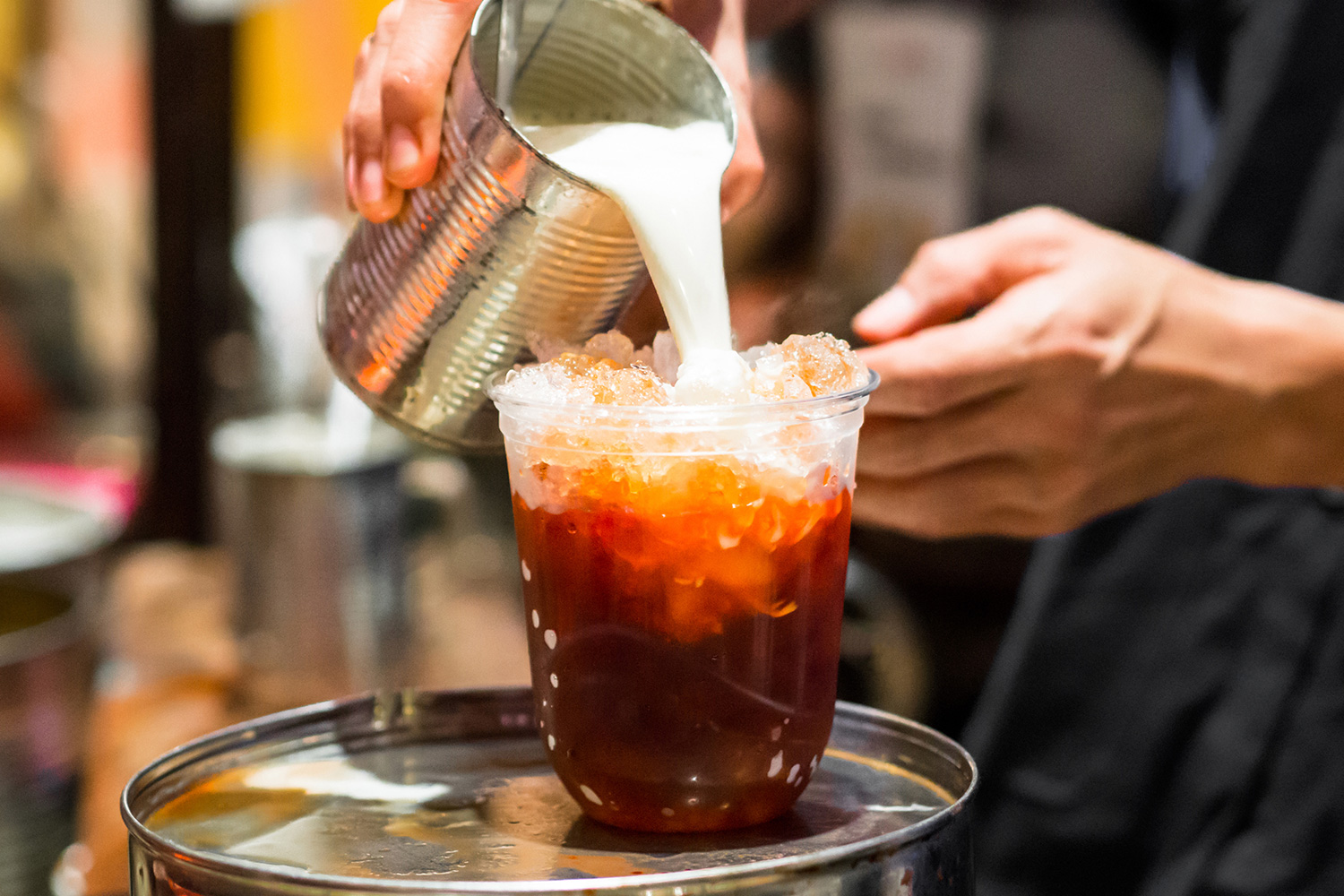 Oliang means 'iced coffee' in Thai, but it's actually more than coffee. Beans are typically roasted with soy, corn, rice and sesame seeds. The ground mix is steeped in hot water through a long sock-like strainer with a handle; resulting in a rich, dark and fragrant drink. Cardamom is added last, balancing the coffee's sharp bitter flavour with zesty sweetness. Typically enjoyed black with ice as a cool refreshment, or added with evaporated milk and syrup to sweeten and smoothen the flavour.