Thai people love festivals, and with a sizable ethnic Chinese citizenry of over 7 million, the Lunar New Year is absolutely a jubilant time in the Land of Smiles. Although it is not a national holiday like for their neighbours Vietnam, Malaysia and Singapore, the joyous atmosphere and auspicious traditions are shared among Thais of all ethnicities. Even the 4 Royal Princesses Ubolratana, Rajakanya, Maha Chakri Sirindhorn, and Chulaborn Walailak, would grace the local temples each year to pay respects and pray for good fortune – a must-do Lunar New Year ritual, especially for Chinese Taoist and Buddhist followers.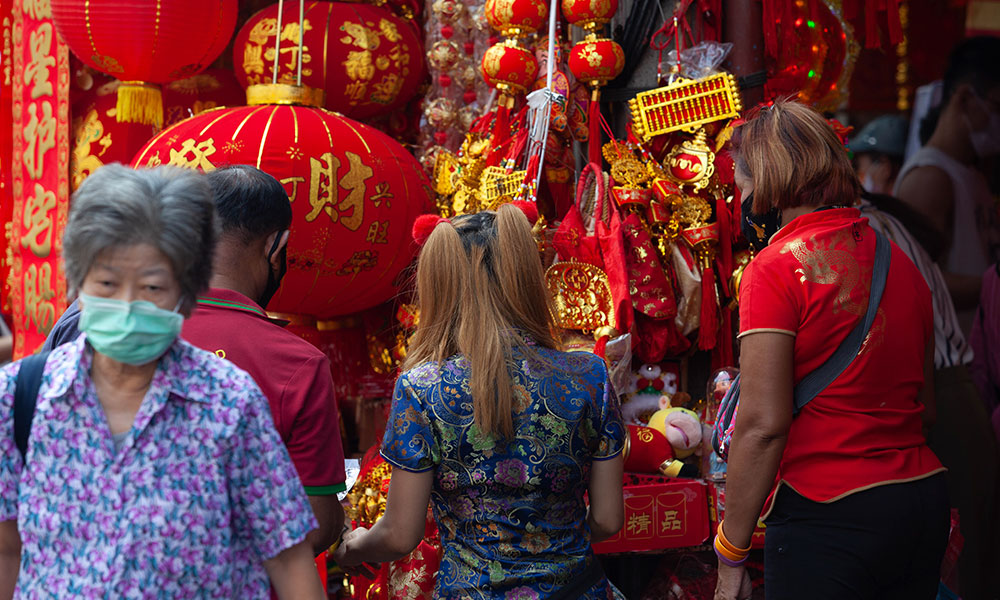 The actual festival lasts for 3 days in Thailand. But a month prior, bright red lanterns would already adorn the streets in major cities. Businesses offer discounts for all manner of goods for the celebrations. Families would spring clean, get new red clothes and decorate their homes with lanterns and auspicious calligraphic banners.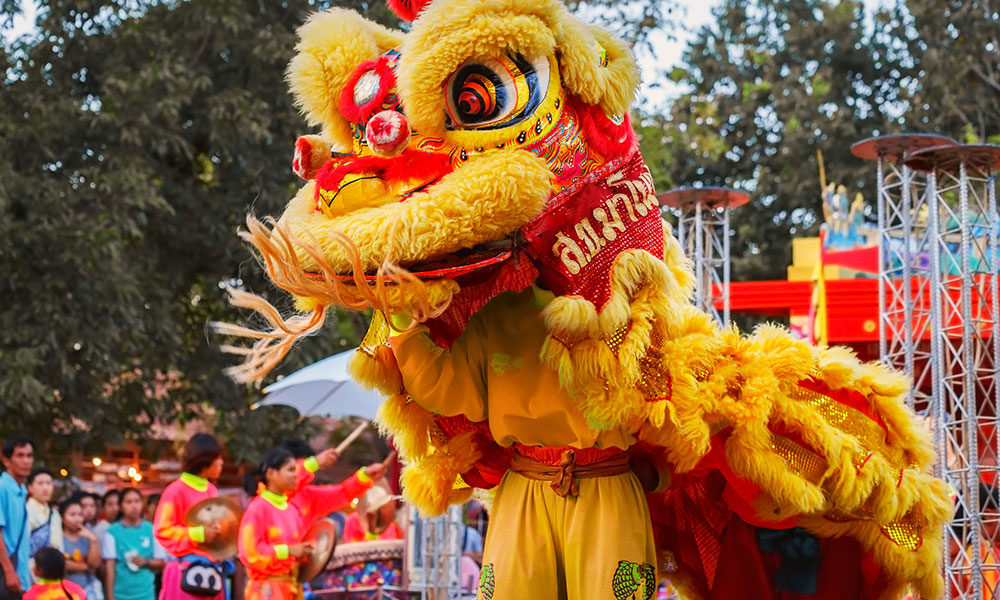 On the First Day of the Lunar New Year, colourful flower floats, acrobats, and Dragon Dance performers make their rounds in urban centres. Special food stalls pop up along the crowded roads. Communities have the cheerful Lion Dance to usher in good luck and prosperity for the year. After the parades and shrine visits, families usually stay home for a quality festive time and share an intimate feast called 'Wei Lu', as a tribute to their ancestors. Trays of stacked tangerines, mandarin oranges and dried food are put up for everyone to savour.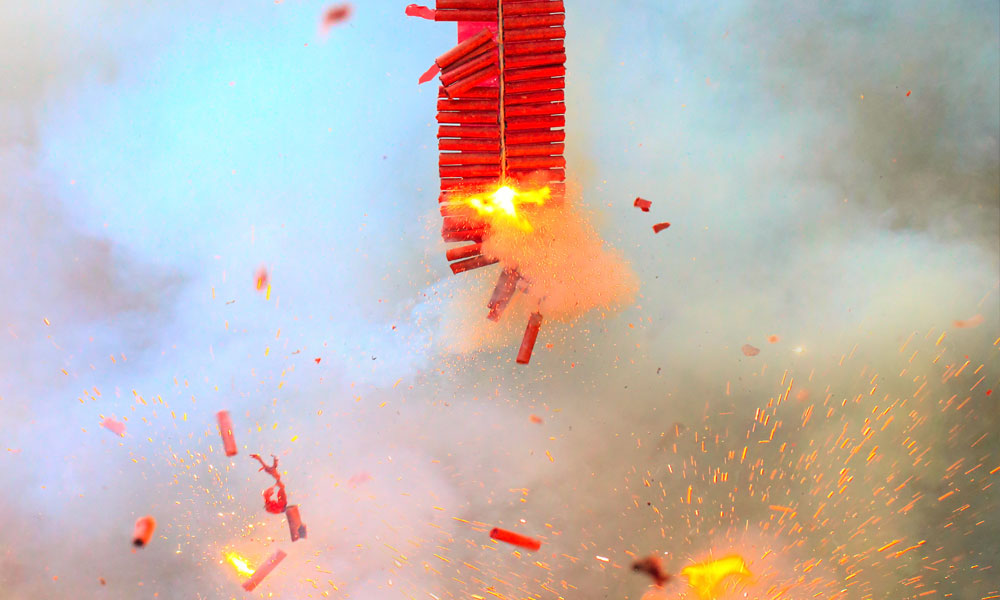 On the Second and Third Days, relatives, friends and colleagues would get together, exchange gifts, enjoy gastronomic banquets, and lots of merry-making with many yummy snacks. Firecrackers and fireworks are also a must-have.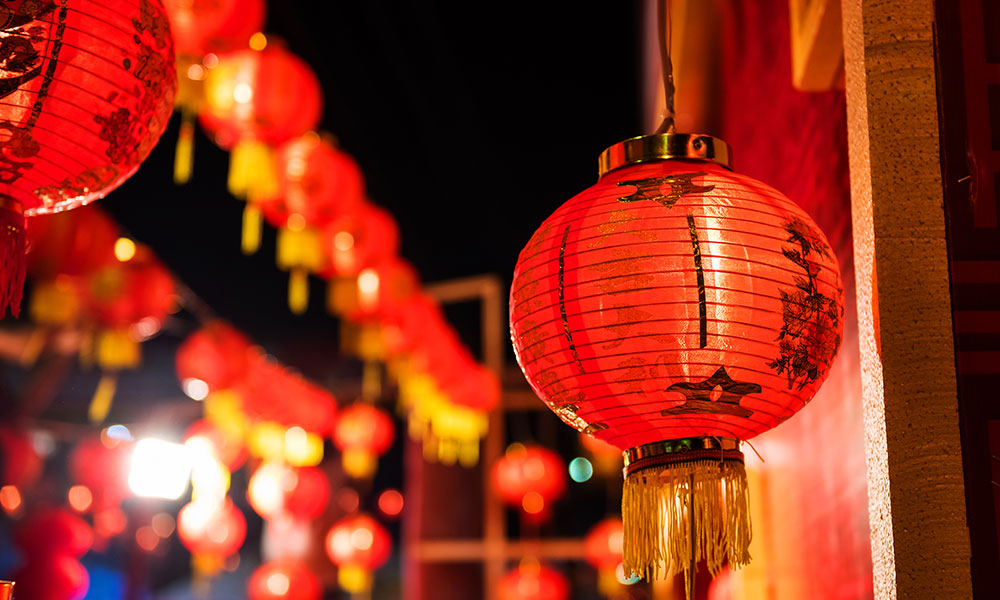 On the 15th Day, the night of the year's first full moon in the Lunar Calendar, the Lantern Festival is also observed with households hanging up red paper lanterns at their front doors and having parties, feasts, fireworks and street performances to conclude the celebrations.
Best Thai Locations to Enjoy Lunar New Year
Bangkok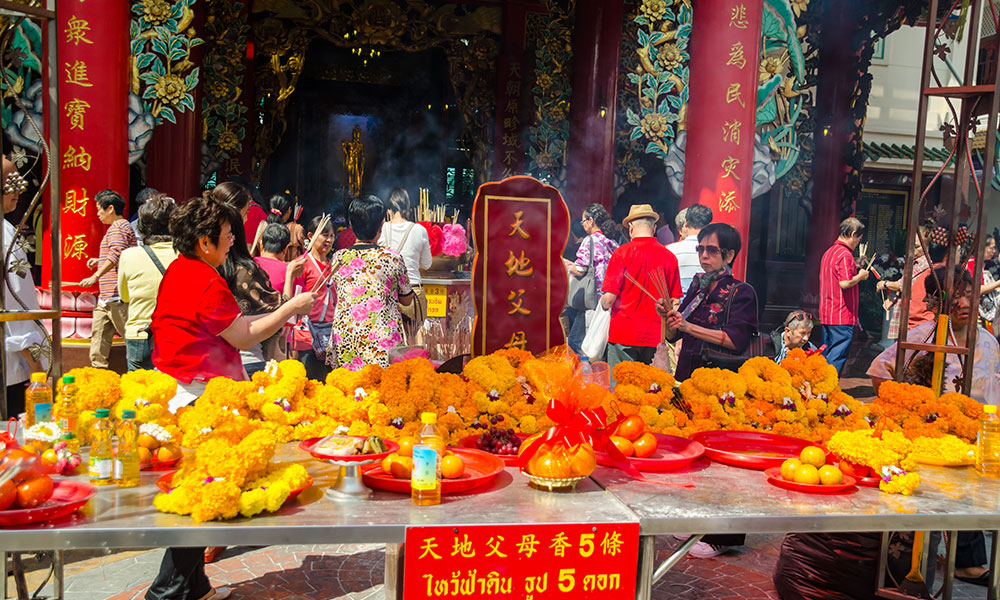 Yaowarat Road is Bangkok's Chinatown, where the largest Lunar New Year parades and festivities take place. Join the vibrant communal joy here, and experience unique cultural activities. Also, visit the beautiful Wat Traimit Temple to pray for good fortune!
Prefer a more laid-back celebration? Charoen Krung Street does Lunar New Year with a chill vibe while maintaining a cheerful atmosphere. You can also have your temple visit at the Lengnoeiyi Temple and Mang Nguan Ha Shrine, located in front of the Princess Mother Park.
Talad Noi district is another great place to enjoy a quieter Lunar New Year. A neighbourhood of luxuriant mansions with a much smaller crowd than Yaowarat but with the same festive vibes and sights. The district is also home to the oldest Hokkien Chinese shrine in Bangkok.
Phuket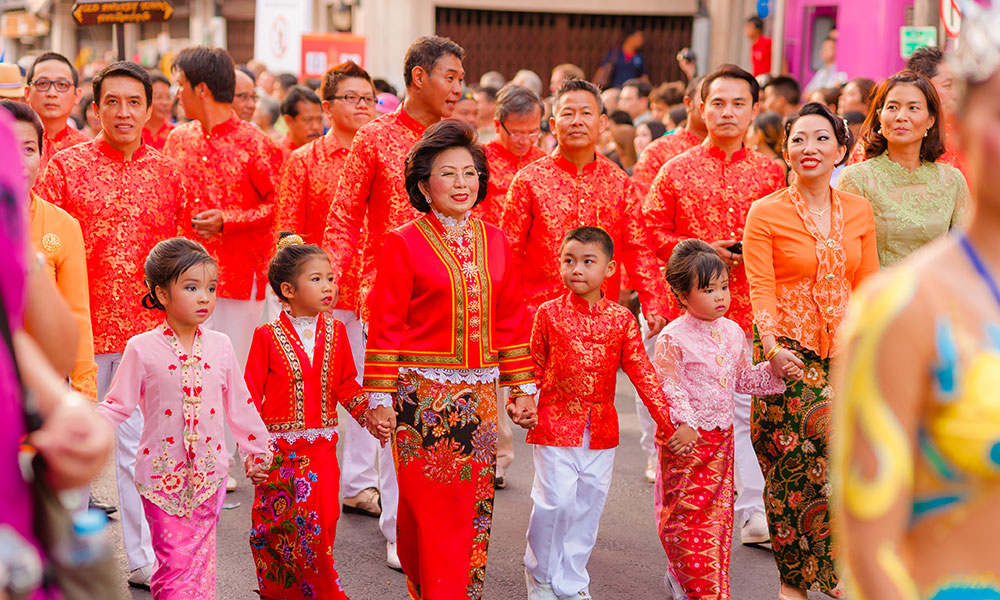 Looking to party all the way for Lunar New Year? Phuket is the place to be. With many amazing beach parties leading up to the festival. The best spots to enjoy the Lunar New Year sights, sounds and colours mentioned above, are Thalang Road, Dibuk Road and Phang Nga Road, where the island's Thai-Chinese community thrive. Everyone joins in the celebrations and tourists are more than welcomed!
Chiang Mai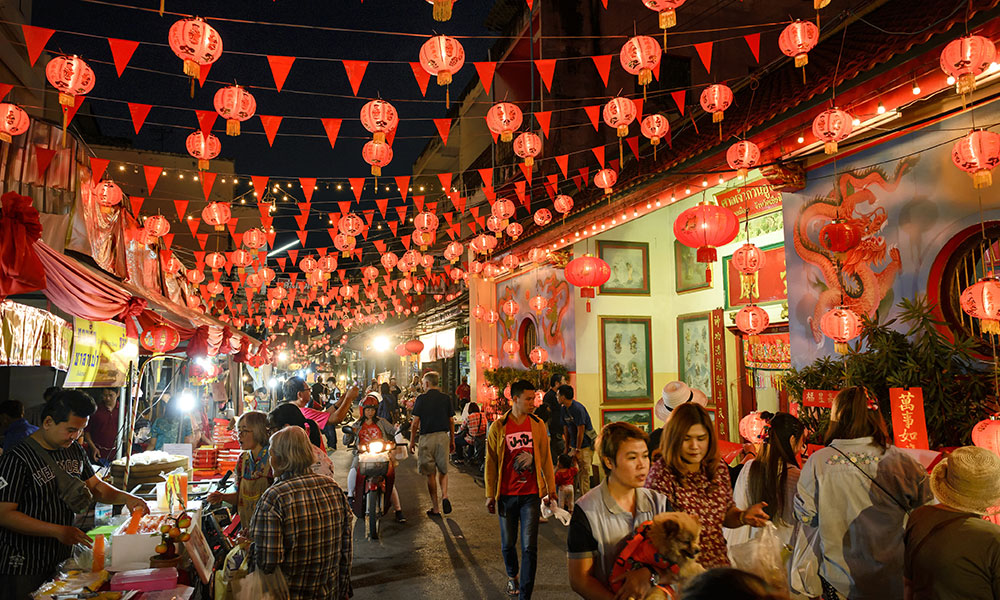 The northern Thai city of Chiang Mai is beloved for the glorious mountainous scenery, unique foods, rich history, mesmerizing sights, the delightful local coffee, and rustic atmosphere. For Lunar New Year, Warorot Market is the heart of the festivities; packed with lots of mouth-watering celebration snacks, unique treats, awesome street food, cultural performances and souvenir stalls.
Feeling adventurous? Befriend a local guide and venture into a hill tribe village—where Lunar New Year celebrations are entirely based on indigenous customs rather than traditional Chinese, and may even last for up to 15 days.
The Lisu tribe is a great example. Descended from the earliest minority Chinese nomads who settled in the northern Thai hills, the Lisu people practice an animism belief that strives to keep good relations with the local forest spirits; which in turn, cultivates a deep connection with the surrounding nature they depend on, as well as their community. Instead of red-themed, boisterous dances and activities, the First Day of the Lunar New Year for the Lisu begins with a sombre ceremony to worship their ancestors and appease the spirits, ask for protection and pray for overall luck and wellness throughout the year. In the evening, the whole village wears multi-coloured garbs, and has a joyful communal dance accompanied by traditional pipe music.
It does take some effort to reach the Lisu and other hill tribe villages, as they are very much off the beaten tourist tracks. Only a handful of outside visitors are allowed at any given time, so large travel groups aren't encouraged. While the people here are friendly, one should always be respectful of the local customs, and ask for consent to observe or participate in their communal activities.
More Lunar New Year Wonders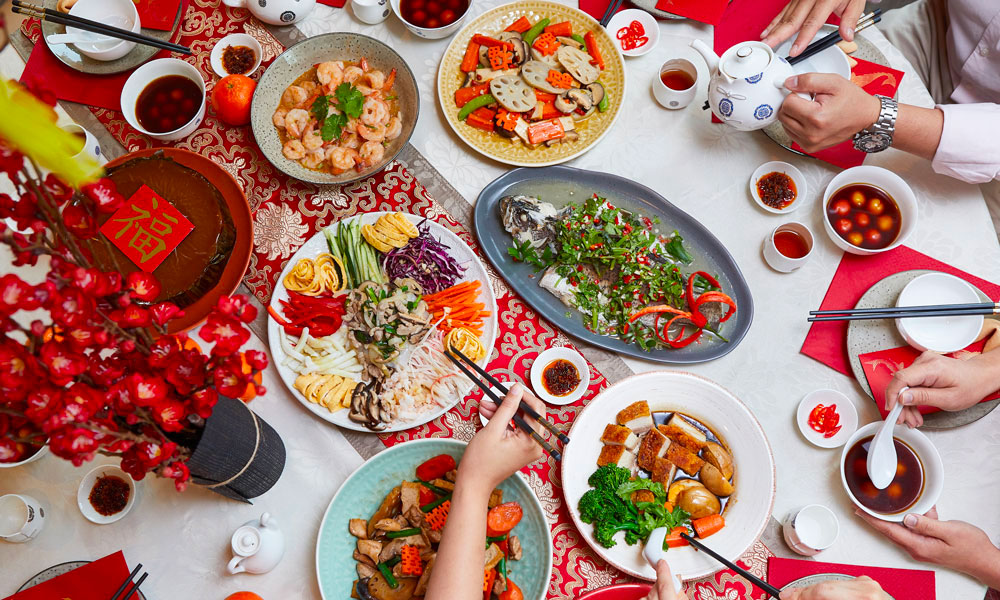 Whether you're a partygoer, foodie, cultural lover or serenity seeker, Thailand is a wondrous destination to celebrate and experience the Lunar New Year. Just remember to make your travel plans at least a month in advance, as it is a busy season. Want to 'maximize' your prosperity this Lunar New Year? Come discover how to prepare for the festival, the good luck charms to wear, and customs to practise; as well as the plethora of happy treats, auspicious foods, unique delicacies, and festive recipes to share with your loved ones.