Chiang Mai has been a tourist capital for a number of years now. The largest city in Northern Thailand and capital of Chiang Mai Province, Chiang Mai sits astride the Ping River and its history can be traced all the way back to 1296. This beautiful and historical city has something for everyone, with ancient temples and majestic mountains to wander through, to great food and a pumping nightlife.
But while Chiang Mai gets most of the attention—especially from Western tourists—Chiang Rai, just over 3 hour's drive away, is an oft-overlooked gem. Predating Chiang Mai by about 30 years, Chiang Rai is a smaller and slower-paced place to visit, with an emphasis on culture and celebrating Thai artists.
Chiang Mai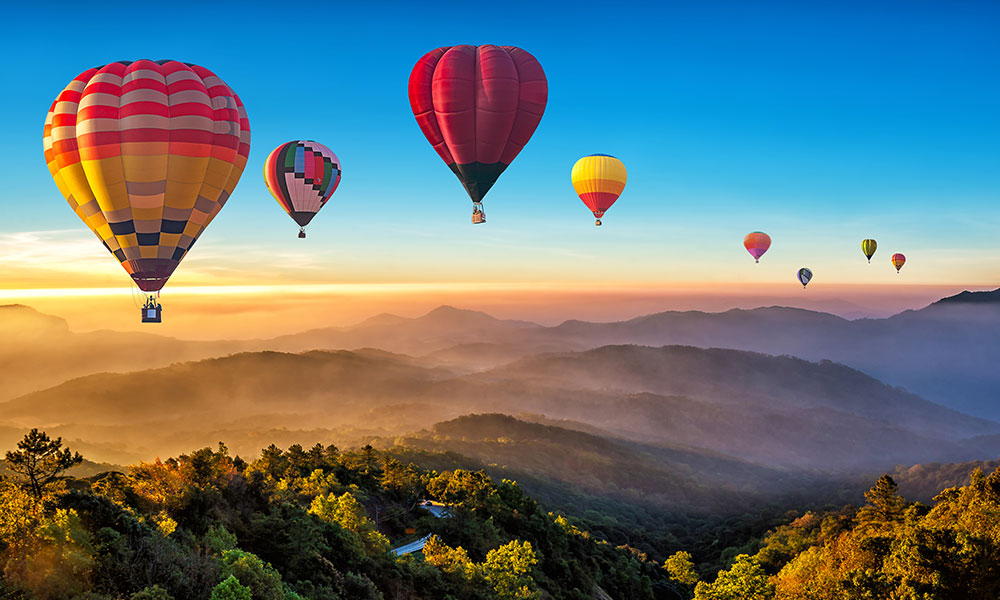 Located 700km north of Bangkok, Chiang Mai is the stuff travel blogs dream of—there really is something for everyone.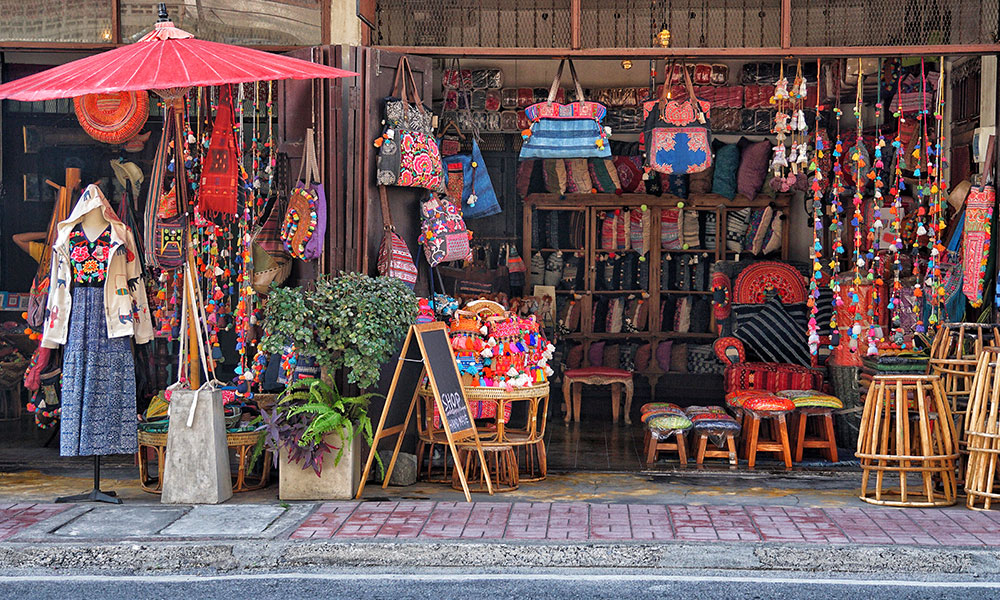 Chiang Mai's Old City—a perfect square enclosed by a medieval moat and crumbling brick wall—is filled with ancient temples, charming places to stay and plenty of cafés serving coffee from the nearby hills. The labyrinth of narrow streets and lanes (soi) crisscrossing the Old City are worth getting lost in, with heaps of craft shops and uniquely Thai artists selling their wares.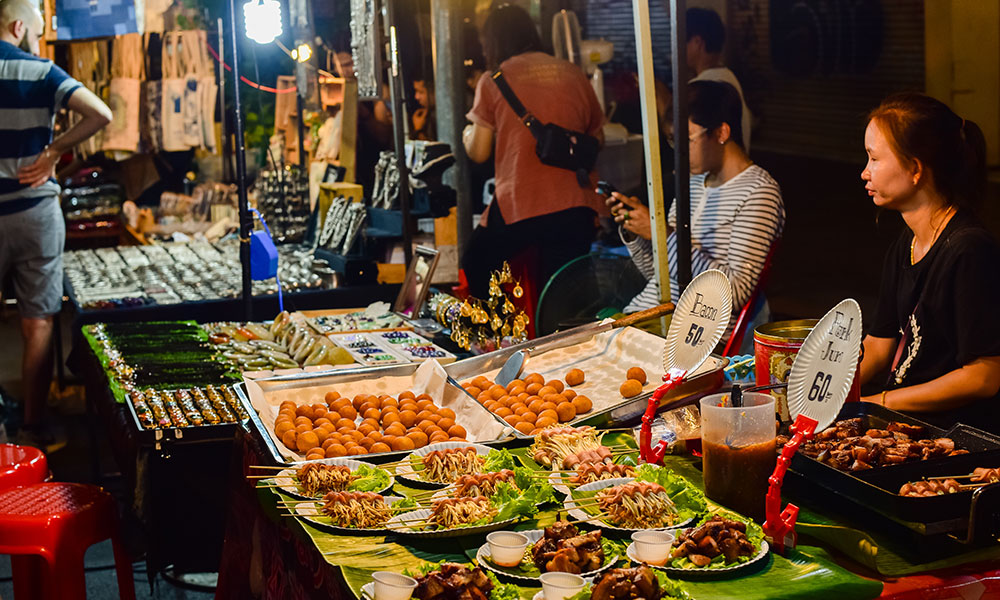 If your visit runs over a weekend, make time for the walking street markets that run over Saturday and Sunday. Saturday is more popular with locals, as it's a little quieter and fewer tourists tend to stumble across it. You'll find it on Wua Lai Road, just south of the Old City.
The Sunday market is found around the Tapae Gate, essentially the front door of the Old City. Much larger than the Saturday market, make sure you get there early as it will get packed. I mean so-packed-you-can't-move packed.
Both markets start up in the late afternoon—meaning you can get a full day of touristing in before some retail therapy—and run late into the evening, wrapping up around 11pm.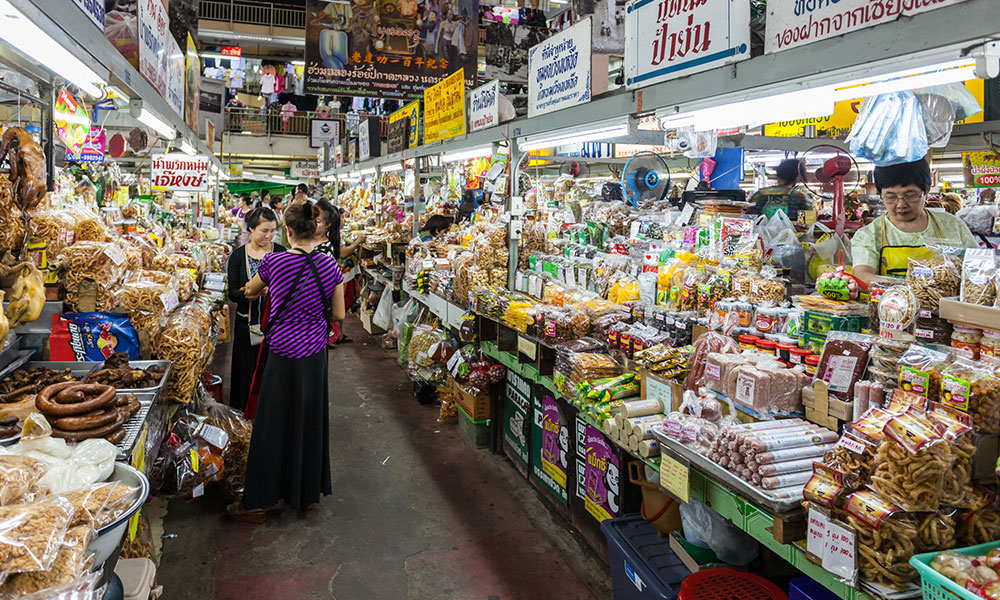 Don't worry if you're only there during the week, there's plenty of shopping to be had in Chiang Mai. Make sure you head to Warorot Market—the largest in Chiang Mai—and head to the night bazaar. A quick tip, head to the Warorot market for a bargain, and the night bazaar for the atmosphere—the bazaar is not a place for bargain hunters.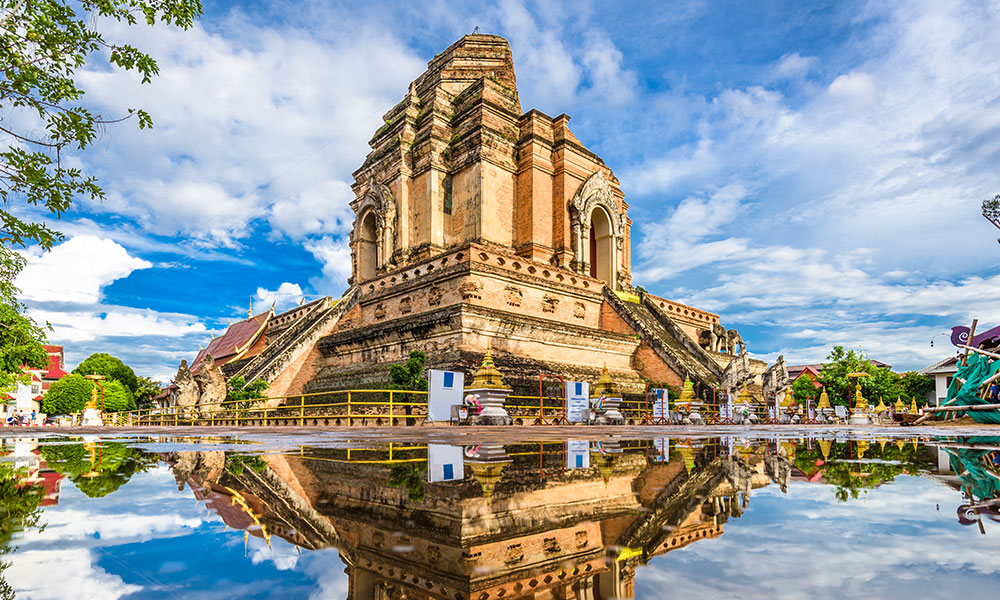 Make sure you visit some of the spectacular temples in the Old City. The four you absolutely can't miss are Wat Chedi Luang (right in the heart of the Old City), Wat Pan Tao (made of teak; very near Wat Chedi Luana), Wat Phra Singh (dates back to the 14th century), and Wat Chiang Man (13th century; elephant statues)—all are within walking distance in the Old City.
If you prefer to do your best work 'after hours', Chiang Mai has a thriving bar scene. While most bars observe a strict midnight closing time, there are some all-night spots if that's more your thing.
Again—being Chiang Mai—there's something for everyone. The square at the corner of Ratchapakhinai Road and Ratvithi Road is home to small live music venues that cover a whole spectrum of dance, reggae, ska, and even heavy metal.
The entire Nimmanhemin Road area is jammed with hipsters, cafés, wine bars and boutique shops. It's a hangout for students and "digital nomads" living in Chiang Mai. Spend the evening making friends with the locals who love sharing their favorite spots in the neighborhood with you. I know that sounds sarcastic, but it's true!
The surrounding country is well worth getting out into as well. There's Doi Suthep, the 5,500-foot-tall mountain that's home to one of the region's most important temples, Wat Phra Tat Doi Suthep.
Doi Inthanon National Park and Chiang Mai Canyon are also within day-tripping distance of Chiang Mai, and are beautiful and worthy of exploration. Tours leave daily from Chiang Mai or you can do some walks solo if you're feeling brave.
Chiang Rai
With its relaxed pace, array of beautiful temples, great food and cheap places to stay, Chiang Rai is well worth the trek out from Chiang Mai. Don't be fooled though, as Thailand's northernmost city with any oomph—it's the last stop before Laos—Chiang Rai is busy.
Being so close to the borders with Burma and Laos means some culture bleed. This means Chiang Rai has some cultural quirks you won't find in other parts of Thailand.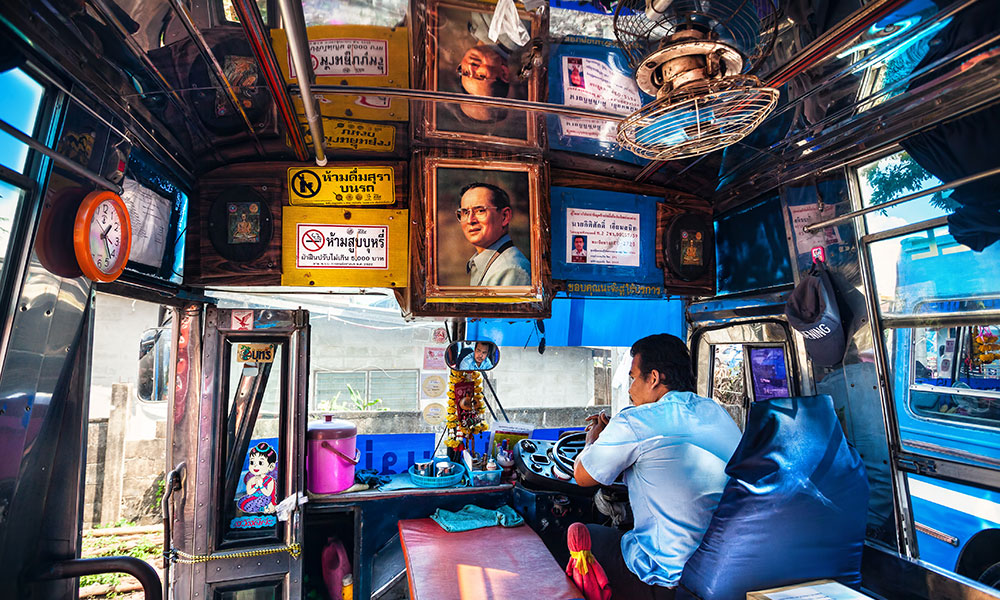 If you're travelling from Chiang Mai, the easiest way is to grab a bus. Head to the Arcade Bus Station (the Northern bus station) and choose a company you like. The cheapest bus tickets are around 140 baht (less than US$5).
Buses leave at least every hour, but may run more frequently depending on the season.
Once you're there, the best thing to do is start with the temples, because when in Thailand.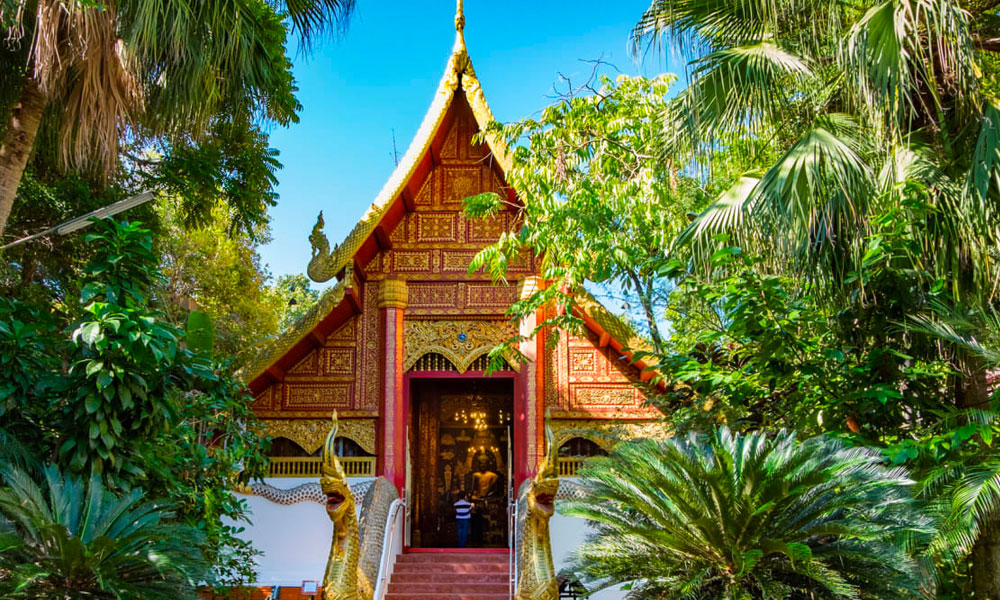 A great place to start is Wat Phra Kaew. It's one of the city's oldest and most renowned Buddhist temples. The name means Temple of the Emerald Buddha, because—naturally—it's the home of the emerald Buddha. Original name I know, but there's a twist. The Buddha was discovered around 1434 after lightning struck the temple's chedi (shrine) to reveal the Buddha hidden within. The original emerald Buddha resides in the temple of the same name on the grounds of Bangkok's Grand Palace and Wat Phra Kaew now houses an official replica of the Emerald Buddha made of green jade, but the Chiang Mai version is still worth visiting.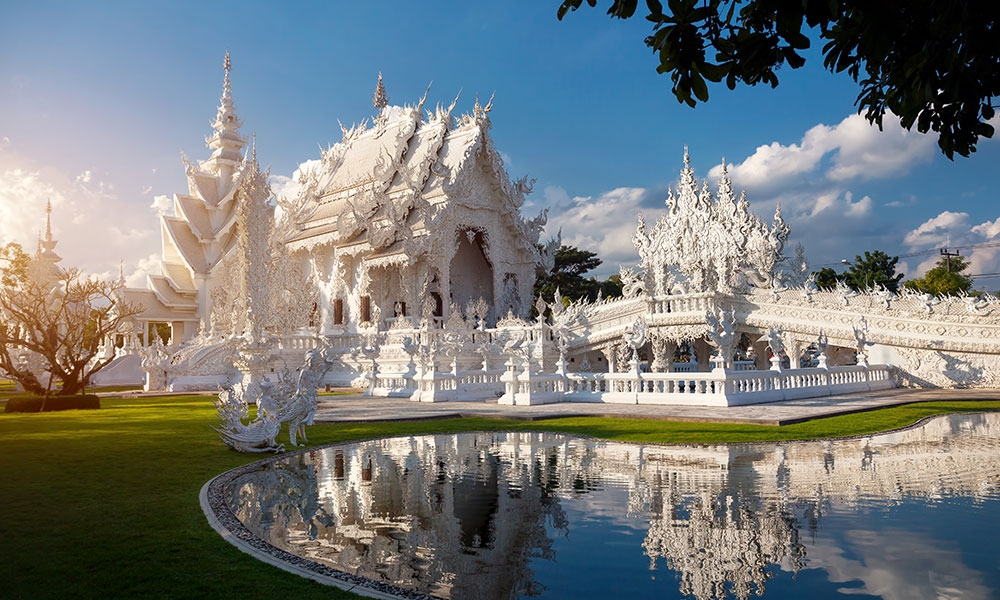 You can't visit Chiang Rai without seeing the famous White Temple. Designed by Thai visual artist Chalermchai Kositpipat, the massive all-white complex is covered in glass tiles and features an interior painted with murals of pop culture references, including Superman and Harry Potter. Construction began in 1997 and is still a work in progress.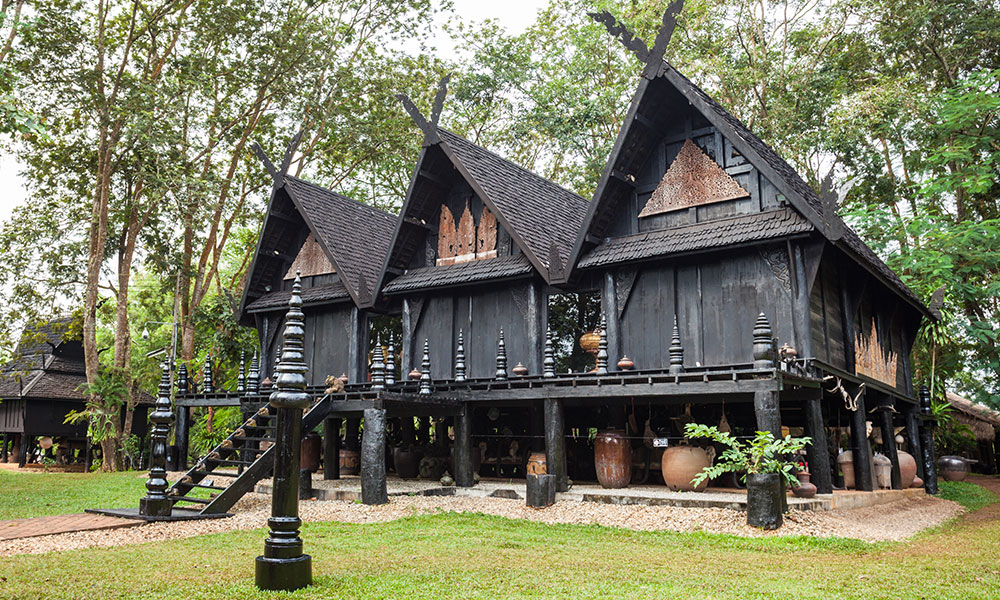 The Baan Dam (or Black House), created by Chiang Rai-born artist Thawan Duchanee, is home to 40 buildings of various architectural styles housing many of Duchanee's works. The grounds are beautiful as well, so make sure you go for a wander.
And make sure you head to the beach! Northern Thailand might not be the first place that comes to mind when you're thinking about sand and water, but there's a relaxing stretch of sand you can visit about 4km out of town along the banks of the Kok River. The beach is frequented by locals and makes for a relaxing spot to take a dip.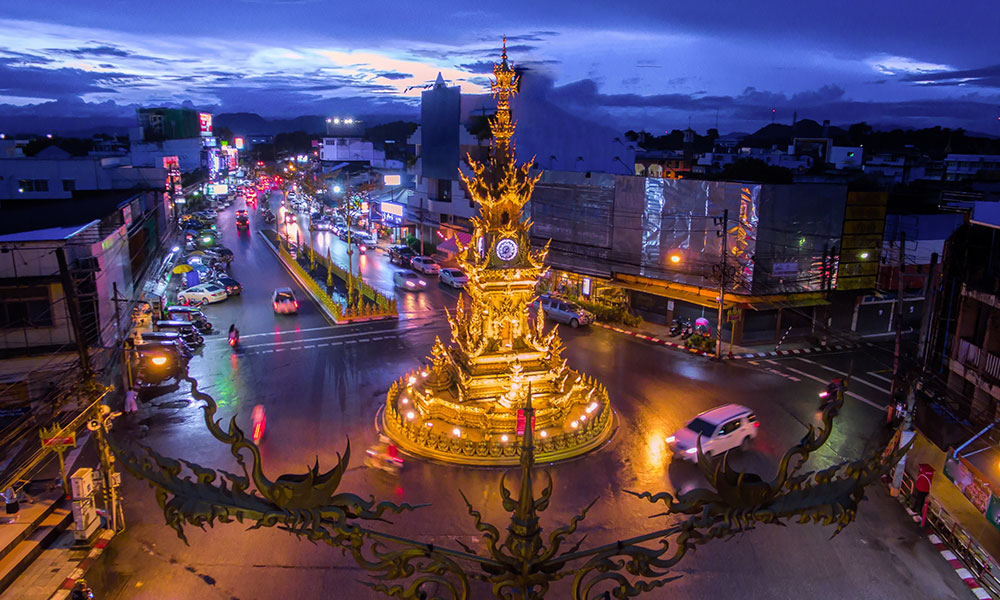 Chiang Rai's Golden Clock Tower is an ornate and unique work of art in the centre of town that also serves as a traffic roundabout. Designed by Chalermchai Kositpipat (the same artist responsible for the White Temple), the best time to visit is at 7, 8 or 9 pm when the elaborate tower gets lit up as part of a spectacular light show.
And now a little something for the animal lovers out there.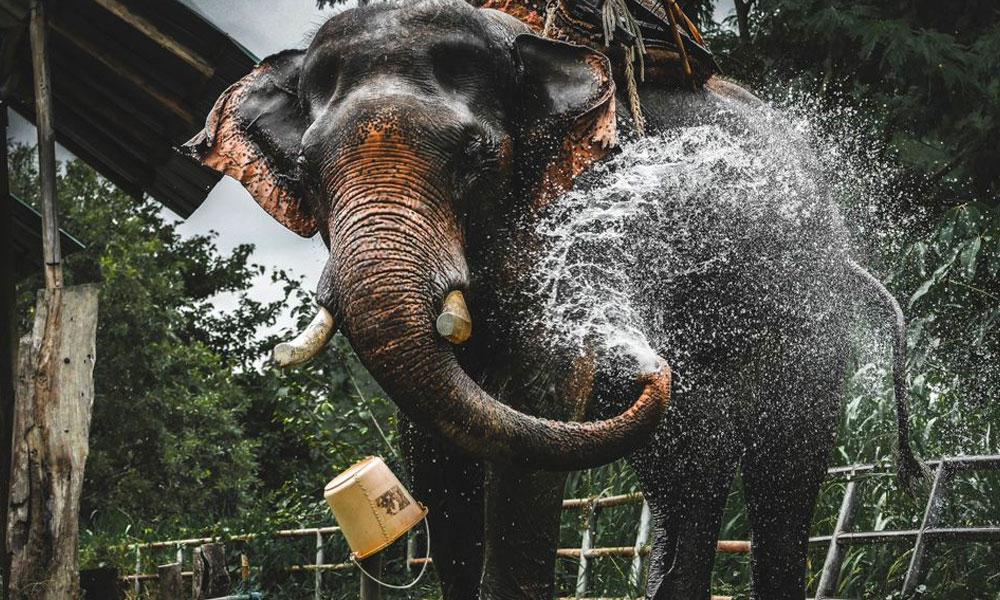 See rescued elephants enjoying their natural habitat with a visit to Elephant Valley, an elephant sanctuary in Chiang Rai. There's no tricks and no riding—just an incredible chance to hang out with elephants who were formerly in captivity. Choose from half and full day experiences to tour the sanctuary, feed the elephants and learn more about the work the sanctuary is doing.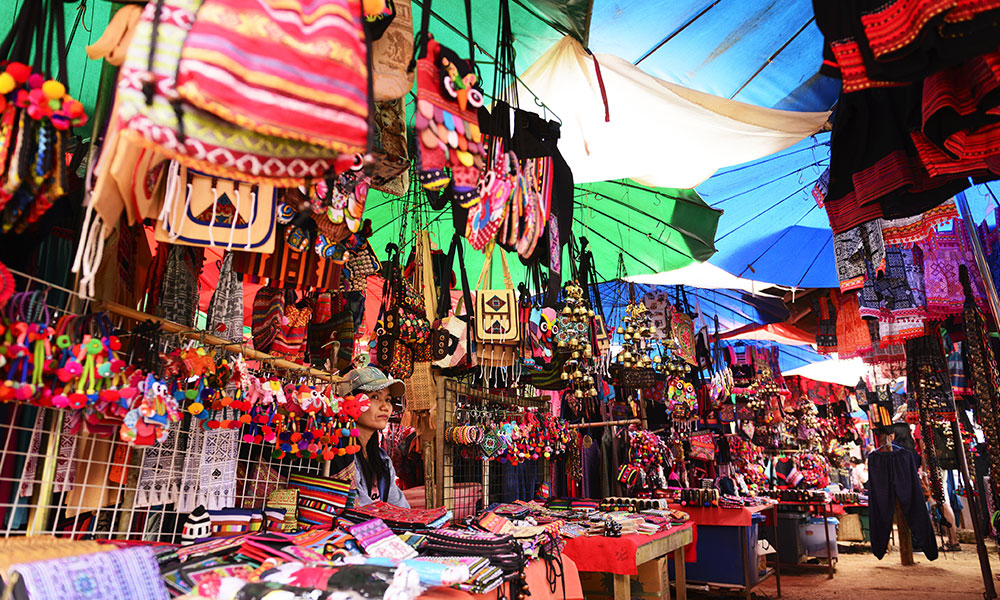 The shopping in Chiang Rai is great too. There are weekend walking markets here too and they're a much more relaxed experience than those found in Chiang Mai. If you can't make it on the weekend, then head to the night bazaar held every night. Smaller in scale than the walking market, but still carries a great atmosphere and there's plenty to see, buy and eat.