Snacks can bring joy and comfort, as well as nostalgia. We all have our favourites since childhood that have earned a special place in our hearts. And, it's always fun to taste new munchies from other cultures that expand our palates. While many traditional Asian snacks have existed for centuries, there are also yummy modernized treats that newer generations have grown up with – still readily available at groceries and supermarkets today, waiting for the uninitiated to discover.
Here are some of them!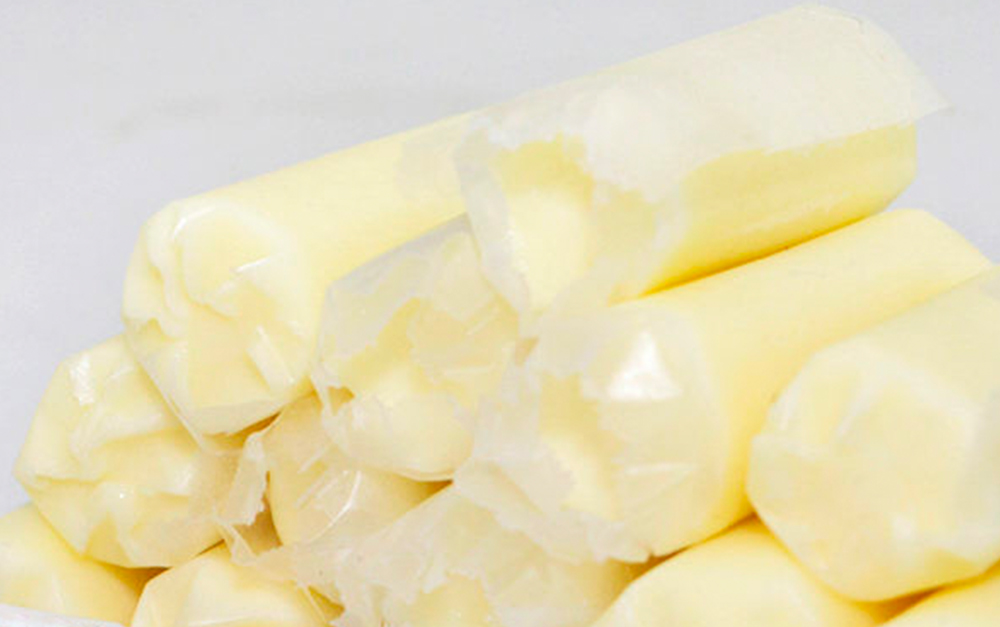 Milk Candy
Sweet and chewy with a unique creamy flavour that lingers in your mouth, milk candy has won the hearts of Chinese people everywhere since the 1950s, and remains a beloved classic today. A cylindrical candy wrapped in edible transparent rice paper. Similar to nougat or taffy but much, much milkier. Once you've tried it, you'll never forget the joyful taste.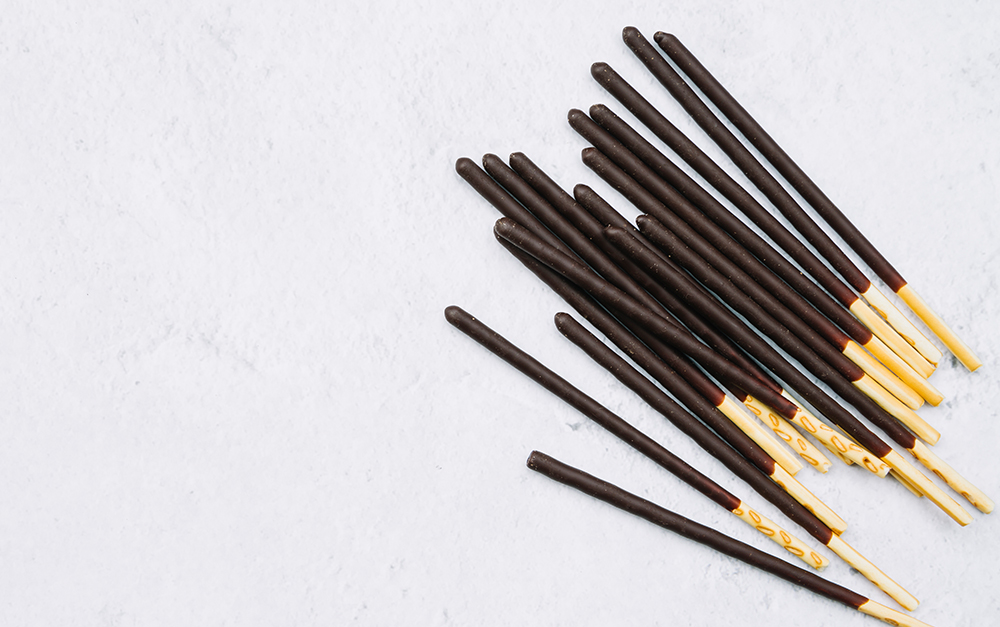 Biscuit Sticks
Wondrous biscuit sticks half-covered in a thin layer of cream that comes in a kaleidoscope of flavours, including chocolate, strawberry, vanilla cookies-and-cream, almond, banana, lychee, coffee and matcha – just to name a few. A Japanese darling made popular all over Asia since the 1960s, and available around the world. There's also another savoury variant with a pretzel-like texture dusted with seasonings instead of cream-coated, which flavours include bacon, cheddar, pizza, tomato, roast, dumpling, and even Tom Yum.
Haw Flakes
Made from dried and powdered hawthorn fruits, these tiny disks of sweet-tanginess have a soft, brittle texture and complex flavour that's oddly pleasurable. Paper-wrapped in small rolls, it's especially popular among Chinese children. Although its exact origins are untraceable, haw flakes are traditionally enjoyed with tea, as a sweet compliment when taking bitter herbal medicine, and as an appetizer. A simple, fruity snack, great for a quick munch!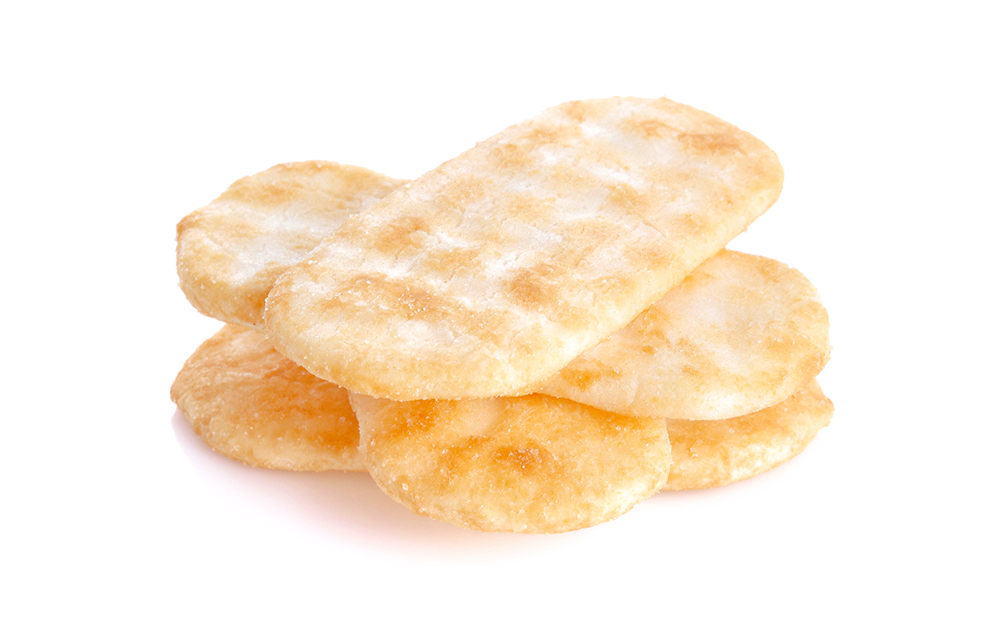 Rice Crackers
Adapted and modified by Taiwanese confectionaries from the traditional Japanese Senbei, these packaged rice crackers had become a household snack in Asia since the 1960s. Primarily made by heating and pressurizing rice into cakes, then lightly roasted and added with savoury seasoning. Crunchy and umami. There's also a Thai-style variant with a lightly sweet coconut flavour.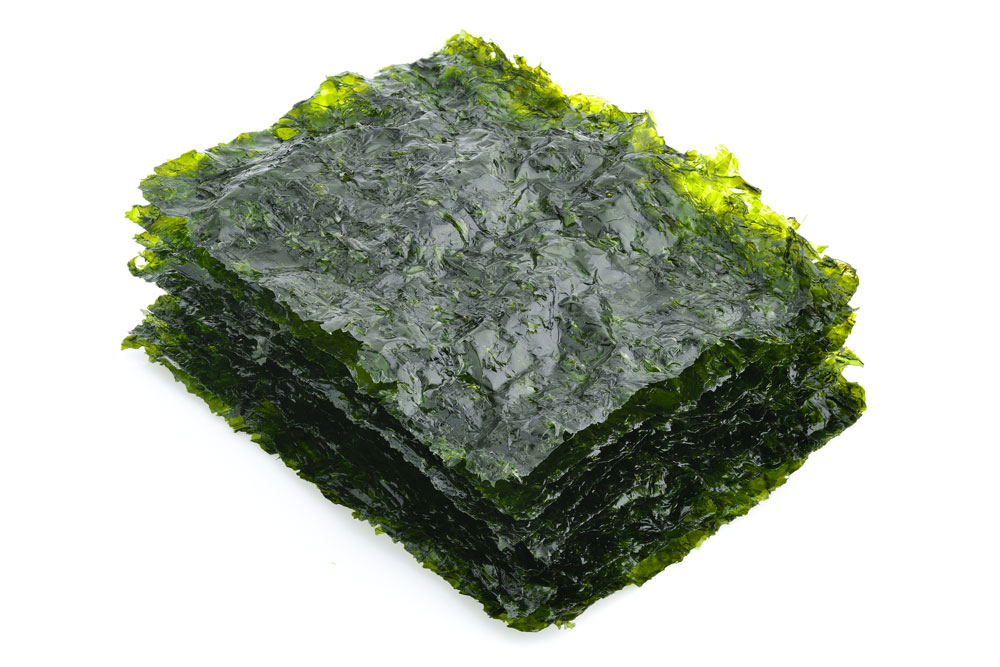 Seaweed Crisps
Dried and sheeted seaweed lightly roasted and seasoned with natural sea salt, this crispy delight is probably your best alternative to potato chips. Nutrients-rich, delightful to munch, and with a refreshing, umami flavour. A tasty snack anytime. Also great as a side dish for Korean and Japanese meals.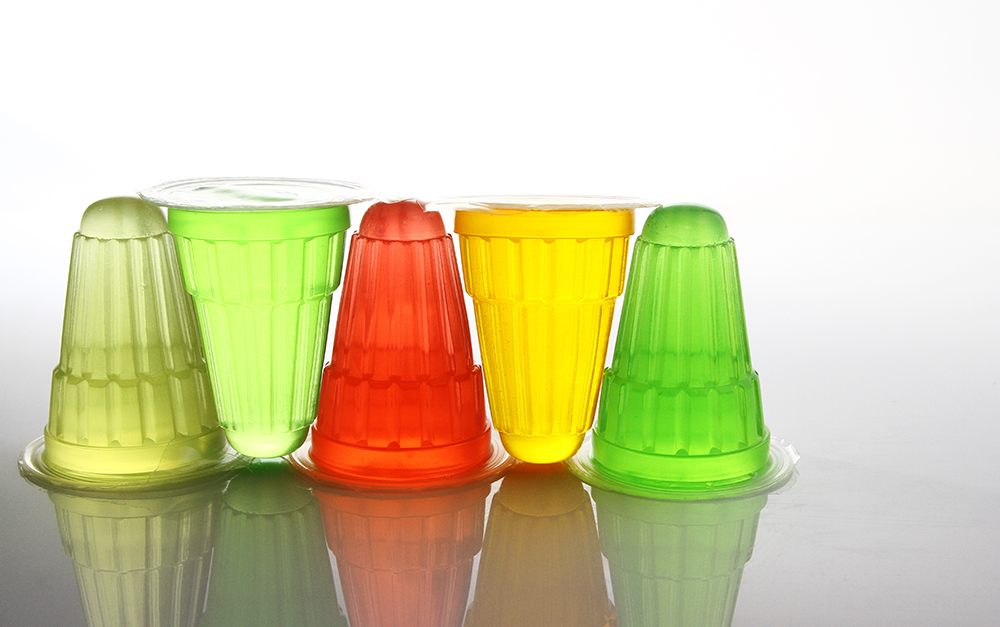 Fruit Jelly
Sweet, fruity-flavoured jelly pudding that usually comes in assorted packs. These colourful yummies have a bouncy, gummy texture, and give a burst of happy taste in every bite. Cool the whole pack in your fridge for an easy chilled dessert, or just dig in whenever for some instant fruity joy.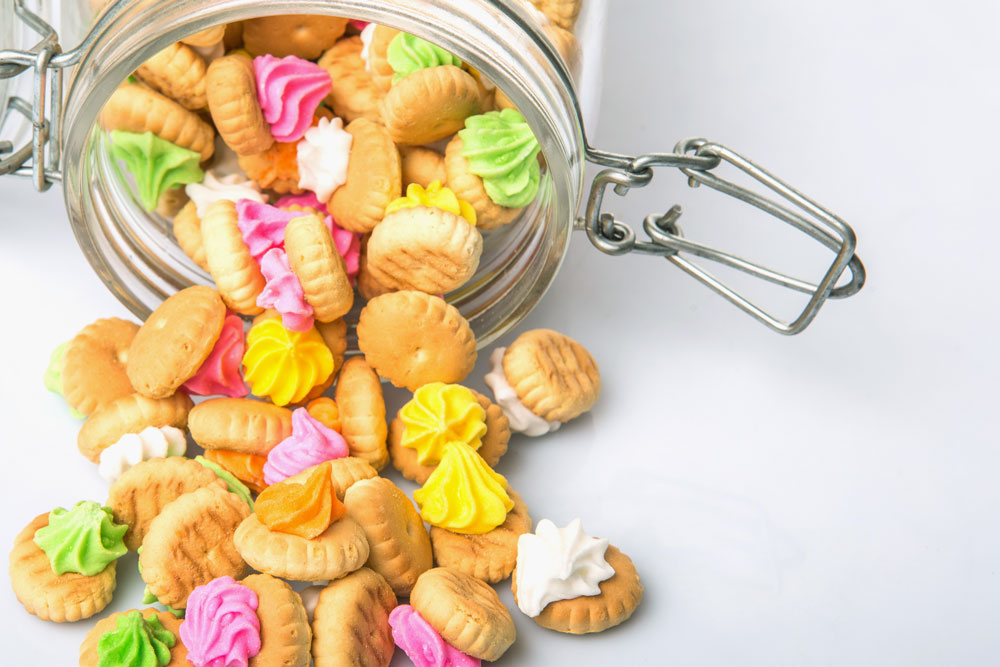 Iced Gem Biscuits
The exact origin of these cuties is varied. Some claim the recipe originated from Taiwan around 1905. Another source says it was first an unwitting invention when an English confections company tested their new baking technology around 1850, and only 60 years later in 1910, added the gem-like solidified icing on top of the tiny butter-flour biscuits. Whichever the case, iced gem biscuits are all the rage among Malaysians, after it became a household snack here since around the 1970s, wholly produced by local bakeries. Sweet, crunchy and a lot of fun to munch. Once you open a pack of these, it's really hard to stop! Goes great with plain hot tea.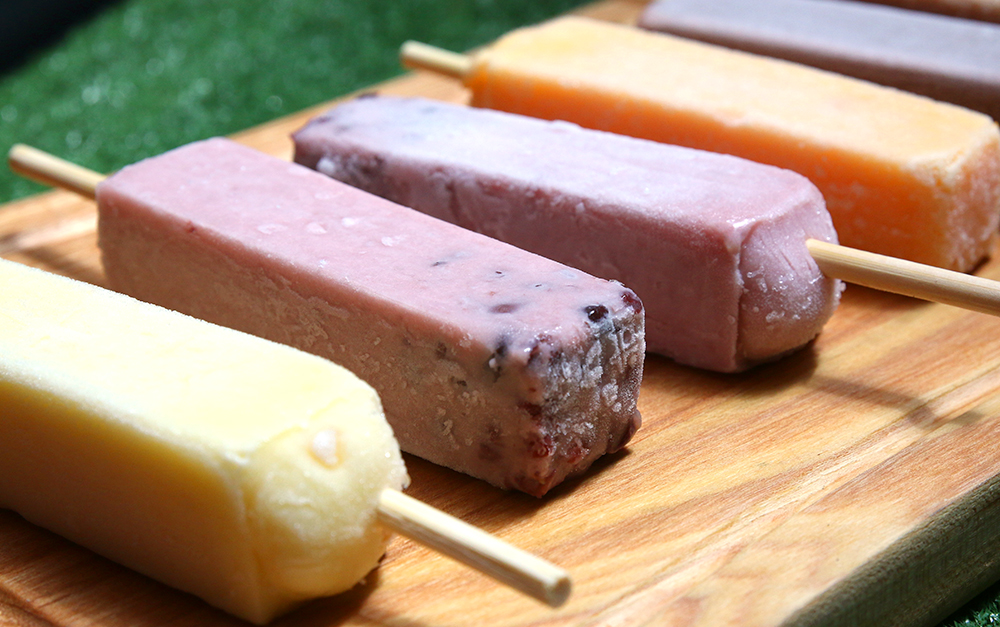 Potong Ice Cream
Created after refrigeration was introduced to Malaysia in the 1940s, potong ice-cream or 'cut' ice cream is actually made of coconut milk instead of dairy, giving it a subtle sweet nutty base flavour, and usually added with a flavouring of natural local ingredients like red beans, durian, jackfruit and sweet corn. Traditionally sold by street vendors, these cool delights are frozen in long sticks, then cut, and served with a holding stick poked in. These days you can easily find ready-cut potong ice-cream of assorted flavours in a pack. Try red beans for starters.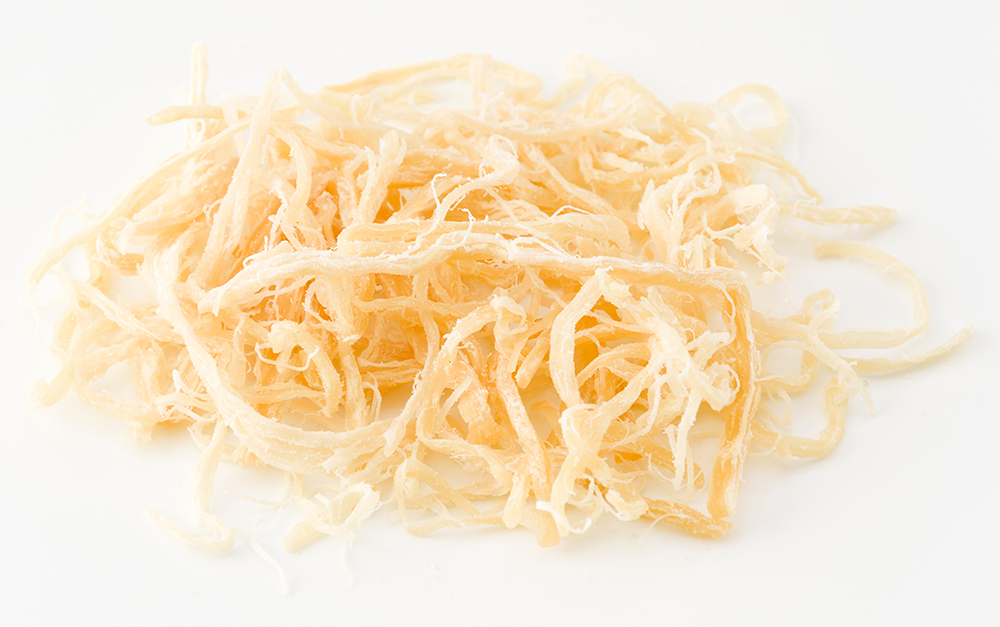 Dried Shredded Squid
Soft, chewy and savoury strips with a light pungent fish taste, believed to have originated from the earliest seafaring Japanese and coastal Chinese fishermen as they dried and preserved their catches. But the modernized, mass version today was first popularized in Hong Kong during the 1970s. A light umami snack on the go, or for your Netflix and TV sessions. If you enjoy seafood, you'll love this snack.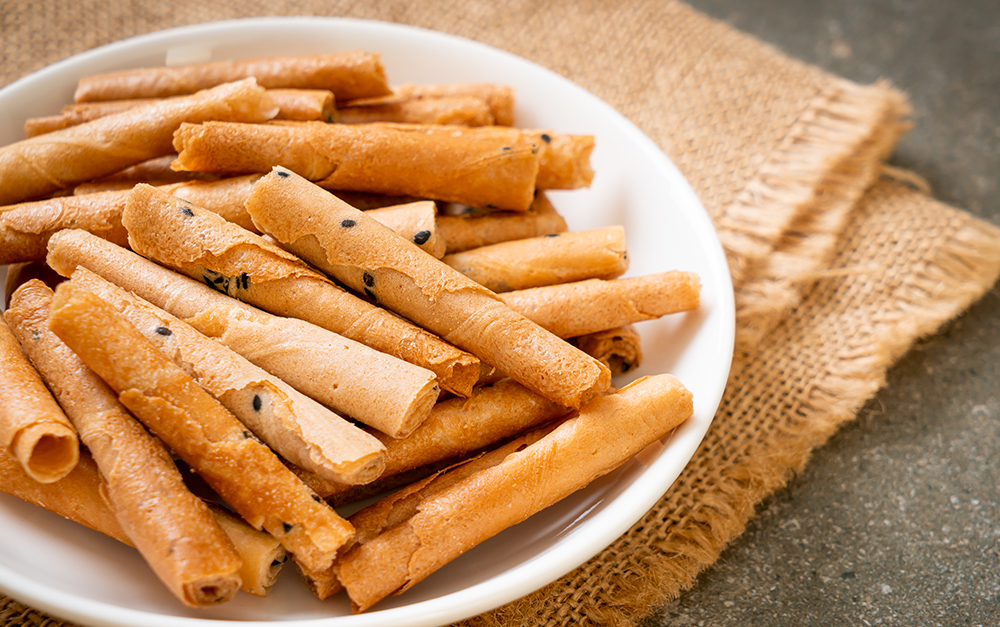 Egg Rolls
Eggs whisked with sugar and flour into a creamy batter, laid out and pressed into a thin dough on a twin-surfaced pan (like a clamp). Cooked then rolled right after, and let cooled into a crispy golden biscuit roll. A Chinese festive gift especially for Lunar New Year, but also enjoyed all year round. A richly fragrant and crunchy treat that's never too sweet, with a subtle umami taste. Always a delight for adults and children alike.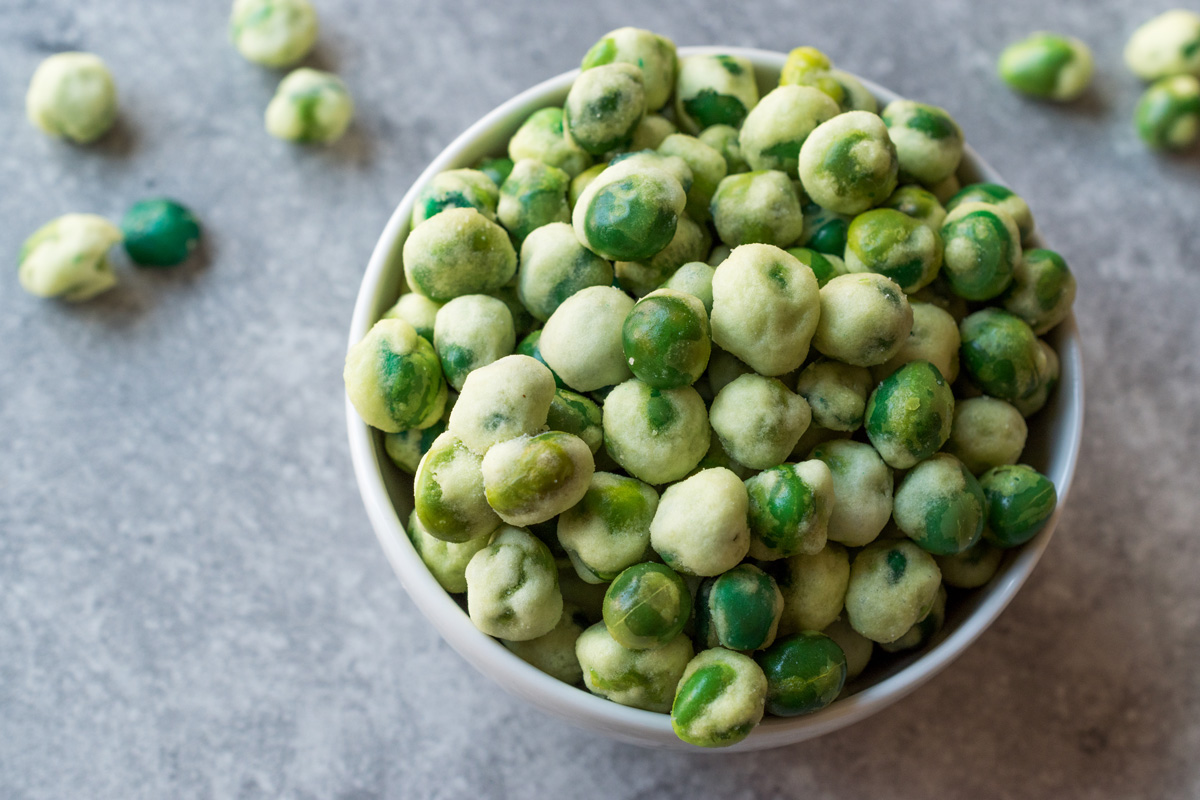 Roasted Peas
Crunchy nuts-like roasted peas are an easy snack for any occasion. Although the most common type is Japanese, roast peas are also a Malaysian snack. Comes in savoury or wasabi flavours. Another goodie to enjoy on your couch potato sessions that also happens to be a wholesome treat. You can also easily make your own. Just thaw and dry a pack of frozen green peas, drizzle 2 teaspoon coconut oil, add 1 teaspoon sea salt and toss to coat. Preheat your oven to 200°C, bake the peas for 30 mins, reduce heat to 190°, continue for about 15 mins more, and voila, fresh crispy green pea snack!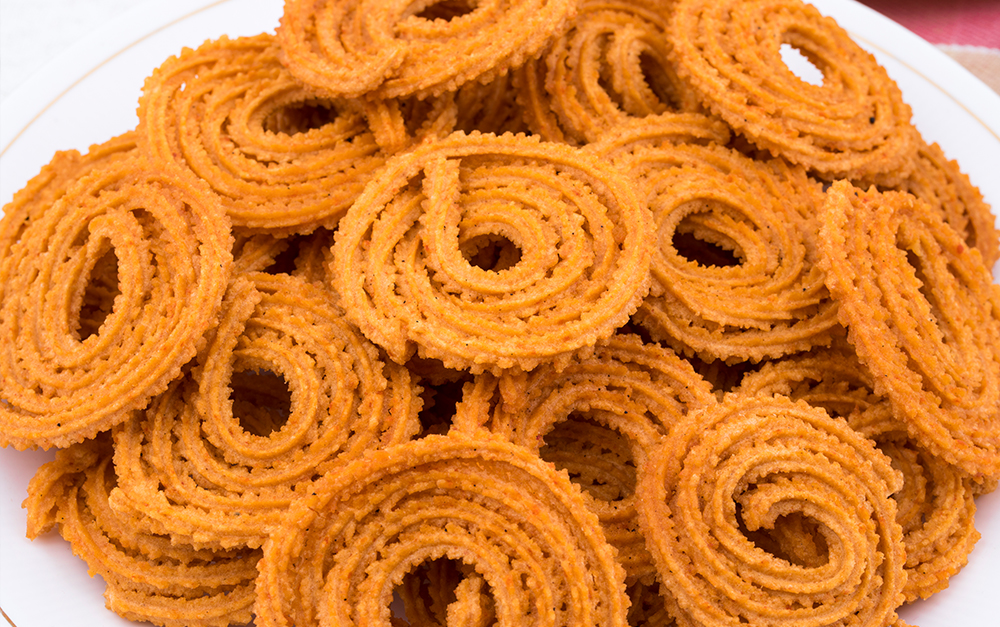 Murukku
Originated from Southern India, and brought over to colonial Malaya by migrant workers, this fragrant crunchy deep-fried snack has long since become a beloved treat among all Malaysians. Murukku means 'twisted' in Tamil, which refers to the dough, kneaded then shaped in spirals, and deep fried in veggie oil. The dough is a mix of a special Urad Dal bean flour, water, salt, chilli powder, asafoetida (a dried plant latex), and cumin seeds or sesame seeds. Crunchy with a spice-fragrant undertone. The more you munch, the more you'll want.