In Chinese culture, food is to be shared and enjoyed with friends and family. To eat is a blessing, and 'have you eaten?' is almost synonymous with 'how are you?' A greeting for not just having a full stomach but general wellbeing and stability. So, you can probably imagine that the Chinese take the act of eating quite seriously. Not that every meal is a strict and solemn affair, but rather, simple civility that ensures everyone is comfortable at the table and that everyone may savour all the tasty wholesome flavours. It is believed that a person's demeanour during mealtime, reflects how one behaves in general. Thus, Chinese parents often teach courtesy and respect to their children through table etiquette. Of course, banquet meals have more etiquette to observe, but the basics are practised in households and restaurants alike.
Taking a seat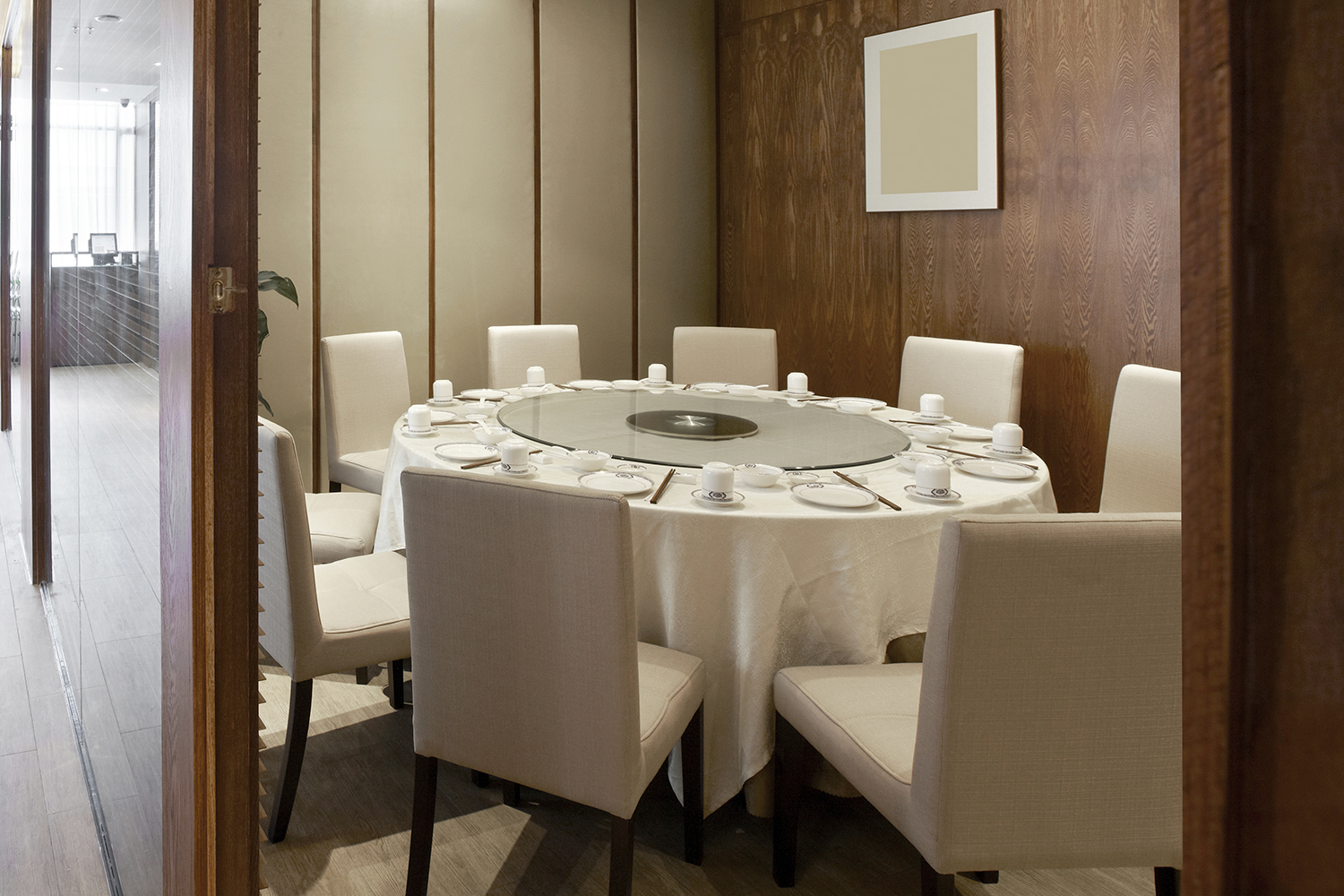 Although single-serving dishes have existed for millennia, a typical Chinese meal is usually meant to serve a group, or at least, two people; with a tableful of meat, veggies, and soup, and each diner with a bowl of rice. In banquets, large round tables that may accommodate up to 12 seats are the norm, with a turntable at the centre for easy reach to the dishes.
Seating is by seniority of age or in company dinners, by rank. In a single table banquet setting, the host or the guest of honour takes the farthest chair that faces the door. In a household meal setting, the head of the family takes this seat.
Always arrive and be seated before the dishes and rice are served. In formal meals, the host or the guest of honour must take the seat before anyone else.
What's on the table?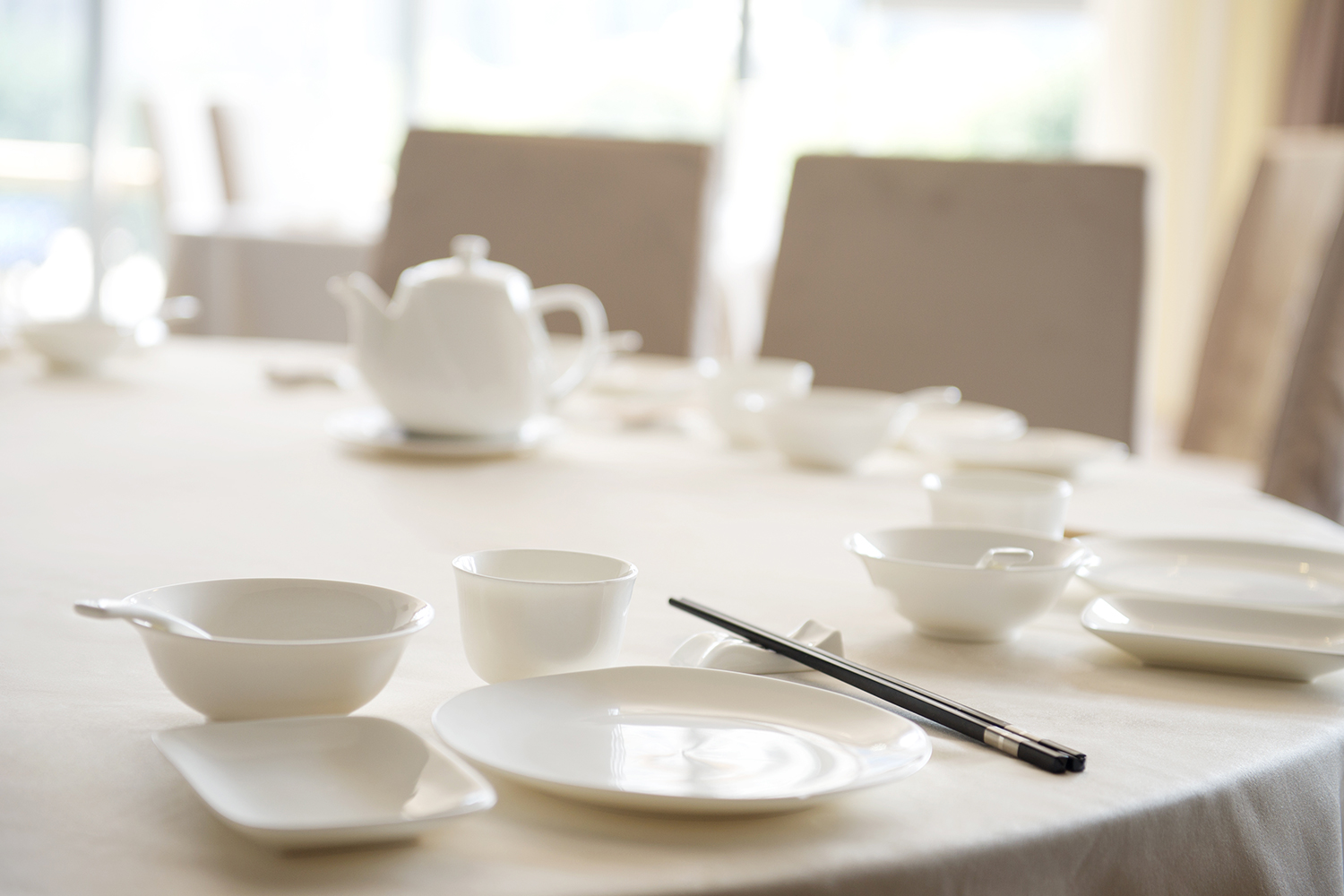 At each seating, a personal rice bowl, soup bowl, sauce plate, chopsticks and soup spoon are the most common tableware, with a cup for tea or drinks – served in a shared teapot or jug. Chopsticks are arranged to your right, rice bowl in the middle, soup bowl with a spoon, and sauce plate to the front side. High-end restaurants may also serve napkins and baiju wine glasses, as well as chopstick-holders.
During the meal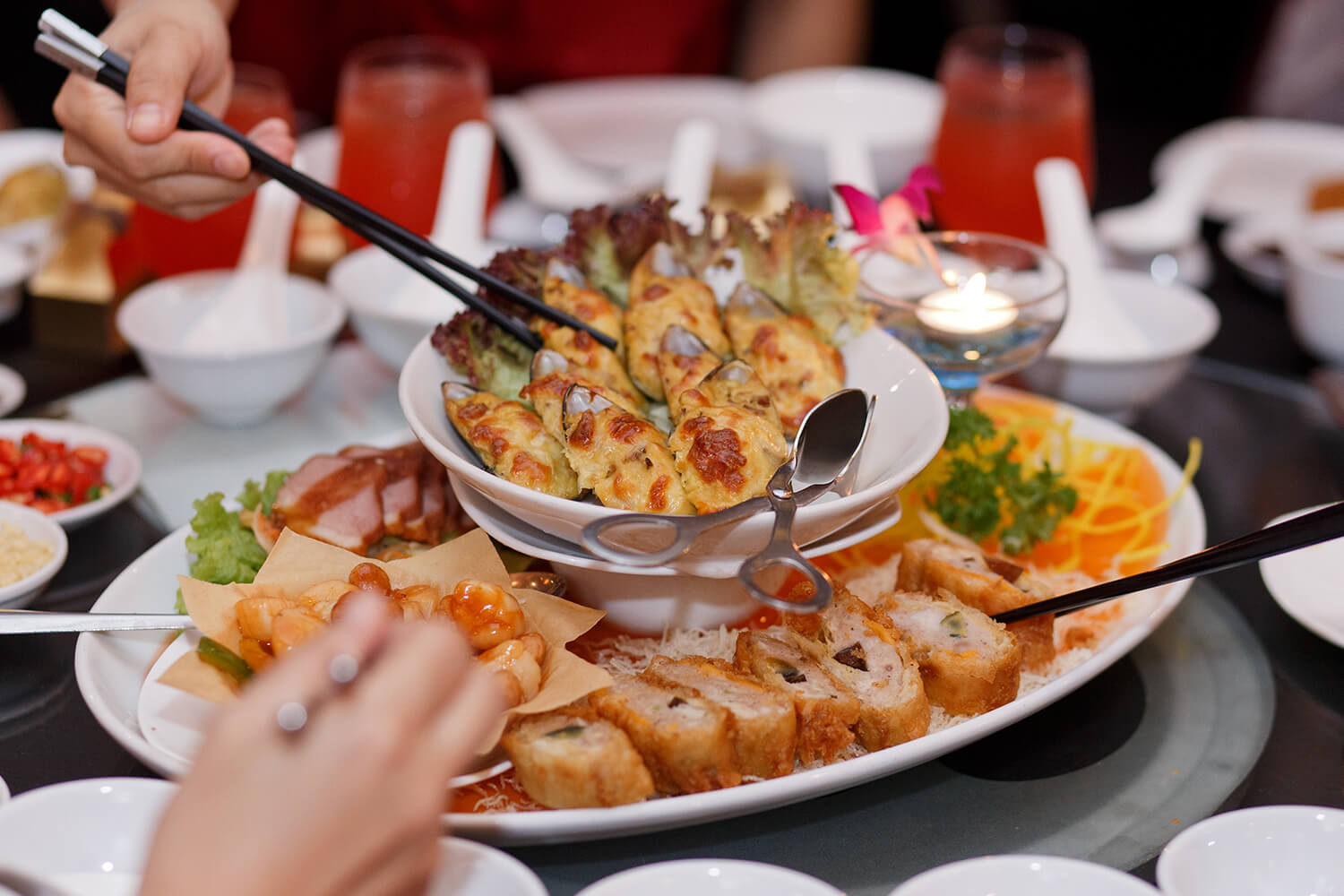 After the dishes and rice are served, the host or honoured guest is the first to hold up their rice bowl, pick the first dish, and invite everyone to follow suit. In a household meal, after the elder announces the start, children will also invite each elder to eat, before starting themselves.
Hold your rice bowl up and use your chopsticks to pick from the dishes and for your rice. Aim for the morsel you want in the shared plate and pick it into your bowl as smoothly as you can. Don't fumble about the dish, stab the food with your chopsticks, or use your soup spoon. Also, don't lick or suck your chopsticks, tap or click them on your bowl, stab them upright in your rice bowl, hold them separately, or gesture and point with them – all of which are considered rude. Passing food to elders, children and honoured guests are common, but never chopsticks to chopsticks, and never across the table. Instead, only pass food to the person next to you, and put the food into the person's rice bowl directly, and say 'please have more'. It is impolite to reject if someone passes you a morsel, so do thank them and enjoy it. Also, come learn everything you need to know about chopsticks here.
To have soup, rest your chopsticks on your rice bowl diagonally, place the soup bowl near to you, and sip with the spoon. No need to hold up the soup bowl. Keep slurping and eating noises low and minimal, and of course, try not to speak with your mouth full. Do feel free to enjoy conversations, however. Chinese meals are a time for bonding. Also, eat in small mouthfuls instead of wolfing it all down. Savour every flavour on the table till you have your fill.
Should you need to leave in the middle of a banquet, be sure to politely tell your host; and express an apology, as well as thanks for the hospitality.
Toasting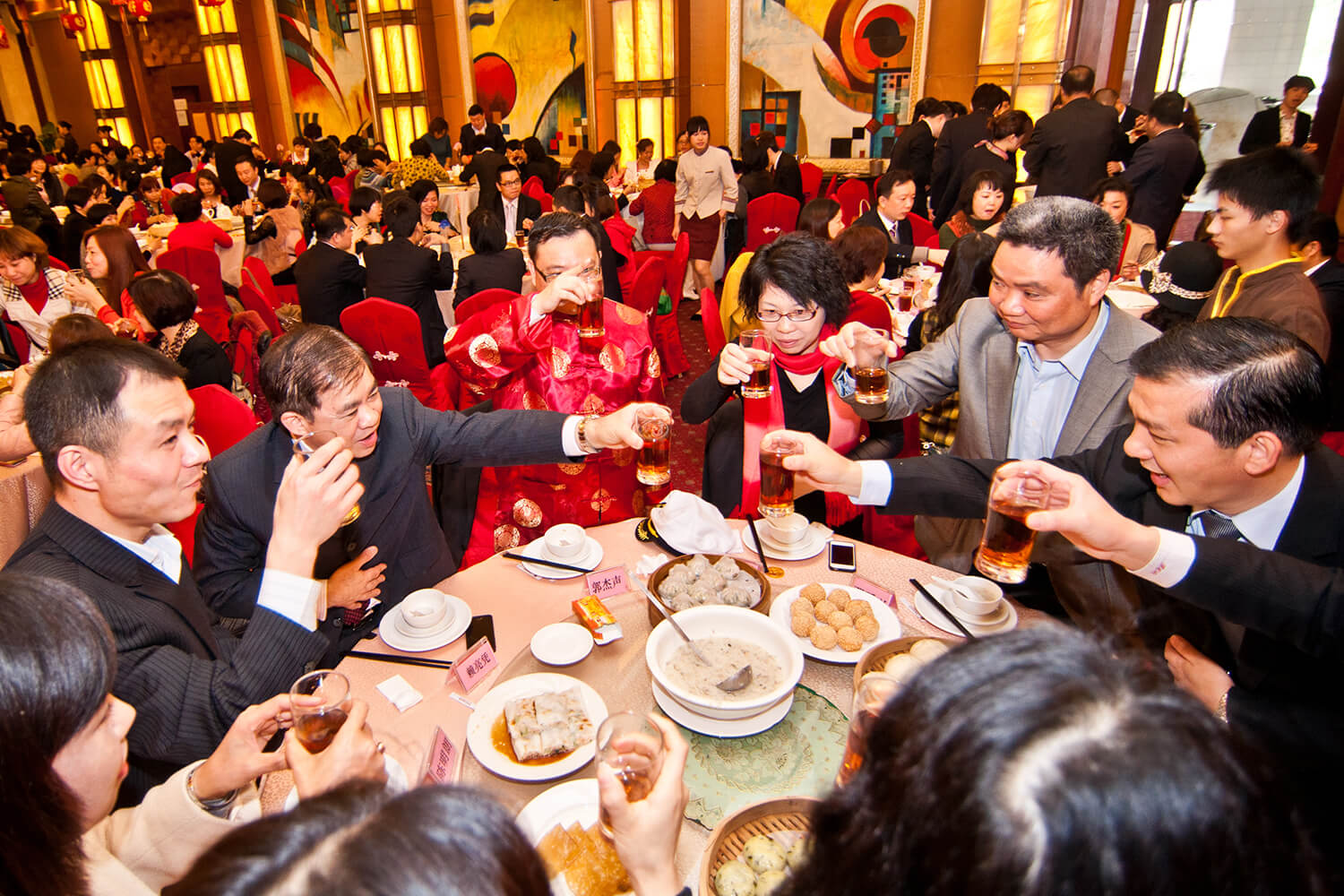 Alcohol is typically served at a Chinese banquet. Beer or wine is sipped, but baiju should be taken whole-glass – usually a shot glass. Waiters will refill your glass immediately after a toast. In a traditional formal setting, the host and the guest of honour will toast each other, then toast everyone at the table. If you're not the honoured guest, don't usurp the host's role to toast, as it is considered disrespectful. If you are the host, do remember to toast your guests between dishes to lighten or heighten the mood.
End of the meal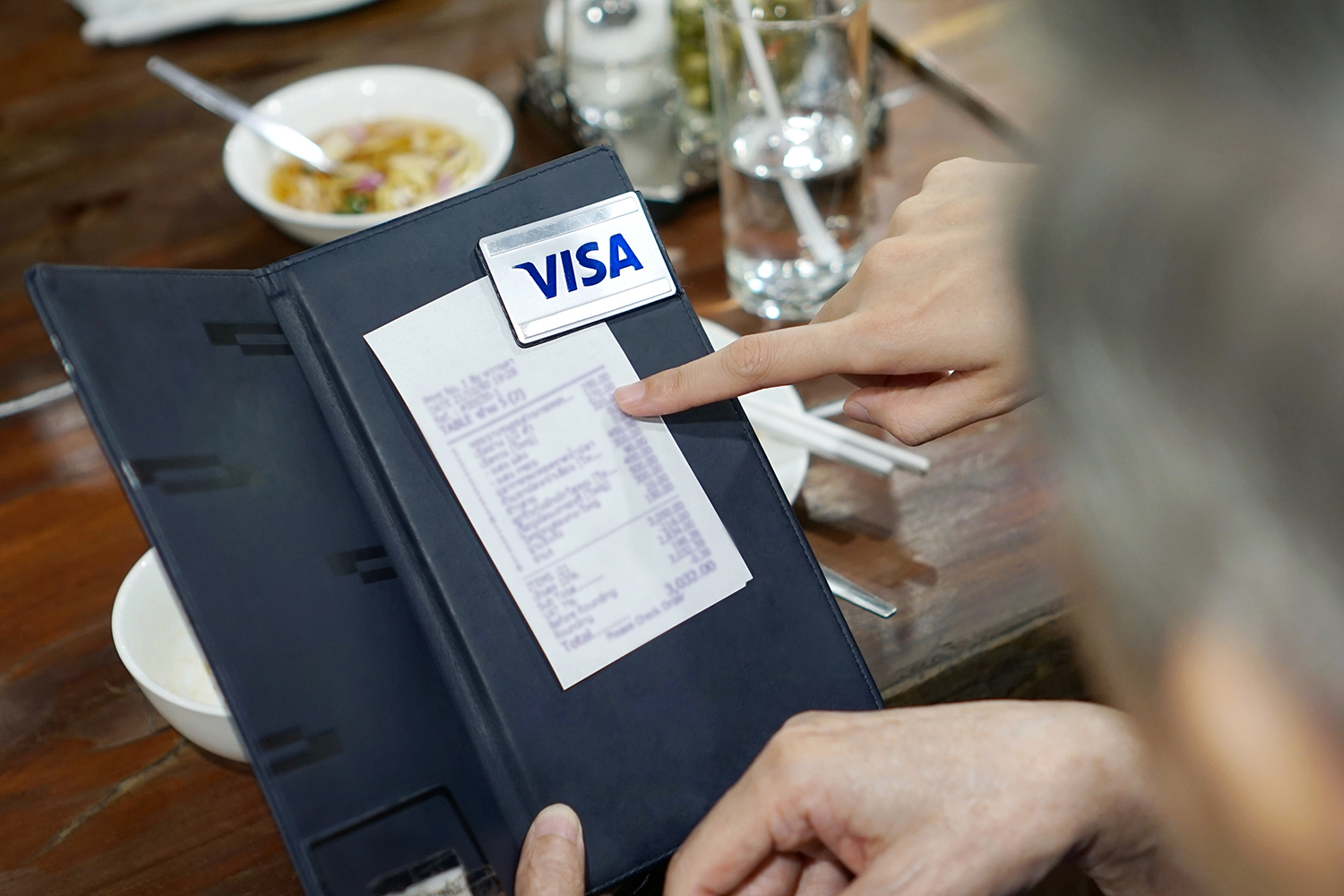 An aspect of Chinese dining you might find strange is the habit of fighting over who pays the bill. It's actually a subtle play of decorum between guest and host. As a guest, especially if you're the honoured guest, you should volunteer to pay the bill as a sign of appreciation for the food and hospitality, but the host will always insist on doing it, and you should always relent. Because to pay as a guest insinuates that your host is stingy and can't afford the treat.
This may be less prominent in casual friendly settings, but definitely still a thing among traditional Chinese families and in a corporate business banquet.
Finally, don't leave the table before the host and guest of honour do so; compliment the food and thank your host for the hospitality. If you're the host, try not to loiter at the table for too long after the meal, and be sure to thank every guest for their attendance.