Taiwan is a foodie haven where yummies are available everywhere, all day long. And after sunset, the night markets serve up a massive selection of snacks and desserts, as well as handicrafts, household items, and cheap or branded garments. Some may also feature carnival games, buskers, and traditional performances. While they share many similar foods, the famed markets in every major city do have their specialties. Each offers a unique experience that encapsulates the local culture.
So, if you're planning a round-island trip (you should!), go have a gastronomic tour of these 10 amazing night markets.
Shilin (Taipei)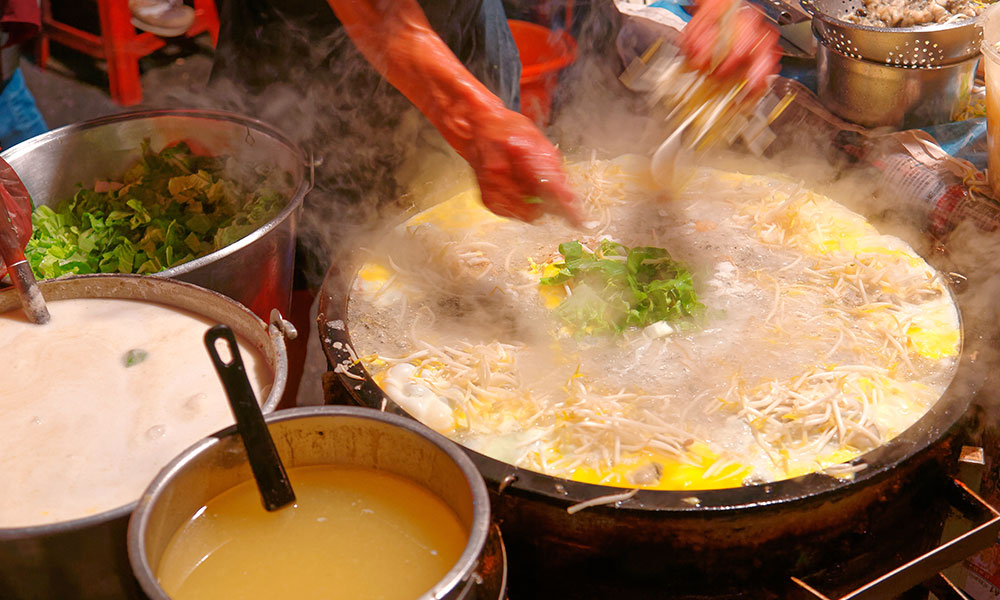 Shilin has the most renowned Taiwanese night market, stretching through the neighbourhood between Jihe and Wenling Roads. Established in 1899, the earliest hawkers set up around the local temple and wet market. Over the decades of modernization after WW2, the stalls evolved and expanded. Today, it's a signature tourist spot in Taipei, as well as a major hangout area for local youths and families. It does get crowded though, as the stalls are packed along narrow lanes.
Must-try yummies: Massive fried chicken, flame-torched beef, grilled squid, oyster omelette, double rice sausages, pan-fried shui jian pork bao, mee sua vermicelli in thick meaty soup, bubble tea; and if you're up for a challenge, the stinky tofu.
Raohe (Taipei)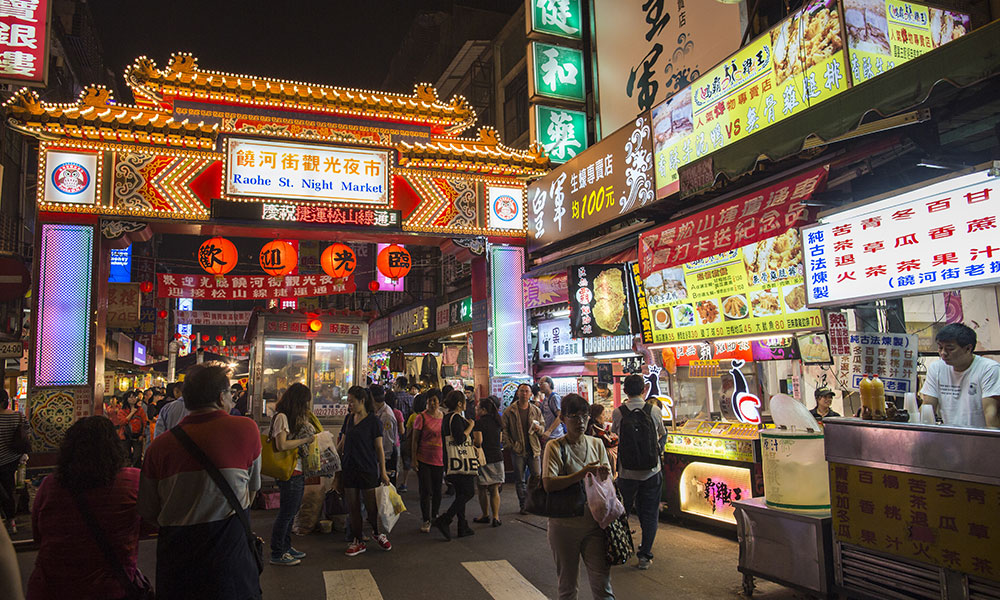 The second most popular night market in Taipei, Raohe covers a smaller area than Shilin; located around Raohe Street in Songshan District. The Chi You temple by the market sets it apart. One of the most intricately designed temples in Taiwan, with six ornamented floors to walk through, and the Rainbow Bridge behind it. Besides the classic snacks and desserts, Raohe night market is also famed for sumptuous meaty dishes.
Must-try yummies: Fuzhou black pepper buns, Chen Dong pork ribs herbal stew, beef noodles, fish stew, Taiwanese tempura, and Luwei braised meats.
Jiu Fen Old Street (New Taipei City)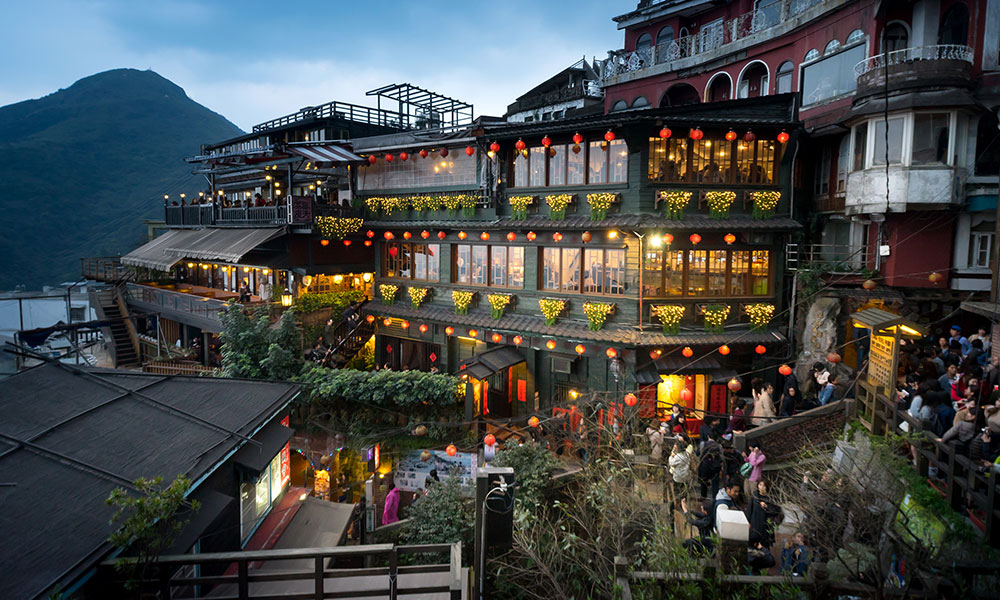 Jiu Fen is a historic township built on the hills northeast of Taipei. Famed for the cool weather, scenic view, old-timey buildings along steep stairways, beautiful teahouses, traditional candies, snacks, desserts, a plethora of local specials and beautiful souvenirs. Charming and bustling from day to night. You can actually spend the whole day here shopping and eating.
Must-try yummies: Sweet taro balls soup, Hakka-style sticky rice dumpling, ice-cream puff, peanut ice-cream roll.
Tamsui Old Street (New Taipei City)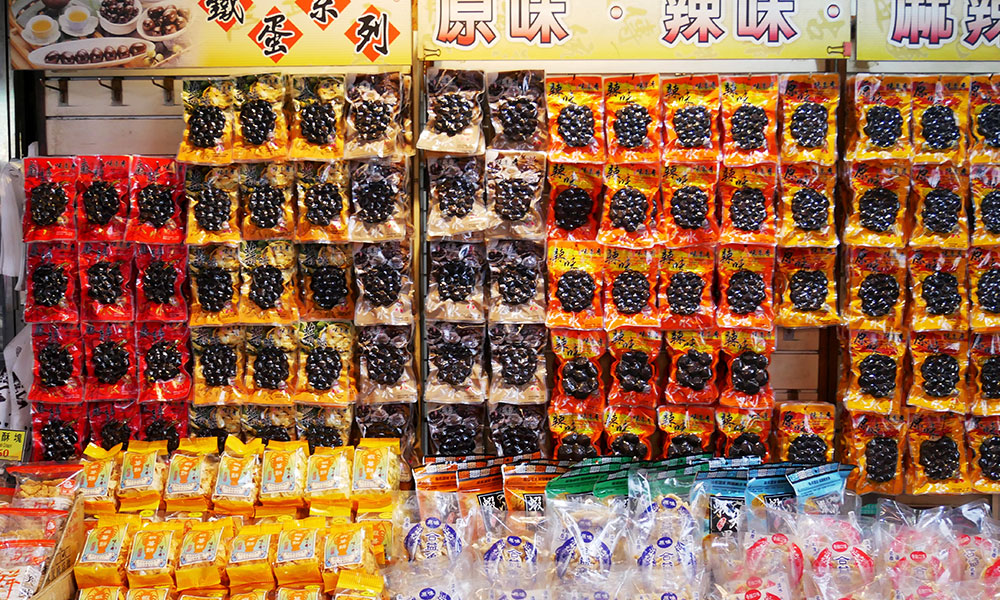 Tamsui is a coastal town with seafood diners, quaint cafés, boutiques, and a scenic waterfront. Similar to Jiu Fen, it's a good place for a full-day trip to enjoy the sights, chill vibes and the many delectable foods.
Tamsui is also known for two specialties: Agei fried tofu, packed with fish paste and cellophane noodles, lathered in a sweet-savoury sauce. The other is the Iron Egg. Chicken, pigeon or quail eggs are repeatedly stewed in tea, soy sauce and assorted spices; which give them a deep dark brown colour. Then air-dried to a firm, bouncy texture. Delightful to chew, with a concentrated savoury herbal aroma and flavour. A beloved Taiwanese snack. You can find them in vacuum-sealed souvenir packs, which you can fridge to keep fresh.
Must-try yummies: Agei, Iron Eggs, tower ice-cream, all the seafood!
Fengjia (Taichung)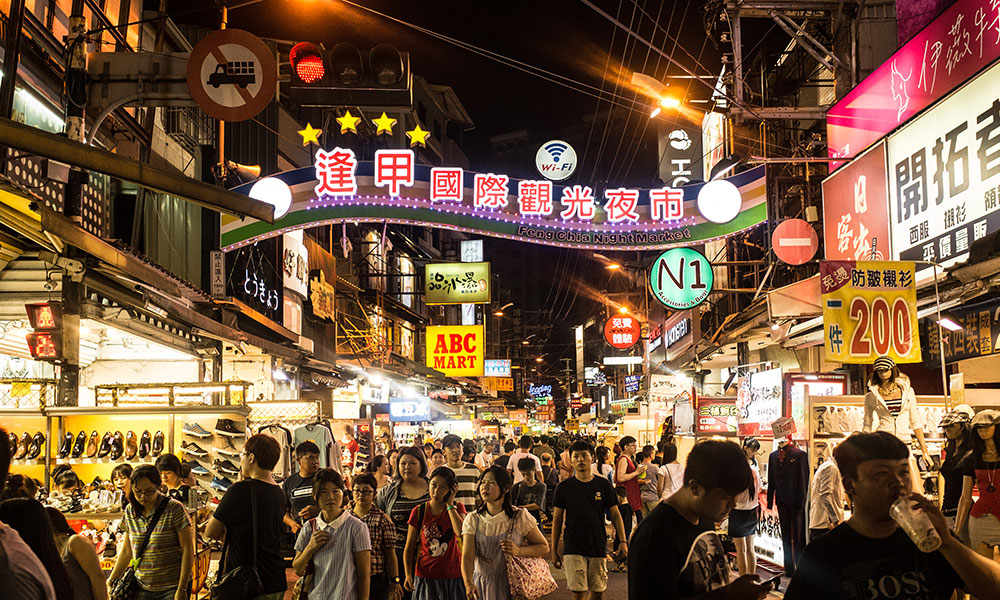 The largest Taiwanese night market, located in Taichung city at the island's central region. Fengjia has about 15,000 shops, diners, and stalls. With all kinds of goodies to shop for and a magnificent selection of foods. Start your visit in the evening and explore the whole night!
Must try yummies: all the Taiwanese classics, grilled abalone, scallops, clams, squid, oysters; and fragrant savoury sausage with sticky rice.
Ita Thao Street (Sun Moon Lake, Taichung)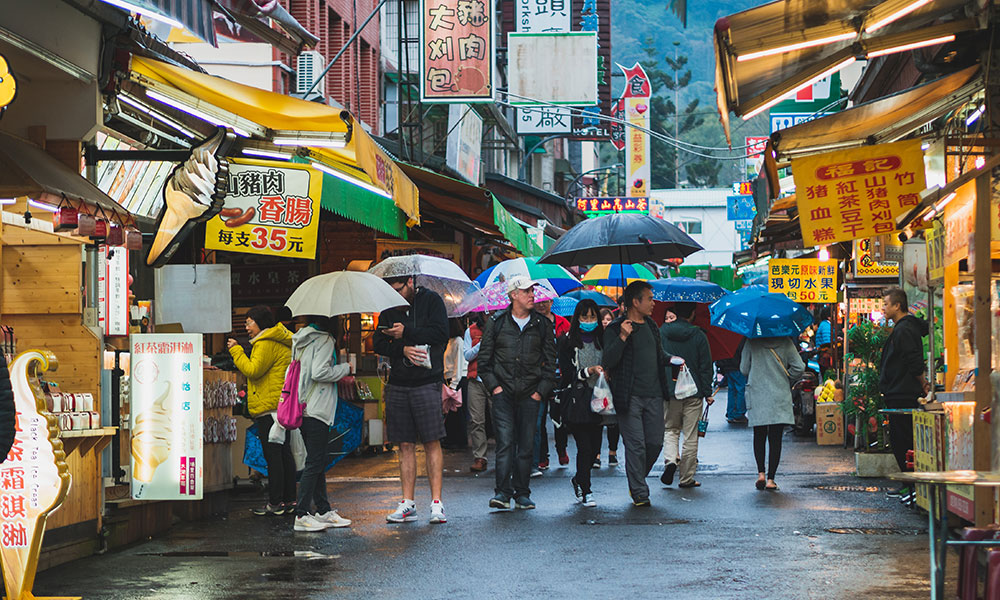 South of Taichung city is the beautiful Sun Moon Lake, the largest in Taiwan. Home to the vibrant Ita Thao Shopping Street with lots to see, shop and taste. Also a great place to spend the day, and indulge in the manifold night market flavours.
Sun Moon Lake is also famed for the President's Fish. A huge type of freshwater fish known as Azuray, with a curved abdomen, and juicy, tender meat. A favourite of the late President Chiang Kai-Shek, hence the name. The best way to enjoy it is steamed, which you can easily find at the restaurants here.
Must-try yummies: The President's Fish, Gua Bao pork bun with fried egg, sausage with sticky rice.
Anping Old Street (Tainan)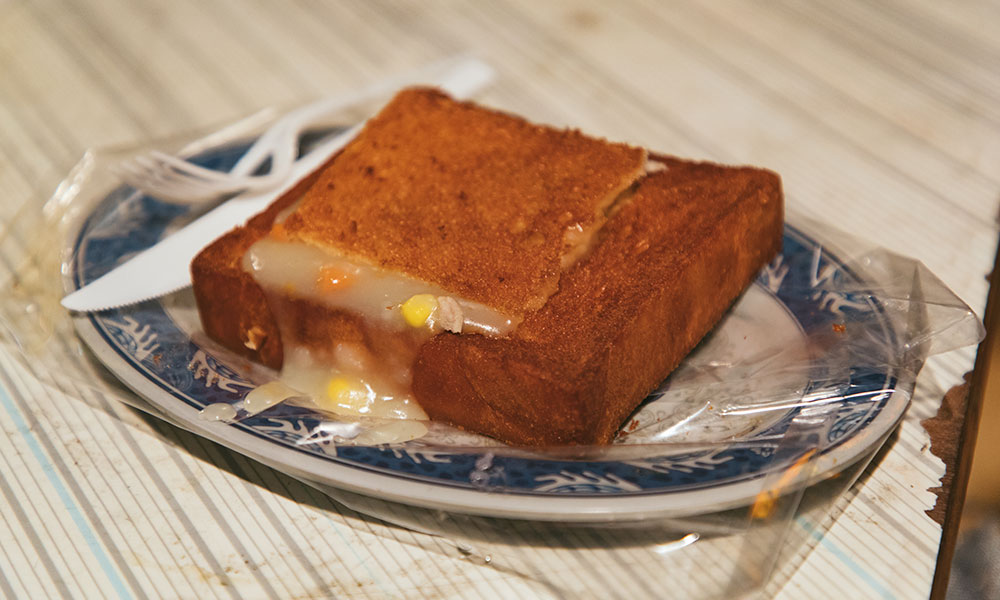 Anping is a historic street in the southern city of Tainan. A popular shopping and foodie spot. The oldest street in Taiwan, built over 300 years ago. Today, it's a blend of modern and traditional architecture, with unique goods, handicrafts, and delicious foods.
The Anping specialty is the oddly named Coffin Bread. A brick of fried bread, filled with a rich, velvety chicken, seafood or veggie chowder.
Must-try yummies: Coffin bread, ice mung bean soup, rice cakes, and savoury 'dry-tossed' noodles.
Huayuan (Tainan)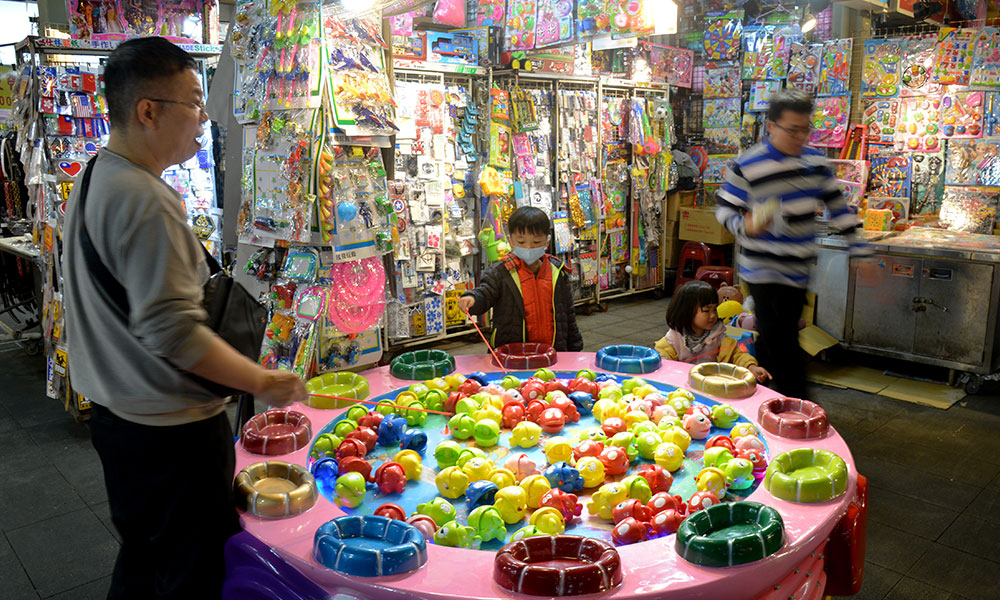 The largest night market in Tainan, located in Hai'an Road, North District. Unlike most nightly markets, Huayuan only opens on Thursdays, Saturdays and Sundays, making visits a weekly special occasion for locals. Packed with carnival games, local handicrafts and classic street foods.
Must try yummies: Luwei braised meats, salty fried chicken, succulent steamed meatballs and grilled shrimp balls.
Dongdamen (Hualien)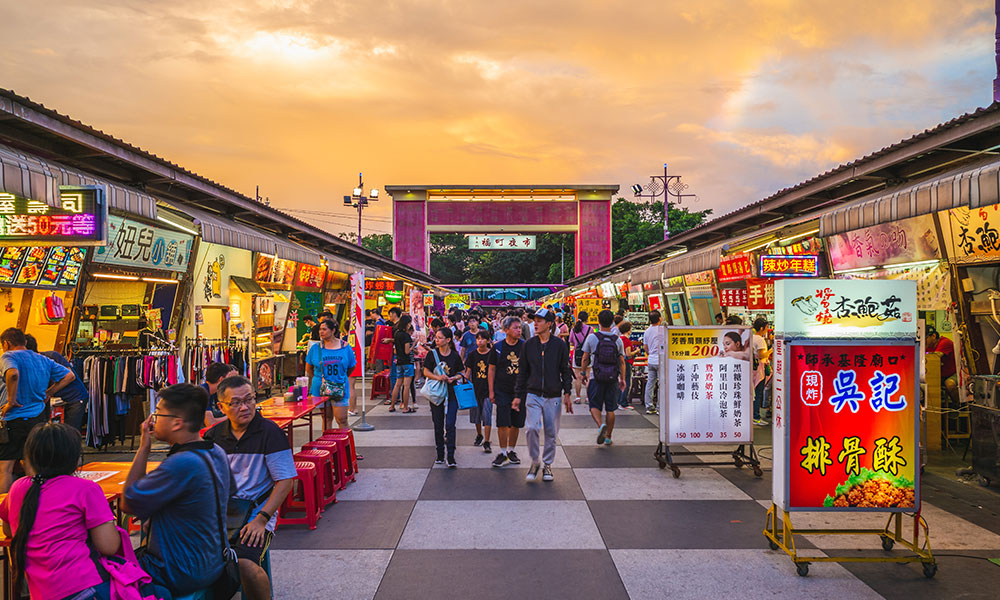 Hualien is a coastal city east of Tainan, with the scenic Seven Star Beach to visit, and hiking trips up the grand marble mountain range nearby. At night, in the city's seaside area at the end of Zhongshan Road, the Dongdamen night market lights up in wide walk lanes. Carnival games greet you at the entrance area, then the food stalls. You can actually have a family meal with a tableful of dishes, as well as the many snacks and desserts to enjoy. There's also a dedicated lane for buskers and street dancers.
Must Try Yummies: Grilled mochi, peanut ice cream roll, all the stir-fried dishes.
Ruifeng (Kaohsiung)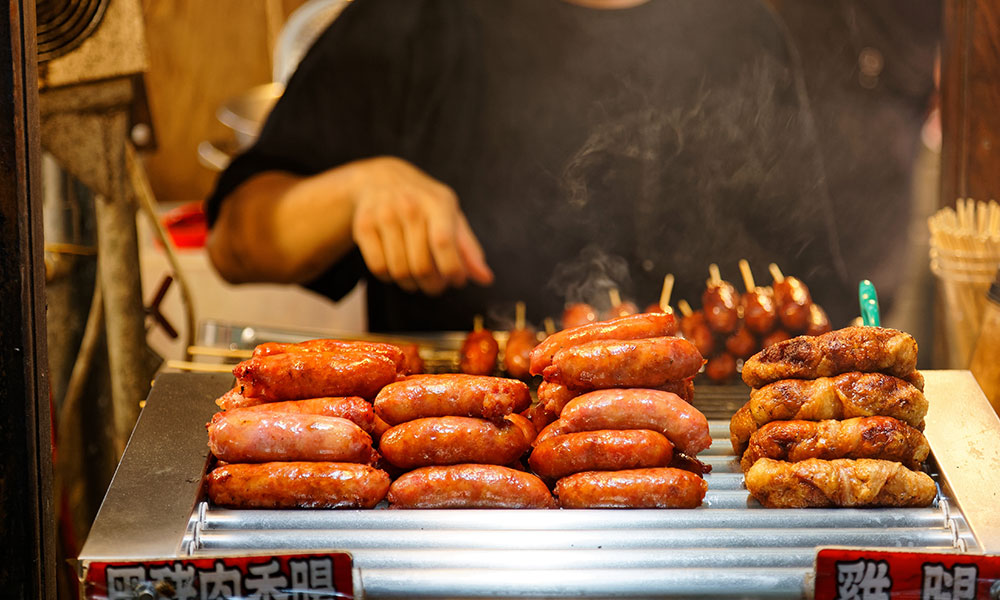 Further south of Taichung is Kaohsiung city, Taiwan's industrial centre and maritime metropolis at the southernmost tip; with many scenic spots to visit. And after your day tours, the Ruifeng night market near the Kaohsiung Arena MRT station is the perfect place to spend the night. Laid out in a square-shaped pedestrian area, it's easy to navigate even with the nightly local crowd.
Must-try yummies: Giant takoyaki grilled balls made of minced octopus, shrimp, mushrooms and veggies. Bubble Tea Toast, a toasted bread sandwich with sweet bubble tea filling. Also, succulent sausages and barbecued wagyu beef cubes.