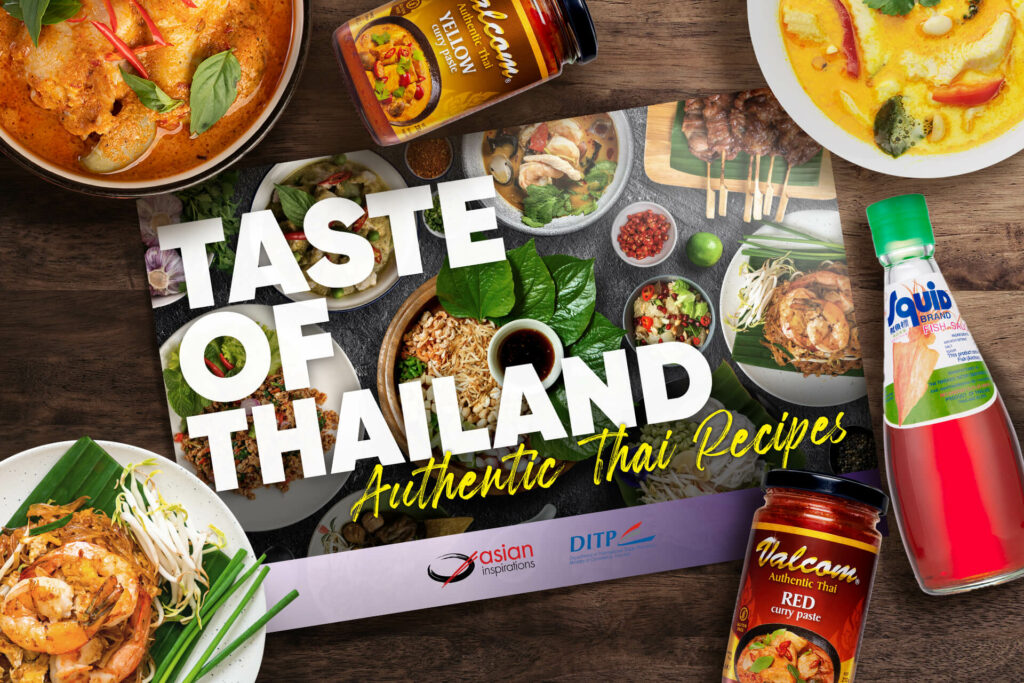 Be a master chef! The Secrets to Authentic Thai Recipes revealed.
Thai cuisine. It's delicious, rich, and distinctive. Best of all, we'll show you how easy you can prepare them at home with our Taste of Thailand – Authentic Thai Recipes eCookbook.
Created by Asian Inspirations in collaboration with the Department of International Trade Promotion (DITP) of Thailand, this eCookbook is an authentic and comprehensive guide into Thai cuisine.
In it you can learn the essential ingredients such as fish sauce, coconut milk and tamarind that are commonly used in Thai cooking, and how Valcom pastes are used to bring out the intended flavours in authentic Thai dishes. Not only that, Asian Inspirations' chef ambassador, food consultant and trainer, Chef Mod Pittayarat, reveals key cooking secrets that give Thai dishes its perfect balance of sweet, sour, spicy, and salty flavours.
The eCookbook comes packed with 35 authentic Thai recipes for you to try. The recipes included feature dishes to make a complete dining experience, including;
Starters
Soups
Salads
Noodles and rice dishes
Curries
Stir fries and grills
Desserts
Submit your details below to begin your journey into the wonders of Thai cuisine. A download link will be sent to your email, so make sure your email address is provided correctly. So, what are you waiting for?
We are committed to respecting your privacy and protecting your personal information in accordance with the Privacy Act 1988 [Cth]. For our full privacy policy, click here.